Location: Circuit ICAR, Mirabel Airport. Autoroute 15 North, Exite 35, Autoroute 50
Exit 288 (Henri-Fabre).
When is the event?
• Every Wednesday and Thursday night from 6:00PM to 10:00PM

Pricing
• Guest admission $5.00
• Racer admission (everyone has time slips now): $10.00
• The track is a full 1/4 mile
Who Can Race or be a Passenger?
• Anyone holding a valid driver's licence can race. Maximum one passenger per vehicle on the track. Staff has the right to refuse passenger if the vehicle is deemed unsafe. If your car runs 12.99 or faster you require a helmet.
• Motorcycles are not permitted to race on Thursdays (exclusivity was reserved for Fridays).

Speed limits on the premises
• The speed limit everywhere on the facility is 10 km per hour, with the obvious exception of the dragstrip itself. Violation of the speed limit will earn you a verbal warning from our Race Crew or Security personnel. Flagrant or repeated violations will earn you an invitation to leave the facility.
Racer behavior
• Alcohol is prohibited for racers at Dragnights and this rule is strictly enforced by the staff. Spectators may purchase alcohol on the premisis only.
• Drugs are strictly prohibited anywhere on the premisis.
• The staff will refuse entry to who is deemed to be impaired by drug or alcohol
• Food and drink will be sold on the premesis
.Vehicle Requirements
• Due to city laws, open headers are prohibited
• You may trailer in a race vehicle
• Racing slicks permitted.
• Tires: Tires will be inspected for overall condition. (Bare cords not permitted).
• Wheels: All wheel studs, with full complement of lug nuts required. .
• Windows must be closed during races.
• Lines & Hoses: All fuel, transmission, brake and power steering lines must be secure and free of leaks. A maximum of 12 inches total (front to rear) of non-metallic or non-steel braided hoses is permitted for connection purposes only. Oil pressure gauge and line permitted in driver compartment, metal or steel braided line mandatory.
• Radiator: All cars in competition with any type of water overflow capable of spilling water must have a catch can to accumulate the excess liquids and prevent leaking onto the track. Minimum catch can capacity one pint. Catch can must be securely fastened.
• Seat Belts: All vehicle occupants must wear seat belts on the race track.

Track marshal reserves the right to exclude any racers from racing if judged unsecure.

What is a Wild Run?
• Each night at 9pm there will be a feature race between two extraordinary vehicles chosen by the staff to make the night more interesting. There is no additional cost or prize associated with a wild run other than bragging rights.
By attending the event you agree that MontrealRacing.com and ICAR may use any photo or video of you or your vehicle taken at the event for promotional purposes.


For more information, contact staff@montrealracing.com.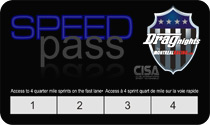 For $20 you may purchase a SPEED PASS which will give you access to the fast lane for four quarter mile runs.

Buy a Dragnights T-SHIRT at the door for $20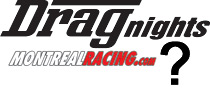 Click here to ask a specific question not answered on this page.
Click here to view the discussion about the event in our forum and to see what other people have to say

Is your ride up to the challenge?

Our weekly Dragnights event will hold a special "Wild Run" at 9:00PM which will be hosted by an exciting and different drag race pairing each week. Only unique, fast or exclusive cars that can be the center of attention at an event can drag in a Wild Runs. Send us a short write up and photo of your ride to get permission to participate in the Wild Runs. Are you ready for the challenge? Click here to submit your vehicle.