Fraichement sortie du concesionnaire, cette Nissan 350Z a déja été transformée en véritable voiture de show. Unique en son genre, elle peut être distinguée par son ensemble complet de jupes en fibre de carbone, comprenant les portes, la valise, le capot et le widebody. Grâce à cet ajout, cette Z est à la fois attrayante et efficace.
Nissan 350Z 2007
• PROPRIÉTAIRE:Benoit St-Cyr
• EXTÉRIEUR
Carbon fiber widebody conversion including fenders, doors, hood, trunk, and bumpers.
• INTÉRIEUR
Defi boost gauge.
• ROUES ET PNEUS
20" Davin LS1 wrapped in Pirelli P-Zero Corsa 315/35/20 rear and 285/30/20 front.
• FREINS ET SUSPENSION
Tein full coilvers, stainless steel brake lines.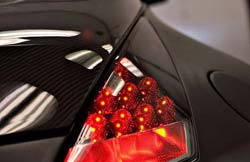 • SOUS LE CAPOT
Vortek supercharger running at 16 lbs of boost, Vortek front mount intercooler, JE pistons, stainless steel valves, Eagle connecting rods, high-flow intake, Nismo differential, Greddy dual cat-back stainless steel exhaust system.
• AUDIO
stock.
Voir la discussion pour cette article