My apologies for the provocative headline but this story merits it. While not automotive related, it's important enough that it needed to be written about.
The city of Montreal is demolishing the Bonaventure Expressway in the coming years and as a result, needs to move a snow runoff collector which, in turn, requires the drainage of all pipes along 30 kilometres of the city's sewage system.
For a week, starting October 18th, the sewage that would otherwise go into these pipes will simply be dumped into the Saint Lawrence River.
Mayor Denis Coderre held a press conference yesterday after public outcry over the dump. He says the city looked at every conceivable option and consulted experts from around the world. The only other alternative would be to use mobile tanks or install a diversion system at a cost of $1 billion.
"We're not doing this frivolously. We've consulted around the world, with the best experts," Mr. Coderre said Monday. "Every option has been explored. We have no choice. We looked at all the angles."
Officials say there is little concern the dump will affect potable water intakes downstream but people are being advised to avoid recreational activities near the river for a while. People near the old port might detect a shitty smell while the wastewater is dumped into the river next to them.
The dump is being spread out over 26 different locations along the river using interceptors designed to dump overflow from heavy rain. Two are located near the old port. Another three are located near Monseigneur-Richard High School in Verdun.
CBC has a timeline of the events:
Timeline of wastewater controversy
Mid-September: The City of Montreal publishes the plans for the construction project on its site.
Sept. 28: Official Opposition Projet Montréal releases statement expressing concern for the week-long dumping of eight billion litres of wastewater into the St. Lawrence.
Sept. 30: The city's administration says the plans to dump the wastewater have been put on hold as it looks into other possible options.
Oct. 2: Pierre Desrochers, chairman of the city's executive committee, says the plan will go ahead. « This is the only option, » he said.
Oct. 3: A petition against the plan garners more than 25,000 signatures.
Oct. 5: New York senator Patty Ritchie weighs in on Montreal's decision, sending a letter of protest to the International Joint Commission — the group tasked with protecting the St. Lawrence River and Great Lakes.
Oct. 5: Mayor Denis Coderre holds press conference saying project will go ahead, pending approval from Environment Canada.
Discuss the outrage in our forum: http://www.montrealracing.com/forums/showthread.php?891100-Montreal-Is-Going-to-Dump-8-Billion-Litres-of-Raw-Crap-Into-the-St-Lawrence-River
Location of dumps: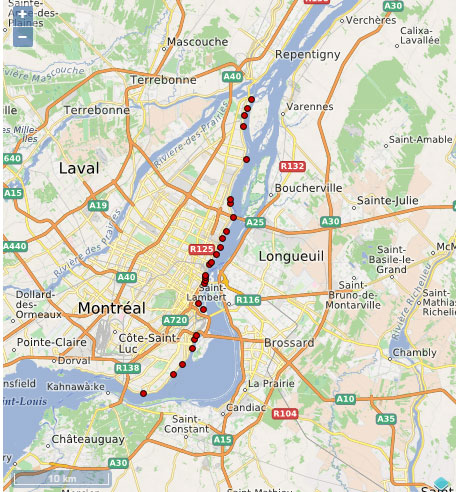 Comments
comments