It's hard to replace the functionality of a minivan, no matter how much buyers would like to think an SUV can do the job. Chrysler pioneered the original minivan in the 80s and remains one of the leaders in this segment.
That being said, it hasn't been a smooth product ride for FCA in recent years. The company had envisioned phasing out the ultra-popular Dodge Caravan but even after the Pacifica was introduced in 2016, people were still buying the Caravan in droves. That kept the Caravan going for years longer than intended and as of this writing you can still buy a 2019 Caravan. There is even one currently on display at the Montreal Autoshow. People want inexpensive minivans and the Caravan does an amazing job at filling this role. It's my sincere hope that they find a way to keep the Caravan going but it's likely coming to an end.
There is the upcoming Chrysler Voyager which we expect to get in Canada next year. It'll essentially be a rebranded Pacifica but a bare bones entry level model to reduce costs and entice former Caravan buyers. It's needed because the Pacifica was introduced at a price point of $44,000 whereas the Grand Caravan was being advertised at $19,999 after rebates and incentives. The Pacifica has since been reduced but is still starting at $34,045 after manufacturer discounts.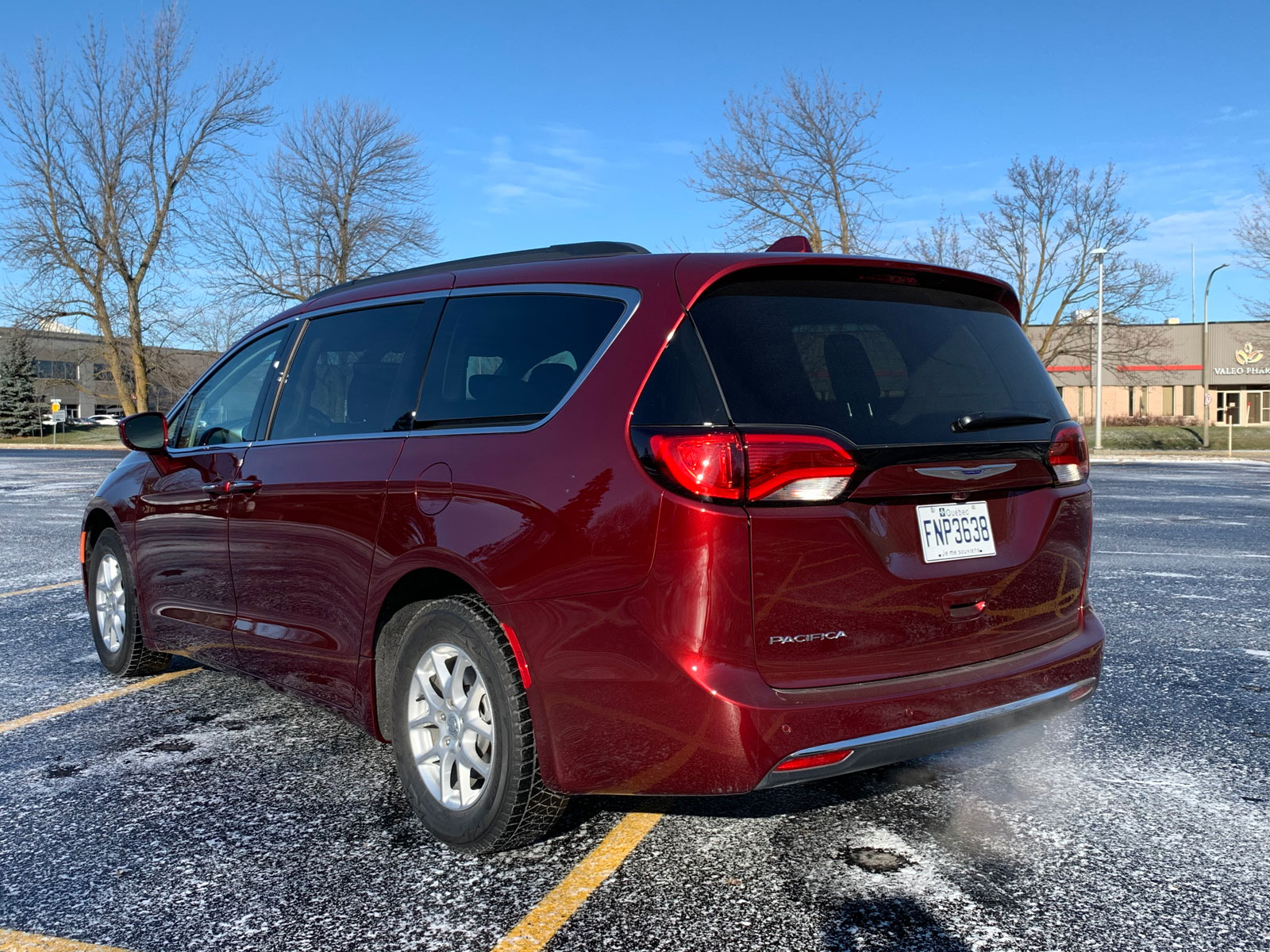 The test vehicle here is a Pacifica LX which is one step above the base model L. It doesn't have all the bells and whistles but you don't need them. The cloth seats are just fine and don't' get too cold or too hot. The one thing that I was missing was the rear seat entertainment system. It's a must if you have children and much better than simply handing your kids electronic devices. Everyone can watch the same film and the driver and front passenger can listen in. The single overhead screen for the rear passengers is a $1295 option.
The interior is a beautifully-conceived design that is both functional and pretty to look at. The shiny black finishing on the dash, the large and easy-to-use buttons, the ample storage space all combine to deliver a cabin that is a pleasant place to be. Third row Stow 'N Go is a $2,000 option but as a former minivan owner I can tell you that it's also a must have.
Compared to that 2011 Caravan I used to own, the Pacifica is miles ahead of it in every way – especially when it comes to how the minivan drives. The Pacifica is more responsive with reduced levels of body roll coupled with enhanced agility that is capable of absorbing just about every bump in the road with ease. Chrysler has also made the entire body structure stiffer and the result is the vehicle drives more like an SUV than a van.
Chrysler's current design language translates quite well for a minivan with sculpted lines and an attractive silhouette. With its long wheelbase, wide track and low stance, the Pacifica has a sporty aura – as much as is possible for a minivan. To smooth things out even further, the Pacifica's sliding door track lines are hidden under the rear-quarter side glass, making them almost invisible. The minivan has always been the automotive designer's biggest challenge. How does one make a box on wheels sexy? Well Chrysler has come about as close as you can with this one.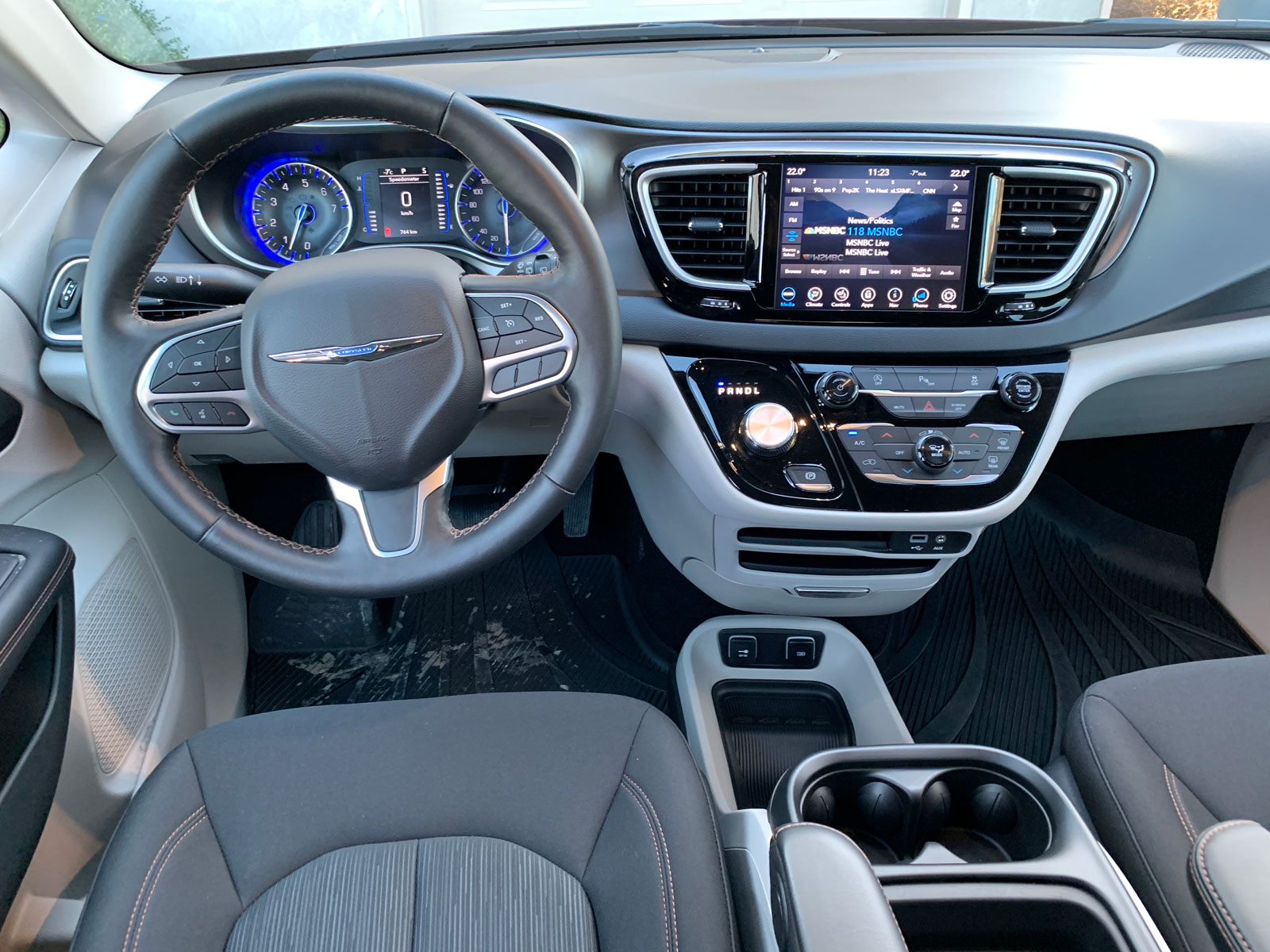 There are two powertrain options for the Pacifica: the standard gasoline Pentastar V6 and the Plug-in Electric Hybrid. The V-6 gasoline engine which is mated to a TorqueFlite nine-speed automatic transmission delivers 287 horsepower and 262 lb.-ft. of torque. It packs enough punch to do whatever you need it to do. I have tested the plugin Hybrid version and found it to be quite helpful at saving fuel since I do many short trips to drop the kids at school. The Hybrid has an all-electric range of about 45 kilometers. The Gasoline version was still decent on gas at 12-13 L / 100km.
As I mentioned before, you can get into the base Pacifica L for $34,045 after manufacturer discounts. The LX adds automatic headlights, tri-zone climate control, a touring suspension and floor mats for $36,045. The Touring will add automatic climate control, a floor console, LED taillights and fog lights for $37,795. There are actually 9 different trims to choose from so I won't list them all but they go up to about $50,000.
The Pacifica is indeed still a good buy and is less expensive than the competition with all the features you need. While I mourn the upcoming loss of the Caravan, the Voyager should fill it's shoes and help continue FCA's tradition of being a leader in the Minivan category.