With the reduction in available manual transmission cars in recent years, it was nice to get behind the wheel of this good old-fashioned sports car from Subaru for a week. The 2020 WRX is likely the last iteration before the next big update but the good part is that this is a vehicle that doesn't try too hard and therefore doesn't overcompensate as a result.
Its exterior looks are clean, yet sporty enough to turn heads – especially with the brilliant World Rally Blue Pearl paint. The design has aged very well and hopefully the company won't alter it too much. One of the only things I would like to see changed is the addition of LED turn signals in the front and the rear to bring the lighting technology up to where it should be. Halogen bulbs are simply not up to the task in 2020. For those who wish even more flash and flair, the STI trim can provide that with its optional large wing and snazzy wheels but the WRX bodes well with or with out it.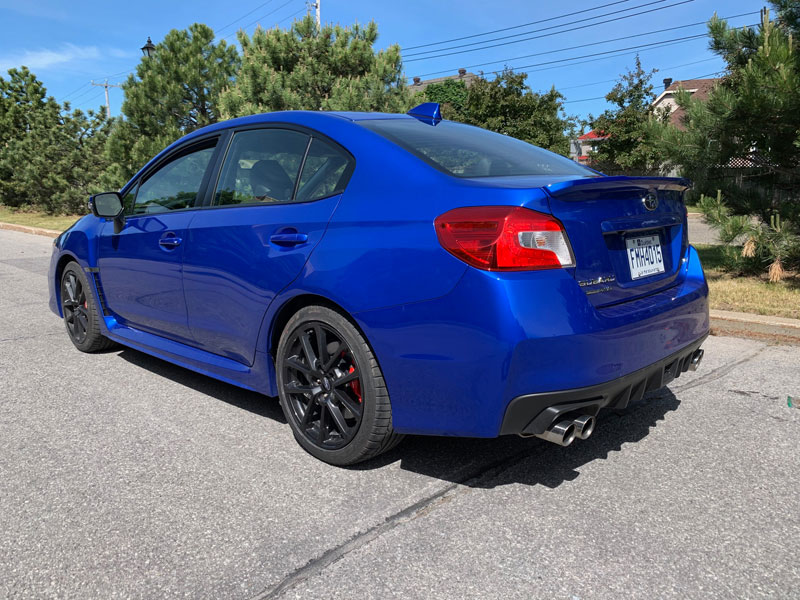 The WRX's cabin is pretty standard Subaru-fare. That is to say functional but not the most advanced layout available. Some people will find this a plus, including myself. I like manual dials for climate controls and the ones here work like a charm. The newer model Subarus I've driven have a massive touch screen and require a few taps of the screen in order to adjust the climate and I can't say I'm a fan. This easy-to-use infotainment system that combines a touch-screen with manual buttons for various functions and it's the best of both worlds. I will say, however that the sound quality of the Harmon Kardon system was less than I expected which was surprising because it has 9 speakers, a subwoofer and a 320-watt amplifier.
The Sport-tech RS trim you see here spices things up with 8-way power (driver's) leather and Ultrasuede Recaro front seats in a red/grey pattern. The seats are comfortable and hold you in place firmly for when you want to test out the WRX's extremely capable road performance. You will not be disappointed at how well she handles though this comes at a price of ride quality. Young gearheads will celebrate the firm ride and their parents might hate it but such is the compromise. Stopping power is provided by a Brembo high performance braking system with 4-piston calipers up front and 2-piston in the rear.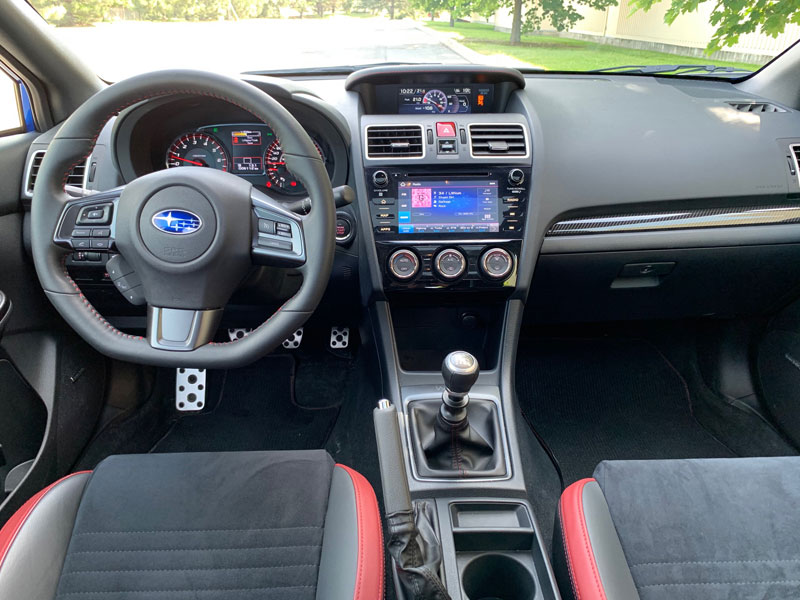 Under the hood we find a 2.0-litre twin-scroll turbocharged engine making 268 horsepower and 256 lb-ft of torque that can whip heads back in very short order. The WRX is plenty fast for all but the most die-hard enthusiasts. Luckily, the test vehicle came with a manual tranny which makes for boatloads of fun. It's not as fun if you daily driving it in traffic but a car like this is meant to be driven with a manual and not the optional CVT. There is a tad bit of turbo lag at the lower end of the power band but nothing some strategic shifting cannot mitigate. Other than that, the WRX was just an exhilarating blast to drive.
I was surprised at how loud the car was without even having a performance exhaust system installed. Starting it on a cool morning produces a throaty growl but even during normal city driving the exhaust tone fills the cabin. You don't realize it until after you've shut the car off just how loud it was but your ears experience a sigh of relief upon exit. I'm not complaining as I love the whole experience but it's something to think about if you plan on using this vehicle for family duty.
You can get into a WRX base for just $31,958 before transport, however the top of the line Sport-tech RS is ten grand more at $41,658. Making things more difficult is the WRX STI which features 310 horsepower and starts at $42,258. The STI sport with the cool wheel sand big wing will set you back $44,758 (and they go even higher).