If you're in the market for a no-nonsense performance machine that can haul your family at the same time then the dodge Durango SRT might be just what you're looking for. If you also fit the profile of a "Daytona Beach dad/mom" then I'd say this truck is most definitely right up your alley. Full credit goes to my friend who coined this term after being slightly aghast at the overt expression of testosterone that the twin racing stripes and large hood scoop emit.
There aren't too many three-row performance SUV's on the market and the Durango SRT has the distinction of being one of them (and by far the least expensive). BMW's X5M isn't available in a three-row configuration nor are the Range Rover Sport SVR and Mercedes-AMG GLE63. The mammoth GLS63 is but it's a heck of a lot more expensive. Dodge gives dads with that performance itch who happen to have large families something to get excited about.
This model was introduced in 2011 so it's getting on in years and is due for a refresh very soon. Despite that, the SUV's rugged good-looks have aged very well. The Durango is quite unique and unmistakable for anything else on the road, especially via the rear with its large full-width wraparound taillights.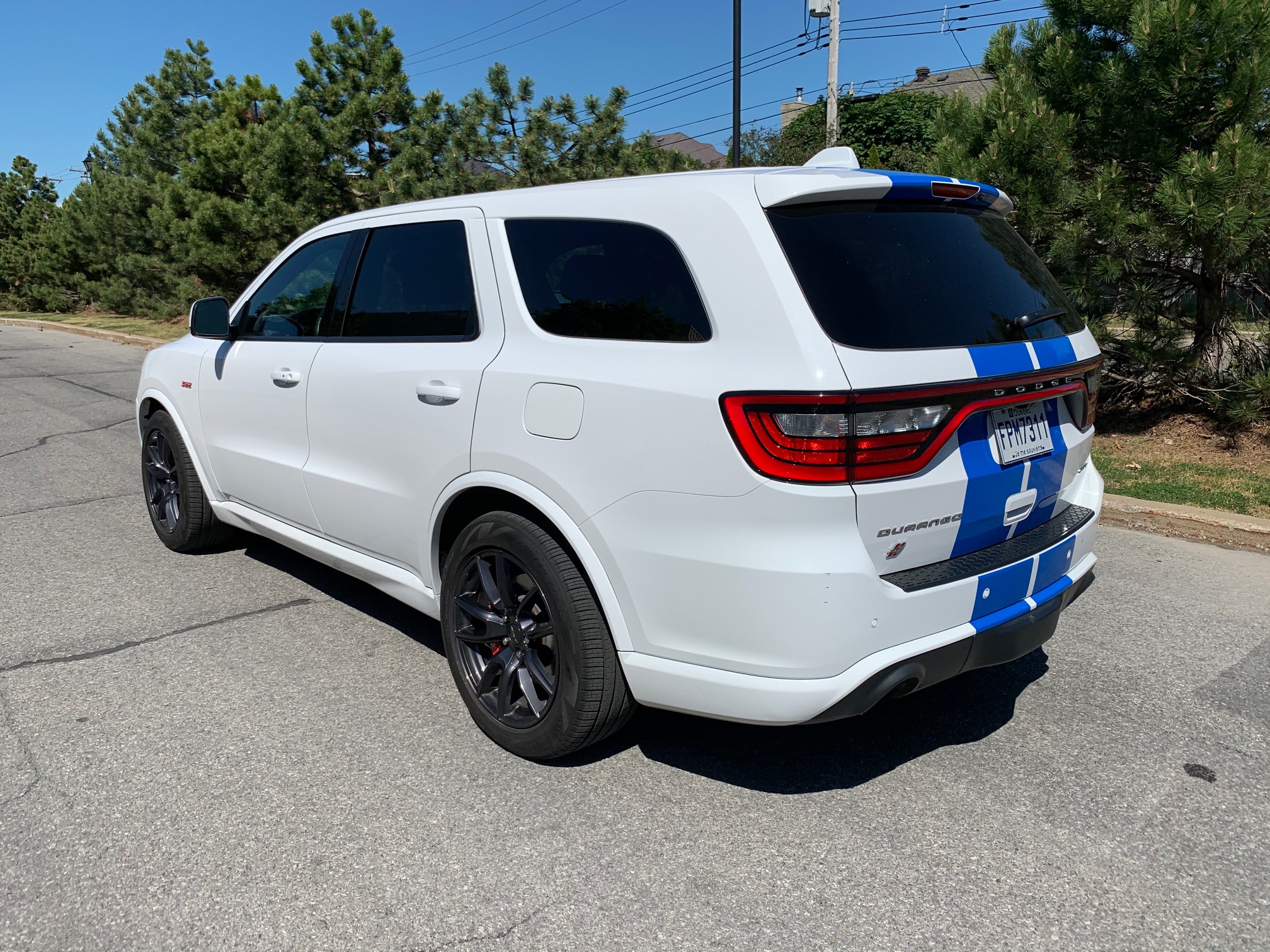 The Durango provides the occupants with a spacious and ergonomically-sound interior. Everything is right where it should be for ease of use. There are large knobs for volume and fan speed which I cannot say enough good things about. The gear shift lever is large and perfect to rest your hand on. Keep in mind this is a six-seater, not a seven-seater though other Durango trims can seat up to seven people. The third row will be a bit tight for adults and is best suited for youngsters.
Powering this beast is the brand's legendary 475-horsepower 6.4-litre 392-cubic-inch HEMI V-8 engine which allows the full-size Durango can sprint the quarter mile in just 12.9 seconds with a 0-100km/h time of 4.4 seconds. They even went so far as to have that time certified by the NHRA (National Hot Rod Association) just to give it that much more street credit. It rumbles ferociously on start just as the Charger or Challenger SRT models do and anyone within earshot will know it's no ordinary Durango. It's loud and that's the point. Your neighbors might not appreciate it so much and it may get a bit tiresome on long road trips but that's to be expected with such a performance machine. Fuel consumption hovered around 14 L/100km but this was to be expected.
Tuned at Virginia International Raceway to ensure the truck would be able to handle all of the power it's been given accordingly, the Durango excels. The ride is sporty, solid, precise but also capable of absorbing the everyday bumps in the pavement. Step on the gas and the 8-Speed TorqueFlite Automatic transmission instantly delivers the power to the road in a smooth way. Brembo brakes can bring you to a full stop in a stomach-churning instant and the steering is precise with good road feel.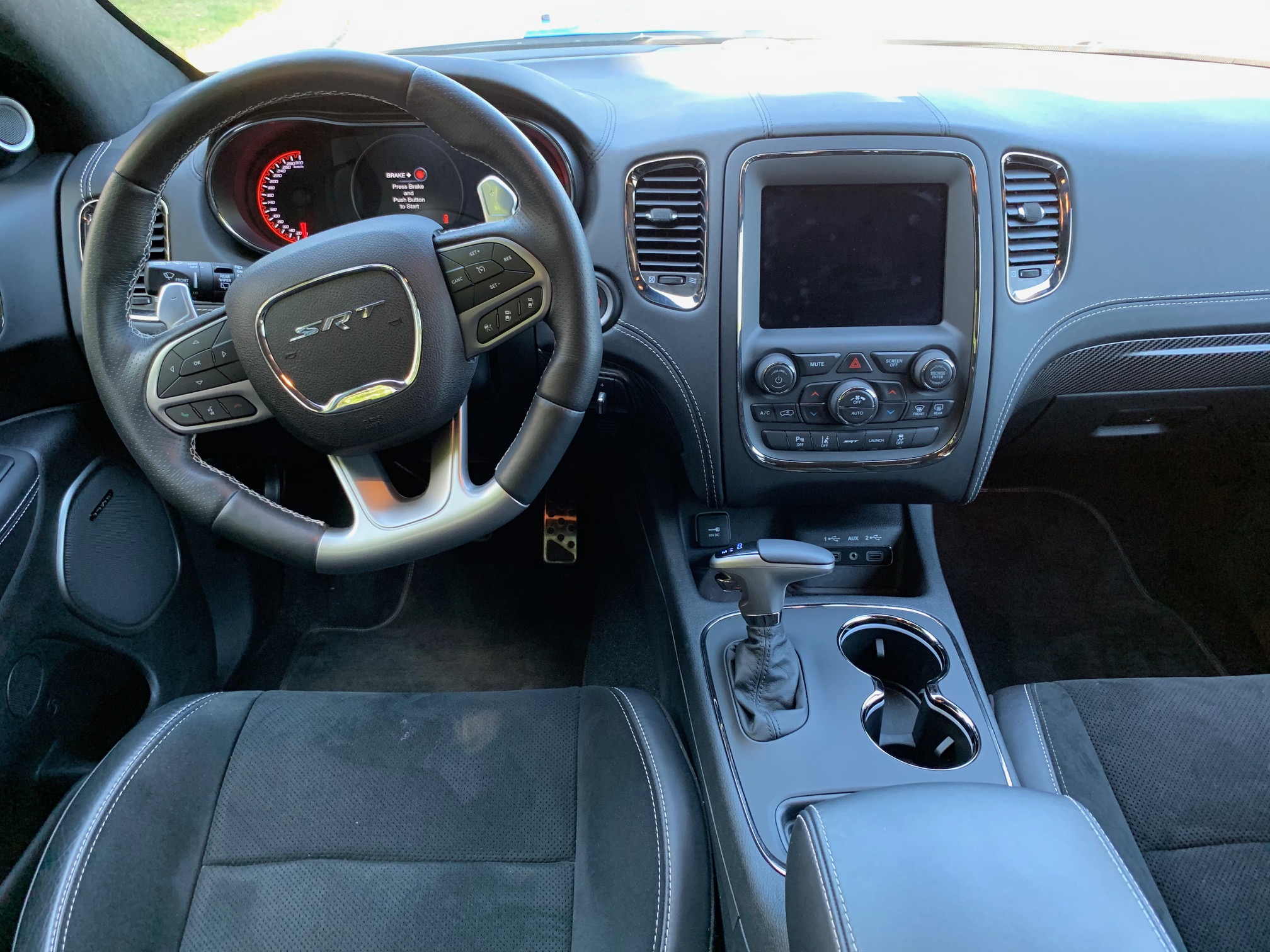 There is also the SRT seven-mode drive system accessible via the SRT button on the dash. Suspension, torque distribution, shift points, stability control and engine mapping are all controlled through here. The modes are Auto, Sport, Track, Snow, Tow, Valet and ECO. Launch control is handy for those days at the drag strip and very simple to operate compared to some other systems.
As a parent, I really appreciate brands who spend the time to engineer proper rear-seat infotainment systems. Dodge (and parent company FCA) is one of those brands. The intuitive display is a breath of fresh air compared to much of the competition with easy navigation via the 8.4-inch touch screen. Uconnect makes the best one there is for three simple reasons: The driver can operate it from the front, you can put a DVD in and it doesn't take a technical specialist to figure out how to hear it and finally you can watch the movie on the front screen when the vehicle is stopped. I've tested competitor systems which where borderline inoperable. FCA has always been and will remain the leader in this department.
With an MSRP of $74,395 and the test vehicle coming in at $90,195, one may feel that it's a bit high. When we compare to other high-performance SUVs which routinely run above the $100K mark it starts to look a little more reasonable. The Durango SRT delivers a practical and fun performance package that is definitely worthy of further examination even if you're used to driving fancy European machines.