The Honda CR-V has become a household name in North America after being one of the most popular compact crossovers for decades. That kind of name recognition is a powerful thing and will entice buyers to just buy up your product.
The only way to get to that kind of brand loyalty is to offer a product people like and the CR-V is a very good vehicle is nearly all aspects. Let's start with the looks. It's last major redesign in 2017 gave it a much more modern, rugged and tougher than the previous generation. Aggressive stylized headlights surrounded by wing-shaped LED daytime running lights on all models, wide fenders, long hood, short rear overhang and dual exhaust tips give the CR-V an athletic and refined presence. There was light refresh for 2020 which altered the front and rear fascias slightly.
In Canada we only have one engine option to choose from: a turbocharged 1.5-litre four-cylinder producing 190 horsepower and 179 lb-ft of torque. This engine is paired with a Continuously Variable Transmission and is offered in front-wheel drive (for the base model only) or with AWD. South of the border you can get a CR-V with a Hybrid powertrain but for some reason Honda decided not to offer this here at this time (though I'm sure eventually it'll come). That being said I like the fact there is only one engine option. It makes the buying process easier and smoother and you won't get buyer's remorse over not spending more to get the larger engine because it's been decided for you.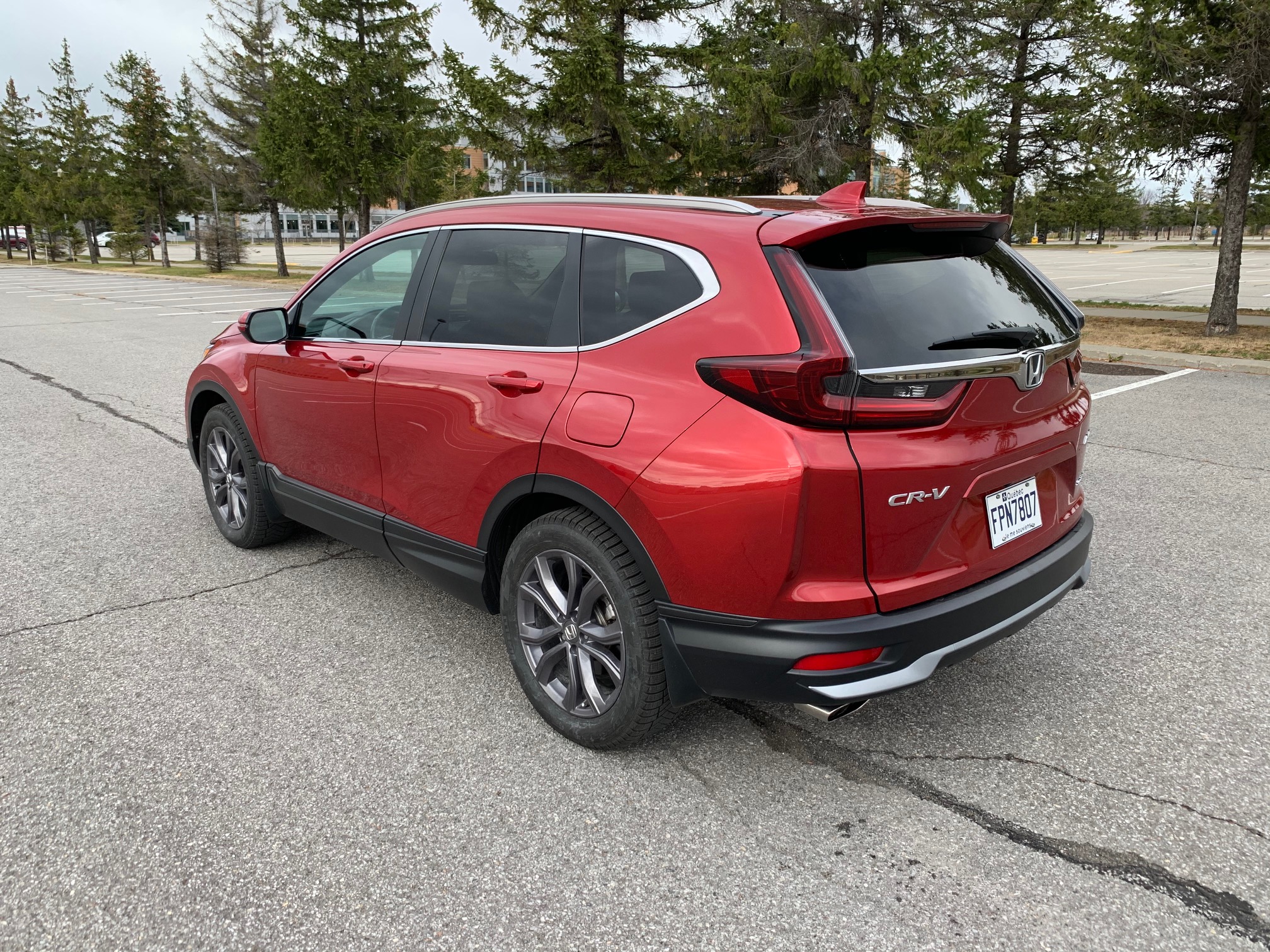 The CR-V's engine does the job just fine. It's no powerhouse or anything but for the daily commute around town it did just fine. It was smooth and had good response when I pushed on the gas pedal. It sipped gas for me at an excellent rate of about 8.3 L/100km.
Not only does the engine perform well, but the vehicle inspires confidence behind the wheel. It drives like a car, is easy to maneuver and has a small turning circle radius. This is of utmost importance when navigating tight grocery store parking lots.
Sitting in the CR-V, I was immediately comfortable with all my surroundings and was pleasantly surprised to note the presence of a physical gear shifter and volume knob. The shifter is likely still a dying breed but Honda had experimented with tiny touch screen buttons for volume control and it was not a good setup at all. They've since re-added the volume knob to their interiors. The seating is very comfortable and the driving position will accommodate just about anyone's height while retaining good visibility.
The standard 7-inch touchscreen display audio interface uses comes with Android Auto and Apple CarPlay. The system is better than previous systems but is still not quite at the level of ease-of-use as say Chrysler's Uconnect or Ford's Sync3. Nestled right on the dash rather than protruding up like many other cars, the screen positioning makes for a smoother look.
The CR-V is very spacious both for occupants and for cargo. There are 1,110 litres of space behind the second row and you can increase the dimensions by removing the floor of the cargo area. Folding the seats down will yield 2,146 litres of cargo space.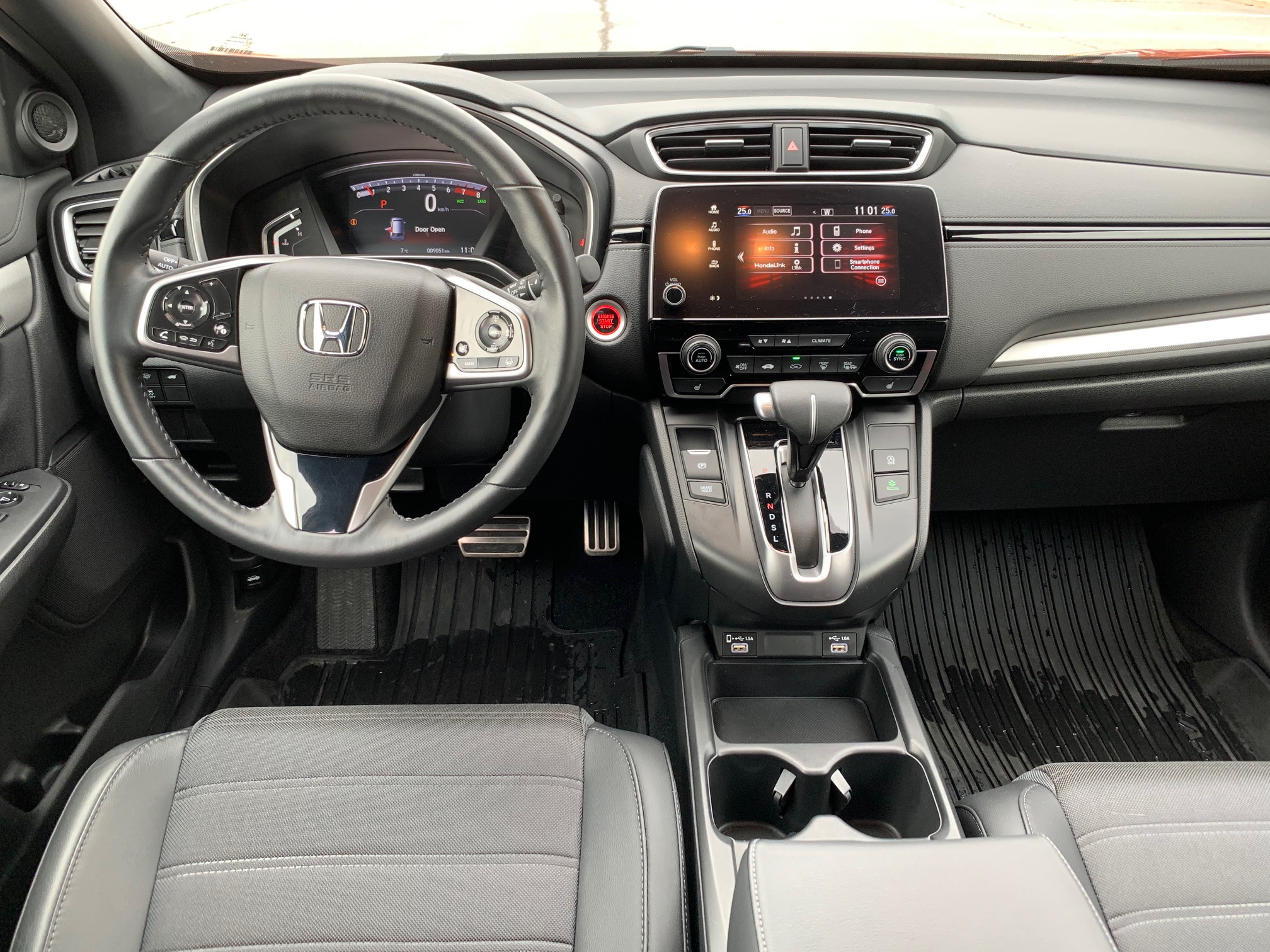 During my week with the CR-V I tried to find something I didn't like about it but there really wasn't much. I packed three kids into it with ease (thanks to near 90-degree door openings), transported groceries with ease, executed highway passes up to 120km/h without issue and did so without burning too much fuel and looking great in a classy, modern-looking vehicle.
You can get a base CR-V LX with only front-wheel drive for $28,155 before transport but Canadians want crossovers that can handle our harsh winters and the AWD is very useful. That being said, the list of standard features for even the base model is impressive. You get heated front seats, Bluetooth connectivity, the 7-inch touch screen infotainment system, proximity key entry system with push button start, two front USB charging ports, Apple Car Play, Android Auto, remote engine starter and rearview camera. AWD adds just under $3,000 to the price. If you want any of the high-end models such as the EX-L, Touring or Black Edition, the price quickly goes over $40,000.
The CR-V will remain one of Canada's best-sellers and a must-test if you're in the market for a new crossover.