Nissan has made a valiant effort to carve out space in the full-size pickup segment. The new Titan arrived about four years ago to positive reviews. Despite that, it's still an uphill climb for anyone to go head-to-head with the big three American trucks.
The vehicle you see here is the 2020 Nissan Titan Pro-4X. The Titan underwent a small styling update last year and with it came the Pro-4X trim. It's got a blacked-out grille, blacked-out tailgate, snazzy wheels, Pro-4X badging, tow hooks up front and even came with an optional roll bar attached to the bed. To be honest I wasn't a fan of the bed bar's side panels as it changes the look of the truck quite a bit but to each their own. Stylistically, the Titan is as rugged-looking as the next truck and holds its own very well.
On the inside we find leather seats with red stitching in what's not the most modern-looking cabin. If you take one look at the new F-150 or RAM 1500 cabin designs you'll realize that they are a cut above what you see here. Build quality is excellent, though, and all buttons and surfaces are firm to the touch. One thing that bears highlighting is that traditional steering column-mounted gear selector. I absolutely love this method of shifting and I'm sure this will play well with many other potential pickup buyers. It also allows the front to be very spacious with extra storage compartments. The back seat is spacious enough to fit three children in booster seats side by side so no problem at all to haul the family. A power rear window, dual-zone climate control and a Fender 12-speaker audio system all add to the features list.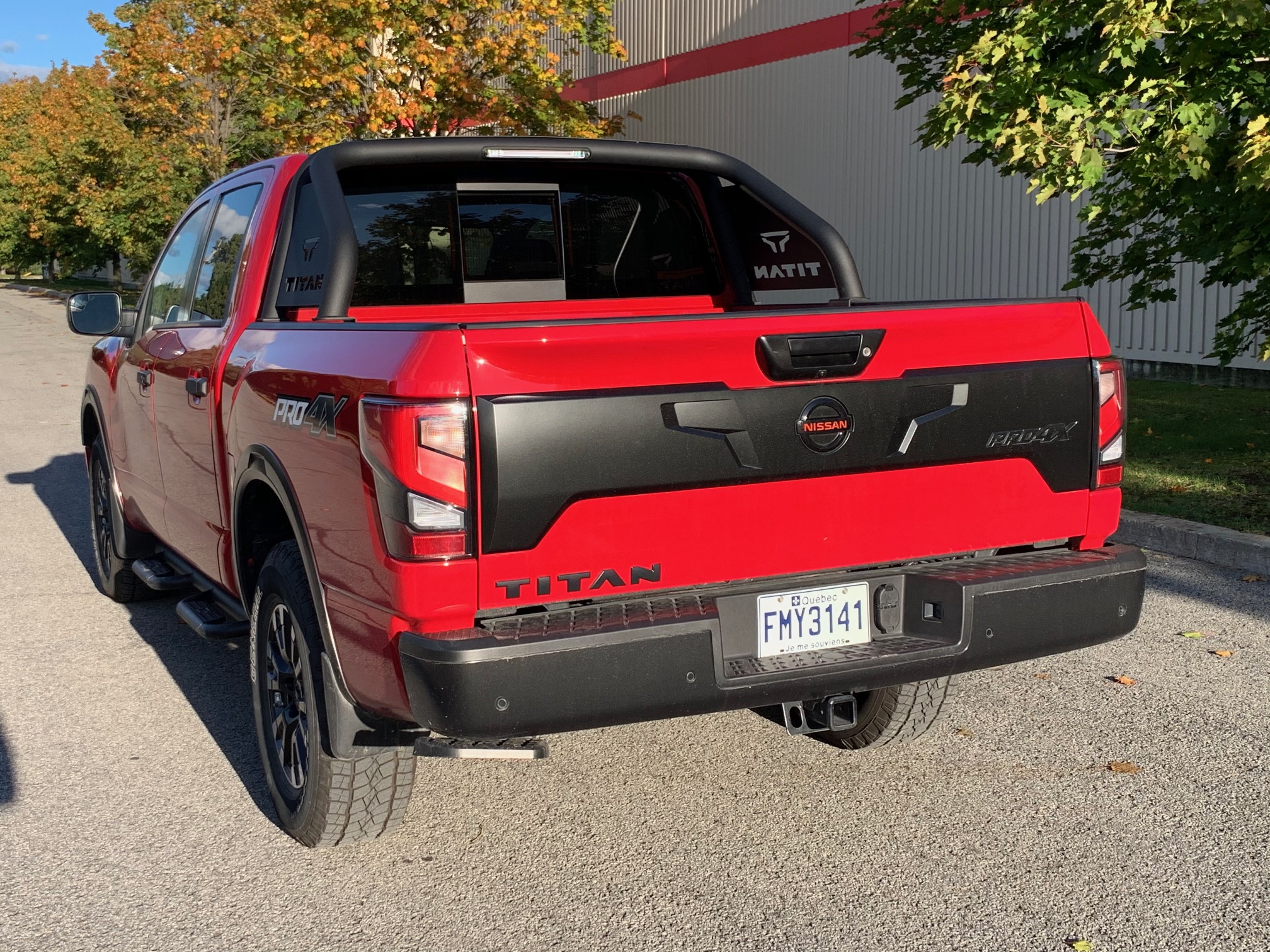 Nissan's infotainment system is easy to use and well designed. A secondary information screen behind the steering wheel display allows you to control other vehicle systems but the array of menus can become a bit confusing. What's important to underline is that there are traditional knobs for climate control. Try tapping screens with work gloves on and you'll quickly understand why.
Powering the Titan is a 5.6-litre V8 engine that actually offers the most horsepower and torque in its class. The 400 horses and 413 lb-ft best even the big three which is an amazing thing to plaster all over an ad campaign. The only issue here is that the Titan is heavy and weighs about 200 lbs more than a Toyota Tundra and nearly 1000 lbs more than a similarly-equipped Ford F-150. That's a massive difference that's hard to overcome no matter how much power the truck produces. Payload capacity is 1,630 lbs and it can tow up to 9,350 lbs which are both decent figures albeit on premium fuel. The Titan didn't consume any more gas than any of the other pickups I've tested and runs about middle of the pack in terms of official fuel efficiency numbers at about 13.5 L/100km.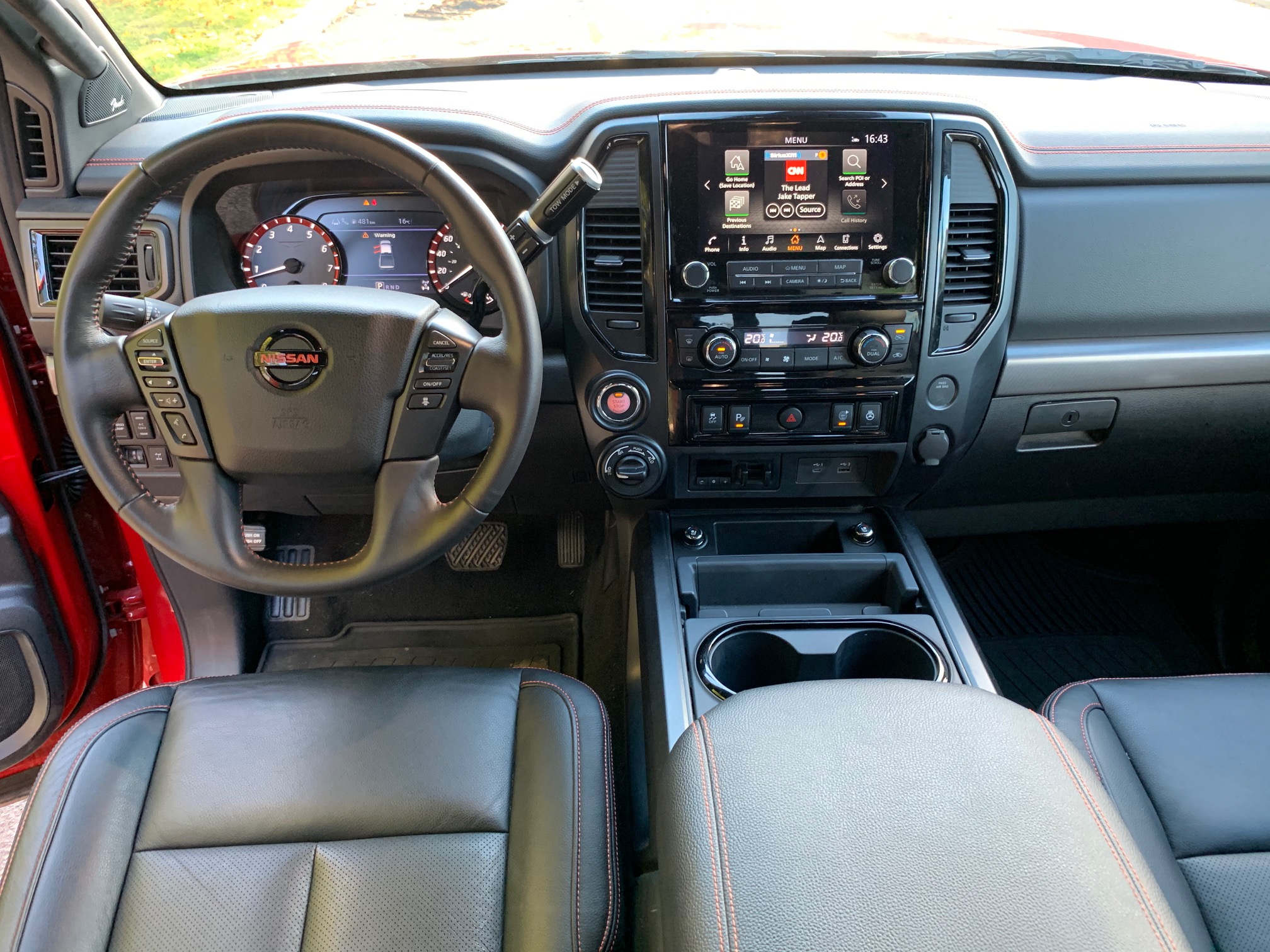 The Titan offers all the towing, utility features and driving aids one can expect with an integrated trailer brake controller, trailer sway control, tow/haul mode with downhill speed control and a trailer light check system that allows one-person hook-up operation – including checking turn signals, brake lights and running/clearance lights. In addition to this, we find the spray in bedliner, movable tie-down anchors and LED box lighting standard.
The smooth-driving Titan is easy to daily drive. Nissan has given throttle response special attention and it was the first thing I noticed because it's instantaneous and practical if you intend to do a lot of city driving. The large dimensions can obviously make supermarket parking a challenge but this vehicle's parking sensors and top-down surround-view monitor work wonders so even the most incapable drivers will have their confidence boosted.
You can get into a Pro-4X for $66,443 but it already comes optioned-out for you. There aren't any non-Crew Cab Titans available which is interesting because it limits the vehicle's commercial applications somewhat. Despite that, the Titan accomplishes what it sets out to do but still has more work ahead of it if it aims to bite off more of the market.