Nissan has completely revamped its best-selling model for 2021 with an all-new platform and powertrain to shake up the industry's most popular segment. Compact crossovers are the bread and butter of any automaker's lineup these days and the Rogue's redesign will be key Nissan's success moving forward.
As you can clearly see, the exterior is vastly different and adopts, shall we call it, a split light configuration it the front. The new multi-level LED headlights are standard on all 2021 Rogue trim levels and accent the "V-motion" front grille design. LED fog lights are standard on the Platinum model. I like the design – a lot. It's vastly superior to the outgoing model and will serve the Rogue well for many years.
The body itself measures 1.5 inches shorter and 0.2 inches lower than the previous generation Rogue, adding to the look while also enhancing driving maneuverability. Key aerodynamic features include « 3D » tire deflectors in the lower front fascia, an active grille shutter to control air flow into the engine compartment, special A-pillar shaping, underbody covers to manage air flow under the vehicle and a unique « air curtain » that directs air flow from the front to the sides of the Rogue.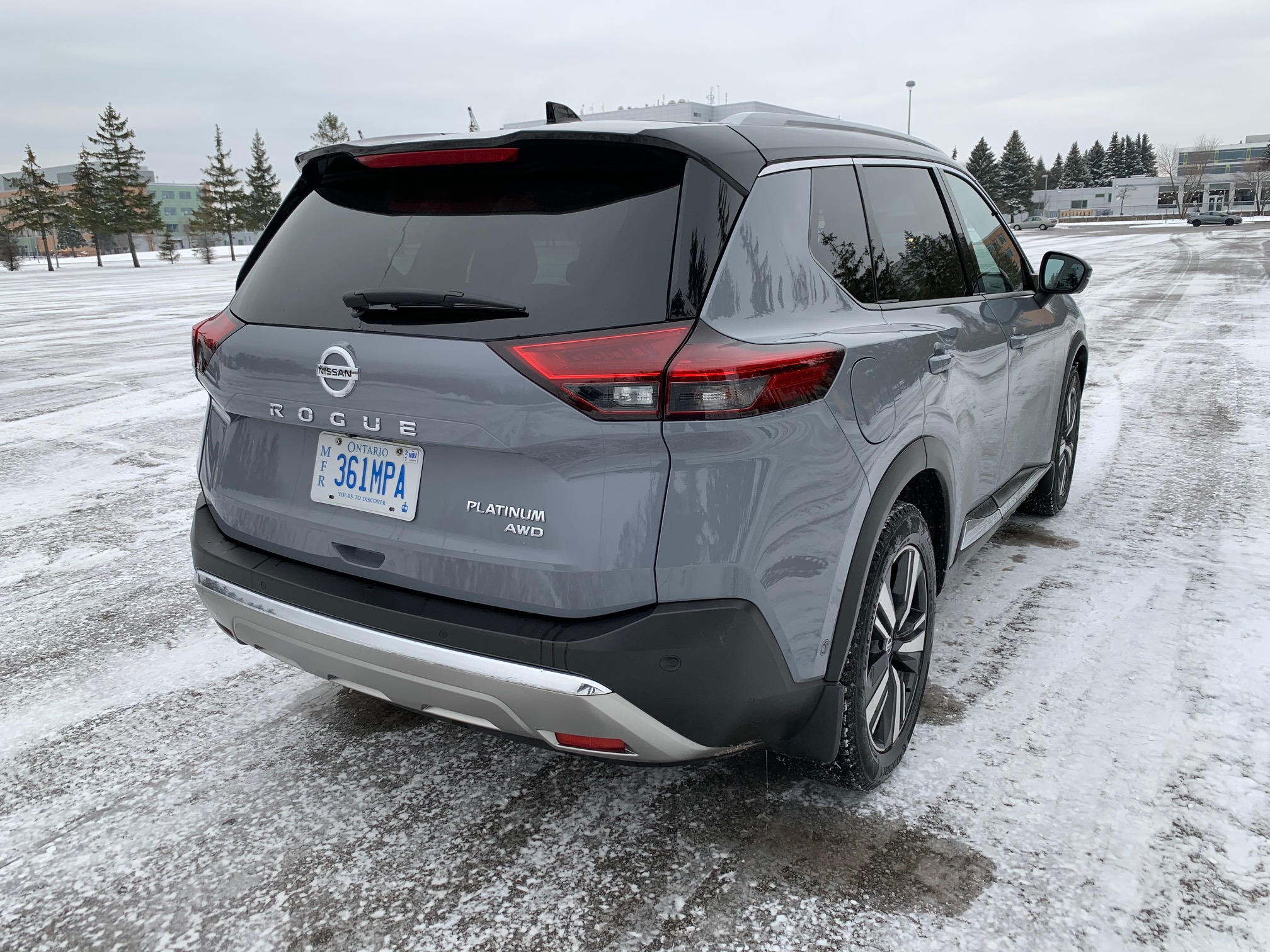 There is a wide range of colors available, including four two-tone combinations. The tester was a conservative grey but still managed to garner a ton of attention due to the new design.
I feel like the interior is what will win most buyers over. It's a stellar improvement and really brings the Rogue into the 2020s with a vengeance. It's a smooth and clean design that flows nicely and is ergonomically sound. I love that heated front seats, heated outside mirrors and a heated steering wheel are standard equipment. Heated rear seats are an option on the Rogue SV. The new electronic shifter design eliminates the need for mechanical equipment under the shifter, allowing extra storage space under the new « floating » center console. I'll be honest – I kind of liked it, but not that much. It's passable and gets the job done but I can't help but feel Nissan could have developed a shifter mechanism that's more satisfying and fun to operate. Apart from the shifter, I can't think of a single other thing I'd change. It's just so well done and so aesthetically pleasing at the same time.
Every 2021 Rogue features a standard 2.5-litre inline making 181 horsepower (an increase of 11 hp) and 181 lb.-ft. of torque (an increase of 6). Fuel economy (L/100 km) is rated at 8.9/7.0/8.1 for the Rogue FWD; and 9.2/7.2/8.3 for the AWD model (city/hwy/combined). Those are some impressive numbers for fuel burn and I achieved about 8 L/100km myself. The downside to having great fuel economy is that the engine doesn't provide that sporty factor that many of us enthusiasts desire but for daily driving duty it performs just fine.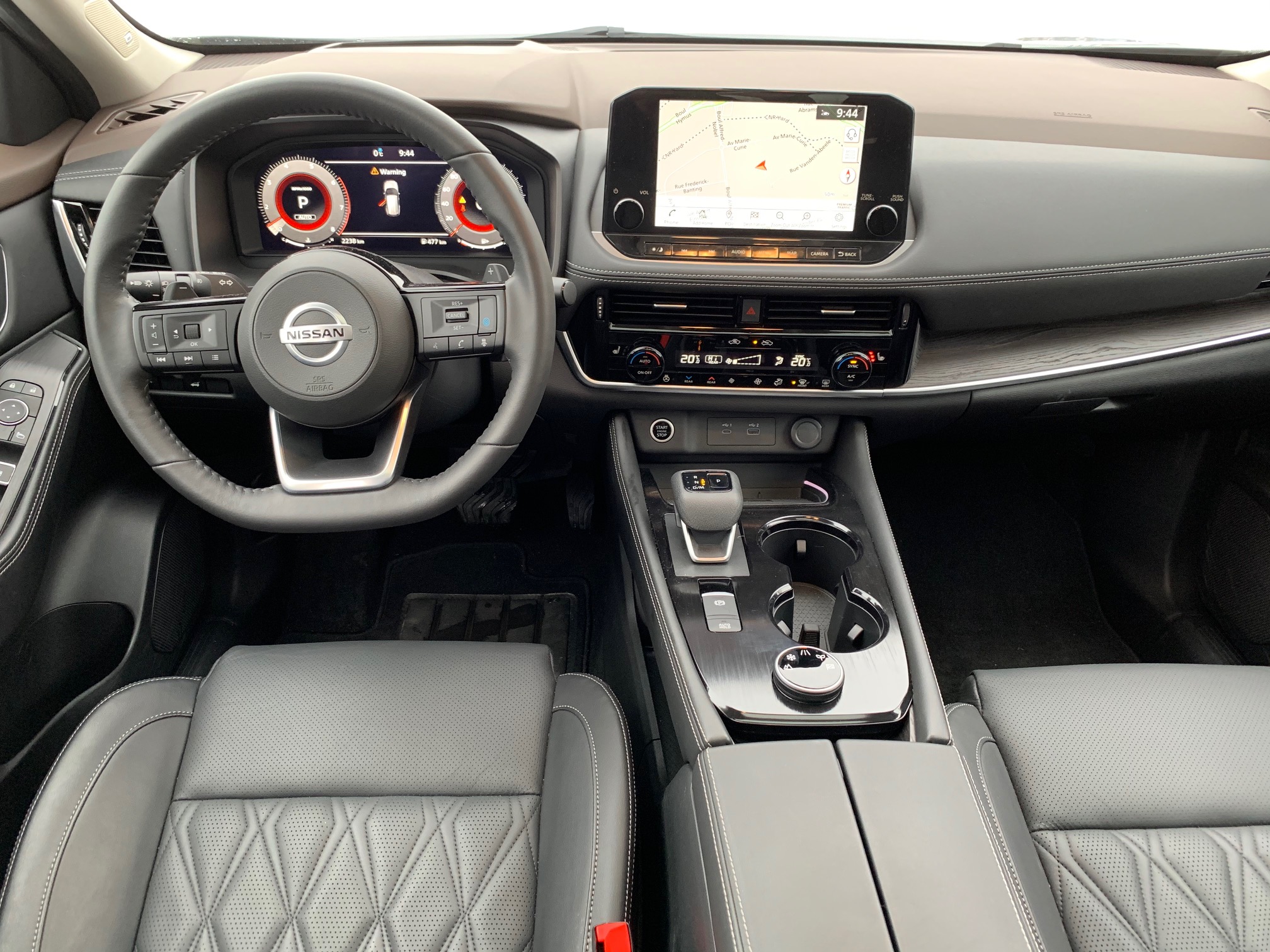 The Rogue handled quite well actually. There was decent road feel and it took corners with a confidence inspiring ease. Nissan has given it something called the Vehicle Motion Control System which predicts what the driver is trying to do by monitoring steering, acceleration and braking and then steps in to help to smooth things out. Working in conjunction with the available all-wheel drive system and drive mode selector, it provides four-wheel individual control, enhancing line traceability through corners – even applying a single brake to smooth out a corner. The changes will be minute and probably not perceivable to humans but they can't hurt to have.
Safetywise, there is a ton of standard equipment on all Rogue models. The list includes Intelligent Emergency Braking with Pedestrian Detection, Blind Spot Warning, Rear Cross Traffic Alert, Lane Departure Warning, High Beam Assist and Rear Intelligent Emergency Braking. The 2021 Rogue also offers 10 standard supplemental air bags and extended crumple zones to help protect occupants.
So what will a new Rogue run you? The old Rogue consistently had amazing lease deals in the low 300s with nothing down. The new Rogue will aim to replicate that success with starting M.S.R.P. of $28,498 (front-wheel driver version mind you). The cheapest AWD version will run you $30,798 and the most expensive Platinum version starts at $39,998.
The Rogue does everything it's supposed to do very well. It checks all the boxes and it should be a must test-drive if you're in the market for a compact crossover.