Ram is back for 2019 with an all-new full-size pickup. The Ram 1500 Sport is the subject of this review and comes will all the bells and whistles a pickup owner could want in a truck. In case you weren't aware (and many people still aren't) Ram is now the brand name and has been for the past nine years. In 2010 the company no longer wanted Dodge to make trucks so they started calling them Ram Trucks plain and simple. Ram 1500, Ram 2500 etc. Now that you're an expert on the naming scheme we can continue.
Obviously the first thing we notice is the new look. It's a stellar improvement on the previous generation if I do say so myself. This is a very pretty truck and has dramatic differentiation between the various models. The new face of Ram includes a chiseled Ram's head logo and "Ram" grilles along with an all-new full LED Adaptive Front-lighting System, including twin bi-functional projector headlamps, fog lamps and tail lamps. The new Ram is lighter, longer and wider, including an overall cab length increase of four inches. Interior storage capacity has been increased to 151.1 litres which is about double the next best competitor.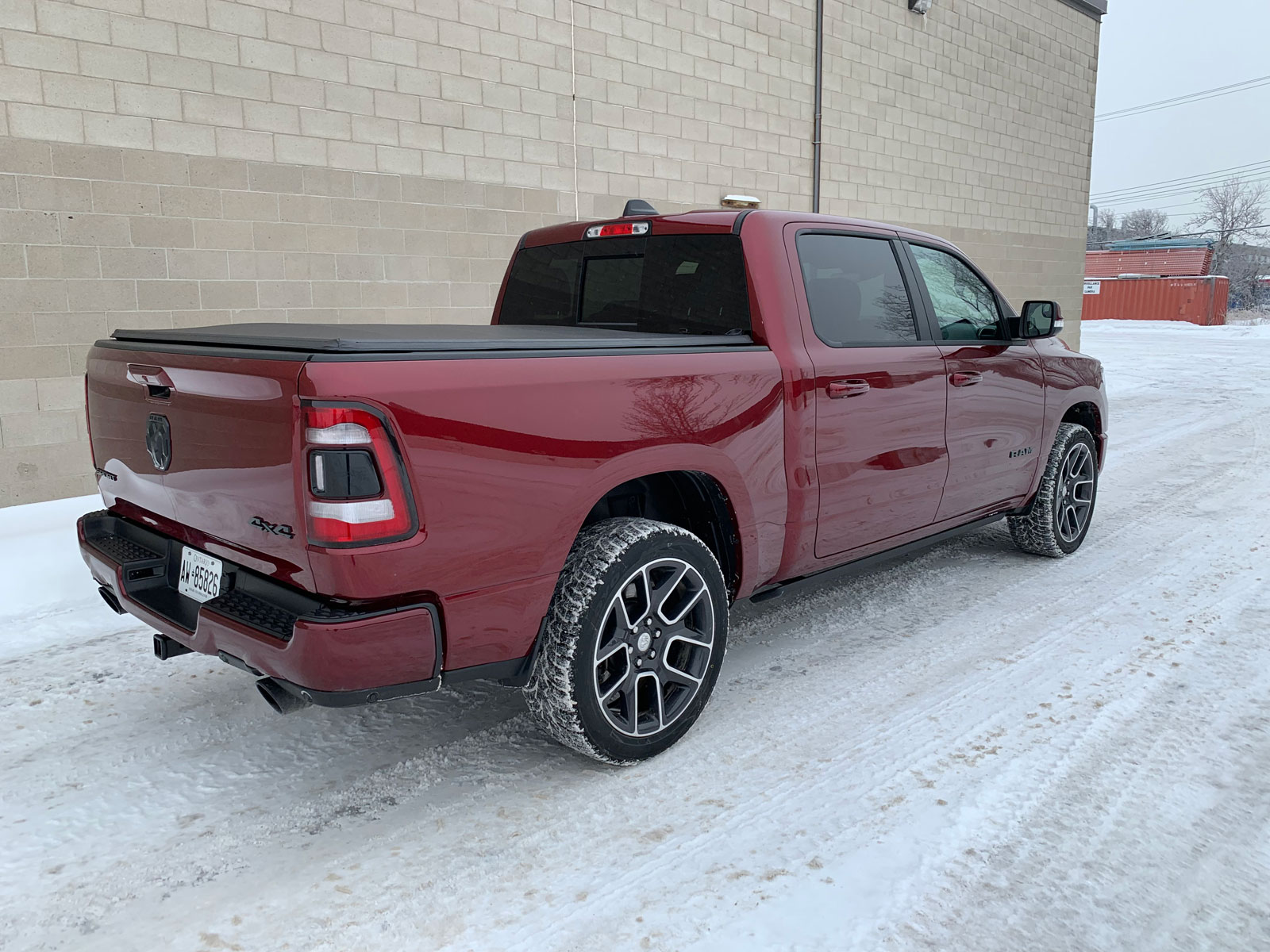 Let's talk about the weight for a minute. The company says the new Ram 1500 sheds 225 pounds compared to the previous generation. You'll remember that when the current generation F-150 came out it shed about 700 pounds by using an abundance high-strength aluminum in its construction. Ram wasn't willing to go that far and still uses 98 percent steel in its frame. They are, however, quick to point out that aluminum was used for selective components such as the tailgate, engine mounts, front axle center section, front suspension crossmember, transmission crossmember and steering system gear. All of this being said, a 2019 F-150 SuperCrew weighs 2163 kg and the 2019 Ram 1500 Crew Cab weighs 2150 kg. In terms of towing capacity, it can now pull up to 12,750 and haul up to 2300 pounds. The RAM 3500 can even tow up to 35,100 pounds.
The engine choices are mainly the same as the previous generation. The upgraded eTorque version of the Pentastar V-6 is the standard engine in most trim levels of the 2019 Ram 1500 and has been tuned for truck duty and rated at 305 horsepower and 269 lb.-ft. of torque. The brawny 5.7-liter HEMI V-8 combines 395 horsepower and 410 lb.-ft. of torque with performance-enhancing and fuel-saving technologies including variable valve timing and cylinder deactivation. It's a smooth, broad power band that avoids the hesitation of turbocharged engines. It also sounds great with a deep throaty growl. I did do a lot of city driving and while the Sport V8 was rated at 16.1L / 100 km I came in a bit below that with 17L / 100 km. This Ram was equipped with the $1895 air suspension that provides a phenomenally comfortable ride.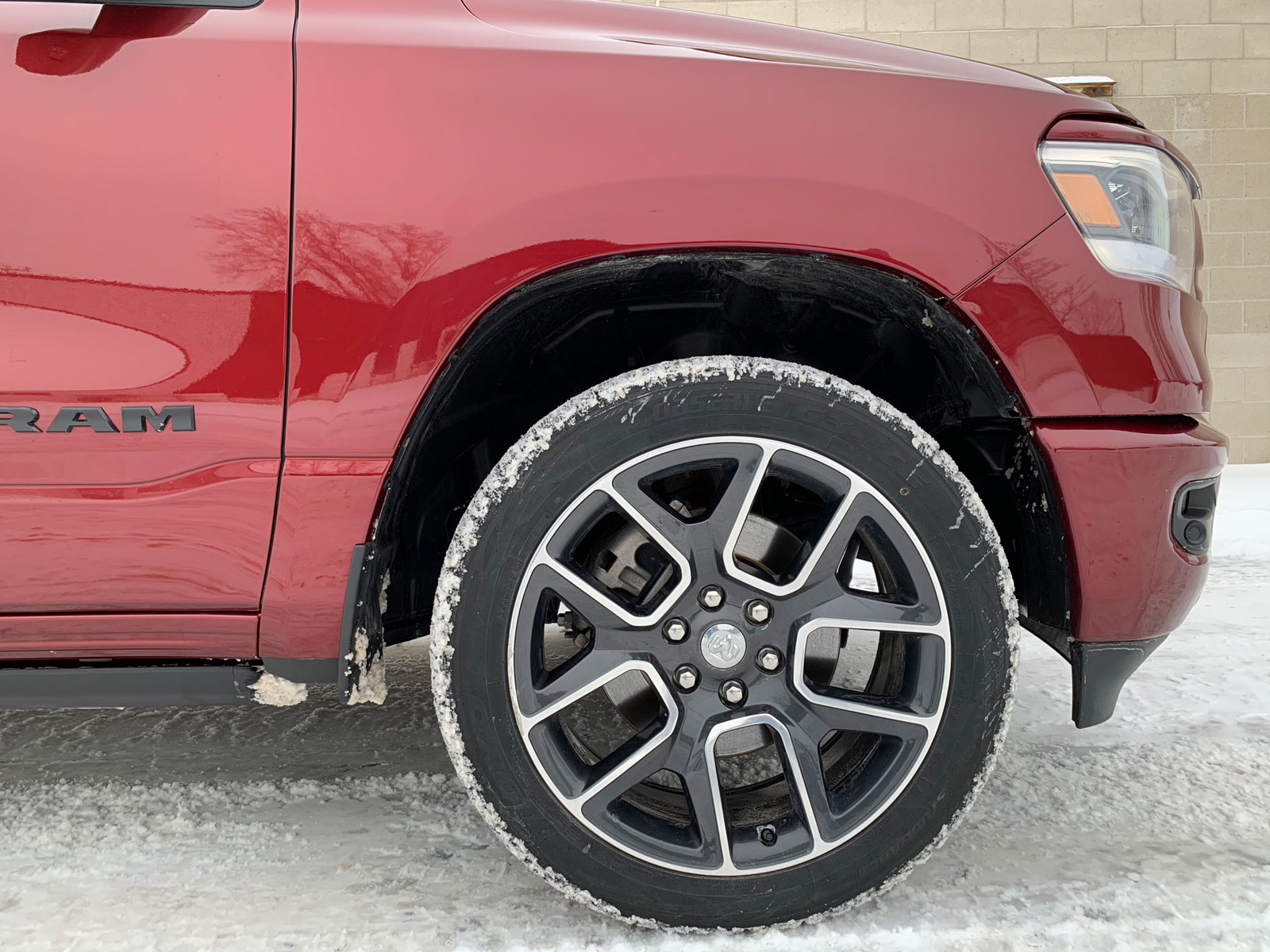 Every 2019 Ram 1500 is equipped with a fully electronic TorqueFlite eight-speed automatic transmission with a wide spread of gear ratios that keeps engine rpm in the right range for the task – whether putting in a full day of off-road work or highway cruising. Trucks equipped with the 3.6-liter Pentastar V-6 use an FCA-produced TorqueFlite 850RE transmission. The 5.7-liter HEMI V-8 uses an upgraded TorqueFlite 8HP75 transmission.
The Ram shines bright on the inside as well as the outside. The large and spacious cabin with its beautiful dashboard design is a sight to behold. I was never a fan of electronic gear selectors but this knob that Ram has introduced was actually quite good. It also allows for more storage space in the center console. Across all trim levels, the Ram 1500 features push-button start and an electronic parking brake as well. The new shifter area also groups new feature buttons, including engine stop-start (from eTorque), hill-decent control, axle lock and transfer case controls, when equipped.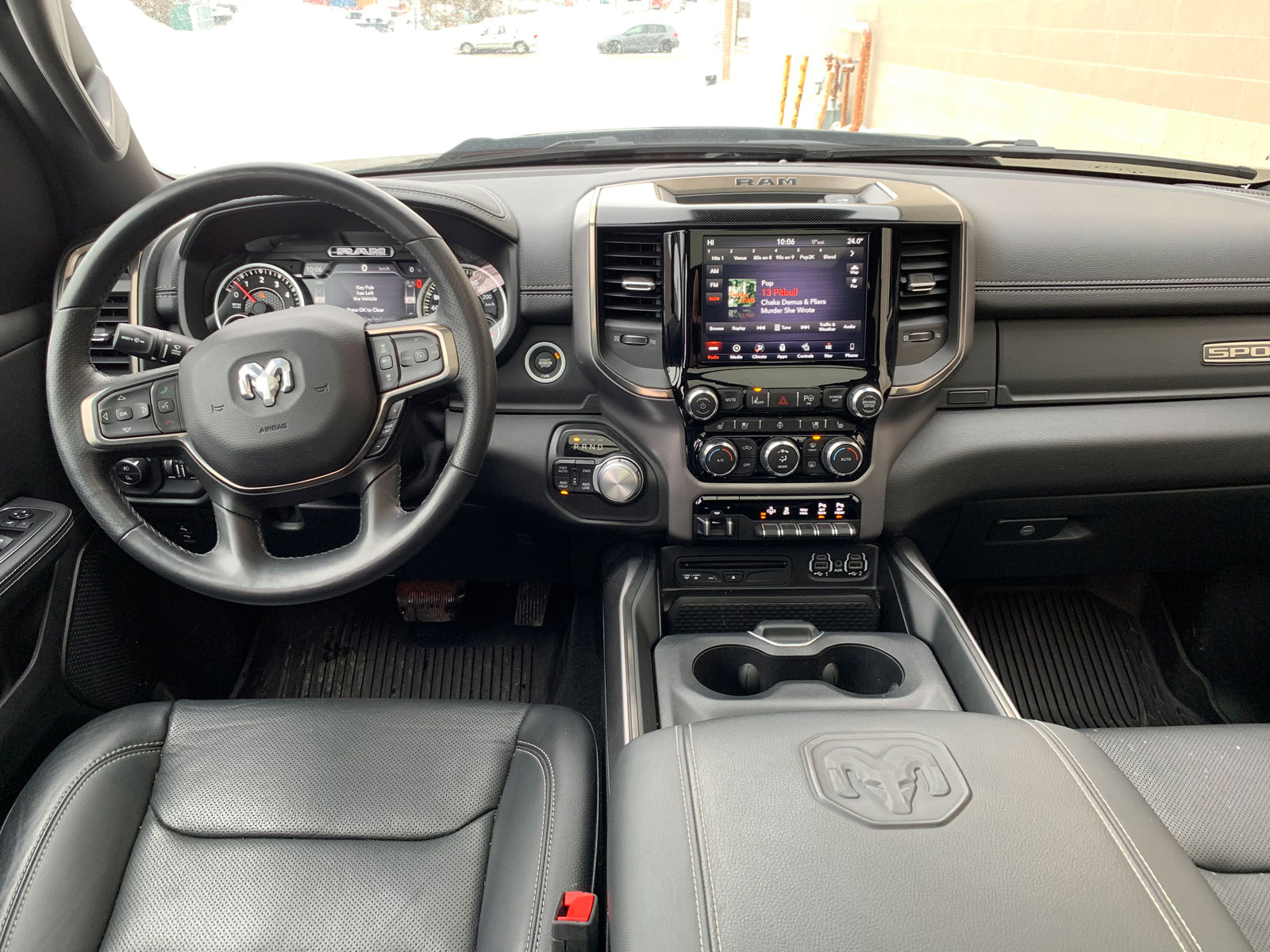 The highlight is the massive vertical 12-inch reconfigurable touchscreen on the higher end models. It's fully configurable and has a split-screen function while using Uconnect4. The one you see pictured here is the 8.4-inch and there is also a 5-inch with the older Uconnect3 interface. Uconnect is a very easy-to-use and intuitive system that's among the best on the market.
Starting at $43,195 for a quad cab (currently available for $34,095 with discounts), the Sport model Crew Cab test vehicle was $60,295 plus options for a total of $76,840. It's not uncommon for the most expensive pickups to reach this level in this day and age. The Ram certainly provides the luxury to match it's price point as well as truck power to compete at any level.