Ford's iconic pony car is one of the most recognizable vehicles on the road with its long and rich history. It's the quintessential American muscle car enjoyed by young and old alike. Ford lent me one for the week clad in bright Orange Fury Metallic so I was excited to see how it would double as my daily driver.
In 2018 the Mustang received a light refresh. At first, I wasn't sure if the new look was an improvement on the previous generation but it's grown on me. The hood and front grille are lower and the headlights were slightly inclined downward to match. It looks a bit more serious and ready for business which is what Ford was aiming for.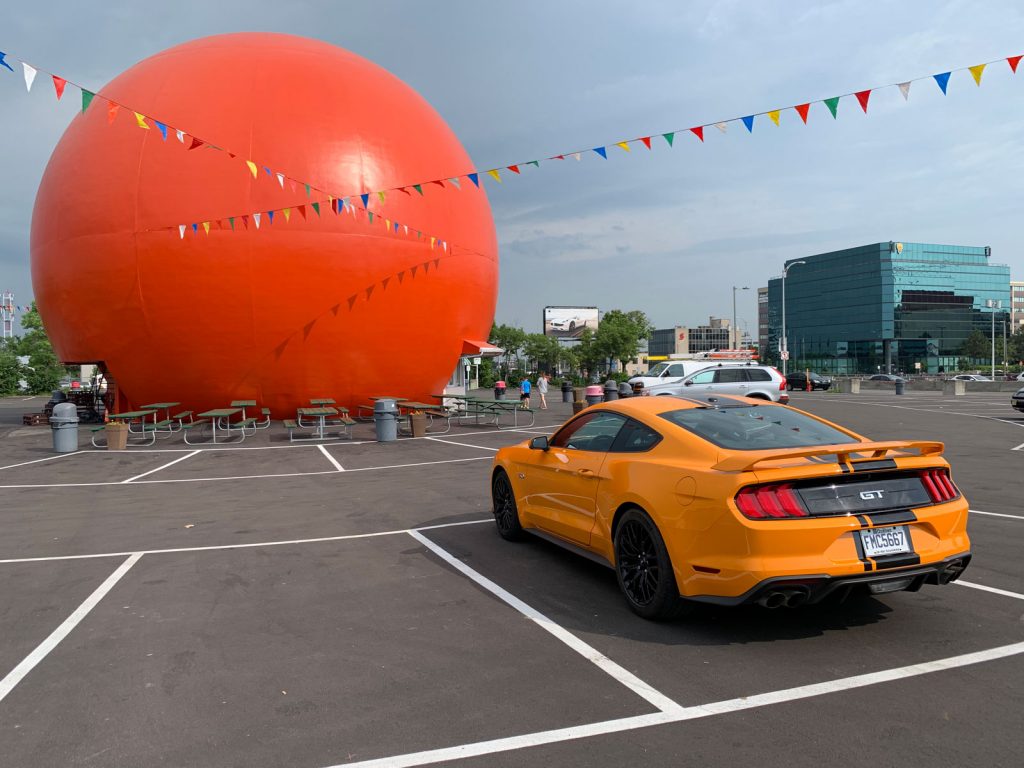 Last year also saw the release of a reworked 5.0-litre V8 engine is packing more horsepower and torque than the previous version after having been thoroughly overhauled. The new output is 460 horsepower and 420 lb-feet of torque which was an increase of 25 and 20, respectively. A ten-speed automatic transmission replaced the older six-speed auto but that's an option which will set you back $1500. It'll give you better quarter-mile time but it'll be arguably less fun. Both transmissions have beefier clutches to be able to handle the bump in power. The V8 also has double the number of fuel injectors (16) from the previous version. There are new manifolds and a reported head among other improvements. If you don't need a V8 you can opt for the four-cylinder EcoBoost engine that was also used it the Focus RS. It makes 310 horsepower and a very respectable 350 pound-feet of torque. There is no more V6 option for the Mustang.
This is a 12-second quarter-mile vehicle in case you were wondering (according to online testimonials). It has the ability to push you back into your seat with strong acceleration that needs to be wielded with care. The sound from the performance exhaust is a staple of the GT and while in race mode you'll enjoy that beautiful rumble to its fullest extent.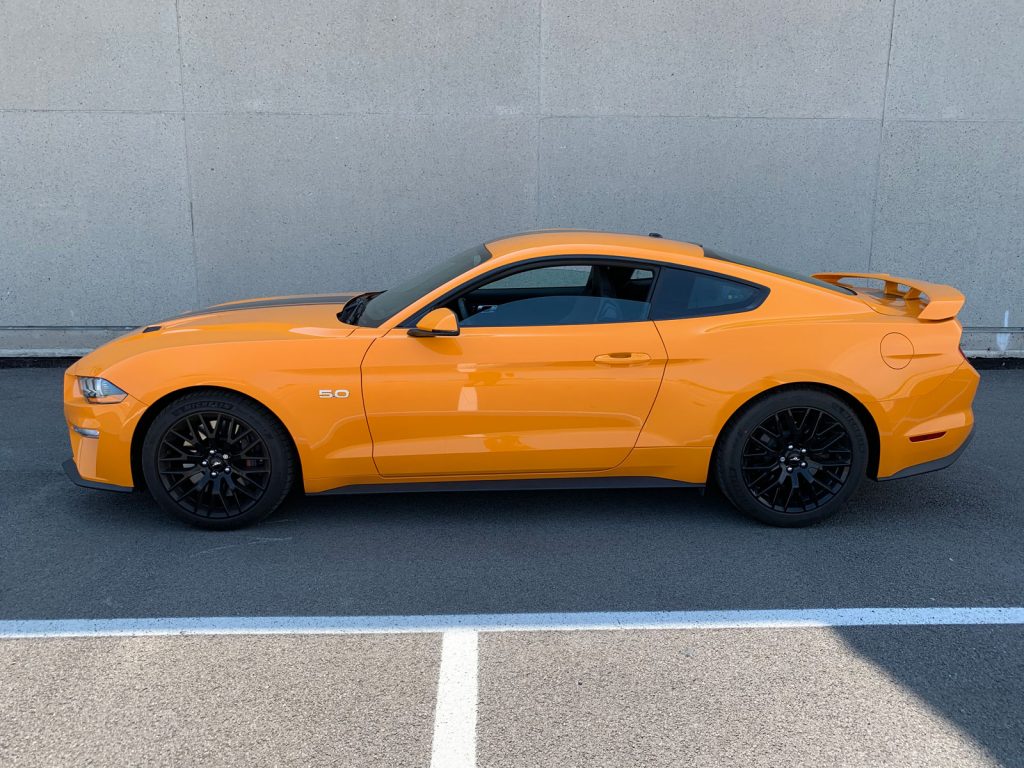 The Mustang's ability to hold its own at speed while cornering is quite good. There is an option for a MagneRide active damping suspension which system uses sensors positioned around the vehicle to adjust the suspension based on various inputs, including speed, steering angle, brake pressure, lateral and longitudinal acceleration, engine torque, drive mode selection, and even outside air temperature. It's a new option with the Performance Pack and standard with Performance Pack Level 2. High-performance Michelin Pilot Sport 4 S summer tires ensure the vehicle remains firmly glued to the pavement.
Moving on the interior, Ford has done a great job integrating the latest technology for its driver display systems. An optional 12-inch all-digital cluster with an animated tachometer that changes depending on which driving mode is selected. Sport mode also changes the sound of the vehicle by opening up the active exhaust for a louder sound. If that wasn't cool enough, you can even program it to be quiet during certain hours so as not to wake the neighbors. Electronic line lock is standard on both V8 and EcoBoost-equipped models. The feature lets racers pre-warm their tires before the start of a race for better grip.
I really do enjoy Ford's Sync 3 infotainment system as it's one of the most user-intuitive and least buggy systems on the market. Apple CarPlay and Android Auto are standard so you'll be able to connect your smartphone without issue.
You might have guessed that the Mustang is a bit difficult to kart the kids around with. The Recaro racing seats do a great job holding you into place but are difficult to fold forward. It's nearly impossible to reach the passenger seat folding level from the driver seat in case you need to fold it forward for a child to enter or exit. When folded, the seats don't automatically slide forward like most manual seats so there are two functions to perform to get the kids out of the back. All that being said, nobody is buying the Mustang to do such things so all is forgiven. In terms of fit and finish in the Mustang cabin, I think Ford could do a better job.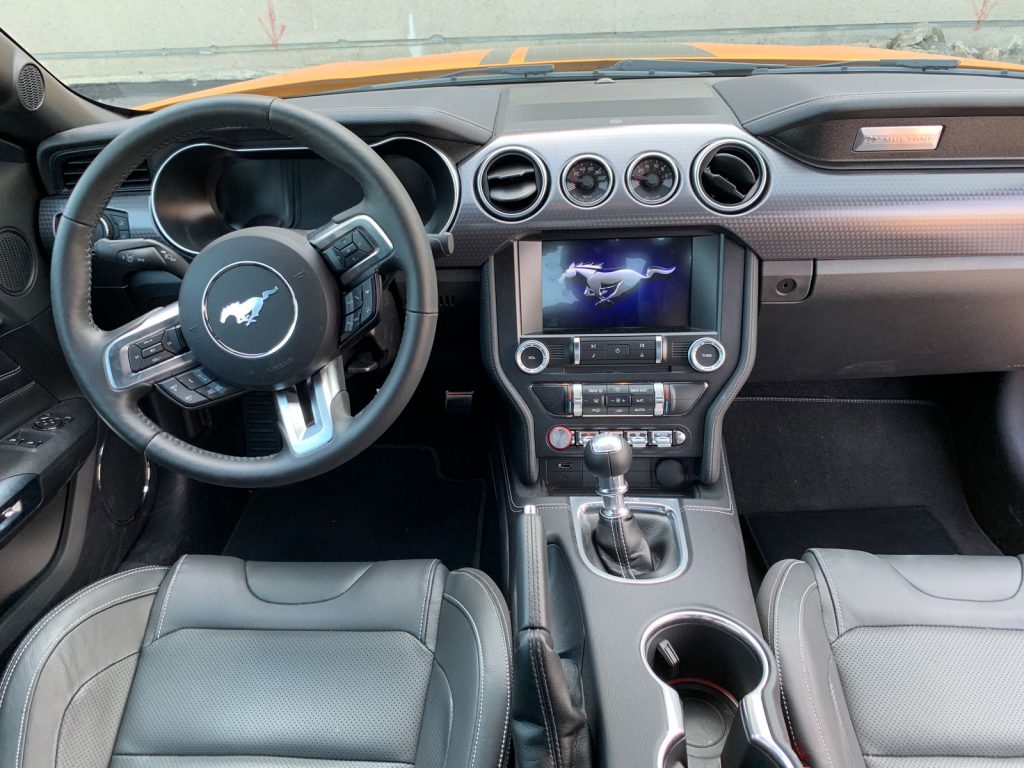 The Mustang remains one of the best bang-for-the buck vehicles you can buy in terms of performance per dollar. If you don't care about the V8 motor, an EcoBoost four-cylinder engine is available on the base model (which starts below $30,000 by the way). Even the base GT 5.0 starts at just $35,449 right now after a delivery credit and employee pricing reductions. That's a heck of a deal for this much power. As optioned, the GT Premium trim test vehicle came out to $61,325 before transport or any pricing incentives. There will likely always be a market for an affordable muscle car and Ford has the formula nailed down.