The Golf R is traditionally seen as the classier, more subtle member of the hot hatch family. It's looks are tame and the lines don't ruffle too many feathers. To the untrained eye, it might pass as a GTI or even a run-of-the-mill Golf. That's not quite what happened with this bright yellow 2019 Golf R I had the chance to test for a week.
New for 2019 is an array of 40 (yes, forty) new custom order colors—many of which are heritage colors from Volkswagen enthusiast models (the existing five colors remain available for series production). In addition, a Black Wheel package is now available featuring19-inch gloss-black aluminum-alloy wheels.
That custom yellow turned heads wherever I went and I loved every minute of it. The bright color accentuated the Golf's sharp lines and turned them from classy to crazy. It was also extremely photogenic as you can see from the gallery which I had a heck of a lot of fun shooting.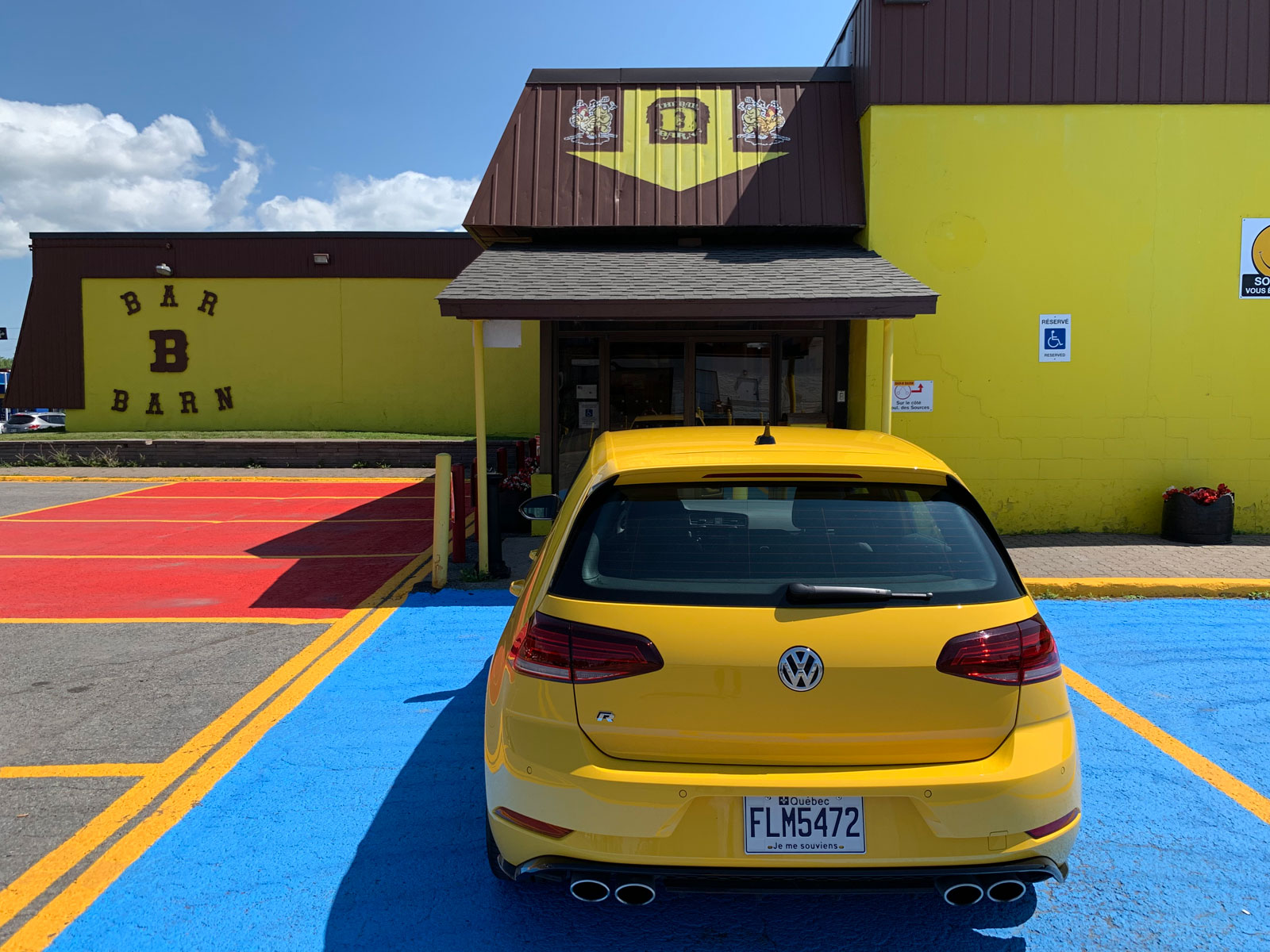 Under the hood we find the very potent four-cylinder turbocharged, direct-injection TSI 2.0-litre engine that puts out 288 horsepower and 280 lb-ft of torque over a broad rpm range. The Golf R is one quick machine that can push you back into your seat while getting up to 100 km/h in just 5.1 seconds. The quarter mile time is just 13.1 seconds and with a little ECU reprogramming the car can be in the 11s on street tires.
Not only does it accelerate fast but handling, traction, agility and braking are just incredible and combine for a seriously wild and confidence-boosting experience. The Golf R has the upgraded brakes from the GTI Performance Package model with 13.4-inch diameter vented discs in the front and 12.2-inch rotors in the rear. 4MOTION all-wheel drive means this fun can be had during winter as well. The system uses torque vectoring and can send up to 50% of its power to the rear wheels. Not only that but the system will take into account speed, acceleration and lateral motion to determine exactly how much power will be needed to shift around. While the DSG automatic transmission is excellent (in particular the rev-matching feature) the vehicle will yield much more driving excitement with the manual option.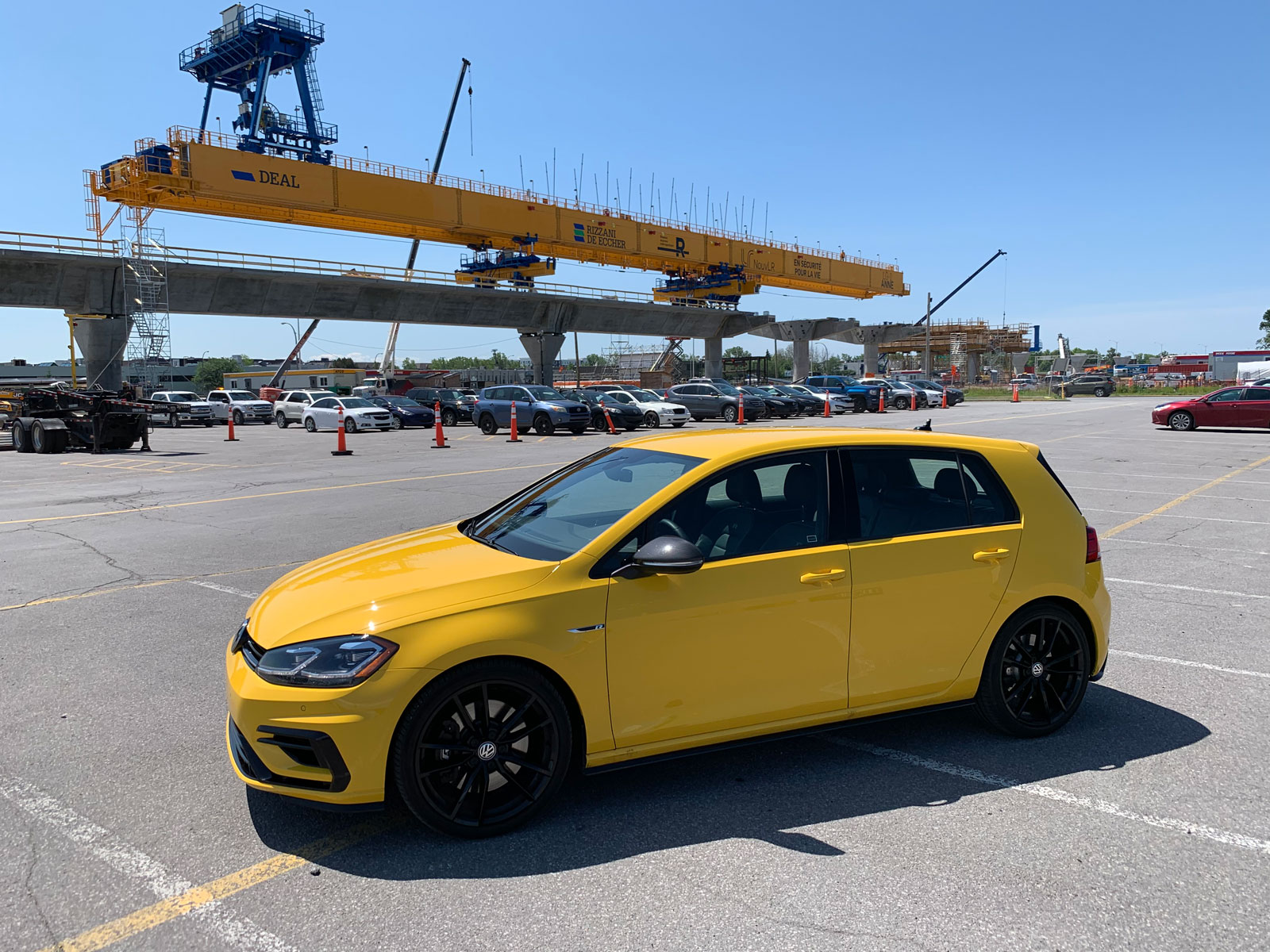 The interior of the Golf is equipped with front sport seats with 12-way power adjustment for the driver and leather seating surfaces integrated with "R" logo embroidering. A flat-bottom, leather wrapped sport steering wheel integrates a chrome "R" logo on its lower cross bar. The decorative inlays of the dashboard and door trim panels feature a carbon design and ambient lighting is also integrated in the door trim panels as standard. The doorsill kickplates, pedals, and foot support are designed with a stainless-steel look. I still feel that there are a few too many hard plastic dash panels but it's a race car so this is tolerable. The seats are comfy but firm and work to keep you planted during any hard cornering.
The cabin layout is very functional including having proper knobs for HVAC and audio controls. Apple CarPlay and Android Auto make life easy and the layout of the VW infotainment system is intuitive and easy to use.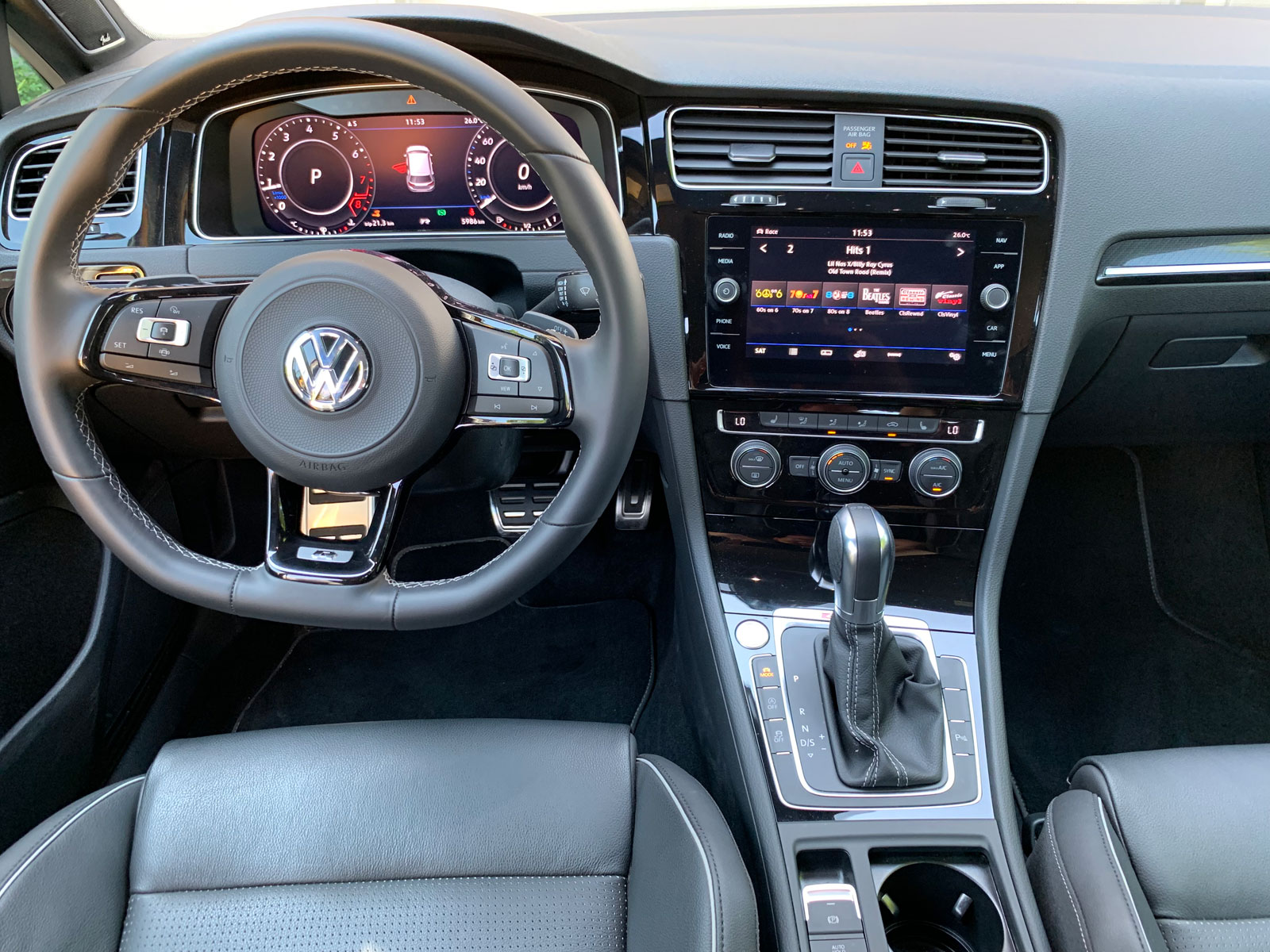 Here is the question though: Is it worth the asking price? Ask any Golf R owner and they'll tell you yes. I'm also inclined to agree. Granted, you may obtain a beautiful GTI Rabbit with the killer plaid interior for $33,995 but it would only have 228 horsepower. The GTI is still a good deal in my opinion and the $30, 845 base price is $11,650 less than the price of the Golf R at $42,495. To the performance enthusiast, that won't matter though.
Let's take a look at some of the competition. The Subaru WRX STI starts at $42,060 but can run up to $49,160 when all of the options are added. The Civic Type R starts at $43,460. The Ford Focus RS started at close to $50K before it was discontinued so the R is in a sweet spot.
All things considered, the Golf R is one of the most fun vehicles you can buy dollar for dollar. It's an amazing daily driver that you can use to either blend into the masses or spruce up and draw attention to yourself with a wacky color.