The best-selling vehicle in North America returns for 2019 with a few mild upgrades and changes to the model lineup but remains essentially the same.
Ford has succeeded in making the F-150 look both rugged and pretty at the same time. Last year saw the pickup truck receive a mid-cycle refresh with modifications to the front end and a few other places. The headlights were extended inward to meet with the grille which was widened. The hierarchy of grilles remains so that the different trim levels can be identified but there is always the option to upgrade your grille to something sportier. In fact, the F-150 online configurator is one of the easiest and most enjoyable to use. I've gotten lost in it for hours just fiddling with the different trims and configurations to find the ideal F-150. I highly recommend checking it out at Ford.ca.
In 2014 Ford switched to building the F-150 of out mainly high-strength aluminum rather than traditional steel. It was a gamble but it certainly paid off because the F-Series is still the most sold vehicle in the US and Canada and remains the measuring stick by which all other brands use to gauge themselves. The weight savings of around 700 pounds also allowed a variety of smaller, more fuel-efficient motor options to make sense moving forward.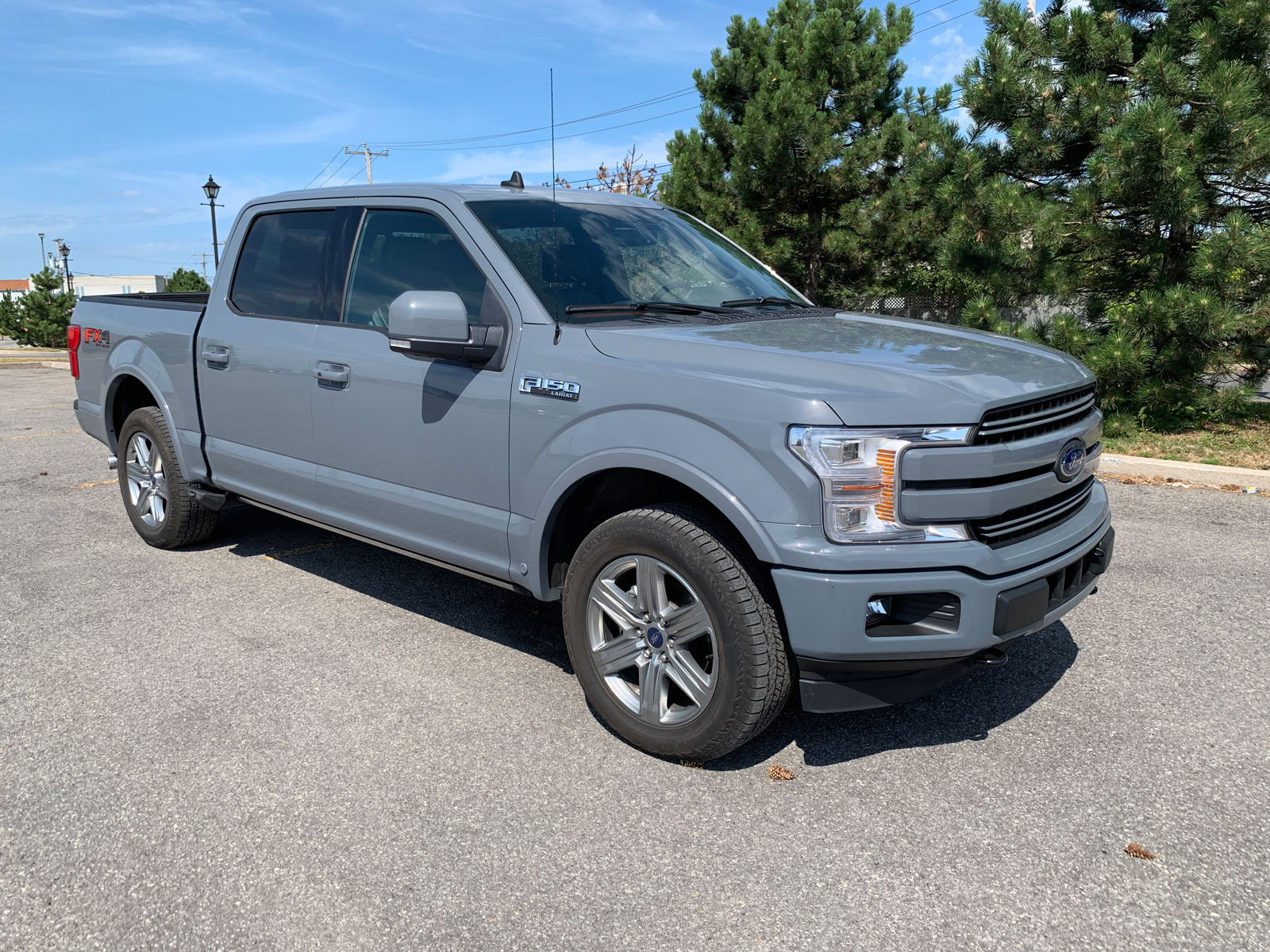 I tested the 2.7-litre Ecoboost as well as the new High-Output 3.5-litre Ecoboost used in the F-150 Raptor which is now standard on the Limited trim. Other engine options include a 3.3-litre V6, 5.0-litre V8, 3.0-liter Power Stroke turbodiesel V6 and the (normal output) 3.5-liter EcoBoost V6. The base 3.3 is paired with a six-speed automatic and the rest will have a 10-speed automatic transmission. Trim levels include XL, XLT, Lariat, King Ranch, Platinum, Raptor and Limited.
Despite being a the smallest powerplant, I still enjoyed the 2.7-litre Ecoboost's ability to move the F-150 with ease and having decent pull from a stop. It's great for daily driving use and doesn't feel underpowered at all, making 325 horsepower and 400 lb-ft of torque. Granted I didn't tow anything and I suspect that people who do need to pull a trailer will be eyeing the more potent powerplants. With mainly city driving, I was able to do about 13 L/ 100km. On the XLT, this engine will be a $700 upgrade over the standard 3.3-litre V6.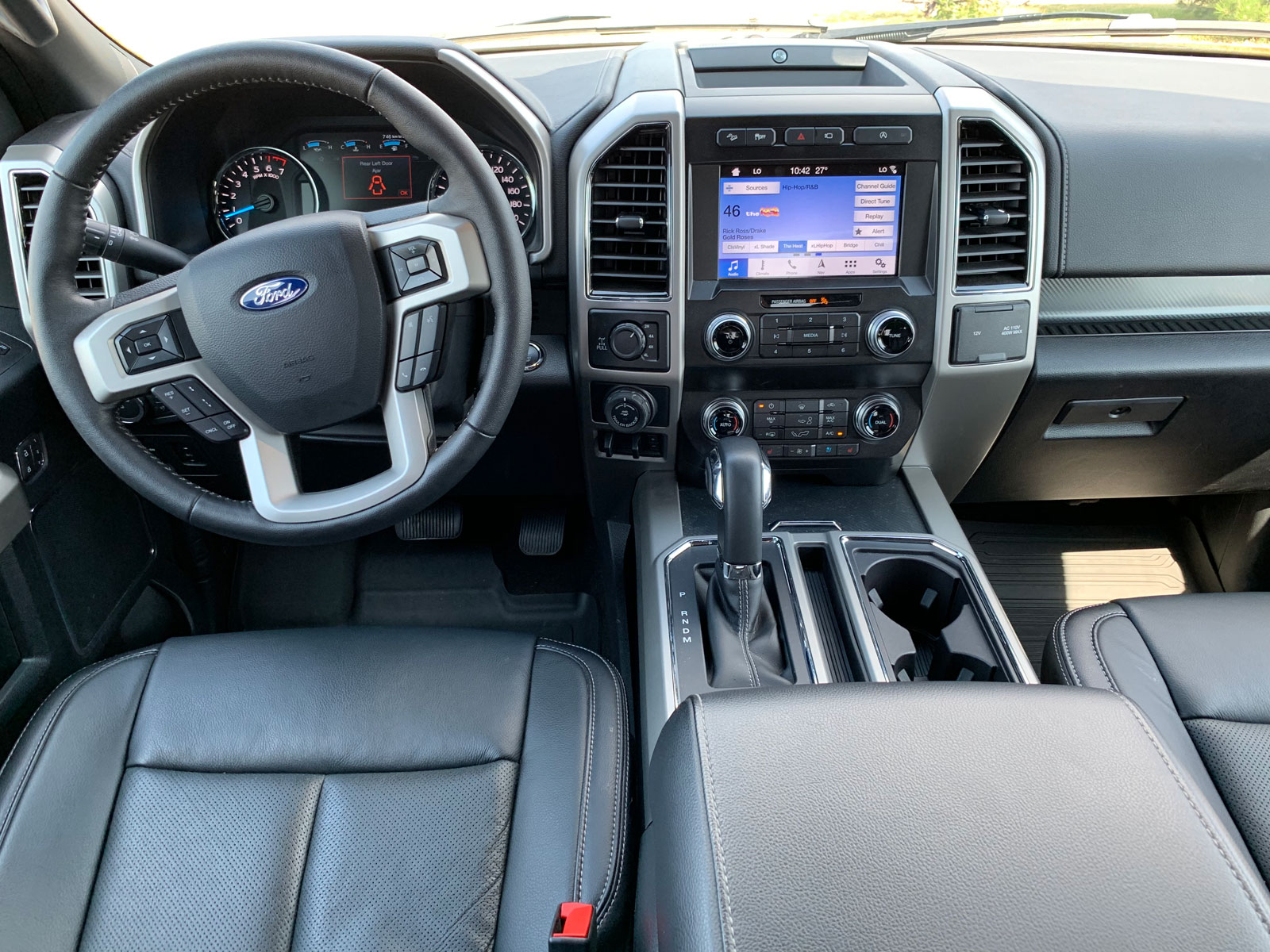 The real treat was the High Output 3.5-litre Ecoboost V6. This engine is sourced from the Ford F-150 Raptor and generates a massive best-in-class 450 horsepower and 510 lb.-ft. of torque. It's not just the amount of power that impresses but the smoothness of the delivery. It's there immediately at low RPMs and all through the power band with almost no turbo lag. The sound is impressive as well with a deep growl that might make some people question if it's a V8 lurking under the hood.
Ergonomically the F-150 is stellar all around with a very well laid out cockpit. The seating position is very comfortable and the unique interior door handles are easy to use. In fact, I didn't realize just how well the design was until I drove another vehicle and my hand was searching for the Ford-type handle only to be disappointed that I had to use a standard handle once again. If you have a family, the spacious accommodations provided by the SuperCrew are almost able to render large SUVs or minivans obsolete (but not quite). As soon as the little ones are out of the bucket stage then the F-150 becomes a viable option for families of up to five.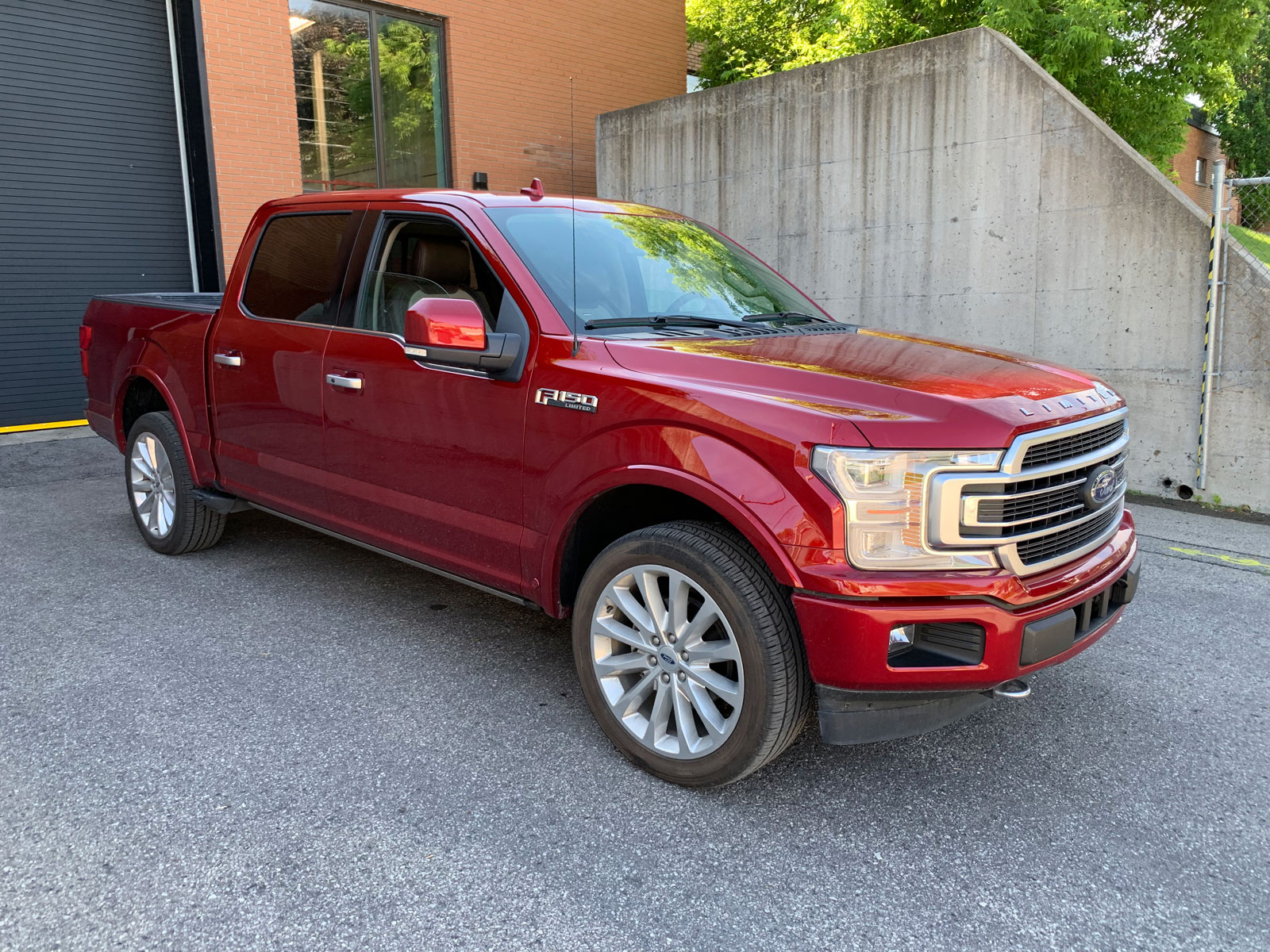 Ford has done a great job with their Sync 3 infotainment system as I found it intuitive and well designed. Apple CarPlay and Android Auto make connecting your smart phone a breeze. Climate controls are either digital or via physical button which is yet another aspect that Ford gets right though I'd like to see a dial or larger buttons for fan control. On less expensive models, a smaller non-touchscreen is standard but it's really worth it to get the upgrade. FordPass™ Connect is now standard for F-150 XLT, while the CD player is deleted. FordPass is an app that customers can download onto their smart phones. FordPass Connect is a modem that is embedded within the vehicle to connect that vehicle to the internet and provide the customer with new functionality such as traffic information, and a Wi-Fi Hotspot.
As I mentioned I love playing with the online configuration tools. For SuperCrew (4-door) entry-level models, you can spec out an inexpensive XL in the low-$30K range or a reasonably-priced XLT in the mid-high 30K range. Moving up to a Lariat will give you leather seating, a push-button start, the 2.7 Ecoboost motor and a number of other upgrades in the low-mid $40K range. The high-end models like the King Ranch, Platinum, Raptor and Limited will be between $60-90K so be prepared to reach deep into your wallet.
Ford has the pickup formula down to a science and is running with it. There is something for everyone to like no matter what your budget is.