A full-size SUV has been missing from the German automaker's lineup until now, while the brand rolled out small crossover after small crossover. Finally, we get a large three-row luxo-mobile to take on vehicles like the Cadillac Escalade, Lincoln Navigator, Range Rover and Mercedes-Benz GLS.
First let's take a look at the styling. I find it actually quite pretty all around. The new BMW design language here is sleeker and smoother than their previous SUVs. I'll even take that large front grille no problem, despite many people's grumblings about it.
The behemoth is 5,151 millimetres in length, 2,000 millimetres wide and 1,805 millimetres tall with a wheelbase of 3,105 millimetres. It has large windows, high ground clearance, a long roofline and a two-section split tailgate for easier access. Detailing includes extensive chrome elements, standard LED headlights and optional BMW Laserlight headlights. 20-inch wheels are standard and you can upgrade to 21- and 22-inch wheels if you so desire.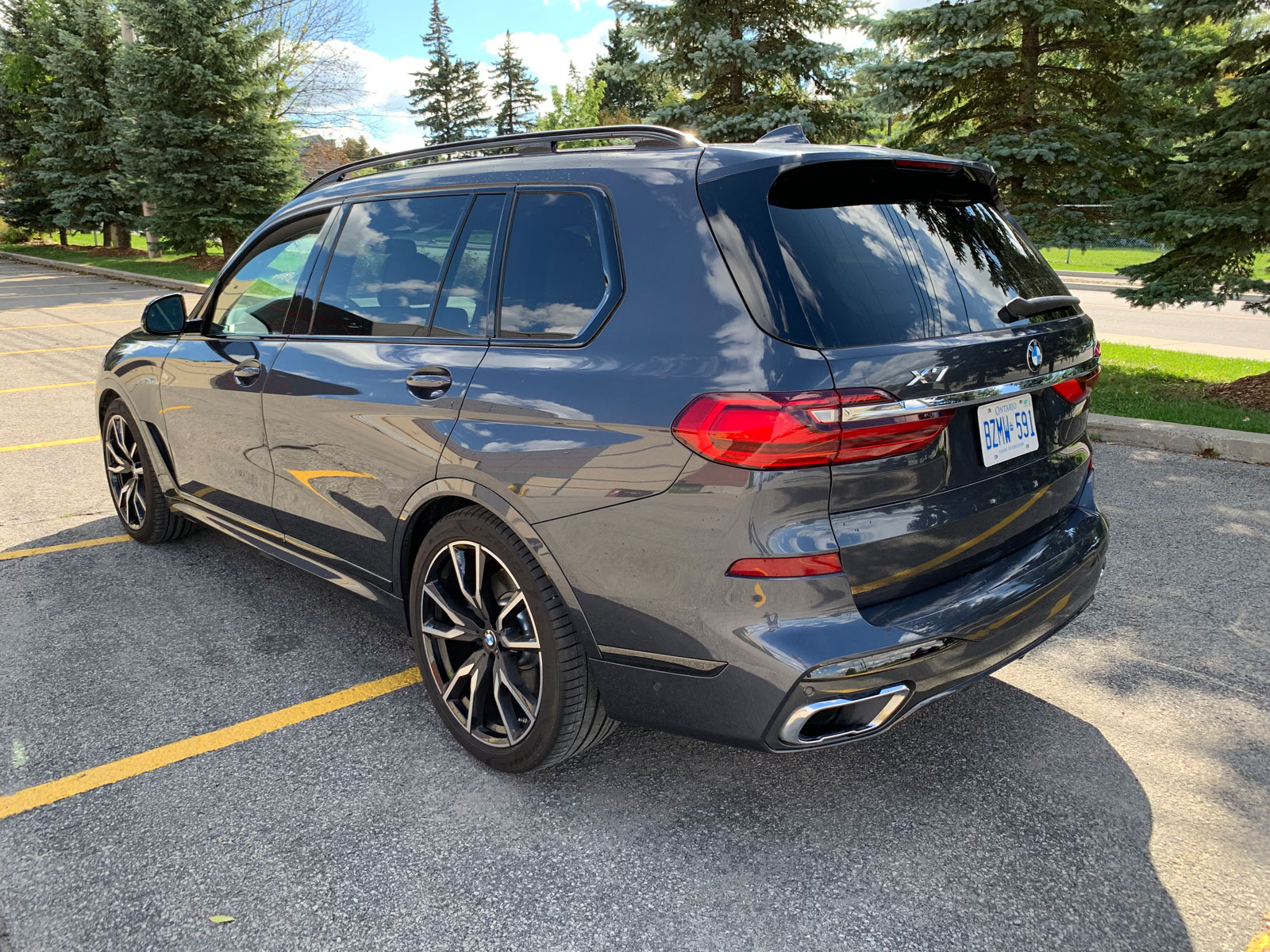 Moving on to the interior we have a luxurious cabin that is large with a ton of space. The captain's chairs in the middle row provide easy access to third row which will comfortably seat adults which is rare for third rows. What I don't like is the electric operation of these seats if you need to fold them down. You must push a button and wait for the operation to complete. To make matters worse, there was a system error preventing me from folding down the middle row altogether. I tried troubleshooting it online but to no avail. I needed to transport something large and the BMW wasn't going to allow it.
Aside from that, the X7 cabin is a wonderous place to be. The layout will be familiar to any BMW owner with a crystal gear shift lever, modernized dash layout and many features such as heated or cooled cupholders, four-zone climate control, massaging seats, a large panoramic roof, LED mood lighting and a 12.3-inch touchscreen infotainment screen. The seats and steering wheel are still as ultra-comfortable as ever.
The X7 has BMW's seventh-generation iDrive infotainment system with sharper resolution, better graphics and less response time. Everything is fully-customizable in terms of digital design. The instrument screen behind the steering wheel is also 12.3 inches in size and your customizations can be stored in a cloud and follow you to other BMW vehicles should you have more of them. BMW Live Cockpit Professional allows you say "Hey BMW.." and ask the vehicle to perform basic functions with fairly good accuracy. and an efficient BMW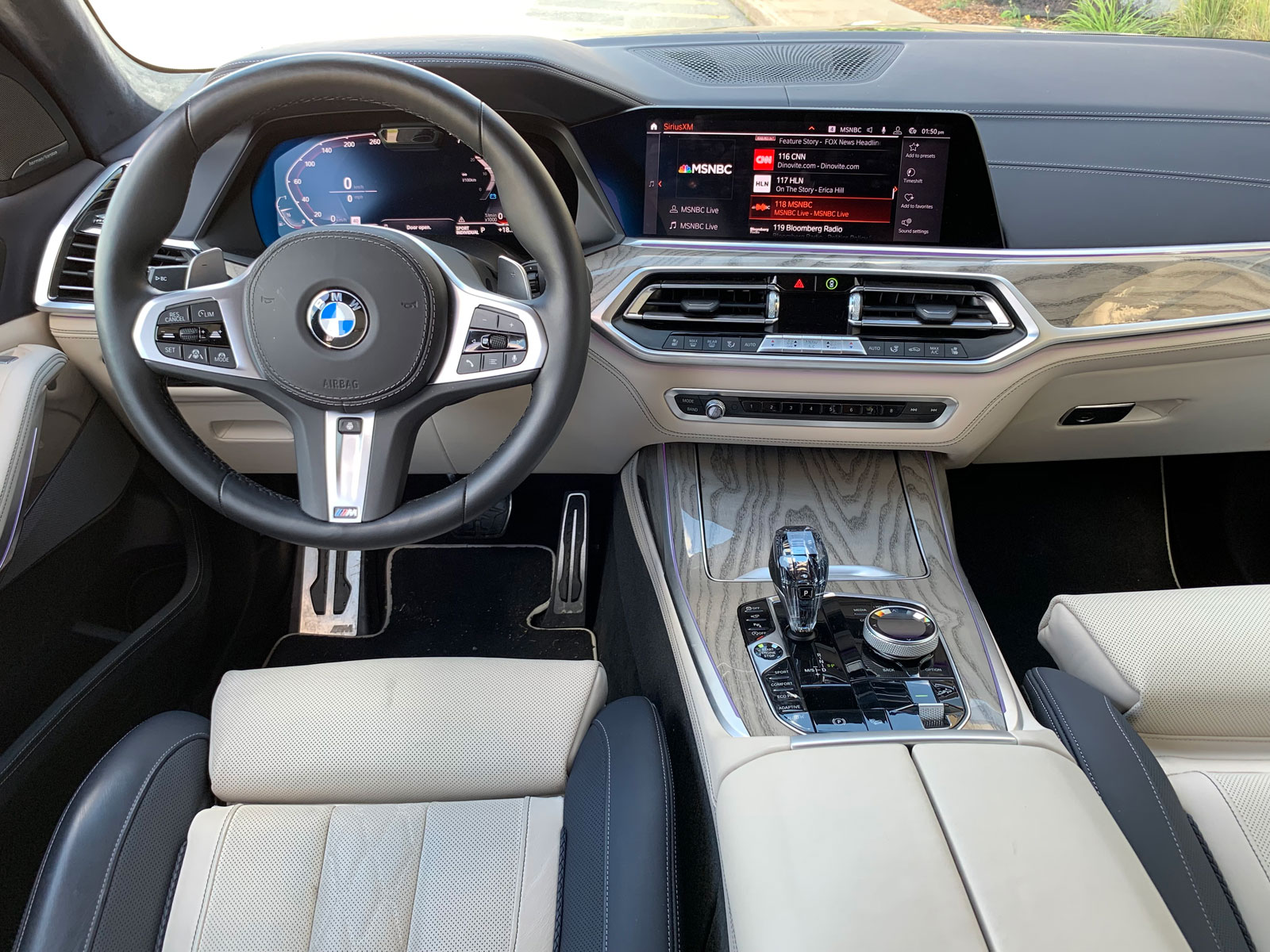 iDrive has a very intuitive interface that is easy to use, in particular because of the rotary dial located on the lower center console. It's always been the best way to operate a system because it lets the driver's eyes stay close to the road while not having to reach or lean. I didn't even use the touchscreen because it's not necessary. Using an application such as Waze via CarPlay is surprisingly easy as turning the rotary dial flips the cursor around the screen intelligently. There are known connectivity issues with the wireless CarPlay feature that hopefully BMW gets sorted out quickly.
I'd like to see a change in the climate controls. The buttons are too small and they are not dials. In the spring and fall months where there are often wild temperature wings, it's often necessary to adjust the temperature and fan speed frequently and it's not the easiest thing to do.
For a large SUV, the X7 certainly didn't feel like one on the road. I felt like I was driving the smaller and sportier X5. The suspension is tuned to keep the driver in communication with the road while simultaneously deliver a smooth and quality ride. Steering is quick and nimble and you can toss the vehicle around with surprising accuracy.
Under the hood of the X7 xDrive 40i is a 3.0-litre inline six-cylinder motor making 335 horsepower and 332 lb-ft of torque. While the motor was up to the job, the X7 could have used a little more oomph when really pushed. To get that you'll need to upgrade to the xDrive 50i model which sports a twin-turbo 4.4-litre V8 engine making 445 horsepower and 479 lb-ft of torque mated to an eight-speed transmission.
To get this beast of an SUV you'll need to open your wallet. It's starting price is a whopping $92,500. With the Premium excellence package, M Sport Package and a few standalone options, the final sticker price was $114,850 for this tester.
BMW has a nice package here which will do well against much of the competition. The price point likely doesn't even matter to most of the prospective buyers anyways. In terms of luxury and performance in a familiar brand, the X7 fits in perfectly.