I've always found Subaru to be ahead of the game in terms of functionality and utility, especially for Canadian drivers. It's no coincidence that they recently broke their Canadian sales record seven years in a row and came very close to doing it again in 2019. In fact, it would have been thirteen years of straight growth had the 2011 Japanese tsunami interrupted production on the island. They've had similar success south of the border with an even larger market share than they have in Canada.
2020 sees the brand introduce a completely redesigned new Outback model. There are two new engine options to choose from – the standard naturally aspirated 2.5-litre engine delivers 182 horsepower at and 176 lb-ft of torque and the optional 2.4-litre turbocharged engine which delivers more performance with 260 horsepower and 277 lb-ft of torque.
The exterior is revamped but still unmistakably Outback. Features such as thicker profile panel surfaces, a raised rear gate, wider fenders, a large hexagonal grille, front cladding and LED fog lights on the corners (standard on all trims except Base) emphasize the ruggedness that Outback buyers are accustomed to. I find it to be a really pretty design that is modern and upscale. I would love to see a front LED turn signal to complement the LED daytime running lights. Subaru chose to go with a traditional incandescent light bulb which diminishes the appearance.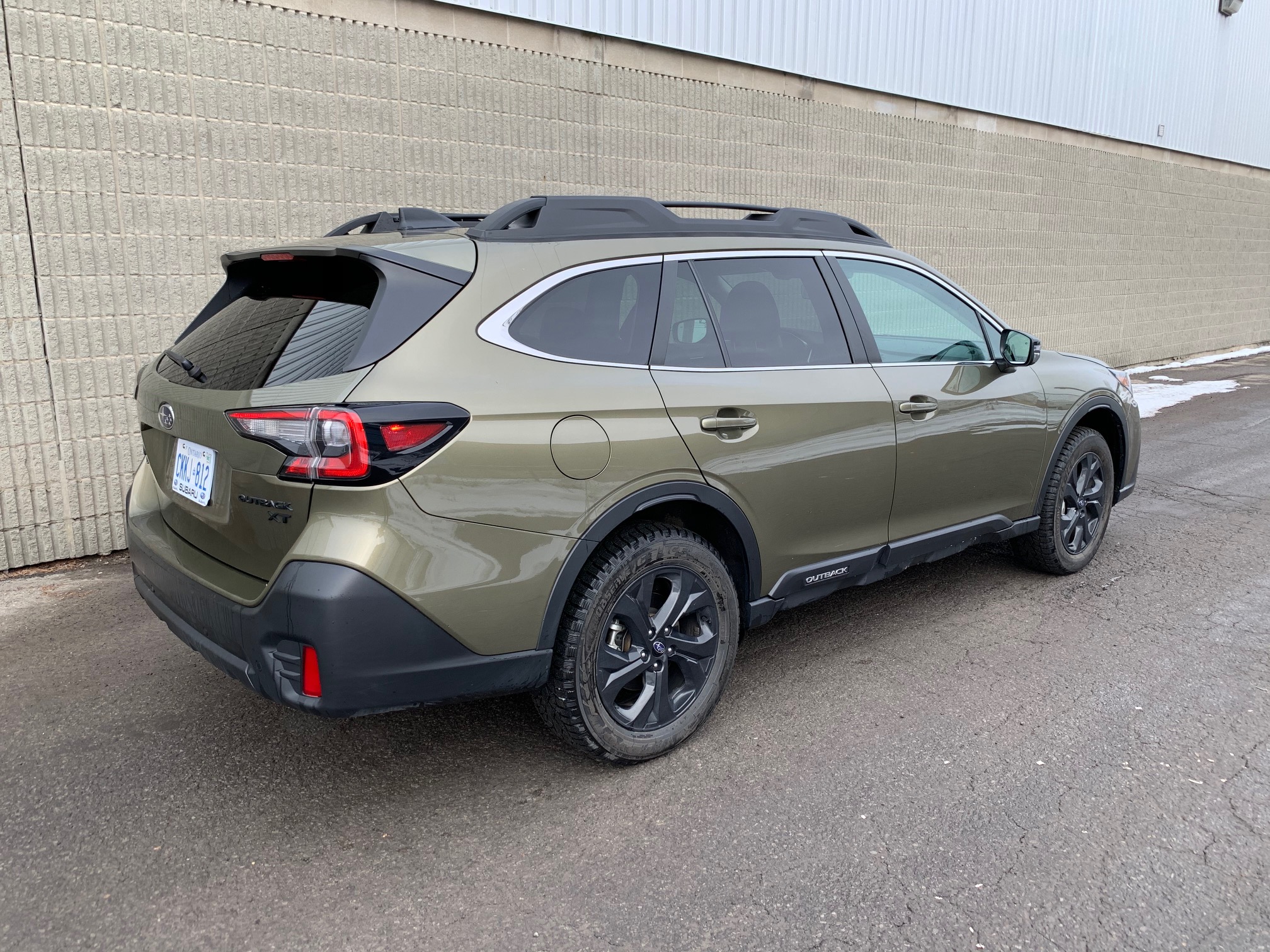 Moving on to the interior, there are big changes to report. Up until recently, the brand has been knocked for its rather mundane interior styling but the all-new tablet-style infotainment interface does away with all that and brings Subaru to the forefront of interior design. I was immediately blown away by the esthetics of the smooth surface with a brushed aluminum trim. I also like that the gear shifter is a standard unit rather than an electronic one as we see many automakers doing these days.
Subaru spent time making cabin quieter and they say they have managed to shave 3 dB of noise at highway speeds. This was done by installing new door weather strips and thicker, sound-insulating glass. All trim levels (except Base) feature standard heated front seats and a 10-way power front driver seat. Touring models add ventilated front seats and a heated steering wheel. The seats are comfortable and supportive. Visibility is also very good, especially considering this is a station wagon.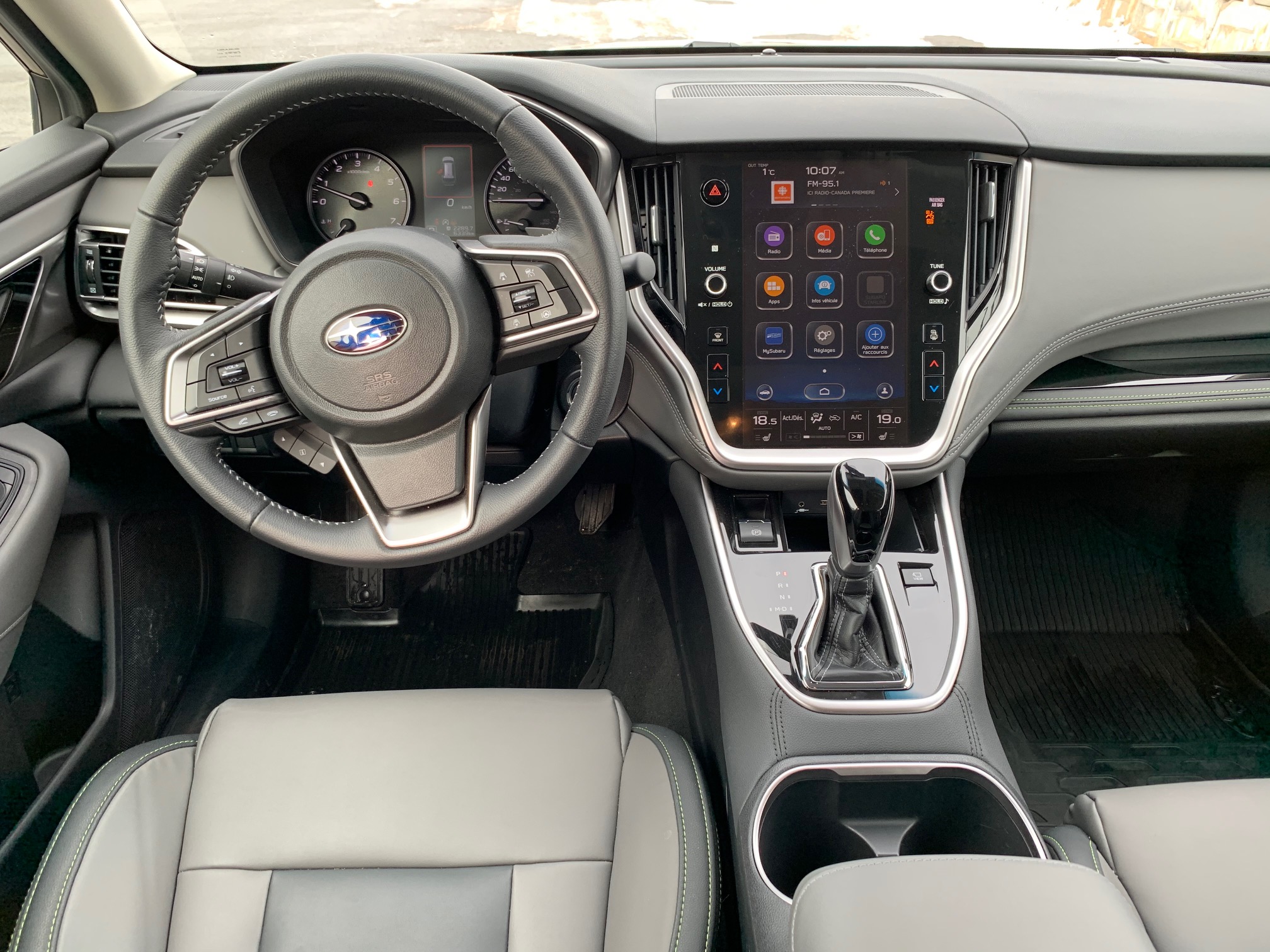 While I was immediately very impressed with the new cabin, it's not all positive news. After a few days with the car, some shortcomings of the new tablet infotainment system became apparent. The first was that on cold days the screen had a delayed response. When it's – 20 degrees outside and you want to blast the heat as quick as possible, a delay in screen time can be frustrating. Equally frustrating are the small climate controls at the bottom of the touchscreen that (obviously) won't work if you are wearing gloves. The seat heat requires several taps on the screen and then several more when you want to reduce it or turn it off after a while. All of this can lead to driver distraction and is not an improvement over physical buttons and manual dials. I was hoping to discover that the tablet system was only an option and that there would be a standard interface with real climate controls but unfortunately, it's standard on every trim level except the base Convenience model.
The 2.4-litre turbocharged engine delivered lots of power but the use of a CVT diminishes the fun factor a little. CVTs or continually-variable transmissions are good at fuel savings and the Outback sipped fuel at a rate less than 9 L/100km in the city which is amazing.
The Outback performed beautifully in the boat-loads of snow that fell when I had it. I couldn't think of a more useful vehicle to have in these challenging conditions. I love the SUV-like capability with car-like handling. Subaru Symmetrical All-Wheel Drive has Active Torque Vectoring, Vehicle Dynamics Control and X-MODE which is a software program designed to get you up and down difficult terrain. The 8.7 inches of ground clearance for all Outback models is greater than that in many SUVs, yet the Outback maintains a comfortably low step-in height for both front and rear passenger entry.
The 2020 Outback starts at $30,695 before taxes and delivery. The test vehicle you see here is an Outdoor XT and came in at $38,695 which I find reasonable given the capability and technology Subaru provides. The Outback is an amazing vehicle that does it all and is a must-try for anyone considering an SUV.