The redesign of Infiniti's compact crossover was of such importance to the company that it was described as "the most important vehicle we have ever launched". The QX50 was overdue to be redesigned and the compact crossover segment is critical these days so it's not surprising a lot of importance was placed on this vehicle. We first caught a glimpse of it at the 2017 Los Angeles Auto Show.
While initially called the EX35 when it was launched in 2008, the QX50 later adopted Infiniti's new naming scheme of QX for crossovers and Q for sedans. It was not just a light update or a refresh but a totally new vehicle and platform.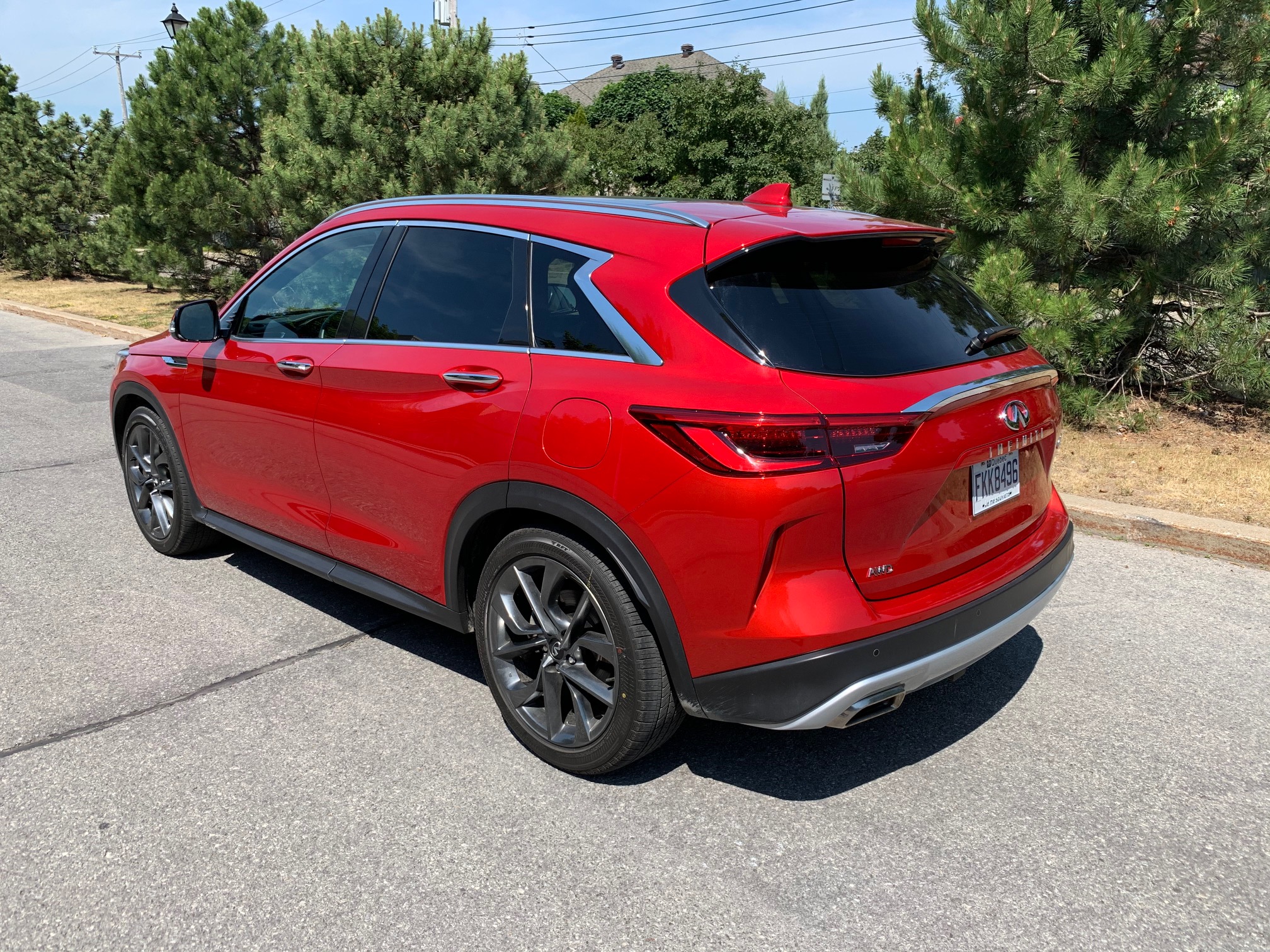 Powering the QX50 the world's first variable compression ratio engine in a production vehicle. The 2.0-liter VC-Turbo engine adjusts its compression ratio to optimize power and efficiency. It combines the power of a 2.0-liter turbocharged gasoline engine with the torque and efficiency of a four-cylinder diesel engine and puts out 268 horsepower and 280 lb-ft of torque. Unfortunately, the vehicle comes with a CVT or continuously variable transmission which is a bit of a downgrade from the previous 7-speed automatic. CVTs aren't the most prolific performers but the car was still quite quick off the line. There was some hesitation and annoyingly high revving at times when I pushed the 2.0-litre motor but for the vast majority of people buying this car it'll be just fine. The QX50 handles extremely well but not quite at the same level of enjoyment as the previous model. Again, for most people it'll do.
The interior of the new QX50 is what will likely win over most potential buyers. My own impression was that it was one of the nicest I've seen for a crossover. This model didn't have the optional diamond-stitched leather seat pattern but the suede on the center console really stands out. Furthermore, the shape is unique and ergonomically perfect. The controls are angled slightly toward the driver and everything is exactly where it should be for easy reaching without having to lean. Even the paddle shifters are located on the steering wheel rather than the steering column. The only thing I'd change is having a physical heated steering wheel button instead of a digital one.
Infiniti's infotainment system is fairly easy to use which a combination of physical buttons and touch screen functionality. The engineers rightly decided to have climate controls have their own buttons because nothing is worse than screen tapping when you want to make quick changes to fan speed or temperature.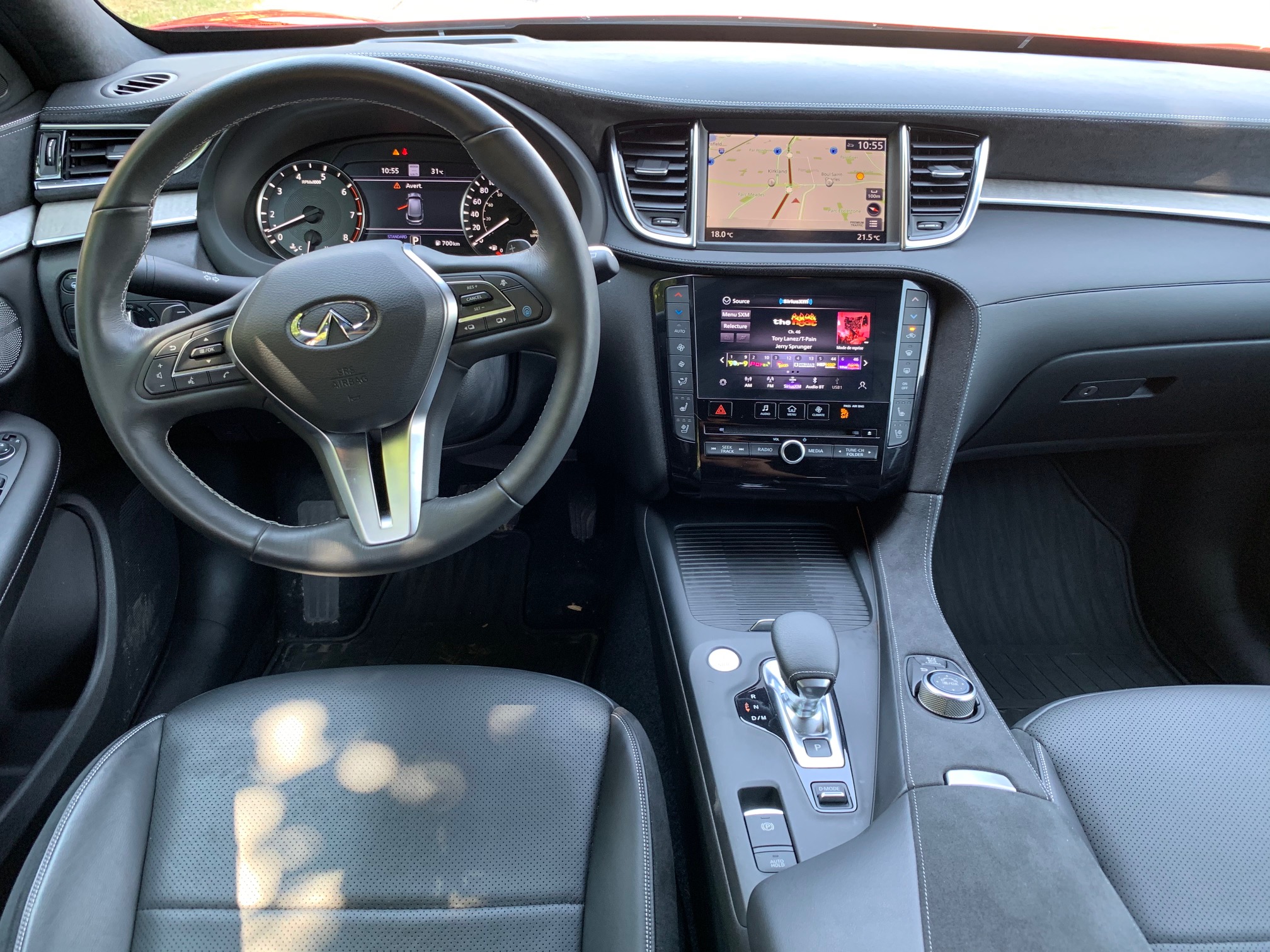 Interior space is very good for this compact. It's one of the few vehicles in its segment to offer sliding second-row seats and boasts rear legroom of up to 38.7 inches. The trunk accommodates three golf bags, or a stroller situated length-wise, with space for additional cargo. Hidden under-floor storage compartments can be used to stow valuable items, or wet and muddy clothing.
As nice as the interior is, one could similarly say the exterior is a beautiful rendition of the modern compact crossover. It's not too flashy but far from bland. Infiniti's new design language seems to have been made for this type of vehicle. The brand's double-arch grille gives the face of the 2019 QX50 a unique and distinguished appearance which complement the LED headlight design and emulates the human eye in its appearance. The rear is similarly very up-scale and warm.
The 2019 Infiniti QX50 starts at $44,998 for the entry-level Luxe trim. Keep in mind that all QX50s sold in Canada come standard with all-wheel drive which is a nice touch. Upgrading to the Essential trim at $49,998 will give you leather, parking sensors, tri-zone climate controls, additional power seat settings, rain sensing wipers and moving object detection. The Pro-Assist adds leather seating along with a host of safety and autopilot features. Sensory adds 20-inch wheels, a Bose sound system, hands-free power liftgate, premium leather, and unique headlights. Autograph tops out at $58,598 and has even more premium white leather seating and blue ultra-suede surface materials.