Mazda has always impressed me with its level of luxury and build quality and this year's CX-9 is no exception. The CX-9 could easily be described as a luxury SUV even though technically Mazda isn't a "luxury" brand.
This second-generation CX-9 was released in 2016 and aimed squarely against big guns like the Honda Pilot, Nissan Pathfinder and Toyota Highlander (among many others). Mazda notes it has continued to make improvements to the CX-9 every year rather than wait for a mid-cycle refresh as many manufacturers often do.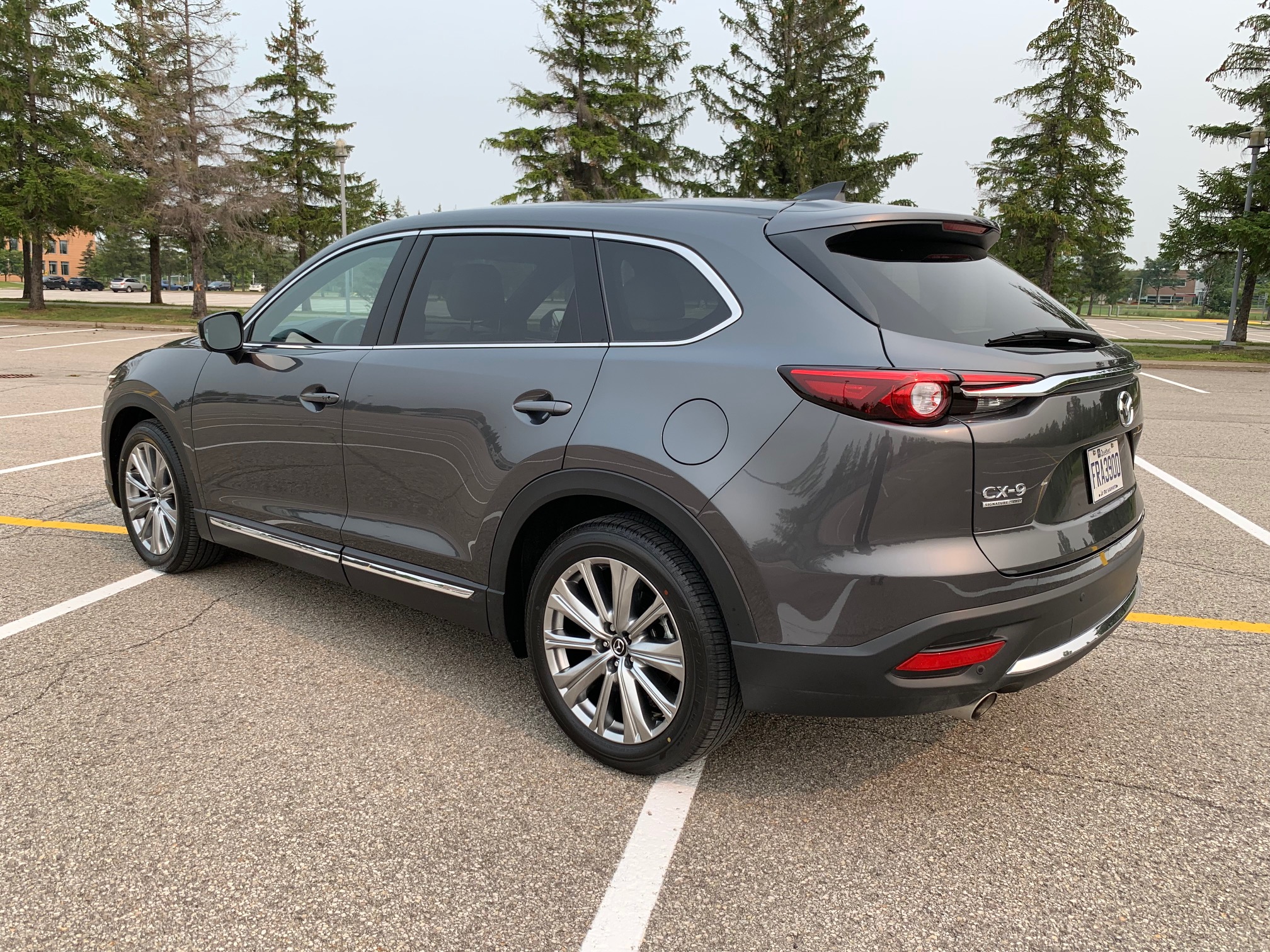 In terms of looks, the CX-9 is quite elegant. We have a long hood and a five-point grille with double bars flanked on either side by standard low- and high-beam LED headlights. The design flows quite nicely to the rear by way of a swept greenhouse, large wheels and short overhangs. They've done a good job at making it look large and imposing.
I tested both the Kuro and Signature editions for 2021. The new CX-9 Kuro Edition builds on the CX-9 GT but provides exclusive styling with Polymetal Grey or Jet Black exterior paint, gloss black heated door mirrors, new designs for the gloss black front grille, and 20-inch black metallic aluminum alloy wheels. The interior has Garnet Red leather seats, red stitching on the steering wheel and center console panel, and black metallic interior trimming on the dash, door panels and handle bezels.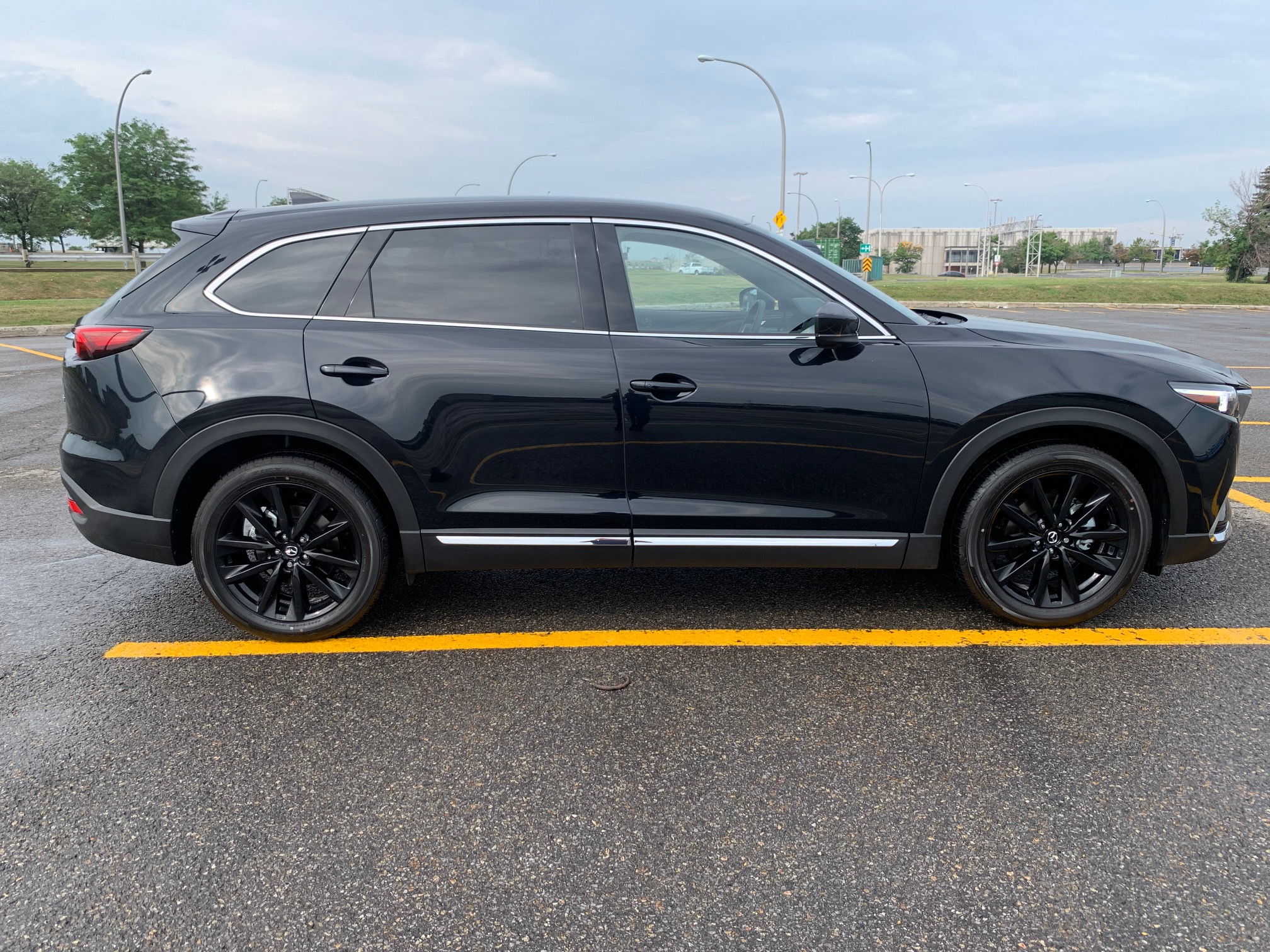 The CX-9 Signature is the upper-most trim level. A new titanium grey metallic-finish front grille design creates a stunning first impression, especially with the LED grille accent lighting. New design 20-inch light-grey high-lustre aluminum alloy wheels and larger dual tailpipes round out the elegant styling updates. The well-appointed interior styling has been upgraded with new quilting and piping on the first and second-row seats and patterned aluminum on the dash, door panels and handle bezels.
If you've never sat in a late-model Mazda then you'll be in for a real treat. Mazda cockpits are ergonomically among the most effective layouts on the market. The vertically stacked center console is visually very appealing and functionally relevant. The controls feel very close and everything is within reach. The downside here is that the large center console does take up a lot of room but it's a tradeoff I'm willing to make any day. Having to reach for the controls removed your concentration from the road so it's far superior to surround the driver with everything they need. It goes to Mazda's core design philosophy of minimizing cognitive (taking your mind off the road), visual (taking eyes off the road) and manual (posture) distractions while driving. All driving information is displayed in front of the driver while all secondary information such as entertainment is kept to the side.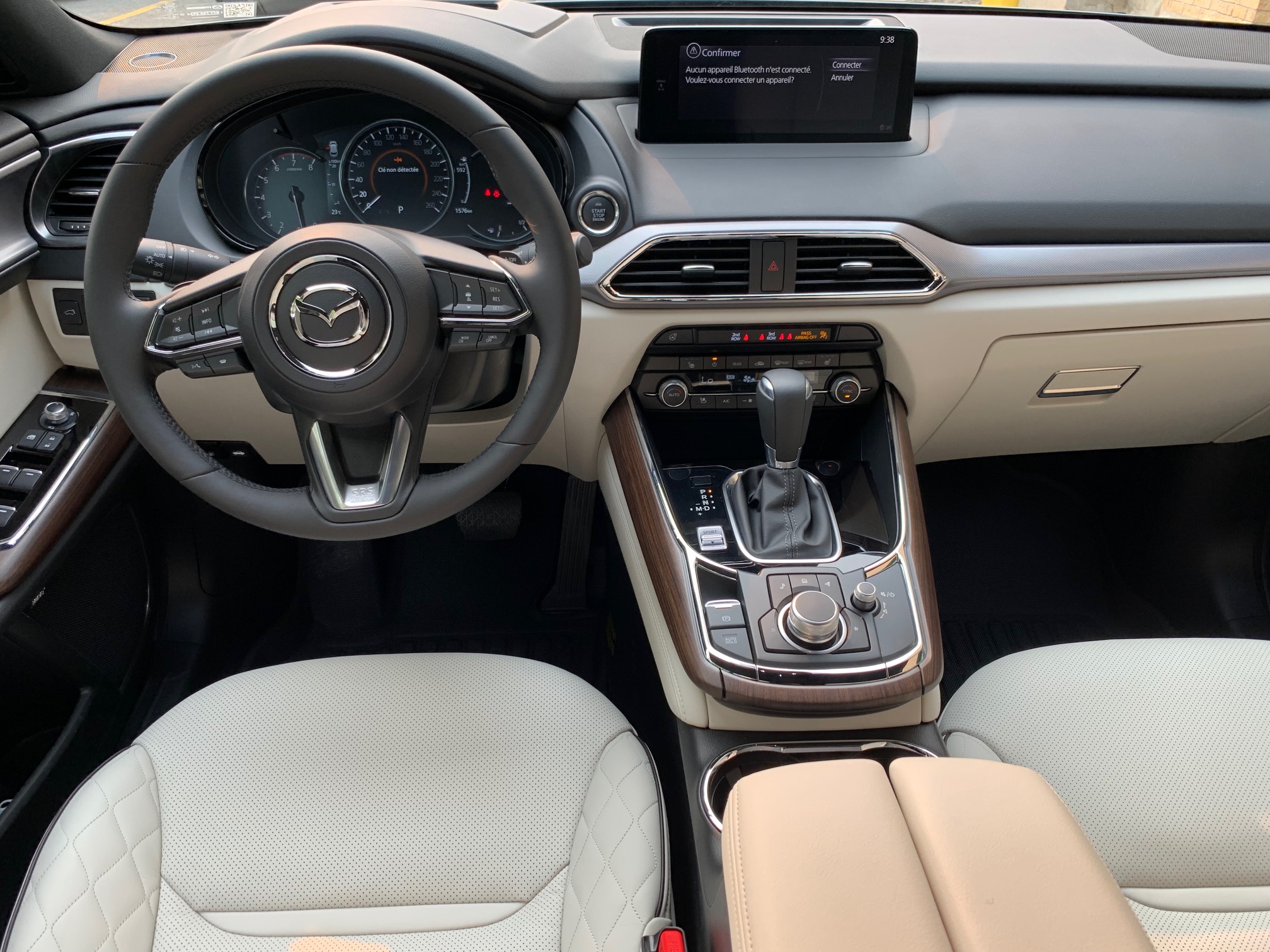 There are three rows of seats in the CX-9 and it can seat up to seven people. Third row seating is always a bit tedious to access but it's getting better as manufacturers develop new and clever ways to design folding seats. The third row can seat kids comfortably but adults will find it quite snug as is usually the case.
At a recent media event I asked Mazda's in-vehicle technology engineer Matthew Valbuena why there is no rear-seat entertainment system offered. His reply was that Mazda sees this as an unnecessary channel to put R&D money because many families use tablets or other portable devices that can be removed from the vehicle once they get where they are going. I do understand from a business perspective why that decision makes sense however as a parent whose kids use such devices, I can attest that a single screen where everyone can watch the same movie on a long ride can be a godsend.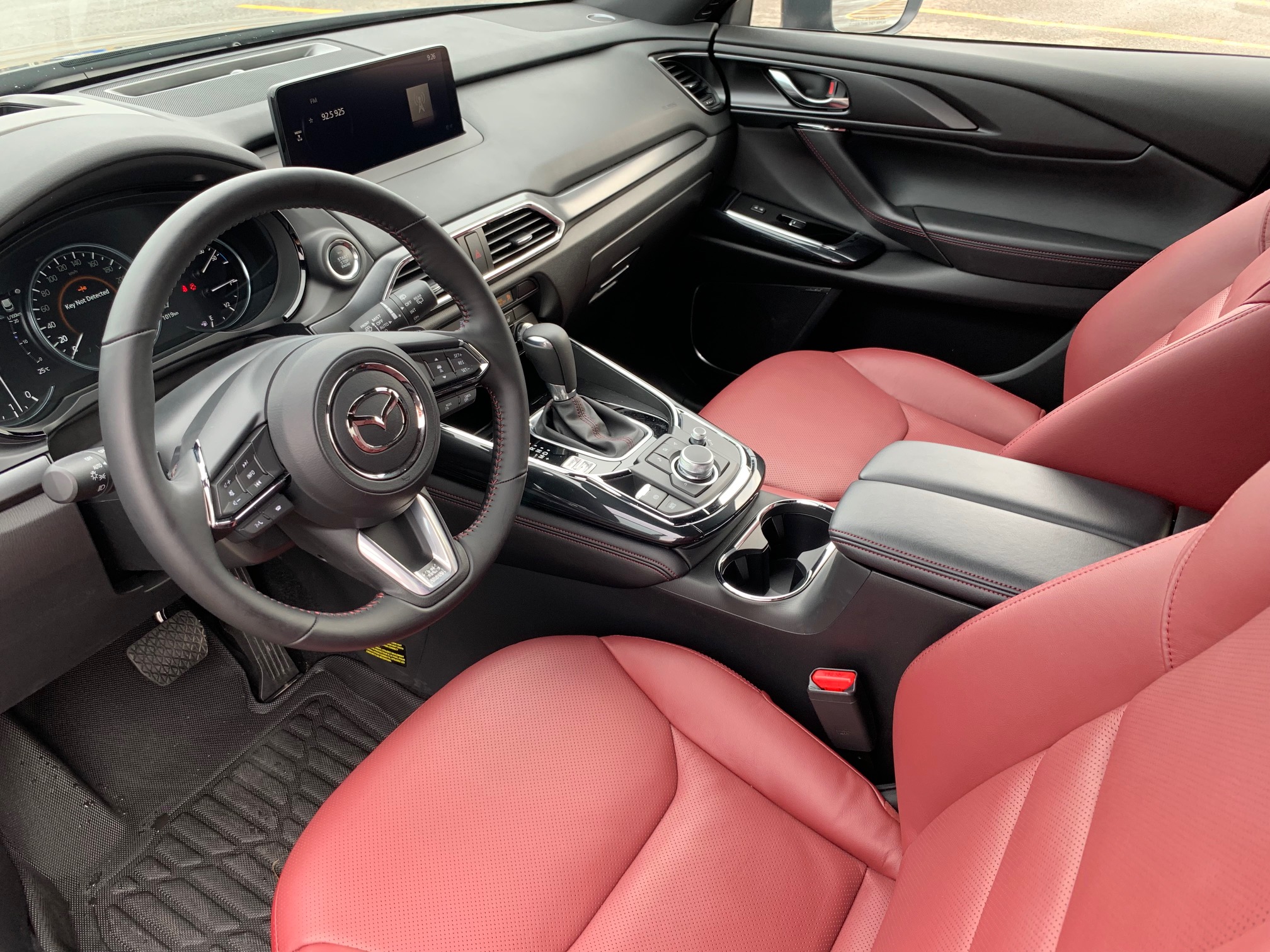 For me, Mazda's forte has always been its infotainment system. The location of the volume control button on the lower console cannot be understated as an ingenious location particularly because the volume is adjusted each and every time the occupant is in the vehicle thereby amplifying its importance. You can manipulate all functions via the Command interface dial next to it and not have to take your eyes off the road.
The CX-9 comes with a single engine option for all trim levels: a SKYACTIV-G 2.5-litre 4-cylinder turbo engine making 250 horsepower and 320 lb-ft of torque. It's smooth, responsive and does the job just fine while achieving good fuel economy of about 10 L / 100 km.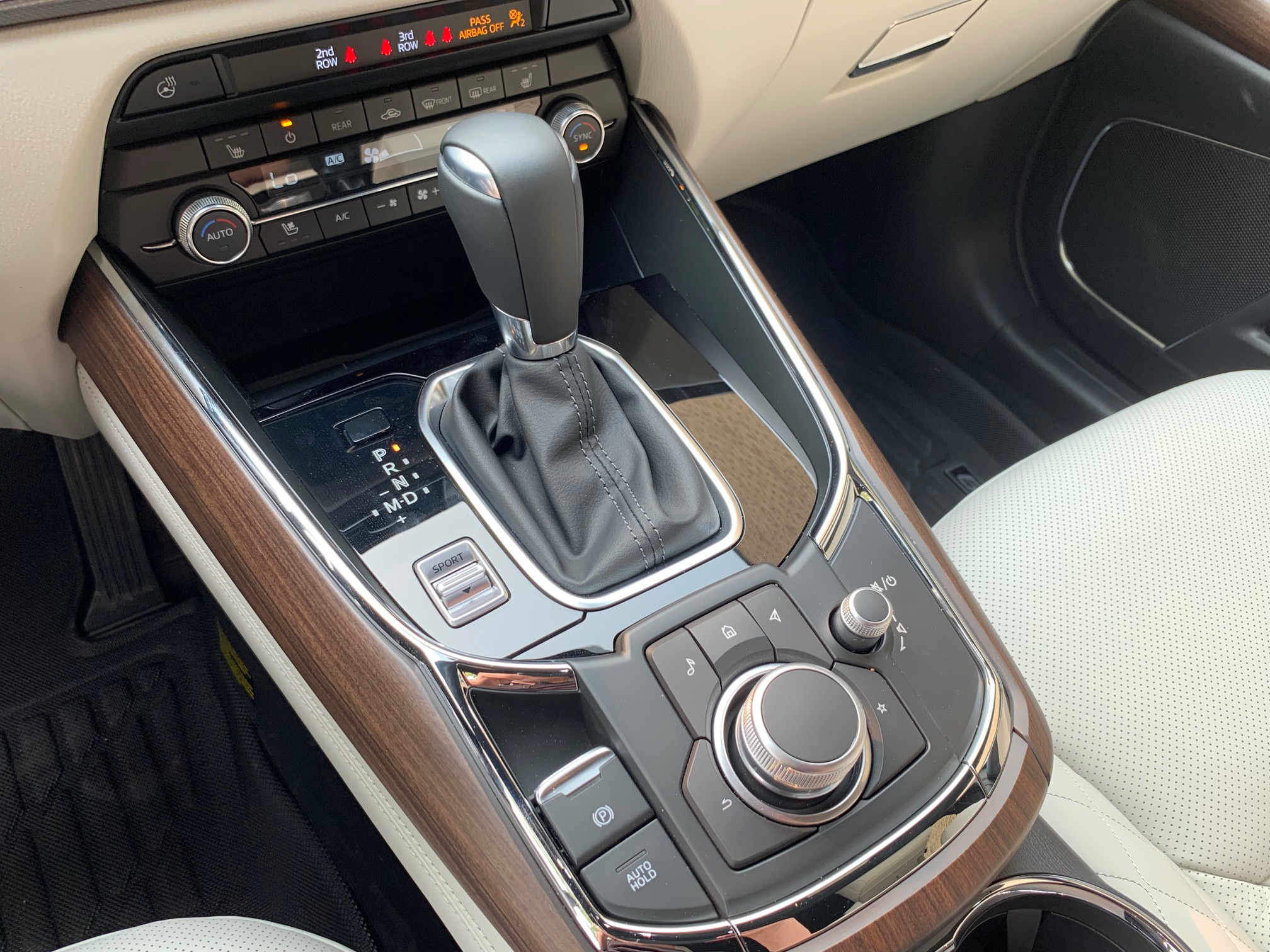 Using something called G-Vectoring Control, the CX-9 holds the road in a very sporty fashion as is the case with most of the brand's lineup. While turning the steering wheel, the system modifies engine torque to give the vehicle a slight deceleration G-force, which shifts weight to the front wheels and increases grip. It's a neat system that can have real tangible benefits. When not turning it can shift torque to the rear wheels for more performance.
If you're in the market for a large SUV, the CX-9 is a must test. It starts at $42,065 for the base GS and goes up to $55,415 for the 100th anniversary Signature edition.