When Mercedes-Benz unveiled its next-generation 2015 C-Class at last year's North American International Auto Show in Detroit, it was apparent that the brand was moving toward a more luxurious offering to go head-to-head with its arch-rival: the BMW 3-Series.
In Mercedes' own words, the new C-Class was described as having a "high class interior" that's underscored the sedan's "luxurious comfort". Anyone traveling inside the vehicle would be treated to a "higher class of travel"
To further the point, the new C-Class borrowed styling cues en masse from the S-Class – the German brand's top offering. The average onlooker would be forgiven if the two vehicles were mistaken at first glance (or even second glance).
All this talk of luxury got many performance enthusiasts worried about what the new AMG C63 model would entail. Would it be on par with the absolute beast of a car that was the last generation or would cooler heads prevail in favor of a toned-down product? I'm happy to report that after driving the new 2015 AMG C63s, the answer is the former.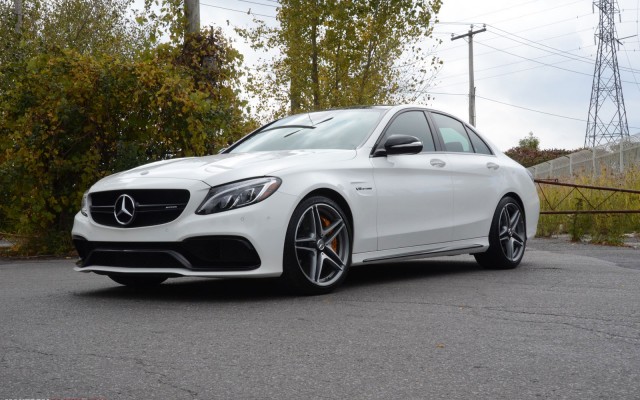 What's In A Name, Anyway?

It's still called the C63 despite not having a 6.3-litre motor. Mercedes ditched it in favor of an all-new 4.0-liter V8 bi-turbo engine which delivers up to 503 horsepower and 516 pound-feet of torque (if you opt for the top-of-the-line C63S). That's good enough to propel you from 0-100km/h in just four seconds. The weight savings of 220 pounds compared to the previous generation have hand in achieving that feat and the car weighs in at 3935 pounds.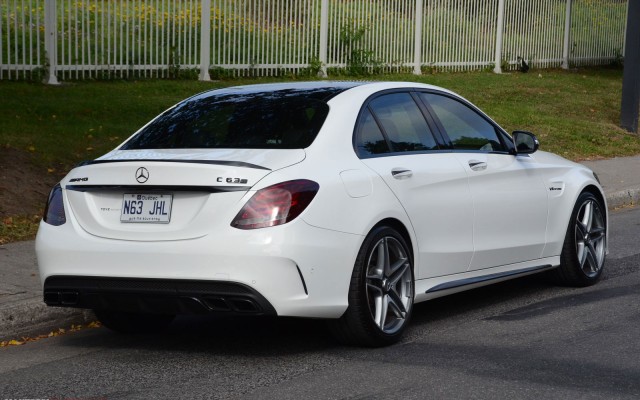 Track Please

This is more power than you could ever need for daily driving – a fact I discovered during my time with the beast. Aside from accelerating onto the highway here and there, there isn't much opportunity to fully experience a vehicle this fast in a city. In order to truly appreciate its performance, one must track the car.
The AMG C63 comes with a multi-clutch seven-speed automatic transmission. You can override automatic mode at any time while using the wheel-mounted paddles which is fun at first but after a while you'll probably just forget about it. My wish is that one day we'll see a C63 with three pedals and a shifter but I'm not getting my hopes up. One thing I do like is that that this is a real-wheel drive only offering (with a limited slip rear differential of course). Sure, in a Montreal snowstorm we'd all be happy to have all-wheel drive but good snow tires and traction control almost negate the AWD advantage in this day and age.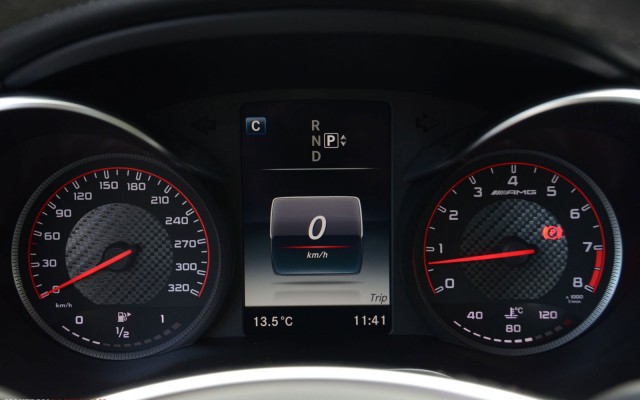 AMG Dynamic Select gives you five driving modes to choose from. Comfort is self-explanatory and used for cruising around town. Sport and Sport + settings add some layers of fun to the experience. In Race mode you are track ready. Finally (and this is really a nice touch by Mercedes) there is Individual mode where you can pick and choose each setting from the entire array of options including throttle response, traction control, shift speed and even the exhaust note.
I whisked around town taking in the feel of this machine. When I needed to accelerate, there was always power leftover. When I needed to brake, there was always plenty of stopping power. In a turn, the Michelin Pilot Super Sport Tires stuck like glue to the pavement thanks to a specially-tuned front suspension including a slightly wider stance than the base C-Class.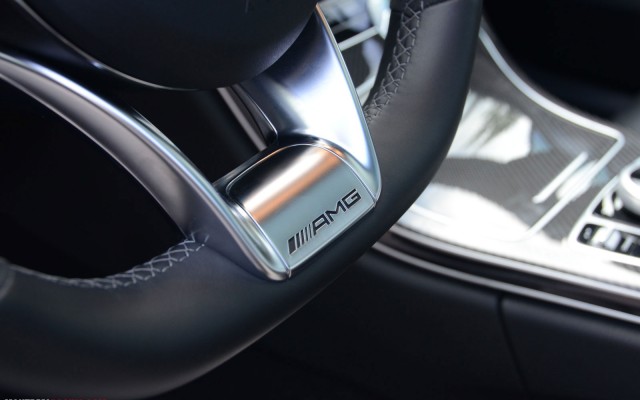 Plush Interior

The new interior is (as Mercedes said) awash in luxury. The thick leather/suede steering wheel, the black leather with white contrast stitching, the high quality brushed aluminum accents are all top notch. This tester had carbon fiber in place of the piano black trim for the center console for a more race-like aura. The sculpted racing seats kept me firmly in place at all times.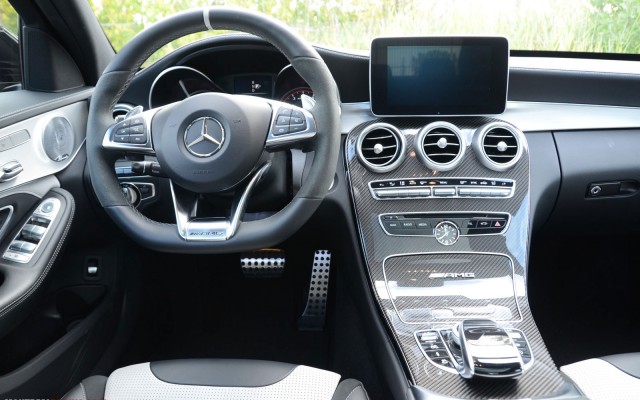 Pricing

The Mercedes AMG C63 starts at $74,800. Opt for the S trim and you're looking at $83,700 (both prices before taxes and destination charges). That extra $8900 will get you that magical 503 horsepower figure (34 more horses than the non S version) along with 19-inch wheels, electronic control of the limited slip differential, racier styling options and the coveted Race mode setting.
I can't find anything (other than the lack of a manual) I don't like about this car. I find it the perfect meld of luxury and performance that is sure to please you every time you drive it. It's a veritable beast that can blend in perfectly with its surrounds in the urban jungle or going toe-to-toe with other racebreads at the track.
Comments
comments