This is the largest SUV in Volvo's newly-refurbished lineup and it's capable of seating up to seven people. It straddles the line between mid-size and full-size SUV but it's really more of a large mid-size than a full-size like a Cadillac Escalade, Nissan Armada or Mercedes-Benz GLS.
It's also one of the nicest SUVs on the road in my humble opinion. The brand's new design language is so well done that it's rare to find someone who doesn't think these vehicles are pretty. In the front you'll find what's called the "Thor's Hammer" T-shaped LED daytime running lights common to all new Volvos. The indicator is a similar shape and also LED as it should be. The rear has Volvo's signature vertical taillights (also LED) but a more modern take than the previous model.
The test subject for this article was a base-model Momentum trim but with the peppy T6 powertrain. The four-cylinder engine produces 316 horsepower and 295 pound-feet of torque and it's more than enough to satisfy anyone's lead foot. You may be wary of having a four-banger in a SUV but you don't need to be. Volvo has turbocharged and supercharged it at the same time to deliver amazing performance. Not only that but the power delivery is smooth, instantaneous and, as I said, plentiful.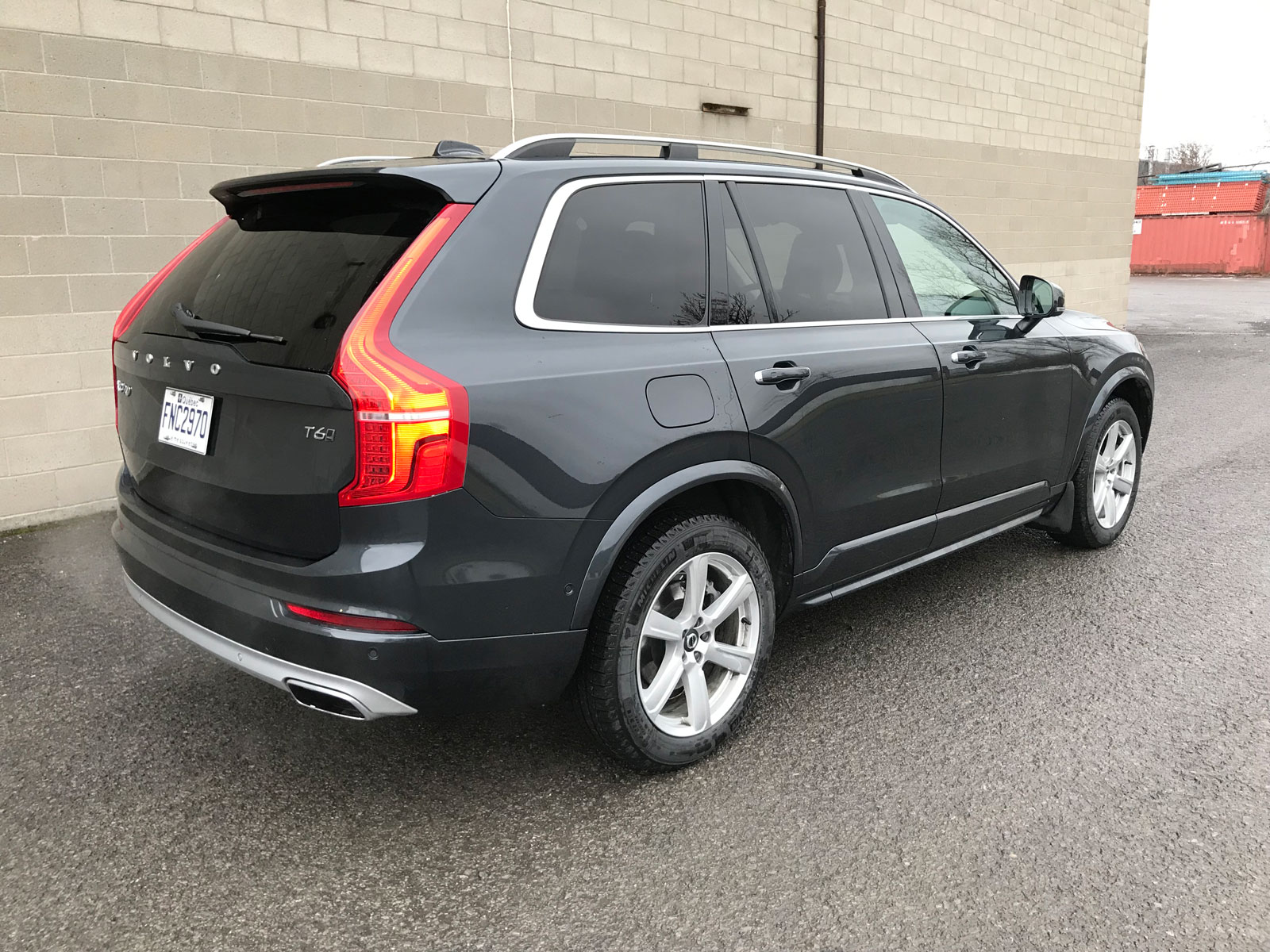 There are two other options to power the XC90: The less powerful T5 engine with 250 horsepower and 258 pound-feet of torque and the T8 hybrid setup with a total output of 400 horses. All are variations of the same four-cylinder.
Volvo's interiors have become a thing of beauty with seats that can rival your living room in terms of comfort. You'll want the R-Design or Inscription to take full advantage of the higher-end offerings but even the leatherette on the base model was quite good in my opinion. The minimalist design is very contemporary and pleasing to look at.
I did experience some frustration at the new tablet-based infotainment screen. In cold weather it takes a few seconds before responding. I also don't like how the climate controls are setup because it requires multiple taps to change the fan speed or temperature. These functions should absolutely be handled via knob or dial because it requires the driver to divert too much attention from the road in order to change them. The overall design of the interface is quite good and once you get the hang of things (it will be a while) then it feels intuitive. Still, a knob here and there would do wonders for basic operation.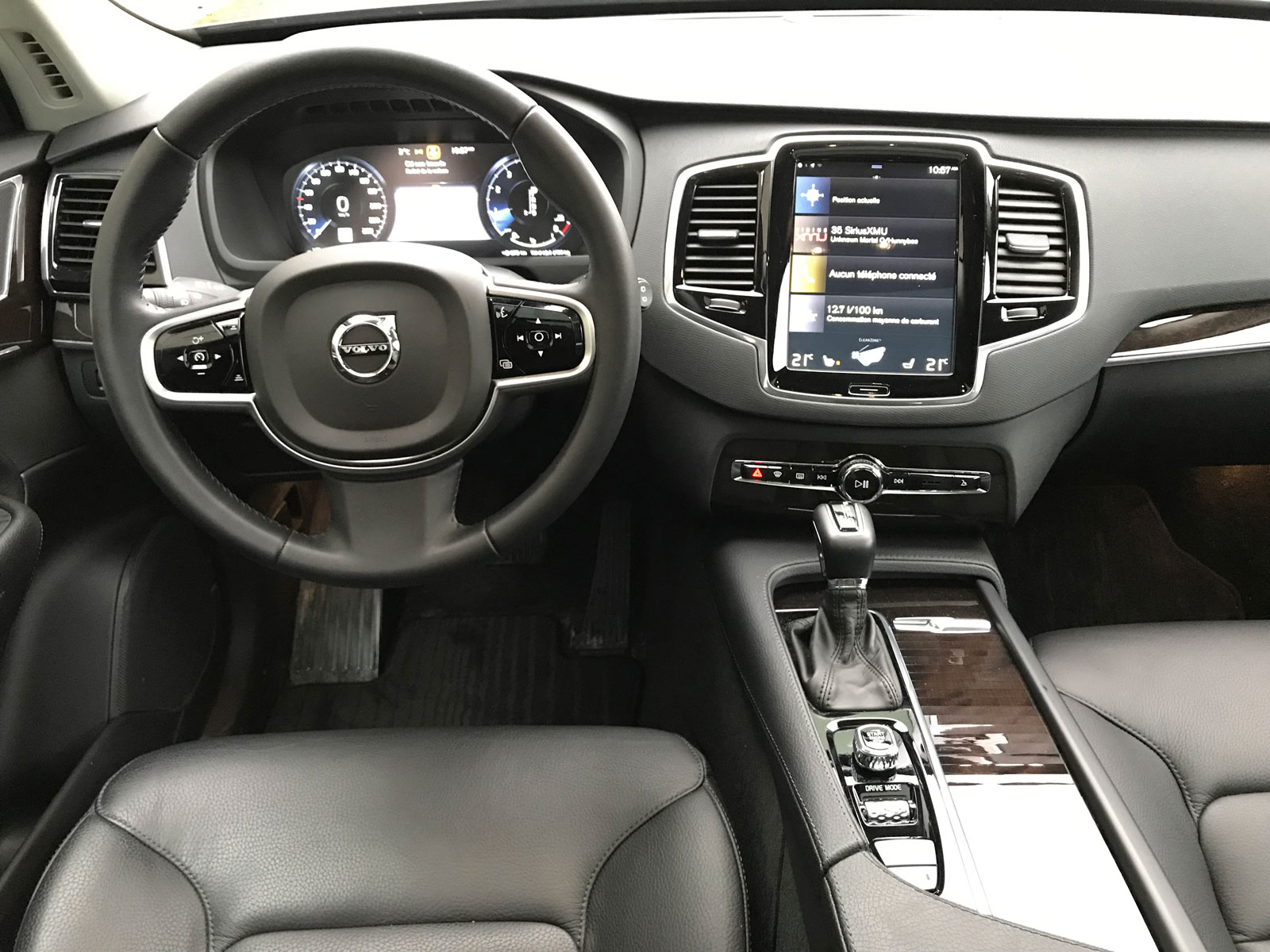 The three-rows of seats are great for large families. I have three young kids so this is exactly what I look to test out. I'd like to see an option for captain's chairs in the center row to give easier access to the rear. The folding system Volvo has employed doesn't make it easy to get all the way to the back.
An optional rear seat entertainment system would also be welcome. Many manufacturers chose to forgo this because kids these days all bring their tablets into the car anyways but it's still a very nice option to have. Watching the same movie all at once tends to quiet things down significantly.
The XC90 is a treat to drive because it's both comfortable and sporty at the same time. Step on the gas and the power is delivered instantly and efficiently. It will take corners at speed while holding the road firmly. Steering input is satisfactory. It's an effortless experience to pilot in any situation and a testament to Volvo's engineering prowess. The engine is also very fuel efficient and can get down below 11 L/100km easily.
Volvo's re-emergence as a power player in the luxury SUV market adds to the already crowded field. The XC90 was Motor Trend's 2016 SUV of the year as well meaning the competition should take notice. All things considered, the combination of a high-quality luxury interior, beautiful design language and a low starting price of $59,750, the XC90 represents amazing value per dollar. It's also less expensive than the immediate competition including the Ranger Rover Sport, Porsche Cayenne, BMW X5, Audi Q7 or Mercedes-Benz GLE.