Volvo's S90 T8 plugin hybrid is a veritable limousine that you buy when you have a chauffeur. While the S90 technically goes up against cars like the BMW 5 Series and Mercedes E-Class, the long wheelbase version definitely has its sights set on cars like the 7 series and S-Class.
First introduced at the 2016 Detroit Auto Show, the S90 won Production Car Design of the Year which is a prestigious award decided by eighteen top car designers around the world from companies such as Bentley, Daimler, McLaren and Ferrari.
The new design language is among the most elegant and notable in the industry. My favorite feature is the T-shaped daytime running lights inspired by "Thor's hammer". The front end has a sleek, almost shark-like persona to it and doesn't resemble anything else on the market. The taillights have a bracket-like design that has grown on me considerably.
The interior is also something of a beautiful creation. The minimalist design is contemporary and a pleasure to look at. The S90's seats are about as comfortable as your living room sofa and great for long car rides. The materials Volvo has chosen for the dash and panels give a very high-end look and finish. Brushed aluminum trim, wood paneling and premium leather with white stitching combine for an all-around upscale cabin feel.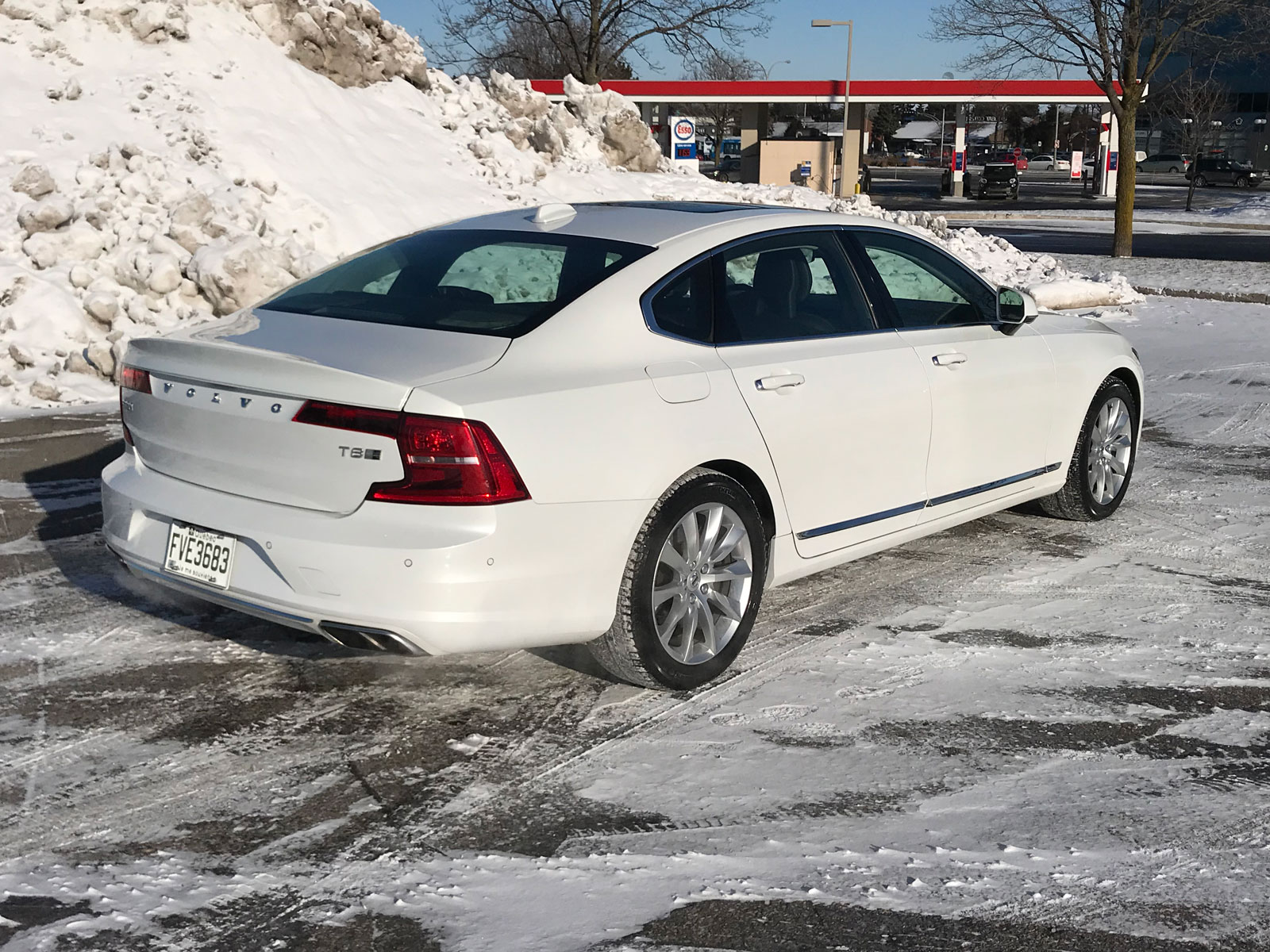 I will point out that in an effort to eliminate as many physical buttons as possible, Volvo has made some operations rather frustrating. All the climate controls are handled via the tablet-like touch screen interface. It takes multiple presses to adjust the fan setting which I usually do many times per trip so this is not a feature I enjoyed. Furthermore, in cold weather the screen takes a few seconds before it starts responding. It's not that big of a deal but a minor annoyance I could do without. If Volvo would just put a knob for fan speed and temperature we'd be golden.
Overall the infotainment system is quite well designed. You can swipe left, right up or down just as you would a phone or tablet. It will take some getting used to but once you've adapted it becomes second nature.
The standard audio system is good enough but the optional Bower & Wilkins system is unlike anything I've heard before to be honest. The clarity of the sound is simply on another level (so much so that even AM radio sounded good) thanks in part to the open-air subwoofer and dashboard tweeter.
The gear shifter is a bit of an interesting contraption. You need to double tap it in order to put it in gear. Two taps forward for reverse and two backward to get it in drive. It's not the easiest of designs to get used to and Volvo would be better off sticking with a standard lever.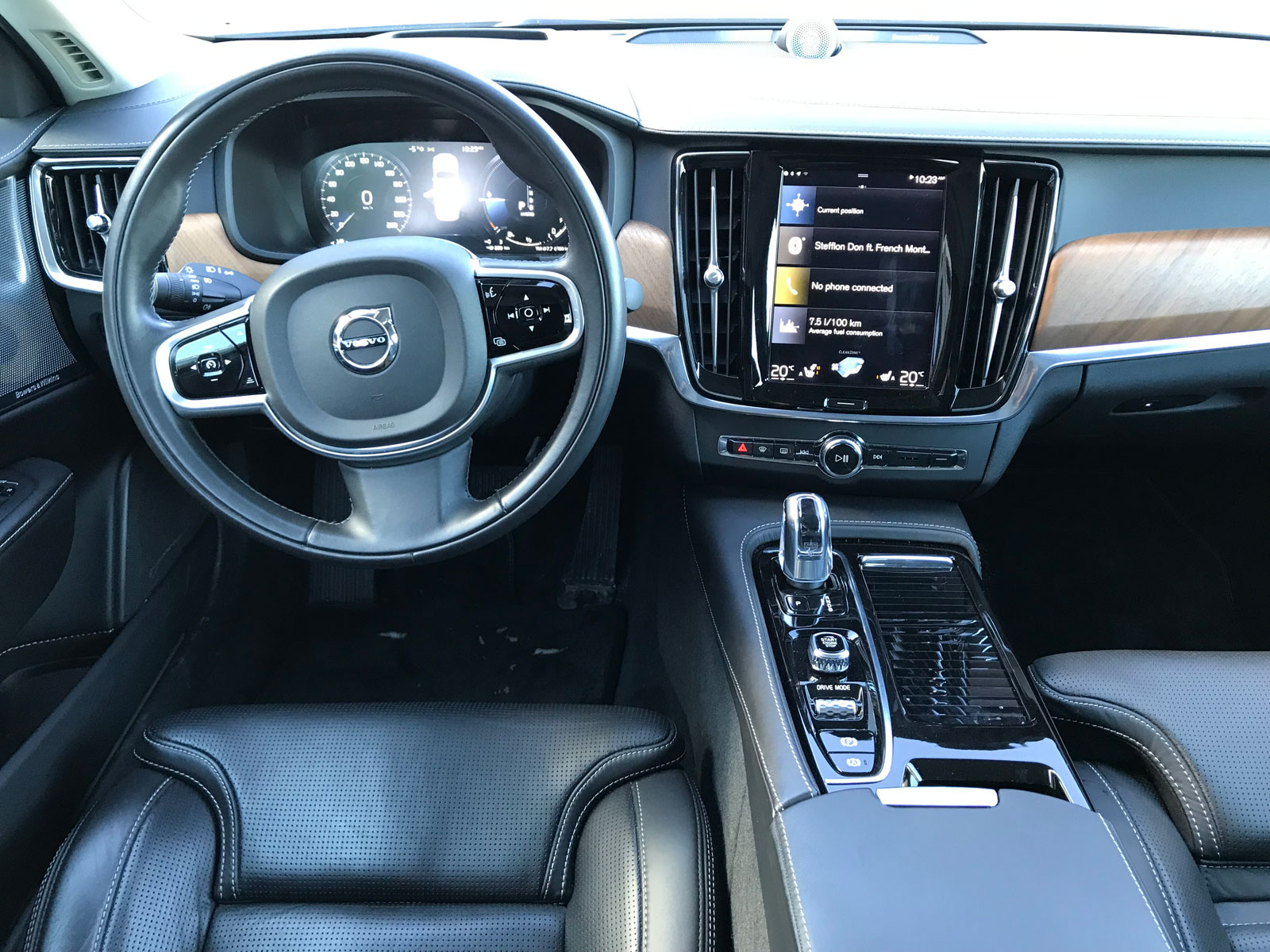 Under the hood is a technologically advanced hybrid system consisting of a 2.0-litre turbocharged and supercharged four-cylinder motor making 313 horsepower and 295-pound feet of torque. The gasoline motor powers the front wheels and an 87-horsepower electric motor powers the rear. It's all handled by an electronically-controlled all-wheel drive system for a total output of 200 horsepower and 472 pound-feet of torque. Using electric-only power the car is capable of traveling 34 kilometers which is a bit underwhelming considering the competition nowadays. Seeing as how I drive only city and not too far, I was able to use the electric range very efficiently.
Driving the S90 certainly feels like driving a limo. It's a big, heavy vehicle and handles as such. But that's what it's meant to deliver: a luxurious smooth and quiet ride for the occupants. The switch between all-electric and gasoline power is a big abrupt and the brakes also feel quite squishy at times however but this is common on electric vehicles that use regenerative braking.
I do need to mention that the plug got stuck in the vehicle and I was unable to unlock it to remove it. I brought it to a local dealer and they were extremely helpful and were able to pry it out. It's not something they had seen before so likely an isolated issue. The battery can be replenished in about 8 hours with a standard household outlet or 3 hours with a 240V fast charger.
Volvo has upped its game considerably in the last few years and the S90 is a very worthy competitor to the big German sedans it goes up against. It also starts at a reasonable $59,950. The T8 plugin hybrid tested here starts at $74,950.