Toyota's family hauler returns for 2019 more or less as it was in 2018. This is the current generation Sienna's ninth production year, having been introduced in 2011. In automotive years that makes this vehicle the village elder but since people don't buy minivans to be trendy, this is less of a concern (the Dodge Grand Caravan was also last re-designed in 2011).
Bold designs tend to age quickly but the Sienna bucks this trend. This minivan was (and remains) one of the bolder looks for the quintessential family hauler and yet is still one of the most attractive minivans on the market. Toyota tweaked the look last year including a larger lower grille, larger fog light compartments and a few other refinements, giving the Sienna an aggressive look across all grades.
Under the hood we find a potent 3.5-litre V6 engine mated to an 8-speed automatic transmission. It produces 296 horsepower and 263 lb.-ft. of torque and, in partnership with the transmission's eight ratios, makes the Sienna a rapid hauler. The standard Tow Prep Package allows the Sienna to pull a 3,500-pound-max load.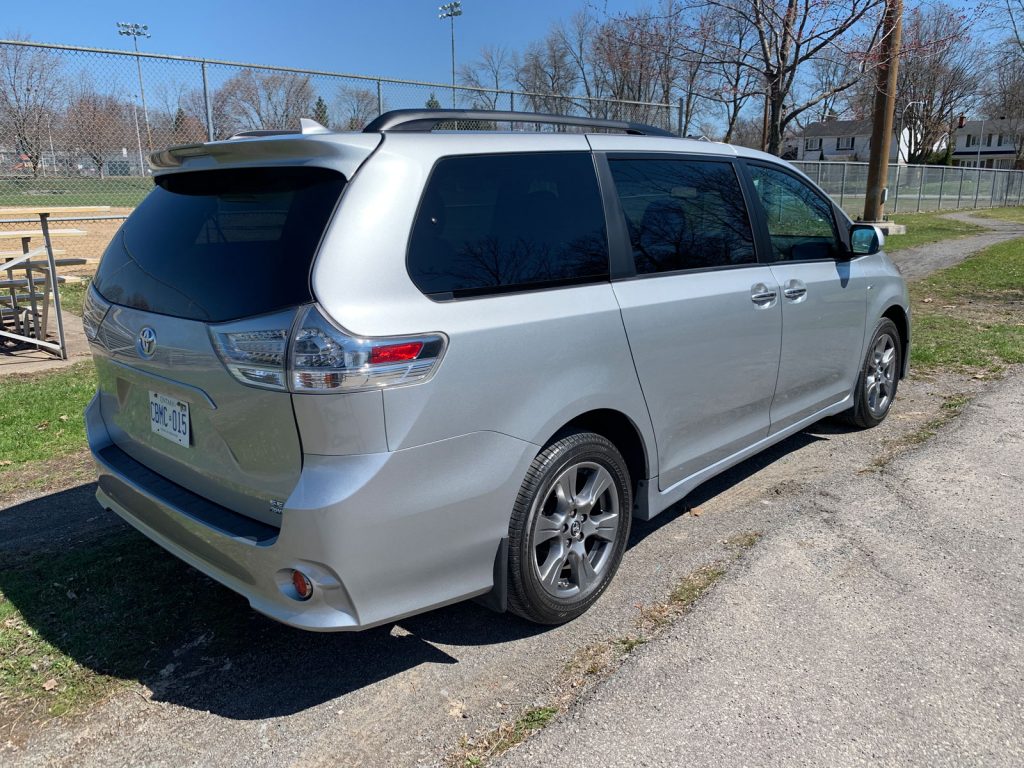 The major advantage the Sienna has over all of its competition is the availability of all-wheel drive. The feature, along with active torque control is available on select trims, provides an important all-weather traction advantage that is not found in any other family van. Why don't other minivans offer this? Not everyone wants or can fit their family an SUV so all-wheel drive in minivans makes so much sense.
The test vehicle was the Toyota Sienna SE AWD 7-Passenger which includes sport-tuned suspension and steering, sport gauges, a unique grille, smoked headlamps, 18-inch alloy wheels, an 8-inch infotainment screen, Entune 3.0 Plus, leather seating, an eight-way power adjustable driver's seat, four-way power adjustable front passenger's seat, a leather-wrapped steering wheel and a 4.2-inch multi-information display.
As dash layouts go, the Sienna falls short here with an antiquated setup, small screen and an inefficient use of space with large buttons. Normally I'm the one railing against tiny buttons that are impossible to find but the Sienna is at the other end of the spectrum. Toyota has modernized the system as much as possible by adding things like Apple CarPlay and Android Auto but it's in need of a re-design.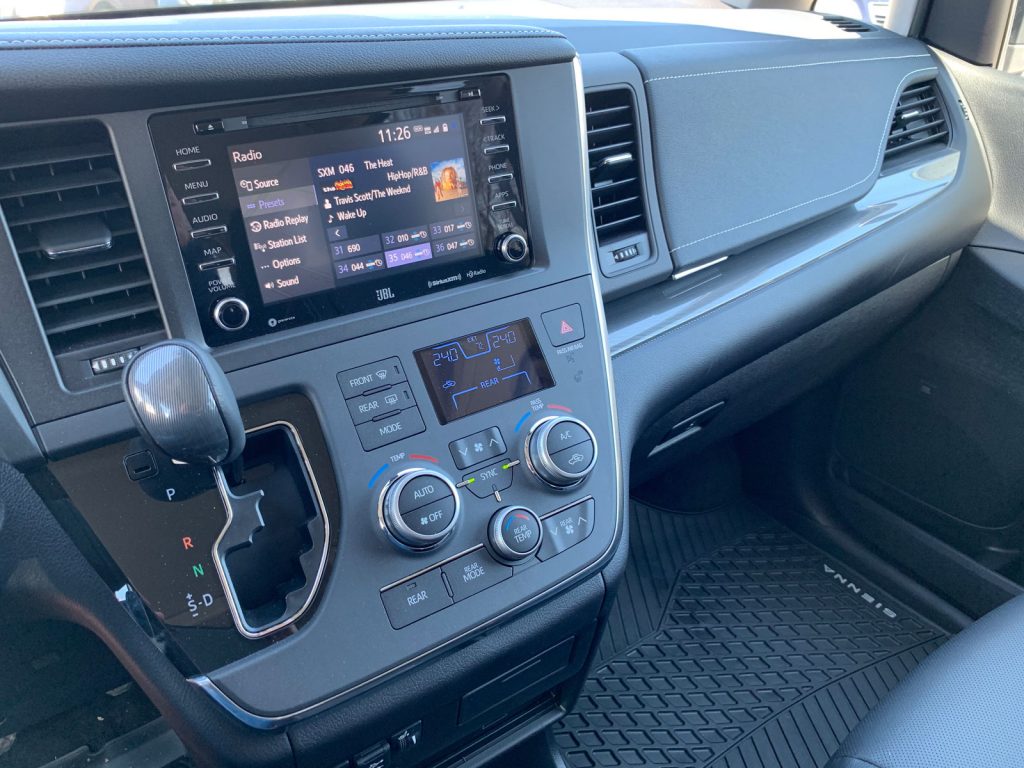 The interior is well laid-out and very comfortable to sit in. It's easy to get in and out of the Sienna's third row, thanks to the sliding captain's chairs in the middle row. That feature is also handy if you want to move your children closer for easier access. An eight-seater configuration is possible with a bench replacing the captain's chairs here if you need one more seat. I'd like to see second row chairs that can fold into the floor. It's a lot more convenient than having to remove and store the chairs should you not need them. Another nifty feature not found on the Sienna is a vacuum. Kids make a heck of a mess and a built-in vacuum just makes so much sense to have. The third row stow operation was very easy to execute. Even a small, frail person would be able to carry out the three-step process with ease.
As someone with a large family, I was interested to see how well the rear-seat DVD entertainment system would do the job. The large wide screen is wonderful and can be used to display one or two different inputs at the same time. Wireless earphones are handy in case the parents would like some peace and quiet but since we have more kids than earphones, we can't really use them. One design flaw that I would like to see corrected is the inability for an adult in the front seat to control basic playback functions of the DVD. Toyota only allows play/pause to be controlled in the front and all other functions such as next/previous track, title menu operations or anything else must be done via remote from the rear of the vehicle. If you want to skip the previews or skip a track on your movie, you must climb in the back to do it. If all of your kids are over five years old then it's not a big deal but there is no reason to omit basic disc control from the front. I'm not asking to be able to watch the movie (though you should be able to while parked) but skipping a movie track or having access to the disc menu is no different than a music menu and should be available to the driver.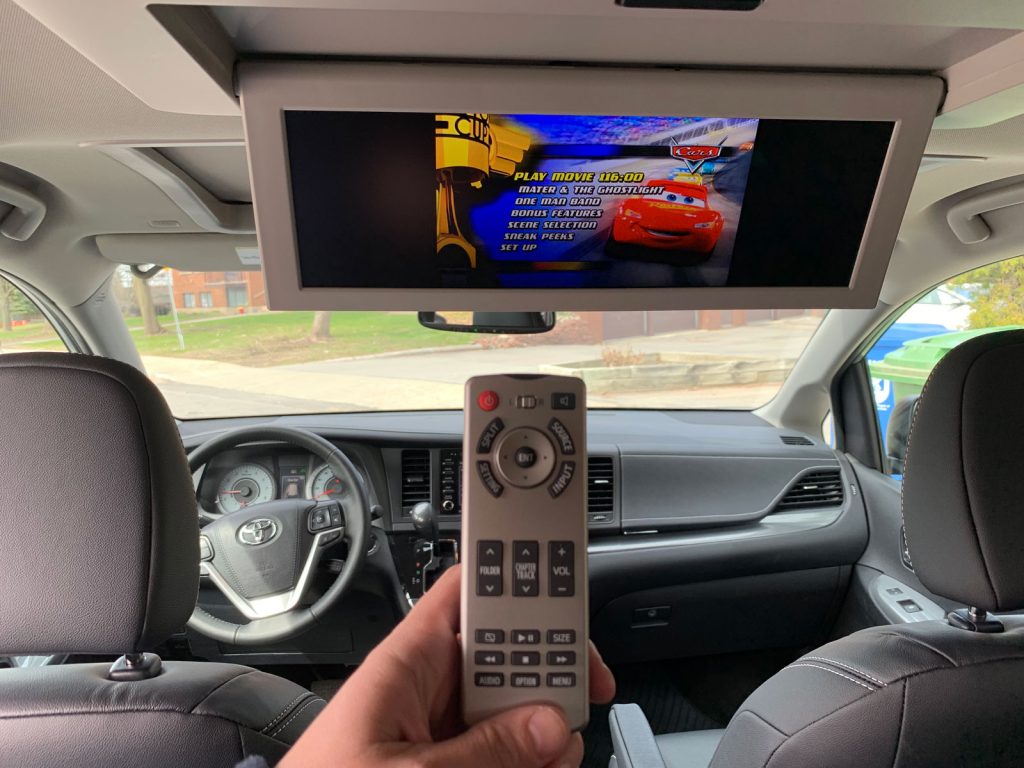 The Toyota Sienna starts at $35,145 for the base model, while the top-of-the-line XLE AWD 7-passegner with the Limited package will run you $53,985. Despite the van's age, it remains a viable contender in the minivan segment. Toyota's reputation for build quality and reliability together with the vehicle's seemingly ageless looks are still a winning combination.
Comments
comments