Volkswagen's hot hatch adds a new limited-edition Rabbit trim for 2019. The Rabbit moniker shouldn't be confused with previous versions of the Golf (which also used the name Rabbit) or the original MK1 Rabbit. No, this time Rabbit is a fancy trim level that adds a few goodies to the GTI.
The Golf GTI is a performance hatch that can be had for a reasonable price of $30,845. You can get it in a 6-speed manual or 7-speed automatic and it comes with a 228-horsepower turbo four-cylinder engine. To be honest, my most favorite aspect of the GTI is the plaid cloth upholstery. There is nothing else like it on the market and it's just so classy and so old school I'd take it over any other interior. It got mixed reactions on my social media so it's going to be a love-it-or-hate-it feature. I'm definitely in the love-it category.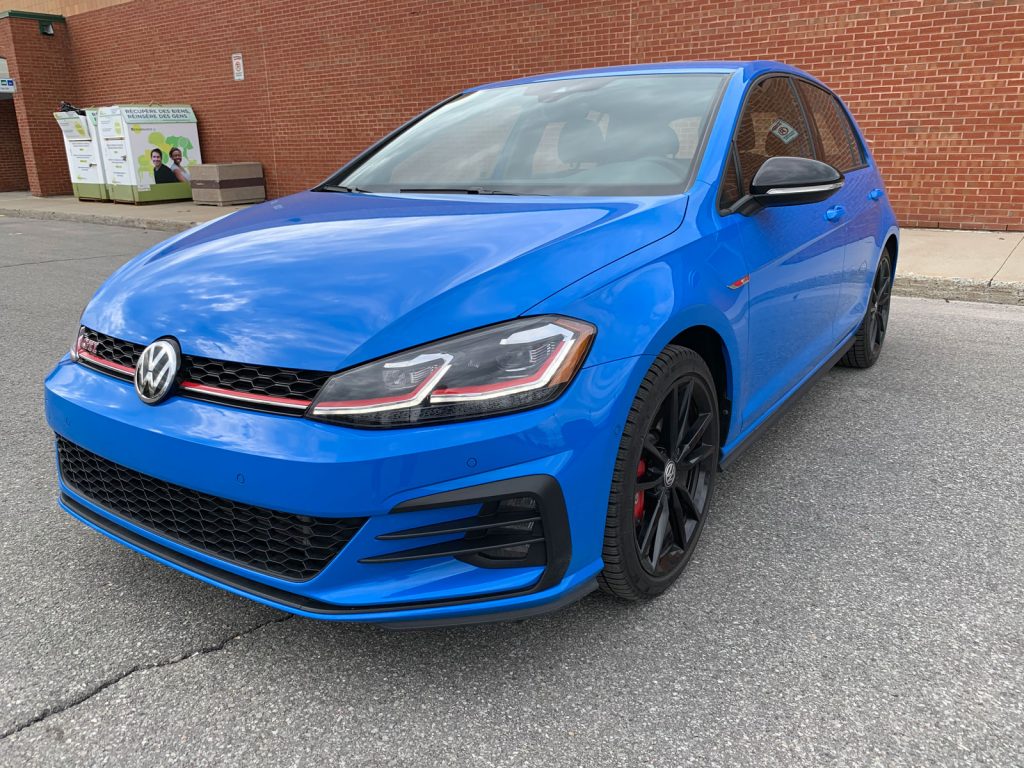 To move up to the Rabbit level you'll need to spend an extra $3150. This gets you safety features such as a forward-collision warning system with automatic front braking, blind-spot monitoring with rear-cross-traffic alert, as keyless entry with push-button start and adaptive LED headlights. Some of these features are options on the base GTI in case you cannot live without them. The Rabbit also sports shiny black 18-inch wheels, black side mirrors, a black spoiler, red stitched floor mats and Rabbit logos on the seats and rear of the vehicle.
The Rabbit's exterior can be Black Pearl, Urano Grey or, like the test vehicle, Cornflower Blue. The blue is simply stunning and must be seen in person and in the sunlight to get the full effect. I've never even been a fan of the color blue for a car but this would automatically be my choice. It makes you want to stare at the car and never look away.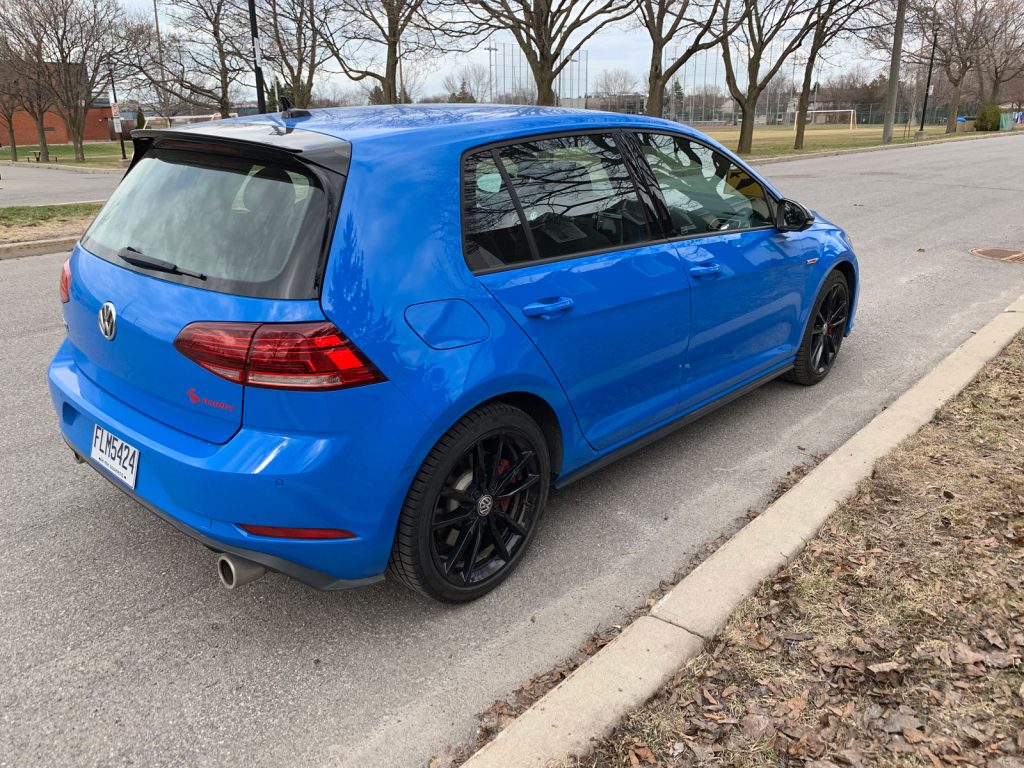 Sit inside in the GTI and the car rewards you with an energizing and sporty aura that'll make you feel ten years younger (except if you're 20 – then you still feel like you're 20 haha). In other words, the GTI begs to be driven to its full potential and you'll find your inner boy-racer in no time. The 228 horses and 258 lb-ft of torque coming from under the hood represent an increase of 9 horsepower from the 2018 GTI and help to propel it from 0-100 km/h in 5.7 seconds with a ¼ mile time around 14.3 seconds. The test vehicle came with the optional 7-speed dual-clutch automatic transmission which isn't as much fun as the manual would be. Nevertheless, the was able to execute clear and convince shifts adequately. The lack of any noticeable turbo lag is also a big plus, even when opting to push the vehicle in manual mode with the paddle shifters.
The GTI can eat up the pavement and conquer any road with ease. Volkswagen's modular MQB platform and study chassis yield strong performance when required but also a nice quiet highway ride. Stopping power comes from 13.4-inch front- and 12.2-inch rear-vented discs sourced from its big brother – the Golf R. There is also a new standard electronically-controlled mechanical limited-slip differential.
The cabin layout is very functional including having proper knobs for HVAC and audio controls. Apple CarPlay and Android Auto make life easy and the layout of the VW infotainment system is intuitive and easy to use. Sound quality from the Fender audio system was clear and crisp and is able to pump out enough bass to wake the neighbors up. The flat bottom leather steering wheel with contrasting red stitching matches the theme perfectly and is highly functional. I've experienced some other steering wheel controls that were a bit iffy but the design and feeling of Volkswagen's are among my favorites.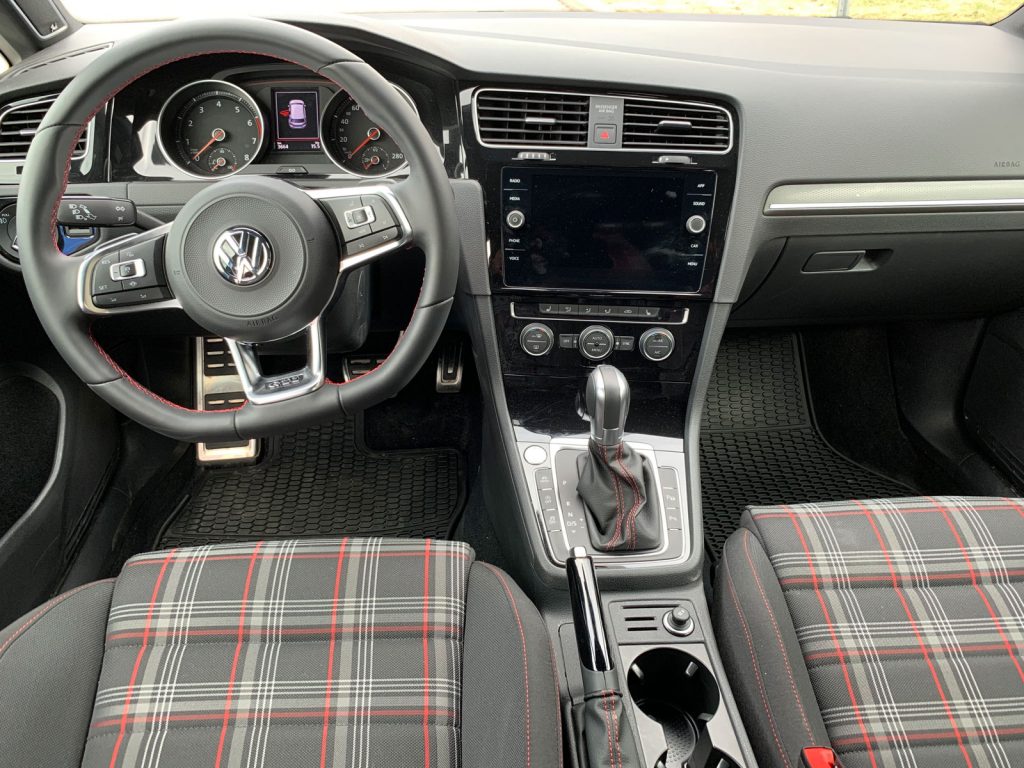 Other positives include brushed aluminum and black piano trim, a conveniently located push-button start next to the shifter and the presence of a manual crank handbrake (these are a dying breed). The practicality of having four doors is not lost on me and I was able to kart around my kids with ease.
The GTI is an amazing hot hatch that will give just about anyone a smile when they get behind the wheel. It's about $11,650 less expensive than the screaming Golf R with its 288 horsepower and 280 lb-ft of torque coupled with all-wheel drive. They each have their merits and the GTI can still deliver tons of fun without breaking the bank.
Comments
comments