Hyundai completely redesigned its popular mid-size SUV for 2019 and sent it back out into the fray to compete with a very long list of other SUVs and Crossovers.
2019 will be a bit of a split year for the Santa Fe and by this, I mean that the new design was only for the five-seat Santa Fe Sport and not the larger, three-row version called the Santa Fe XL. The 2019 Santa Fe XL retains the old look for now which is quite unfortunate because who wants to buy a brand-new SUV that has "the old look"?
The new look Santa Fe is a radical departure from the previous generation to say the least. It shows Hyundai isn't afraid to make bold moves and isn't content just playing it safe. The front end has daytime running lights high up and removed form the headlights which are located quite low and resemble fog lights. It's similar to what Jeep did with the Cherokee a few years back but Hyundai's take on it is much better. The large pronounced grille is well done and gives the front fascia a mean and sporty look. The rear is a more modern take on the previous design which won't ruffle any feathers but differentiates itself quite nicely. The Santa Fe's overall length has been increased by about 7 cm compared to the previous Sport model.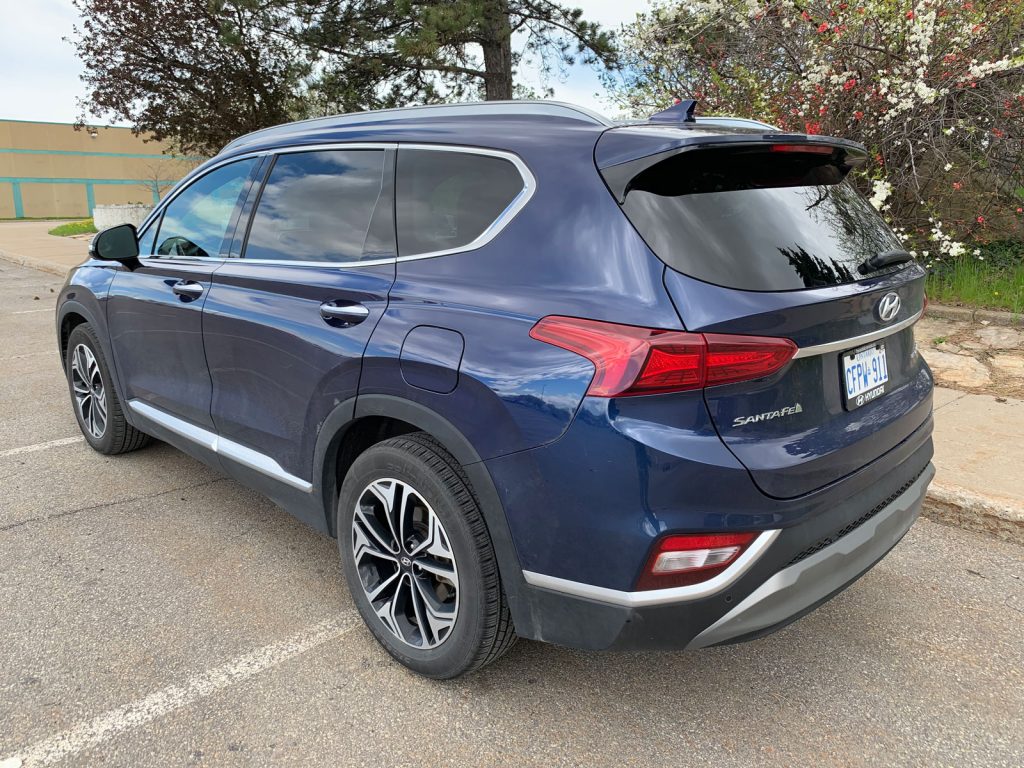 In addition to making the interior more spacious, the new design is also extremely user friendly. The seating position, comfort level, cockpit layout, material fit and finish and all-around usability are top-notch. What Hyundai engineers have done is render vehicle operation a cinch. By this I mean that there are no fancy attempts at making it seem futuristic, no attempts to minimize the number of physical buttons or adopt anything annoying (like a push button shifter for example). No, the Tucson's operation will be easy for just about anyone and easy means comfortable.
The new dash is uncluttered and has a clean feel to it despite having a physical button for everything. There are easy-to-use dials for temperature and volume (as every vehicle should have), a traditional gear-select lever, very functional air vents and a 7-inch touchscreen infotainment. I like Hyundai's menu system and most will find it plenty user-friendly though the screen is a bit far from the driver. Apple CarPlay and Android Auto are available to connect to your smart phone for the technophile in your family and there are plenty of USB outlets and even available wireless charging.
The materials and fit & finish of the cabin are very good and you can tell the vehicle is well-built. The steering wheel is comfortable and its buttons are nicely laid out. Seating is comfortable but firm. Storage capacity with the seats folded down is a whopping 2,019 litres and what's nice is the privacy cover can be stowed under the floor when you don't' need it.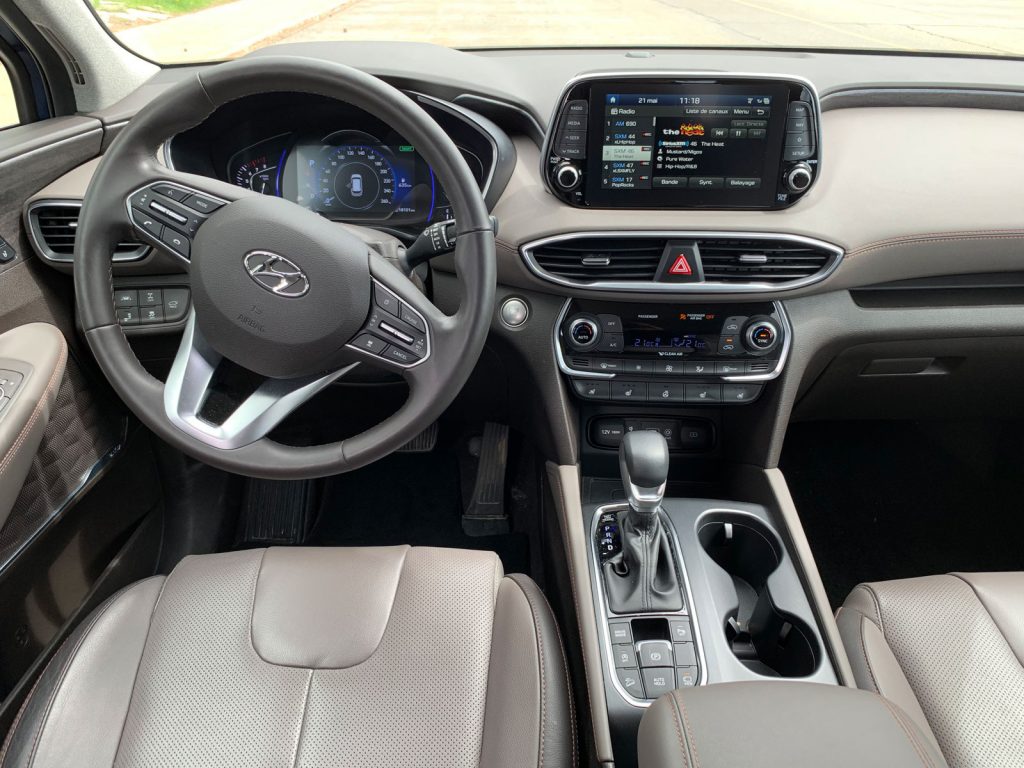 Under the hood you'll have the choice of either a 2.4-litre four cylinder making 185 horsepower and 178 lb-ft of torque or a 2.0-litre turbocharged four-banger make a reasonable 235 horsepower and 260 lb-ft of torque. The test subject came with the turbocharged version which was able to propel the Santa Fe around town and up to highway speeds in a quick and efficient manner. The new 8-speed transmission was designed in-house by Hyundai and is actually lighter than the outgoing 6-speed transmission. The shifts were quick and crisp and the Santa Fe providing an easy and relaxing driving experience. My only complaint is the roughness of the automatic start-stop feature.
The HTRAC AWD system was developed as a multi-mode system, providing an electronic, variable-torque-split clutch with active torque control between the front and rear axles. The driver-selectable Normal, Sport and Smart modes help provide confidence in all weather conditions.
Hyundai has upped the list of standard safety features on everything but the base model. These include forward-collision warning with automatic braking, blind-spot detection, rear cross-traffic alert, adaptive cruise control, driver attention warning and my least favorite feature – automatic high beams.
Starting at just $28,999, the mid-size Santa Fe is $12,291 cheaper than the cheapest Honda Pilot, and only $1300 more expensive than the compact Honda CR-V. Most buyers will not opt for the base model with only front-wheel drive, however. The next level up is the Preferred trim at $35,099, then Luxury at $41,899 then Ultimate at $44,999. It represents a great value for a mid-size SUV that is as good as any of the competition and a definite must test drive for anyone in the market.