Everyone knows what a BMW 3 Series is. That kind of name recognition is hard to achieve and doesn't come easily. BMW earned it by being an industry leader in the compact luxury segment for decades after having introduced it in 1975. The car accounts for about 30% of the German automaker's vehicle sales so a new generation 3 Series is big deal for both enthusiasts and the corporate bottom line.
The 2019 seventh generation 3 Series was unveiled at the Paris Motor Show last October. The chassis code that BMW-o-philes use to identify the car is G20 (compared to the outgoing F30/31/34). Up front the design has been modernized to include a larger kidney grille, a new interpretation of the car's LED twin headlight design and T-shaped air intakes on the lower front bumper. It looks more in line with the new 5 Series design with enough differences to avoid the I-can't-tell-the-models-apart problem like some of the competition has. The main changes are at the rear with the new slim, L-shaped taillights. They hit the ball out of the park with this design, giving the sedan a unique look that is a nice departure from the previous generations and a step up in the form factor. Overall, the new 3 Series is 76 mm longer, 16 mm wider and 1mm higher than its predecessor.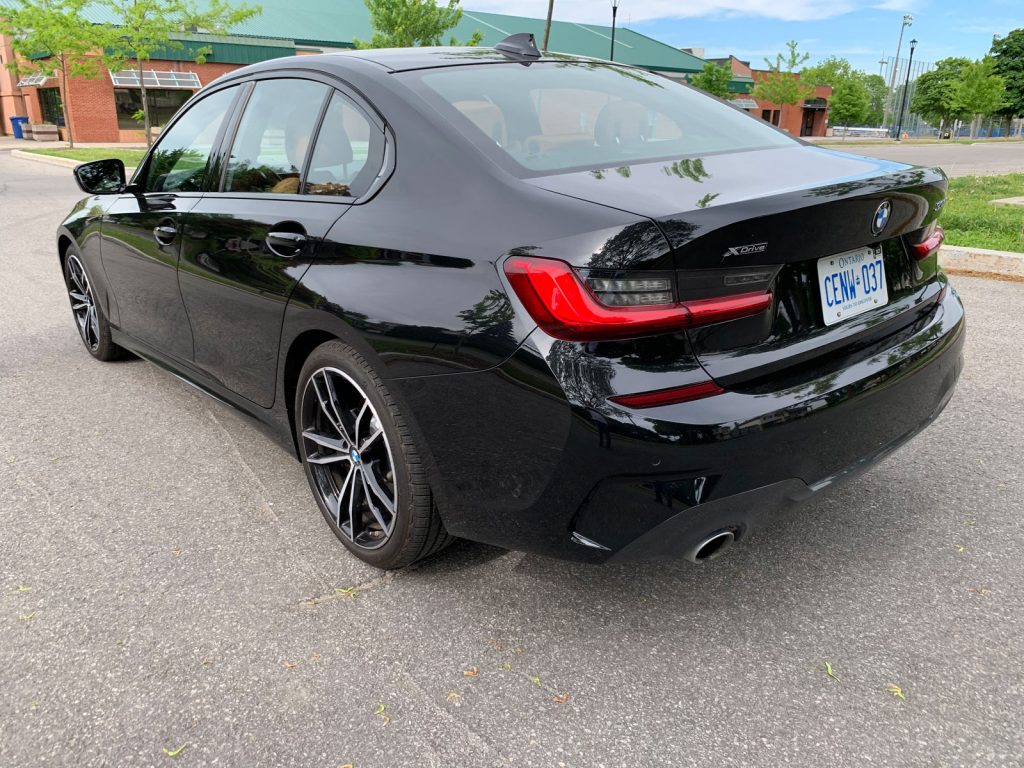 There is a new 2.0-litre inline 4-cylinder engine in the 330i which delivers 255 horsepower and 295 lb-ft of torque. The more powerful M340i also features a new straight-six engine that produces 382 horsepower and 369 lb-ft of torque and will be able to do the 0–100km/h sprint is just 4.2 seconds. The test vehicle was the 330i xDrive.
Both cars are equipped with an 8-speed Sport Steptronic transmission as standard. There is a wider gear spread which increased efficiency and improves vibration control. It was definitely a very smooth ride and able to handle my lead foot's desire seamlessly. The 255 horses are enough to propel the vehicle around town and up to highways speeds effectively and with ease. Paddle shifters and launch control are features that will please the boy racer in you and are fun to play with. BMW has made major improvements in the Auto Start Stop function. It's almost imperceivable when re-starting the engine and that makes a huge difference because chances are more people will use it. The system can even use data from the navigation system and front camera to determine if cars in front are moving and whether it's a good time to shut the engine off.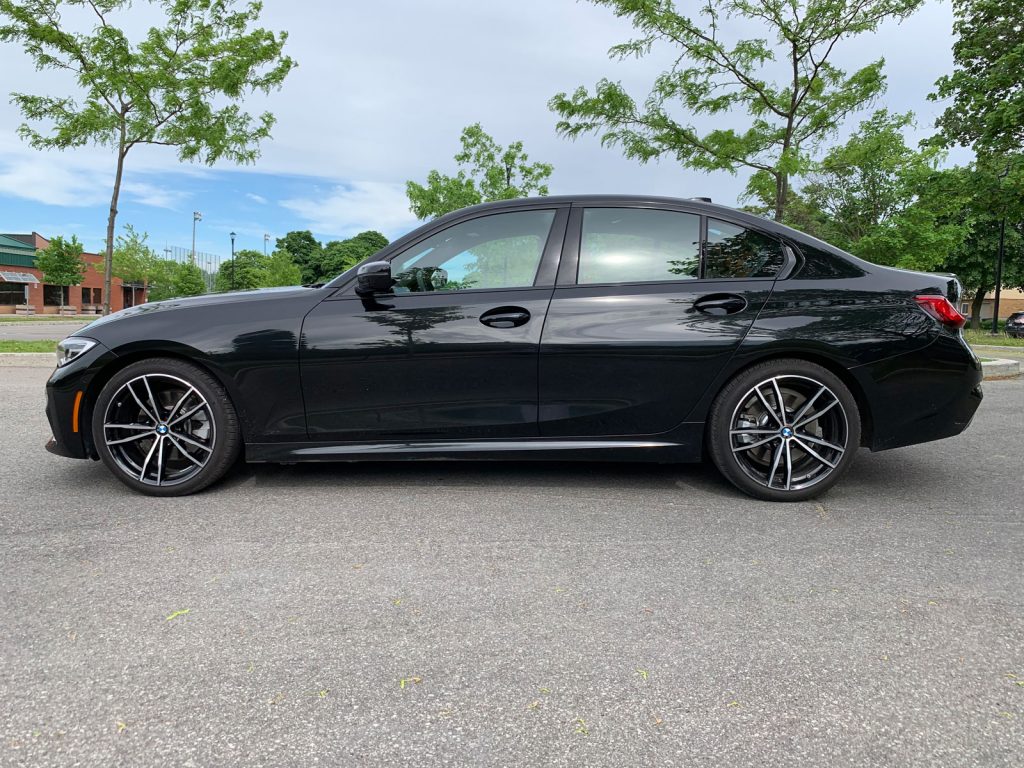 Overall body rigidity is up 25 percent, rising to as much as a 50 percent improvement in certain areas. Spring rates are also increased by 20 percent over the previous-generation 3 Series sedan. The ride is firm yet comfortable. Body weight was reduced by 121 lbs depending on the configuration and the vehicle delivers and exciting, firm drive that inspired confidence no mater what I threw at it.
The cabin has been re-worked but is still quite similar in layout to the previous generation.  Audi and Mercedes have cabins that are a little fancier and BMW has chosen to stick with something more traditional. I can appreciate the function over form mentality and the cabin is certainly functional and comfortable. The seating position, steering wheel and control surfaces are designed extremely well. I will point out, however, that there should be knobs for temperature and fan control instead of tiny buttons that you must press many times which can get frustrating.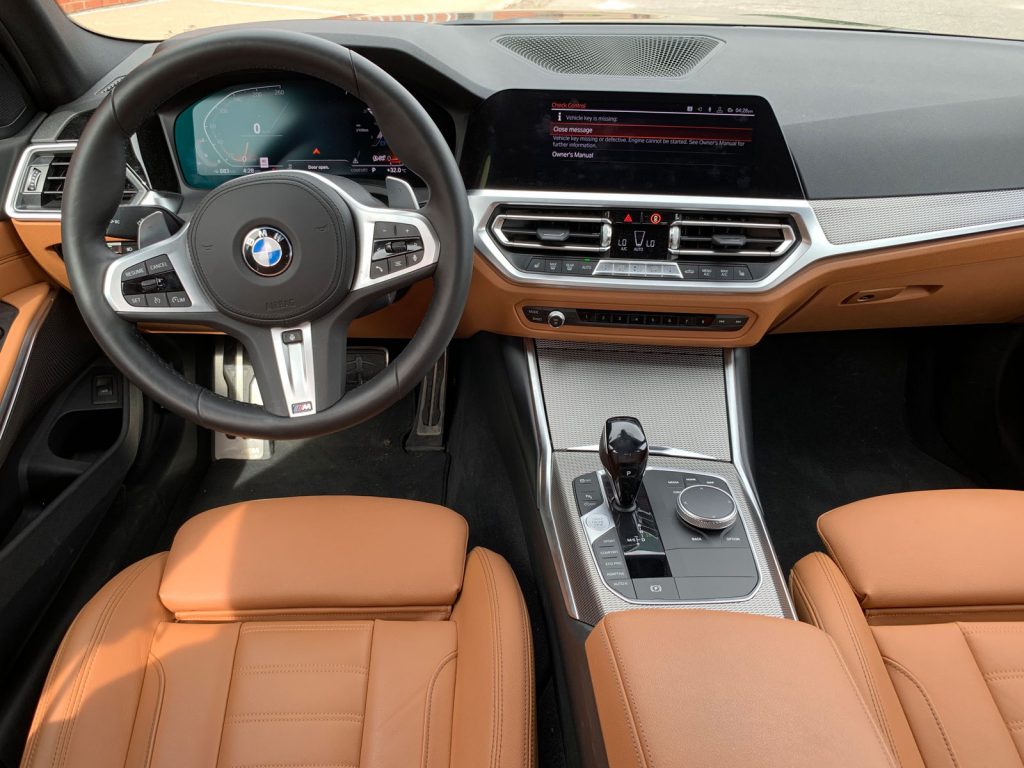 BMW's iDrive has a very intuitive interface that is easy to use, in particular because of the rotary dial located on the lower center console. It's always been the best way to operate a system because it lets the driver's eyes stay close to the road while not having to reach or lean. I didn't even use the touchscreen because it's not necessary. Using an application such as Waze via CarPlay is surprisingly easy as turning the rotary dial flips the cursor around the screen intelligently.
I did have a lot of problems with the new wireless Apple CarPlay. It's a feature that is in high demand because nobody wants to have to plug in your phone just to access the system. Unfortunately, there were a ton of connectivity issues which made the system all but unusable. It would disconnect mid-song or mid-phone call leaving me to scramble to get speakerphone on my device. Attempting to reconnect CarPlay didn't work as it couldn't find the device afterwards. It didn't just happen once or twice, either. I'd say 50% of the entire time I was driving the vehicle, CarPlay was not accessible. I'm sure BMW will release a software fix soon but it's a wonder how they let such a buggy system go to market.
Starting at $49,000, the 2019 330i xDrive represents good value for the dollar though keep in mind it can easily be optioned up north of $60,000. Despite many buyers moving towards SUVs and crossovers, the 3 Series still has its place because driving dynamics still weighs heavily on many enthusiasts.