The Nissan Maxima is the brand's longest-running nameplate meaning every other Nissan in the current lineup was introduced after it. That's not a bad thing as name recognition can go a long way. The car even dates back to the Datsun years and was originally known as the Datsun Maxima from 1891-1982 which is amazing just for the coolness factor.
The Maxima is also interesting because it's a bit of a rare class of car. It's a full-size sedan from a non-luxury brand. There are only a select few competitors with the Toyota Avalon and Kia Cadenza being the fellow foreign brands competing in the category. The Chevrolet Impala and Dodge Charger are the domestic entries (the Buick Lacrosse and Chrysler 300 can be considered luxury brands).
There are some notable updates for 2019 to keep things fresh after being totally re-designed for the 2016 model year. On the exterior we have minor styling updates, including standard LED headlights, a new front fascia, a revised rear fascia with LED taillights, integrated quad-tip exhaust finishers, and new 18-inch and 19-inch wheel designs.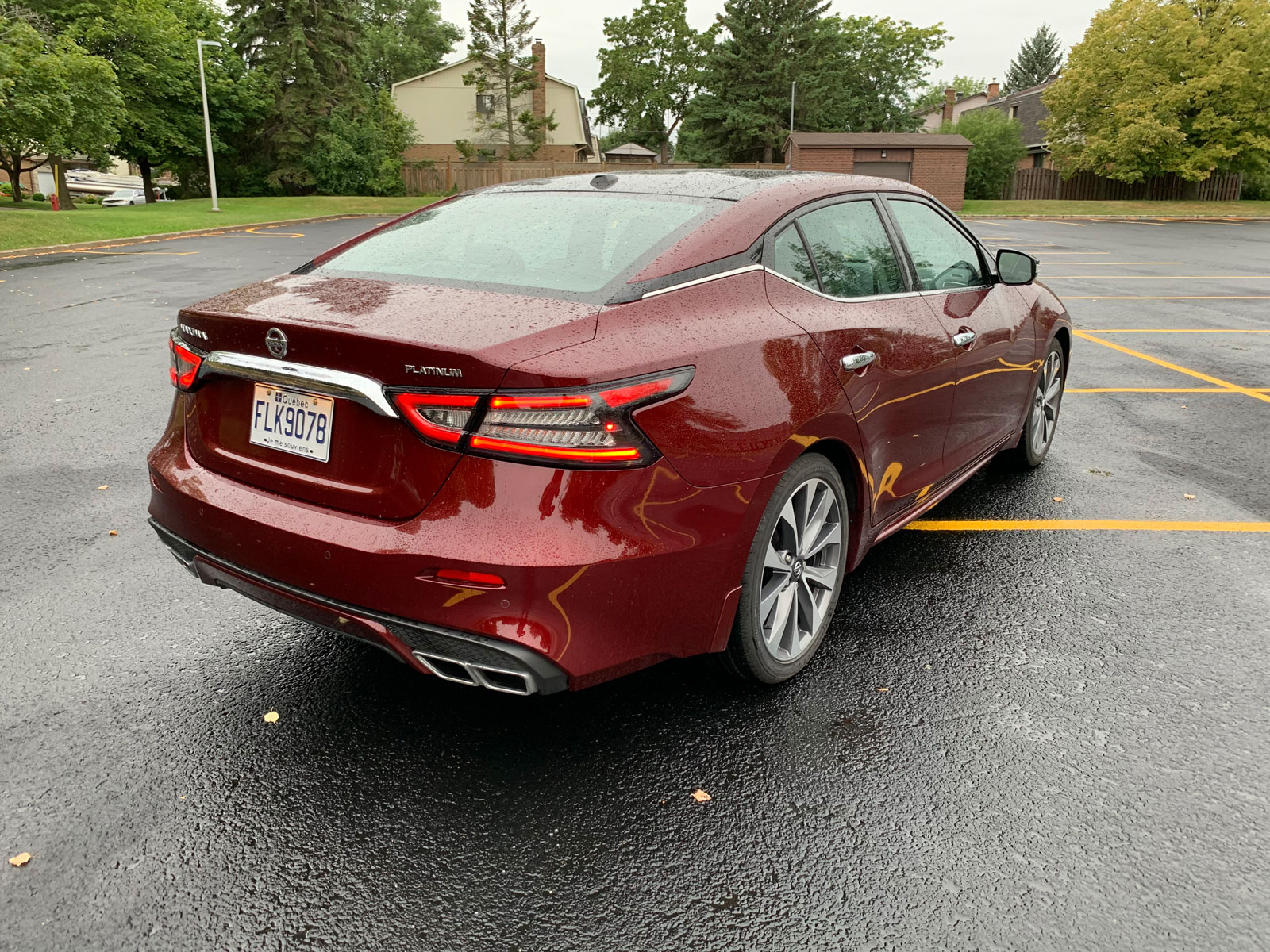 Nissan has given the Maxima very unique looks. This vehicle doesn't resemble anything else with sharp lines and very bold styling. The vehicle looks just downright mean like a Great White Shark about to sink its teeth into dinner. Spearheading that angered look is the front V-shaped grille and aggressively-positioned LED daytime running lights. The car looks long and low to the ground thanks to Nissan's "floating roof" design which they first introduced on the Murano.
Sitting in the cabin, the occupants are surrounded in the same luxury you'd find in any Infiniti (Nissan's luxury brand). The vehicle came with premium Ascot leather seats with diamond-quilted seating surfaces. There is a flat-bottom racing steering wheel which is perfect for the hands to grasp on to. I will say that the overall look is getting a bit dated but still remains highly functional.
Under the hood, the Maxima packs a punch with a tried, tested and true VQ engine. The 3.5-litre V6 generates 300 horsepower and 261 pound-feet of torque mated to a continuously variable transmission (CVT). The problem here is that the Maxima is a front-wheel drive sedan which means all this power can produce torque steer. In other words, the power can affect the direction of the steering in unintended ways when turning under heavy acceleration. A CVT is also not the ideal tool for larger, more powerful cars. They are good at extracting maximum power from small engines but lack the feel and soul to provide an exhilarating driving experience with 300 horsepower because there are no set gears. The Maxima is very fast, don't get me wrong. It was enjoyable to push the VQ engine but in my opinion, it could be even better with a different transmission and drive configuration. It's unlikely Nissan will change it though because it could then interfere with Infiniti Q50 sales.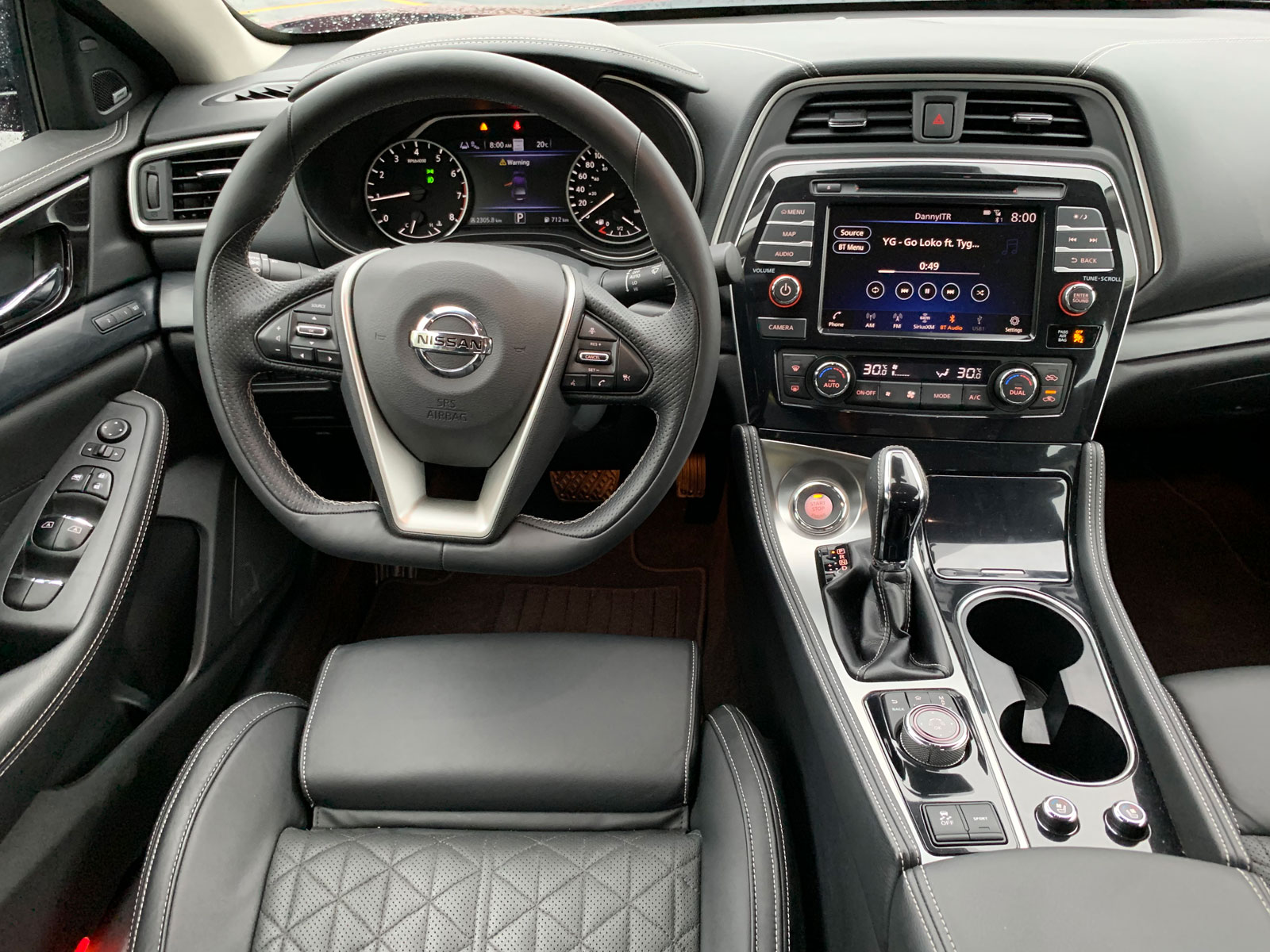 There is an array of standard safety features that will keep you feeling secure. Newly available for 2019 is Nissan Safety Shield 360 active safety technology and 10 air bags, including front driver and passenger knee and rear seat side supplemental air bags. Standard on all trims are driving aids including predictive forward collision warning, forward emergency braking, blind spot warning, rear cross traffic alert and moving object detection. Opting for the top-of-line Platinum trim will include driver attention alert and the surround view monitor (instead of just the rear view).
In Canada there are three trims to choose from: SL, SR and Platinum. The SL starts at $43,070. For $45,420 the SR will get you 19-inch wheels, a sport-tuned suspension, leather seats and a spoiler. The Platinum will run you $47,830 and adds climate -controlled front seats, a surround-view monitor and a few other tidbits. Again, all-wheel drive isn't available on any trim level making the choice of the Maxima a little difficult on Canadian drivers – especially when the all-wheel drive Q50 starts at $44,995.
That being said, the unique styling and relative rarity of the model offers great appeal. With a good set of winter tires, the lack of all-wheel drive isn't the end of the world and the Maxima still had a place in the sedan market.