Worldwide, the X1 is BMW's most sold X vehicle but in Canada it's third, coming in behind the larger X3 and X5. For 2020 we see some improvements to the product which was first introduced in 2015.
Whats's New On The Outside
This latest version of the BMW X1 receives more modern, updated exterior styling to reflect the brand's design direction. New LED headlights with hexagonal iconography and new LED fog lights accompany the BMW kidney grille which features a new, sculptured design with larger openings. Changes to the front and rear bumper design are noticeable sharper lines and larger openings and integrated LED fog lights. There is a new M Sport Line look which contains, redesigned front bumper, side skirts, wheel arch trim, and rear diffuser in body color. Overall, I'd say the look is more modern and enough to stand out from the previous model.
Three new metallic colors have been added to the options list: Storm Bay metallic, Jucaro Beige and Misano Blue metallic like you see here. Estoril Blue has been removed.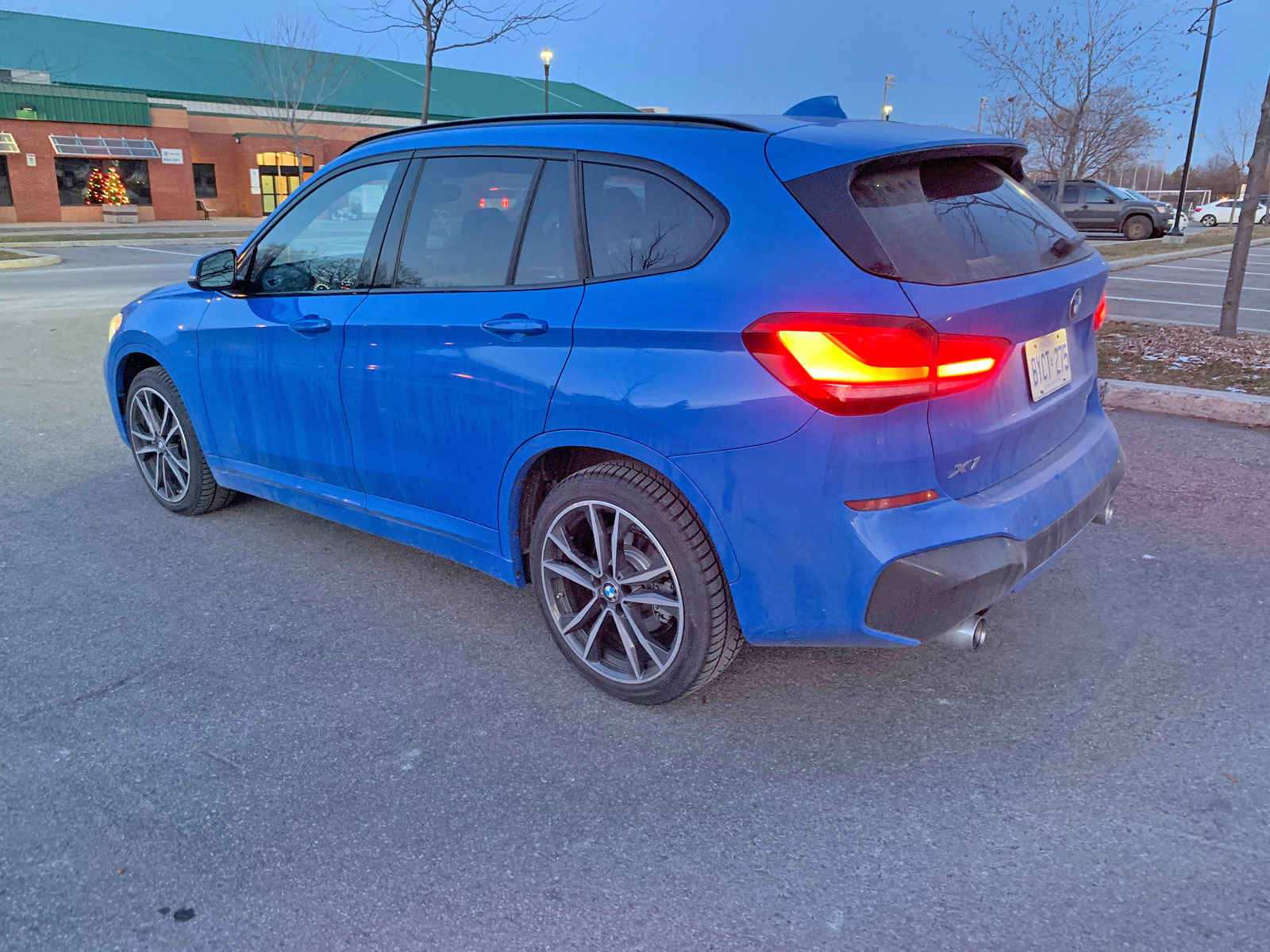 What's New On The Inside
A new two-tone LED "X1" welcome projection greets you when you open the doors. Inside the cabin, the main display is now a standard 8.8 inch unit featuring iDrive 6, Navigation and Apple CarPlay compatibility.
The cockpit design is decent though not overly attractive as BMW tends to favor function over form. It has proper dials for temperature control which are always nice to have. In fact, I'd say it's almost a must. All these other manufacturers attempting to digitize climate controls are actually making the roads less safe because you need to take your eyes off the road for longer just crank the heat. That's not the case here and BMW needs to be commended for it.
While the interior is visually not all that spectacular, what it lacks in fanciness it makes up for in other ways. The best example I can think of would be the iDrive infotainment system operation. We have a dial on the lower center console next to the parking brake which is what everyone should try and emulate. It allows operation of the menu system without having to take your eyes too far of the road. The menu system itself could probably use a bit of a simplification because there are too many sub menus but all in all it's still quite pleasant to operate.
I did have a lot of problems with the wireless Apple CarPlay. There were connectivity issues which hampered its usability. A fix is definitely needed.
The little details that BMW offers such as the LED strip of lighting on the doors and dash really give the vehicle an upscale feel. The lighting is customizable in the menus. I kept it blue to match the exterior but you can chose any color and even two tone colors to suit your mood.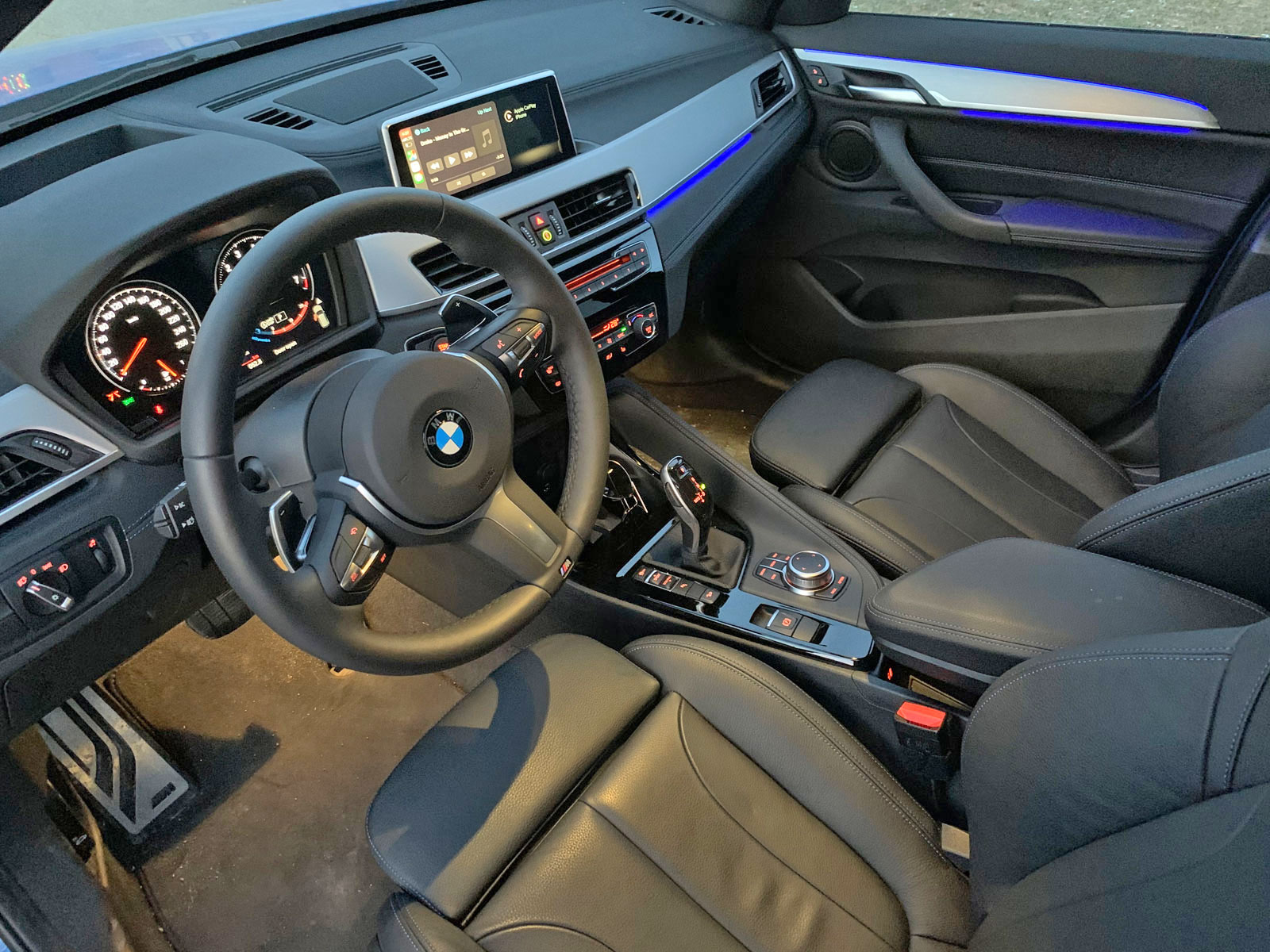 Under The Hood
Under the hood we find a 2.0-litre 4-cylinder turbocharged engine from BMW's family of modular engines. Power output is 228 horsepower and 258 lb-ft of torque. Acceleration from 0 – 100 km/h is accomplished in 6.5 seconds mated to an 8-speed Steptronic automatic transmission.
The vehicle did everything I needed it to do without a fuss and was comfortable to drive in all situations. Interestingly enough, I didn't find that it's sportier sibling – the X2 to be comfortable at all. The X1 has good visibility and will be great for road trips.
New Wheels
New design 18 inch Y-spoke bi-color and black wheels replace the previous Y-spoke wheel design. A new 19 inch Y-spoke bi-colour wheel replaces an outgoing 19 inch Y-spoke wheel design.
New Price
The 2020 BMW X1 has a starting price of $41,500. With transport and dealer fees you're automatically up to $44,498. For a luxury small crossover, it's not that bad of a price however watch out because BMW options packages can tack on a lot to that number very quick. In this case there are three: The $950 Sport Performance package, the $3,500 M Premium Essentials Package and the $5,900 Premium Enhanced Package.
The X1 remains a must-try for anyone looking to enter the premium crossover segment.