Having first been introduced in 2006, the Honda Ridgeline mid-size pickup was on sale until 2014 until it took a three-year hiatus and returned for the 2017 model year – its second generation. This newly redesigned Ridgeline was totally reworked and improved, coming in longer, wider and even lighter than the first generation. It also looked the part, too taking cues from its sibling – the Honda Pilot.
The front end was cloned from the Pilot and is vastly better looking compared to the first generation. Available are new premium features including standard LED taillights, and available features such as LED projector headlights and LED daytime running lights on the more upscale trim levels.
If there was one vehicle that could fulfill just about any need that a young family would require, I can think of no better option than the Honda Ridgeline. It's been the case for so long that the choice for minivan-averse people was between an SUV or pickup truck but the Ridgeline muddies those waters a bit. What's also interesting is that Ridgeline probably doesn't cross the mind of the swath of people who are full-size pickup buyers. It's definitely true that the Ridgeline isn't designed to match the capabilities of these full-size workhorses but it's also true that the vast majority of pickup buyers don't use their trucks to their full extent.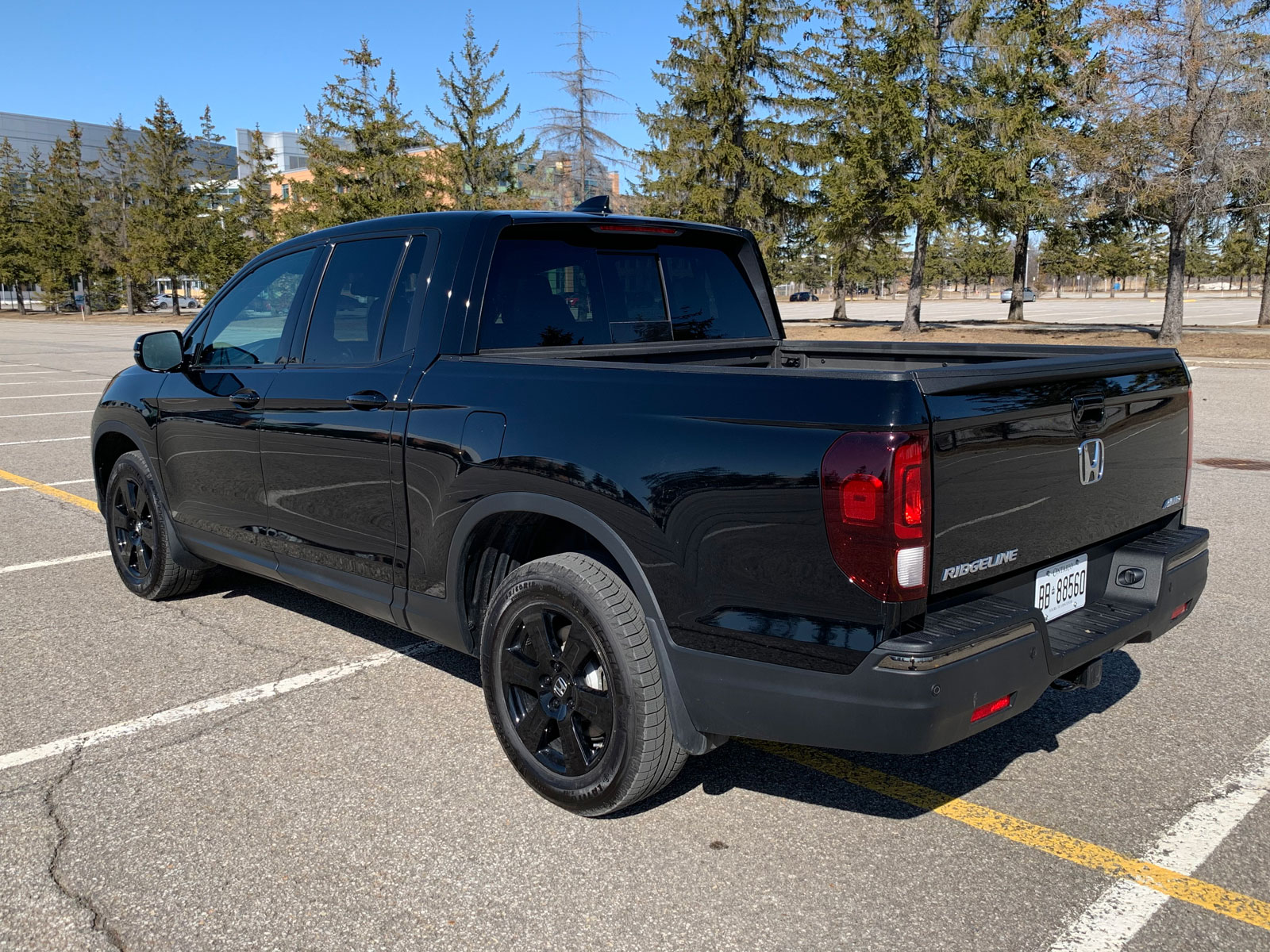 As you can imagine, the interior of the Ridgeline is also very similar to that of the Pilot. The layout of the controls is extremely well thought out and everything is simple to operate. I'm not completely sold on the push-button gear selector and while it saves big on space, I still prefer to have the mechanical device. The Black Edition is loaded with features such as red-contrast leather seating, leather steering wheel, heated and cooled front seats, heated rear seats, and a 10-way adjustable power driver's seat.
We also need to have a conversation about the lack of a volume knob on the infotainment system. The tiny buttons for volume make operation difficult. Aside from that, the infotainment system is decent but could be a little more simplified in terms of layout. Sound-wise it's a gem capable of blasting as much clear crisp sound with heavy bass to anyone's desire.
The cabin is quite spacious with plenty of room for five adults. The 60/40 split rear seat has the ability to fold up and create an interior storage space for boxes and smaller things in case the truck bed would be overkill. Storing stuff inside has the added bonus of shielding it from the elements.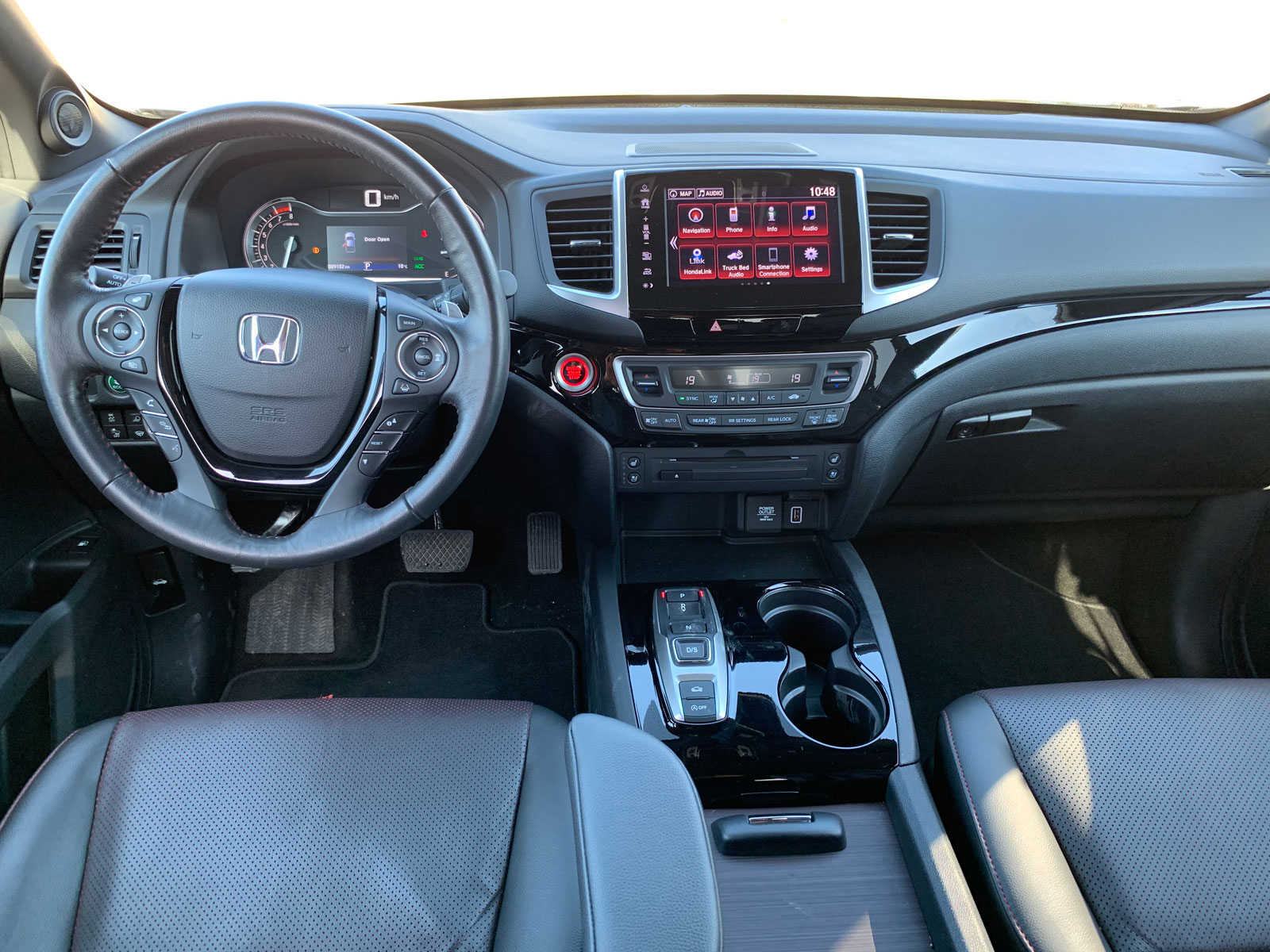 The Ridgeline has a class-leading maximum 1,584 pound (718.5 kg) payload capacity (which varies by trim) and up to 5,000-pound (2,268 kg) towing. Again, this doesn't match the prowess of full-size pickups but it's still fairly robust. With a unibody construction, fully independent front and rear suspension systems, the Ridgeline offers vastly superior ride comfort and handling precision compared to conventional body-on-frame truck offerings. For the times when you aren't towing or hauling anything this is exactly what the doctor ordered because it drives like an SUV, not a pickup.
Under the hood is Honda's 3.5-liter i-VTEC V-6 engine mated to a 9-speed automatic transmission. Output is rated at 280 horsepower and 262 lb-ft of torque. For added fuel economy, three cylinders are shut down under light throttle load. Available torque vectoring, plus Normal, Snow and Mud and Snow drive modes help ensure you don't get struck in your mild-duty off-road adventures.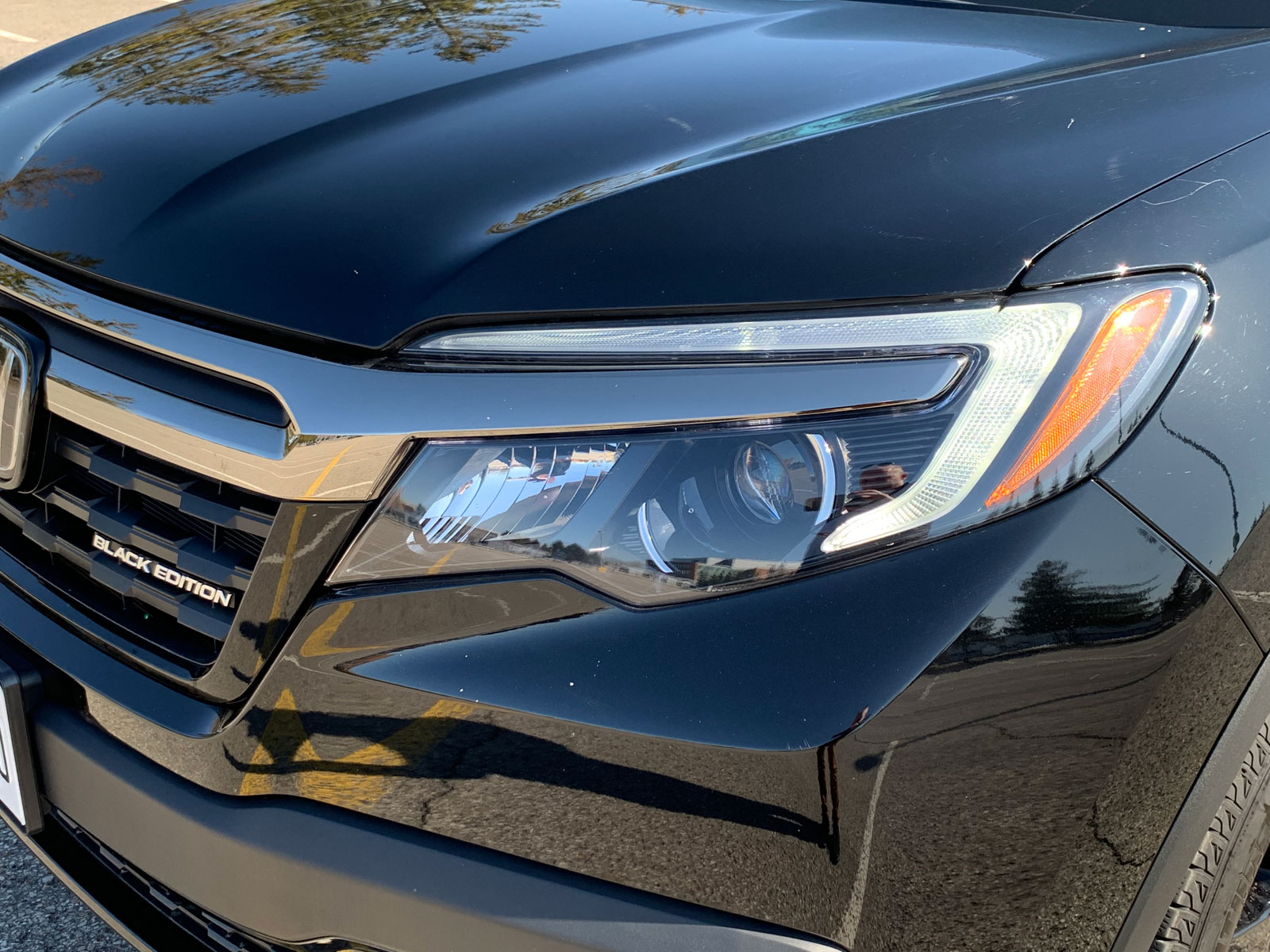 The Ridgeline is being refreshed for 2021 but it's not a major change and most untrained eyes won't even notice. That means that you shouldn't' be afraid to pick up a 2020 while inventory is still available because it won't look outdated in the coming years.
So what can you expect to pay for this swiss-army knife of a vehicle? The base sport model starts at $42,660 including freight and other fees. The EX-L is $45,660 and the Touring $49,860. If you want the Black Edition with the neat esthetic modifications seen here, add $1500 to the Touring price. While you can certainly get an F-150 for cheaper, the Honda Ridgeline's functionality and drivability make it worth it.