When plugin hybrids first started coming out a few years ago I didn't pay much attention. Perhaps it was because my daily commute was quite long and I never found it worth it to charge the vehicle for only a few kilometers of autonomy.
Fast forward to 2021 and I can't get enough of running on electric power alone. My daily commute is such that a full charge can get me to work and back so I made sure to make good use of the 2021 Volvo XC90 T8's autonomy.
This is a vehicle can you can plug into your standard wall socket and in about 5 hours have enough charge to drive 32 kilometers on electric power alone. That's enough for many people to drop the kids off at school and get to work. In my week with the vehicle, I used just 8 liters of gasoline and drove 190 kilometers or about 4.2 L / 100 km.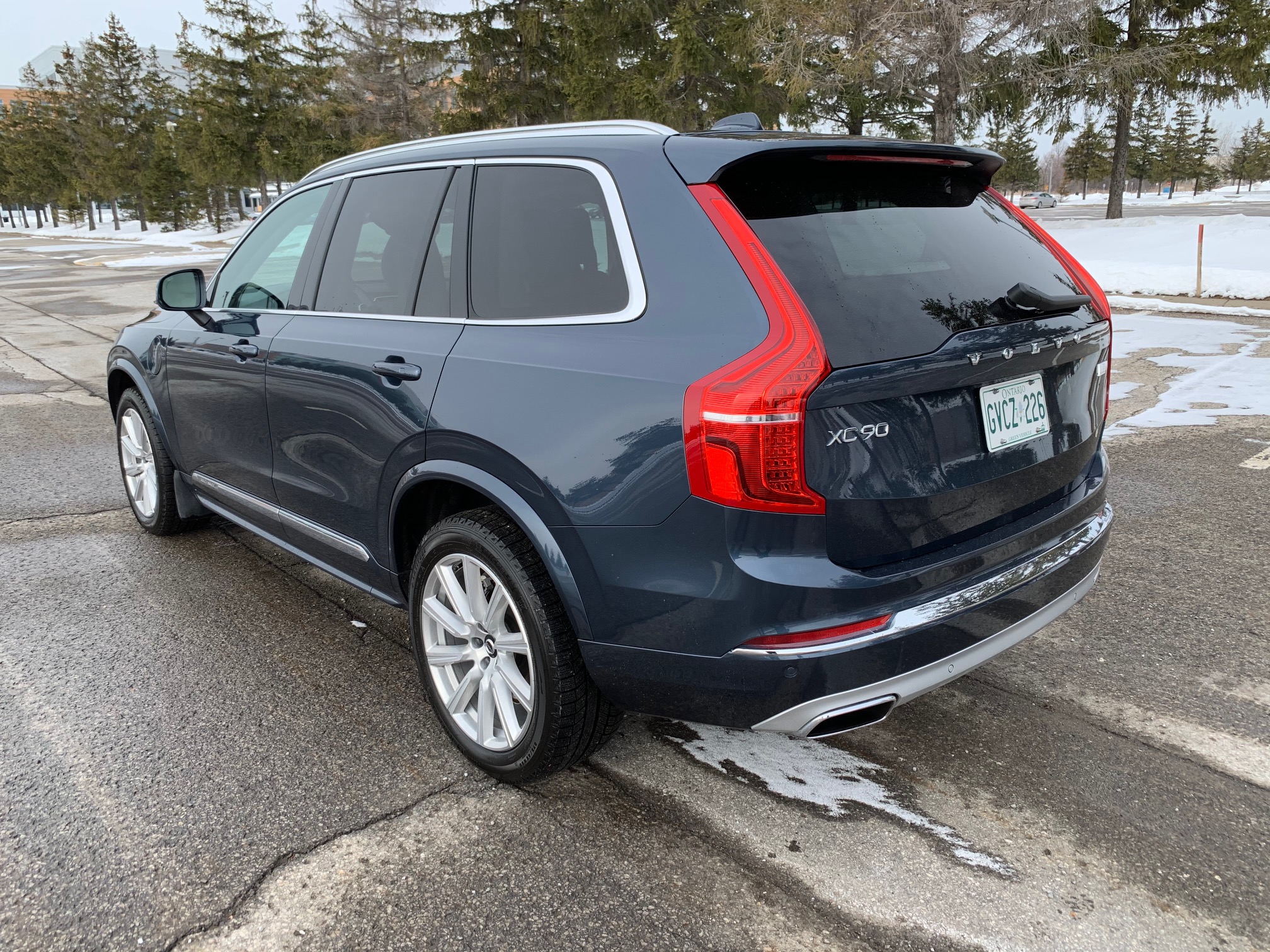 Volvo has been on a roll the last few years, delivering an entire new lineup that is one of the freshest and most technologically advanced on the market. That fact has never been clearer as I drive the 2020 Volvo XC90 T8 plugin hybrid this week.
Clad in Denim Blue with a Blonde leather interior, the XC90's design is beautiful and contemporary. I received many compliments and I doubt I'd be able to find a person who doesn't think this car is downright gorgeous.
The power delivery of one of the smoothest I've experienced from a hybrid vehicle. If the battery charge ran out or if I stepped on the gas pedal hard enough, the 2.0-litre turbo and supercharged gasoline engine took over with a seamless transition. You will notice the distinctive sound of the four-cylinder but who really cares when you're humming along and saving hundreds of bucks on the yearly fuel bill.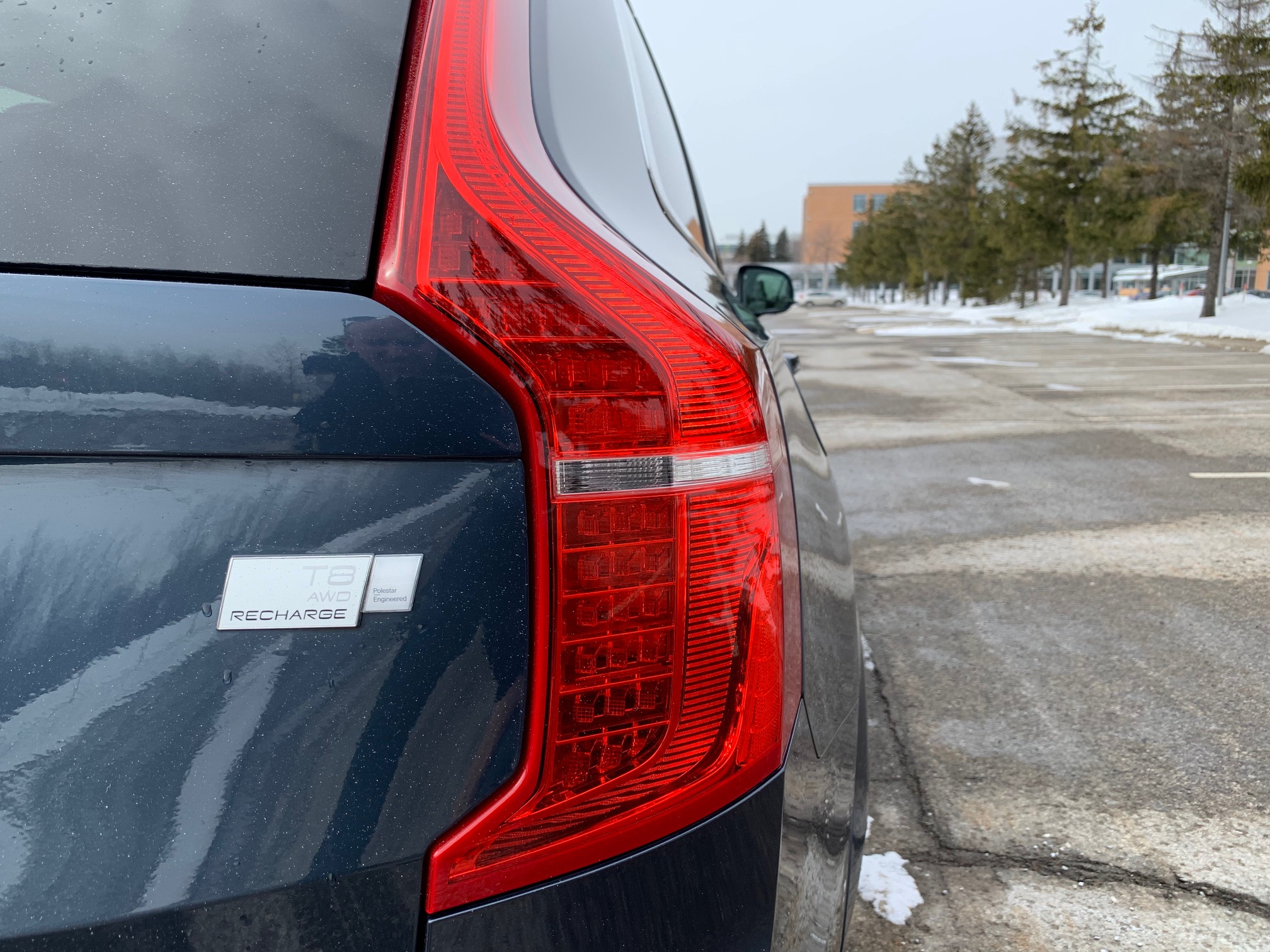 Volvo's heavy investments in research and development have paid dividends as well. The new powertrains impress me every time I write about them. Volvo calls its new architecture Drive-E and all power plants are now based on the afore-mentioned 2.0-litre four-cylinder engine. They've managed to make those two litres a long way so don't get discouraged at the size of the motor. The entry level T5 model features turbocharging only and is rated at 240 horsepower with 256 lb-ft of torque. Moving up the chain we find the T6 which is still turbocharged but is also supercharged at the same time. Power output is 316 horsepower and 295 lb-ft of torque. The top of the line power plant featured in this test drive is called the T8 which is a plug-in hybrid making 400 horsepower and 472 lb-ft of torque. In this configuration, the driveshaft is removed to make way for the battery pack feeding the 87-horsepower electric motor driving the rear wheels.
The XC90 T8 is quick to accelerate even without the aid of electrification because 313 horsepower is fossil fuel-powered. With everything charged up, the automaker says this SUV can sprint from 0-100km/h in just 5.6 seconds.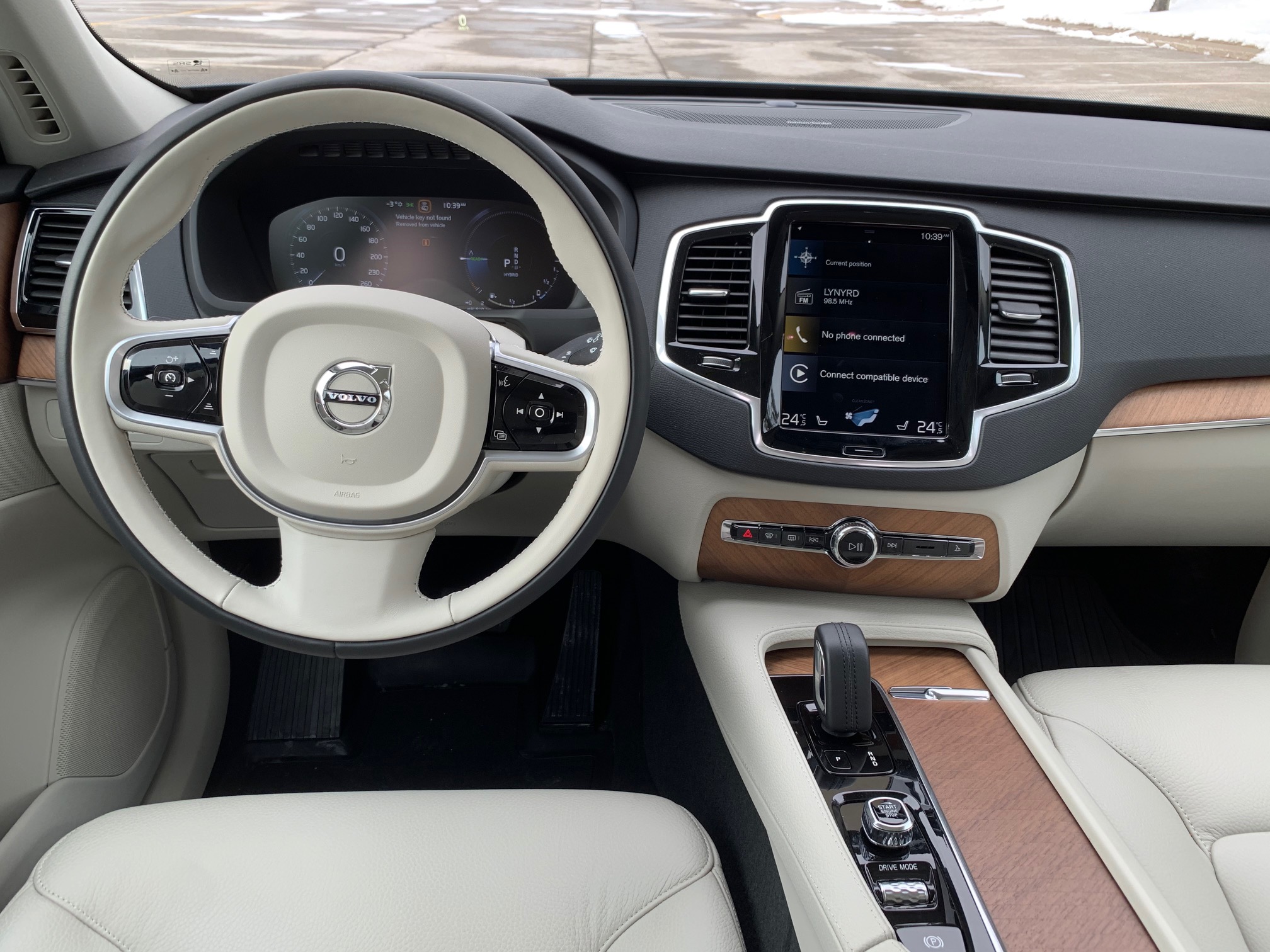 Moving on to the interior, the leather seats are nothing short of spectacular and will rival your living room La-Z-Boy recliner. It remains one of the most comfortable rides I've ever experienced. Access to the third row is very easy and there is plenty of storage space for items.
Volvo has chosen the touchscreen interface for many functions and eliminated the presence of as physical buttons whenever possible. The climate controls require as least two taps on the screen in order to manipulate which is something I don't care for. Climate is something that I tend to adjust very often and having to take my eyes off the road to tap a screen is not only frustrating but also unsafe. Furthermore, the climate temperature control is seemingly always on auto meaning you set the temperature and the fan is adjusted accordingly. If I just want to blast hot or cold air, the auto function often gets in the way. Volvo offers an hours-long course on their infotainment system which operates like a tablet. You can tap or swipe left or right for various functions and after testing many Volvos I've gotten used to the interface. I'd like to see a slightly larger screen and a knob for temperature and fan control.
An optional rear seat entertainment system would also be welcome. Many manufacturers chose to forgo this because kids these days all bring their tablets into the car anyways but it's still a very nice option to have. Watching the same movie all at once tends to quiet things down significantly.
Tiny complaints aside, this is simply an excellent vehicle, and one that anyone looking for a large SUV needs to try out before making a decision. A base XC90 Momentum can be had for as little as $64,750 however the T8 Recharge Inscription will run you $77,600. Optioned out like the test vehicle you see here, the MSRP is $84,125 plus transport.