I had the chance to spend a couple of weeks with two F-150 Lariat Hybrid models earlier this summer. Ford has redesigned the F-150 for 2021 and added many new features to the product which remains the best-selling vehicle in North America for the eleventy-thousandth year in a row.
The undercarriage remains a fully boxed high-strength steel frame with a high-strength, aluminum alloy body. Every panel of the exterior was redesigned while maintaining its signature look, including an updated headlamp design, new power dome hood and wrap-around bumpers. Higher front enders, a tucked-in midsection and larger-diameter tires pulled out three-quarters of an inch create a larger stance.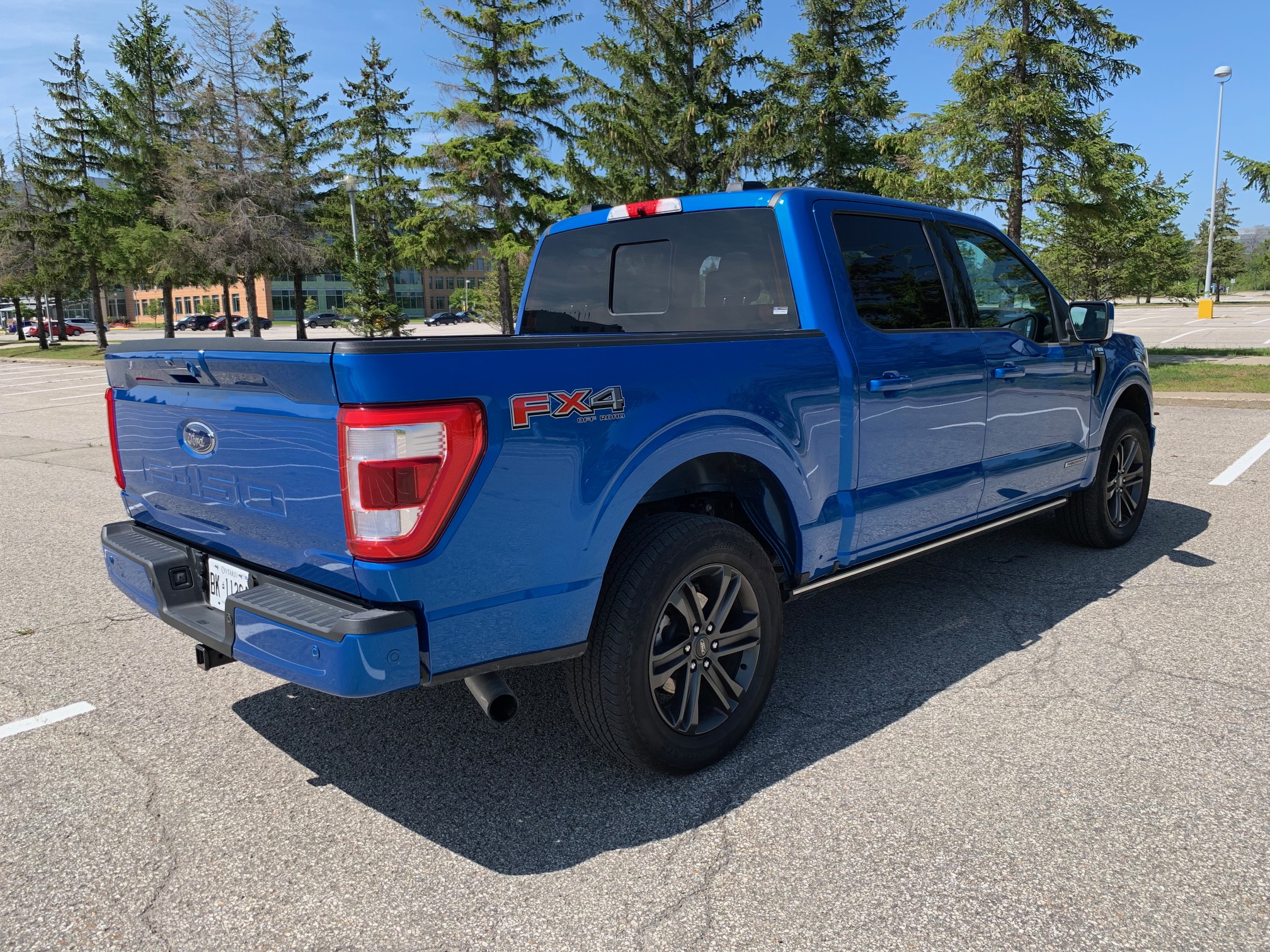 As we've been accustomed to, there are a myriad of grill options (11 to be exact) which differentiate the particular trim level. Functional upgrades throughout include available LED headlamps and taillamps, and available full-length extended power running boards with kick switch that provide better truck-side cargo box accessibility.
My overall impression is that the new look is amazing and Ford hit the nail on the head. The F-150 is gorgeous no matter which version you buy, from the entry level XLT to the high end Limited.
Pictured here is the Lariat Powerboost Hybrid Electric model. The all-new 3.5-liter PowerBoost full hybrid V6 powertrain is available on every trim level from F-150 XL to Limited. The system adds instant electric torque to Ford's 3.5-liter EcoBoost V6 and has an EPA-estimated range of approximately 1155 kilometers on a single tank of gas while delivering 12,000 pounds of available maximum towing.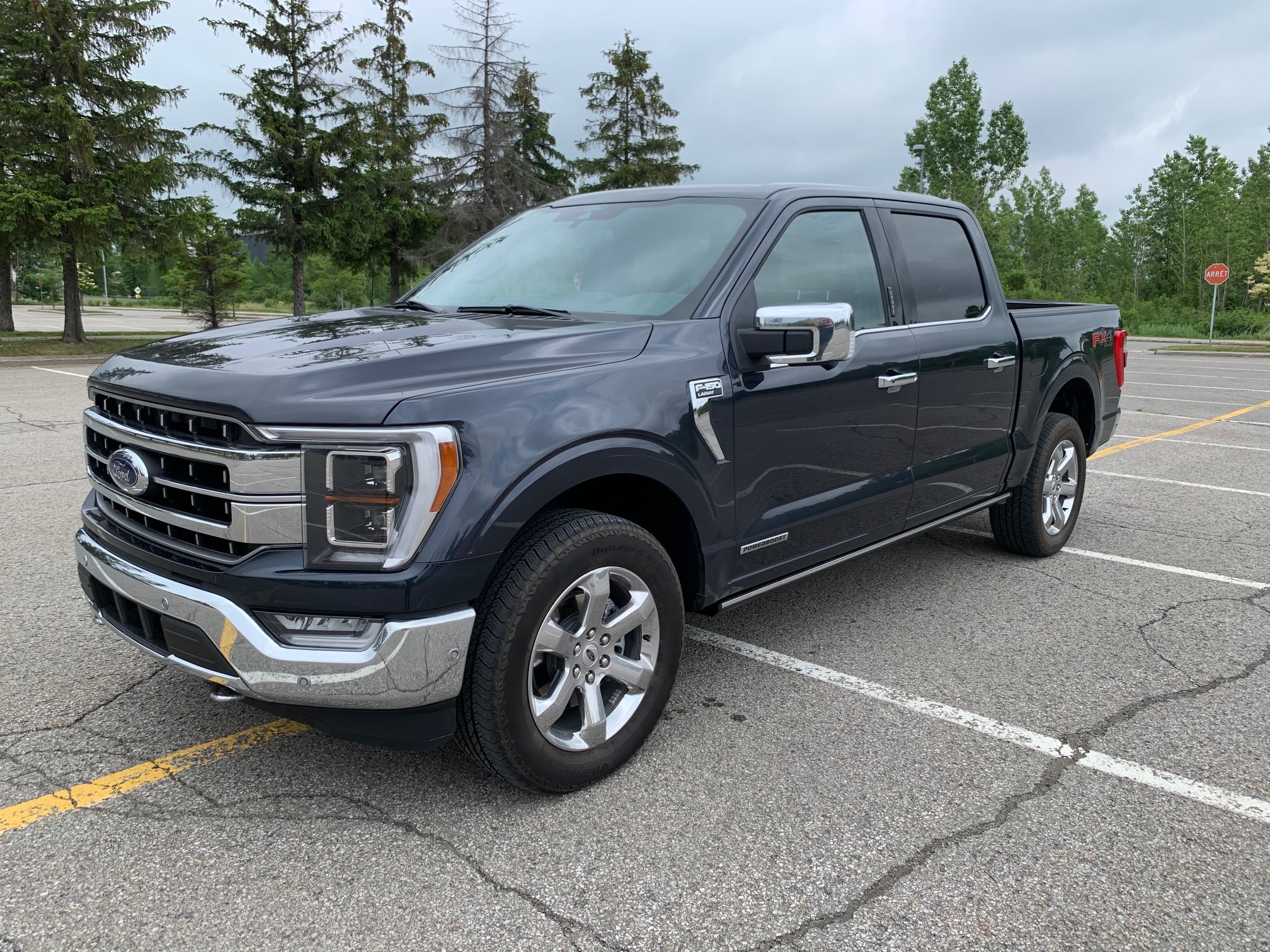 PowerBoost combines Ford's proven EcoBoost engine and 10-speed SelectShift automatic transmission with a 35-kilowatt (47-horsepower) electric motor integrated into the transmission,
as well as software calibrated specially for truck use, including drive modes like tow/haul mode to help customers better manage towing heavy trailers. The electric motor applies regenerative braking energy capture to help recharge the 1.5-kilowatt-hour lithium-ion battery. The battery is efficiently packaged underneath the truck, leaving the cab and cargo box of PowerBoost F-150 as spacious for passengers and cargo as other comparably equipped F-150 models. The system is capable of sustained battery usage at extreme outside temperatures or under heavy loads.
The drivability of the system is its Achilles heel. At low speeds the vehicle will automatically switch to all-electric mode but the problem is as soon as you accelerate from a stop, the gas engine turns on with an abrupt transition. The result feels like the vehicle is stalling/sputtering at every stop sign and every red light. I'm sorry to say that it's not a powertrain I would recommend opting for until Ford engineers fine tune it to be smoother.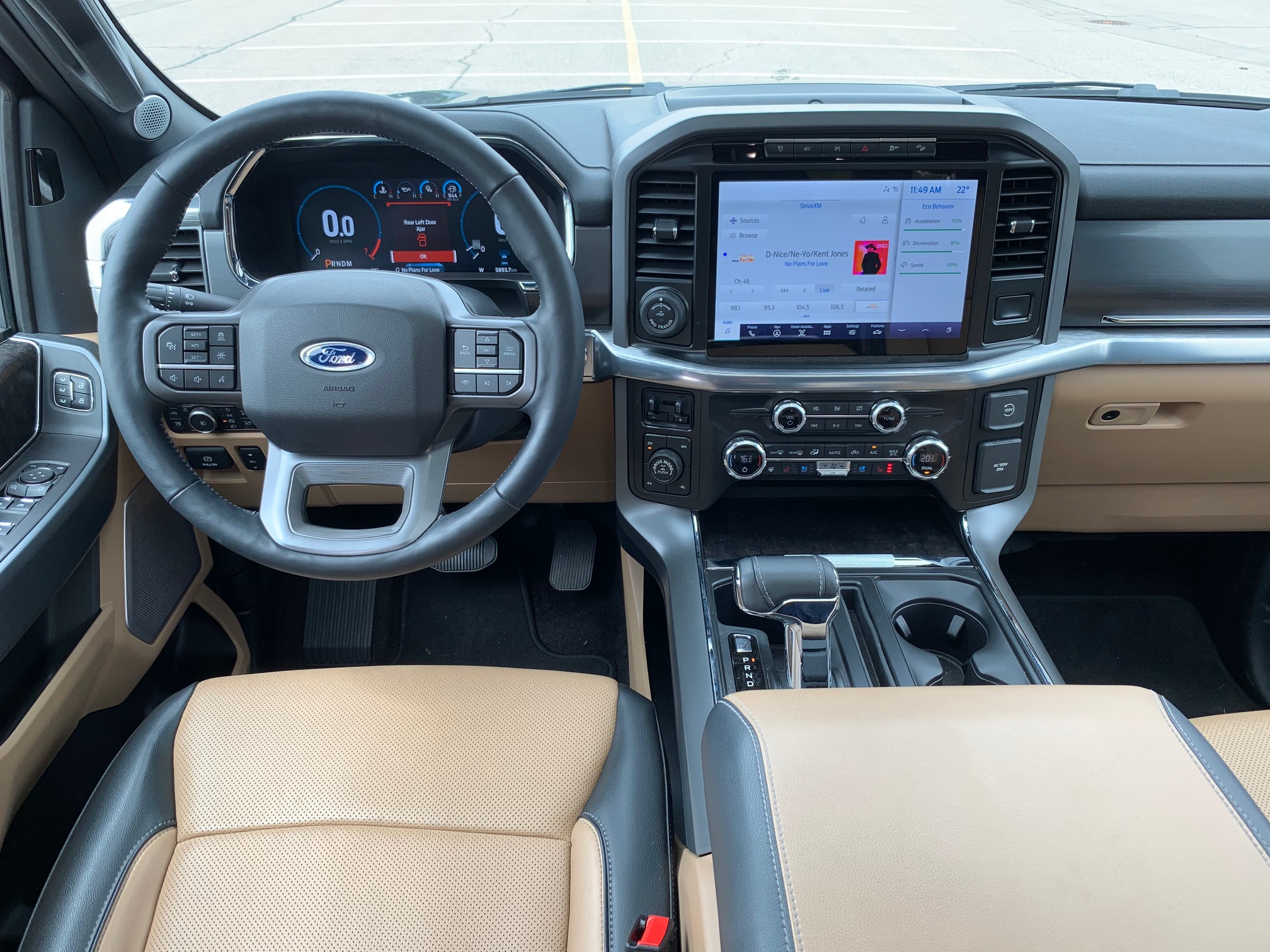 The interior is completely redesigned to elevate truck owners' experience with style, comfort, utility, technology and enhanced materials, new color choices and more storage.
Ford has given the F-150 an all-new 12-inch center screen – standard on XLT high series and above – that allows customers to split the screen and control multiple functions simultaneously, including navigation, music or truck features. An 8-inch touch screen, standard on XL and XLT standard and mid-series trucks, means everyone gets touch screen functionality and better rearview camera vision. Both screens feature access to the new digital owner's manual, which can help all customers find the information they need more easily, including how-to videos for additional explanation.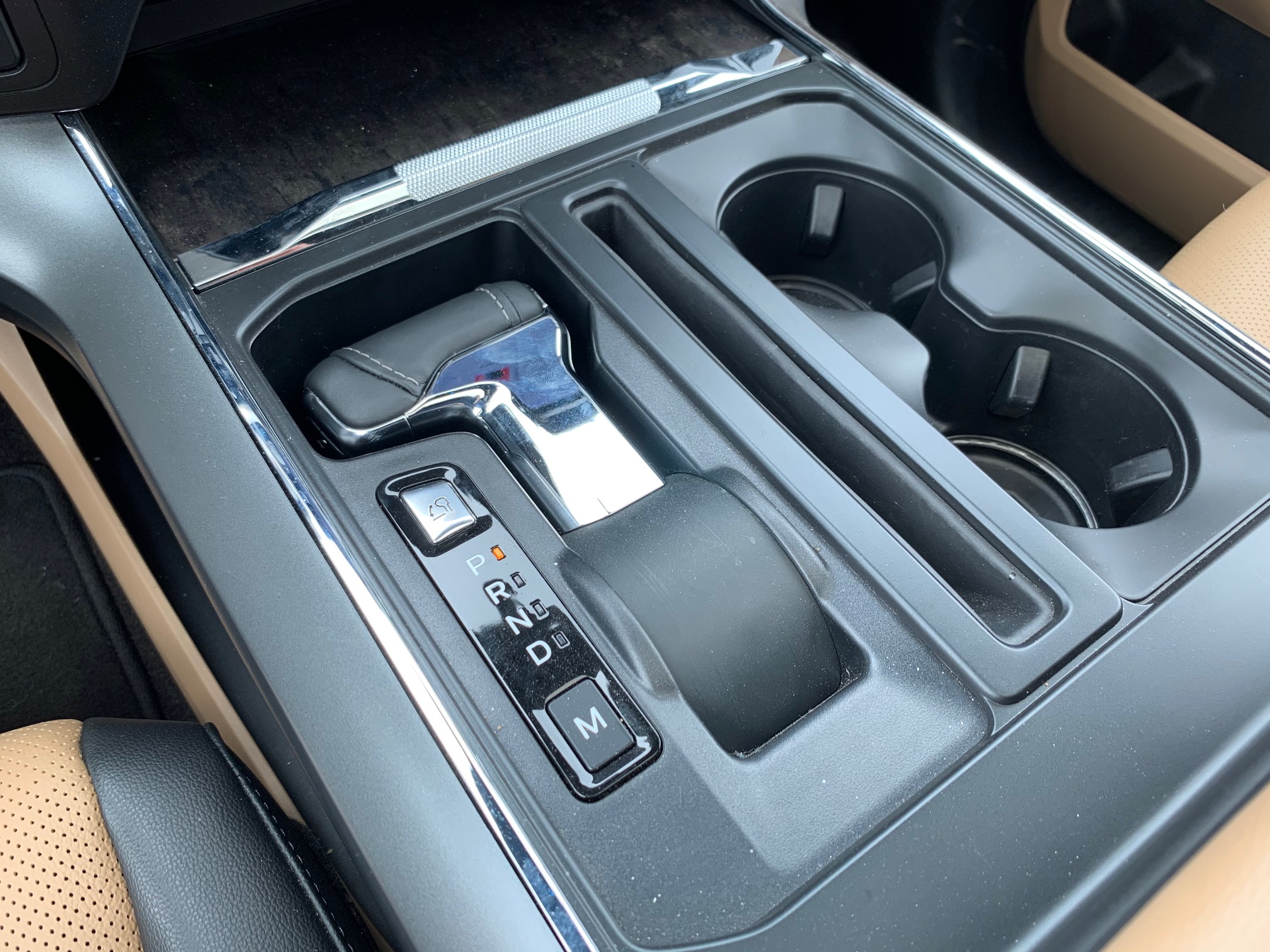 An available new 12-inch digital gauge cluster features a large information-on-demand area, along with truck-specific graphics and animations that respond to the all-new F-150's selectable drive modes and can display off-roading data and turn-by-turn navigation.
One of the new features is the shifter which can be folded into the console at the push of a button. To me, this is a bit of a gimmick as there is already plenty of space if you need to fill out a work order on the arm-rest.
I love how the rear seats can just be lifted with one hand to create a new interior storage compartment. Every F-150 comes standard with new cleats mounted to the sides of the tailgate to act as tie-down locations for extra-long items in the bed. New clamp pockets are built in to the tailgate of every truck, so people can hold materials down for precision work. An available flat Tailgate Work Surface also includes integrated rulers, a mobile device holder, cupholder and pencil holder.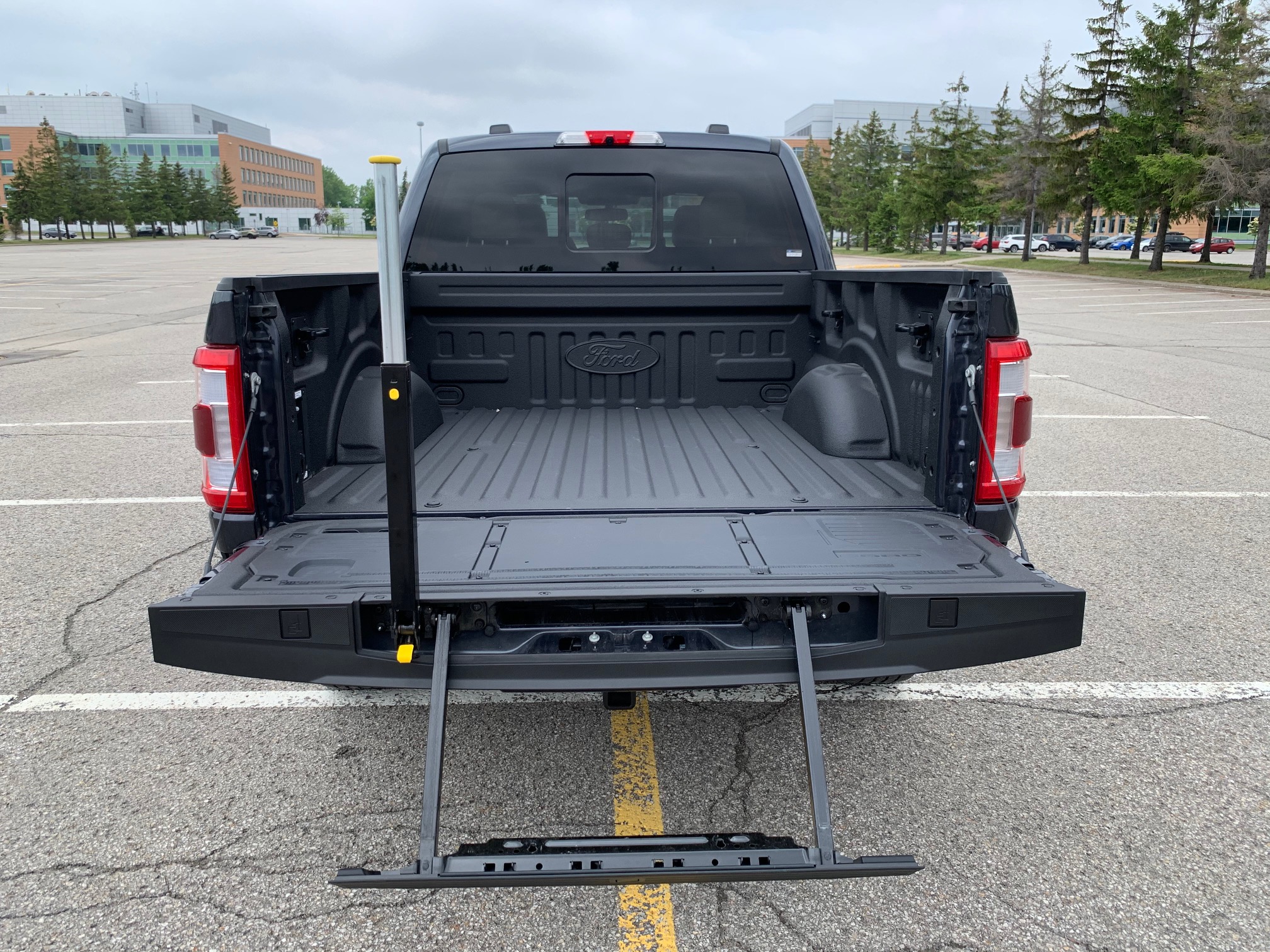 It's not hard to see why the F-150 is North America's best-selling vehicle. With a trim level for almost any budget, a modern, technologically-advanced design, and a long history of proven capability it's hard to overlook.
A two-door F-150 XL starts at $36K, the four-door at $42K and the SuperCrew (with four full size doors) $45K. Spec-ed out to my favorite Lariat configuration with a 3.5 gasoline Ecoboost engine, 5 ½ foot bed and Kodiak brown my MSRP was $64,590. The Top of the line Limited starts at $94K.