Tofino, BC — The first thing I noticed when I walked up to the all-new 2018 Buick Regal GS was the bright red Brembo brake caliper peaking out from behind the two-ton turbine-inspired 19" rims. Immediately, I admit, I got a little excited.
Brembos must mean this is most definitely a sporty car. Right?
I'm here to burst a bit of that Brembo myth bubble (in case there were any doubts about the new Buick GS).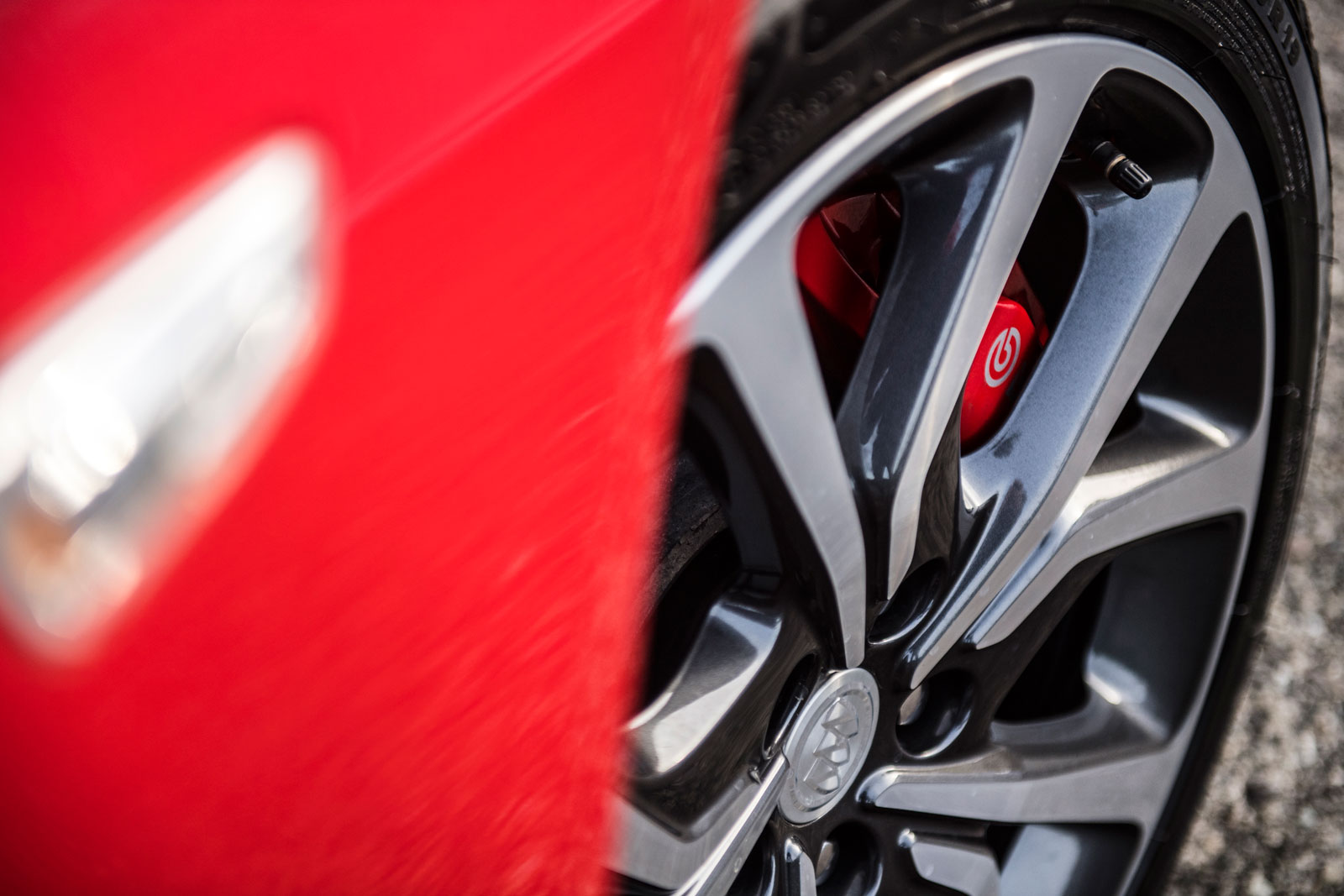 Now, hear me out: This is actually a really great car to drive. It's comfortable, roomy, offers plenty of amenities, and it looks much better than the outgoing model. But don't be fooled by the performance brakes and red decals. The 2018 Buick Regal GS is more of a weekend bootcamper than a professionally trained athlete.
Let's start with the exterior look and overall design. To me, that's the car's biggest selling point. It looks fantastic with its sportback, gran coupe silhouette. It's modern and race-track inspired and sleek. It got some serious attention on the road, as well it should. Painted in pearly white with the turbine-inspired wheels and red calipers, this sedan definitely stood out. Personally, I prefer the rear design the most (if I had to choose an angle to stare at for any amount of time). The taillights are futuristic, and the design is clean, crisp and concise. There are no visible trunk buttons (because it's cleverly hidden in the Buick logo which you just have to touch gently for the trunk to release), and it's all very harmonious back there.
Inside, the 2018 Buick Regal GS is roomy and oh-so comfortable. This is, after all, a Buick. It's not going to remove itself from being comfortable simply because it slapped a sporty badge on the front and back.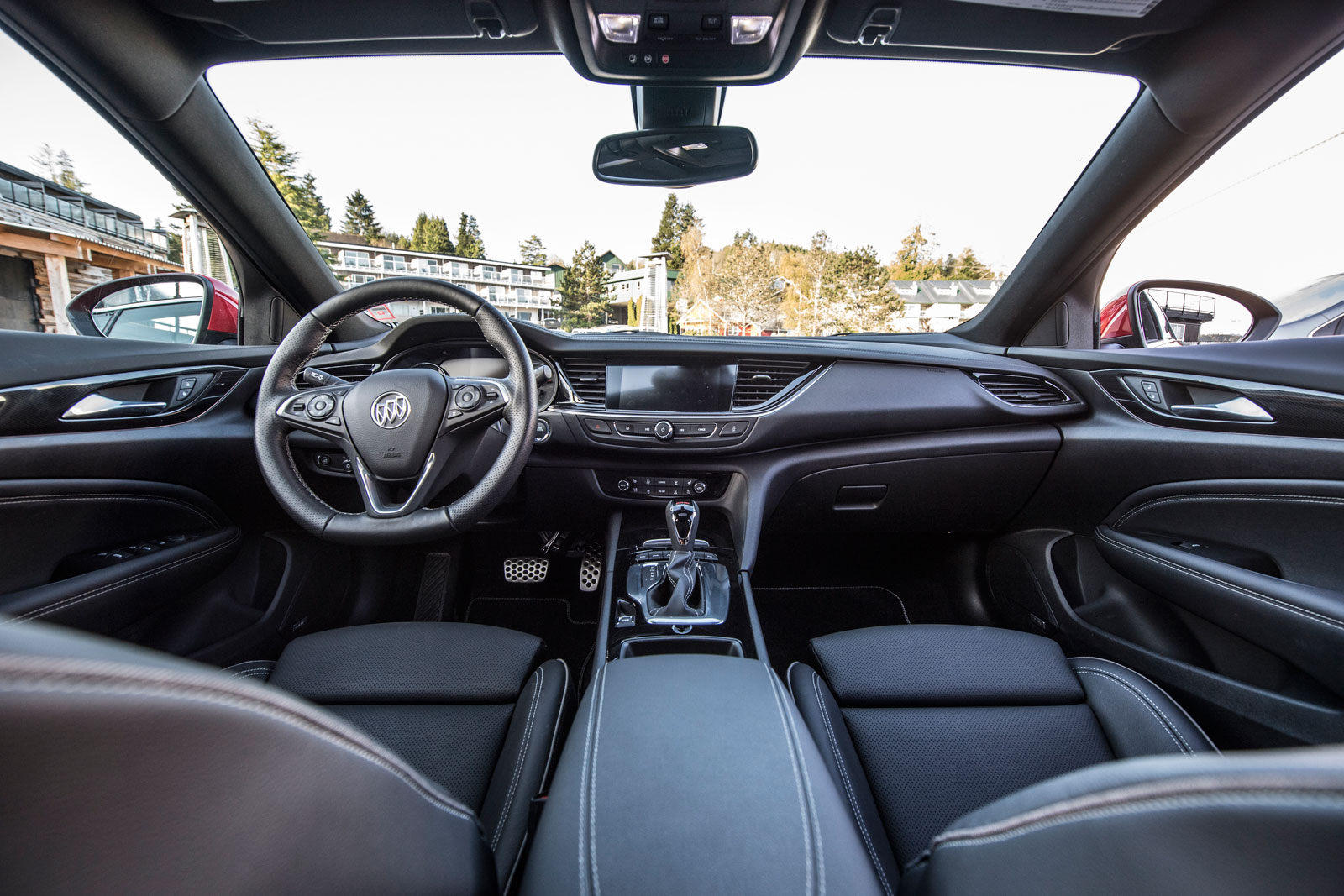 To prove that, GM engineers worked with German-grade seat designers and massage therapists to develop the front sport seats in the GS. They are heavily bolstered with nth-number adjustability, and the massage, as well.
Now, personally, I found them a bit too large for me. No matter how much I adjusted the side supports, lumbar, etc., I still moved around quite a bit. Now, I know I'm not the "norm" when it comes to size, but as the driver I would have liked to have had a bit more support for the times I decided on some more spirited driving in the 2018 Buick Regal GS.
The massaging feature is a nice touch, and was quite pleasant. Where some can seem rather intrusive (or downright rude), Buick did a good job making sure the feature was felt but not focused on while driving.
Now, about that drive. Of course, the basic non-GS Buick Regal sports a 2.0L turbo engine. And while that particular engine feels a little bit too lethargic and underpowered for the size and weight of the Regal, the GS kicks it up a notch with a 3.6L V6 DOHC that suits the vehicle much more.
It's not that the Regal GS feels blisteringly fast in comparison with the non-GS, but more that it feels right. The 3.6L V6 is much better suited to the Regal than the 2.0L. With 310 horsepower and 282 lb-ft of torque, the GS feels peppy and properly powered. Not overly powerful, but just enough to get you where you want to go, and even quickly if that's the desire.
Now, for Canada, we're only getting the AWD versions of each Regal. However, the GS features a RWD bias system, especially if you press the all-important Sport OR GS buttons in the centre stack.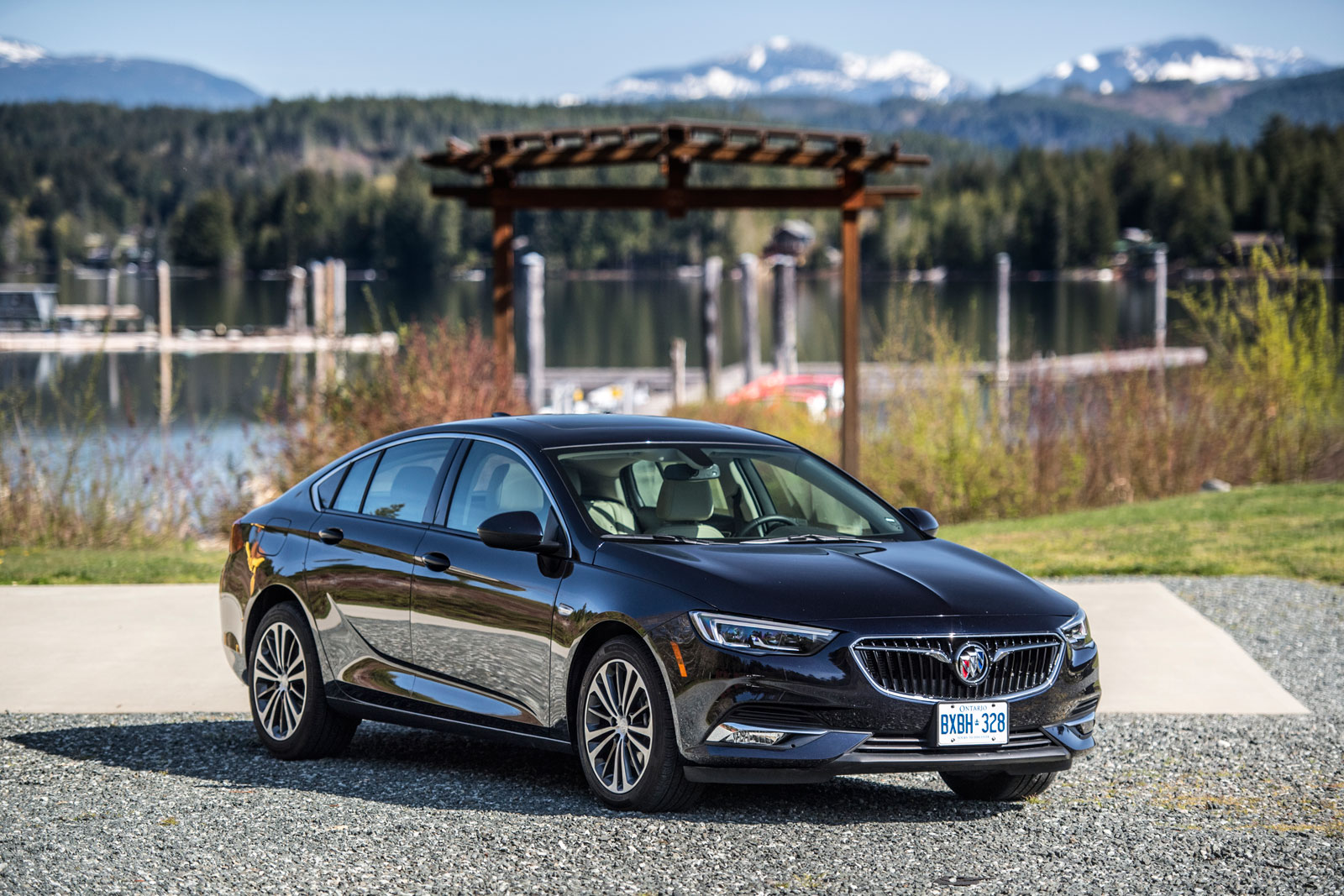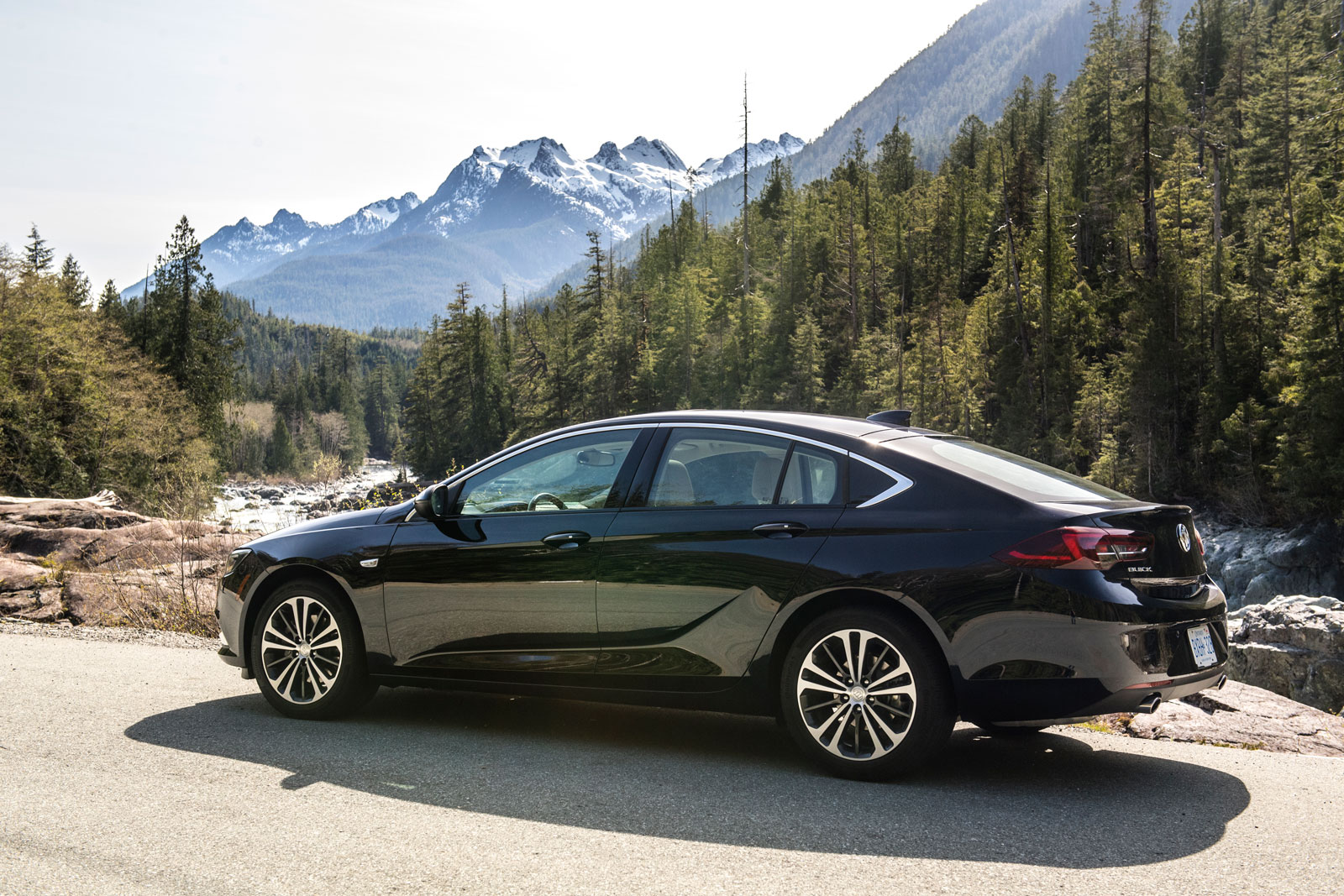 What do those buttons do exactly? Well, they tighten everything up to varying levels. Sport will make steering more precise, tight suspension, liven up the throttle response, and the GS will kick that up to an even higher level. And they both put the emphasis on a rear-wheel drive set-up (unless the vehicle detects slippage in which case it will revert back to AWD).
The 3.6L V6 is mated to a 9-speed automatic. Normally, I'd bitch and moan about a 9-speed as I've yet to meet one I liked, but I have to say, I was rather impressed with the set-up in Buick Regal GS. Not once did I feel like the vehicle was searching for a gear to be in.
Now, that's not to say I don't have anything to gripe about when it comes to gears and shifting. Here's a car that GM is branding as "sporty" (not a track car, as pointed out to us, but definitely more athletic), and yet there are no paddle shifters.
WHY?
Driving through gorgeous, twisty roads on Vancouver Island around Tofino and Nanaimo, my fingers were constantly searching for the paddle shifters. Sure, I could have shifted via the gear lever, but that would have required removing a hand from the steering wheel, and in spirited driving situations you don't really want to do that. It's a shame the GS doesn't feature paddle shifters, for me that was the only missing feature when it came to the drive.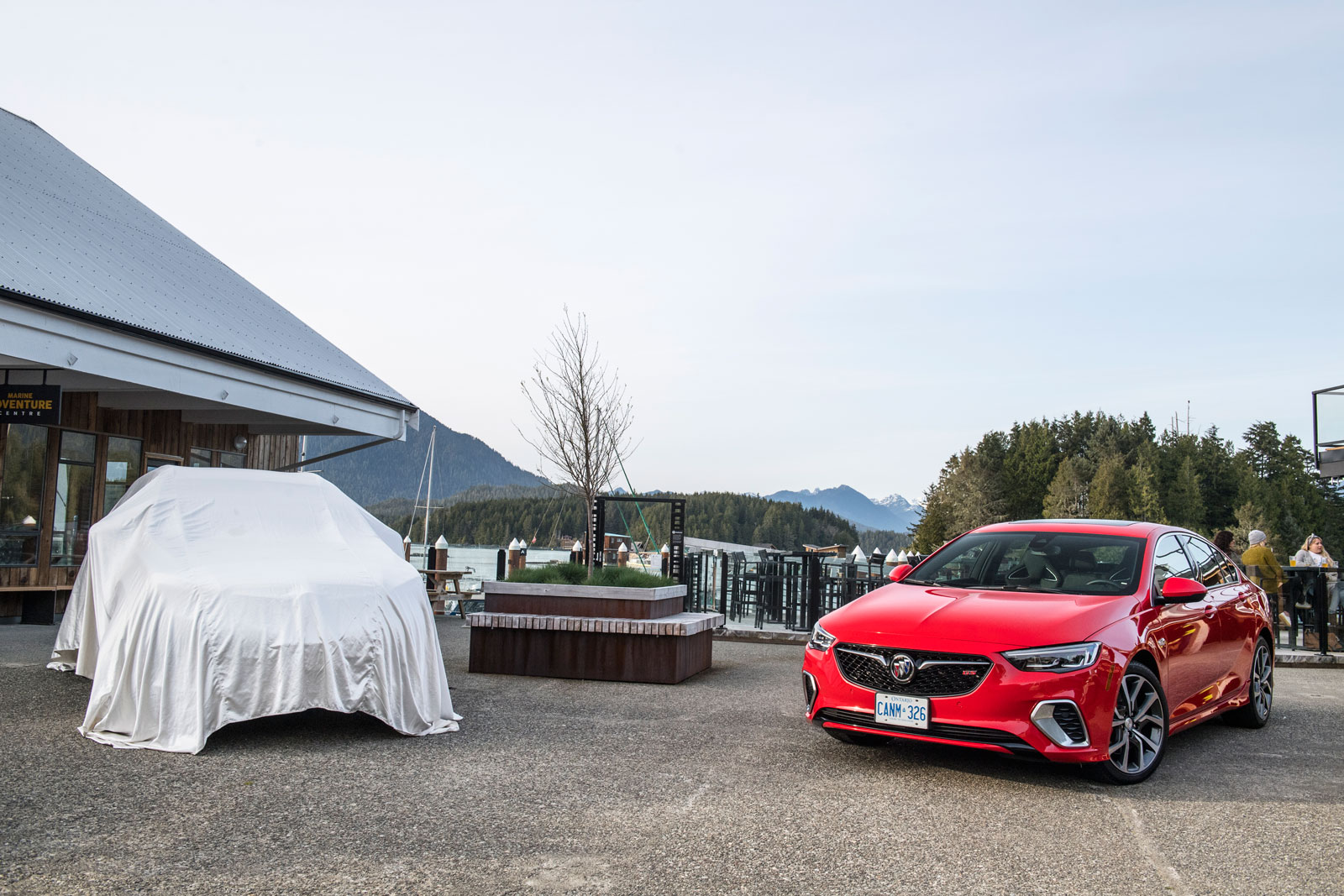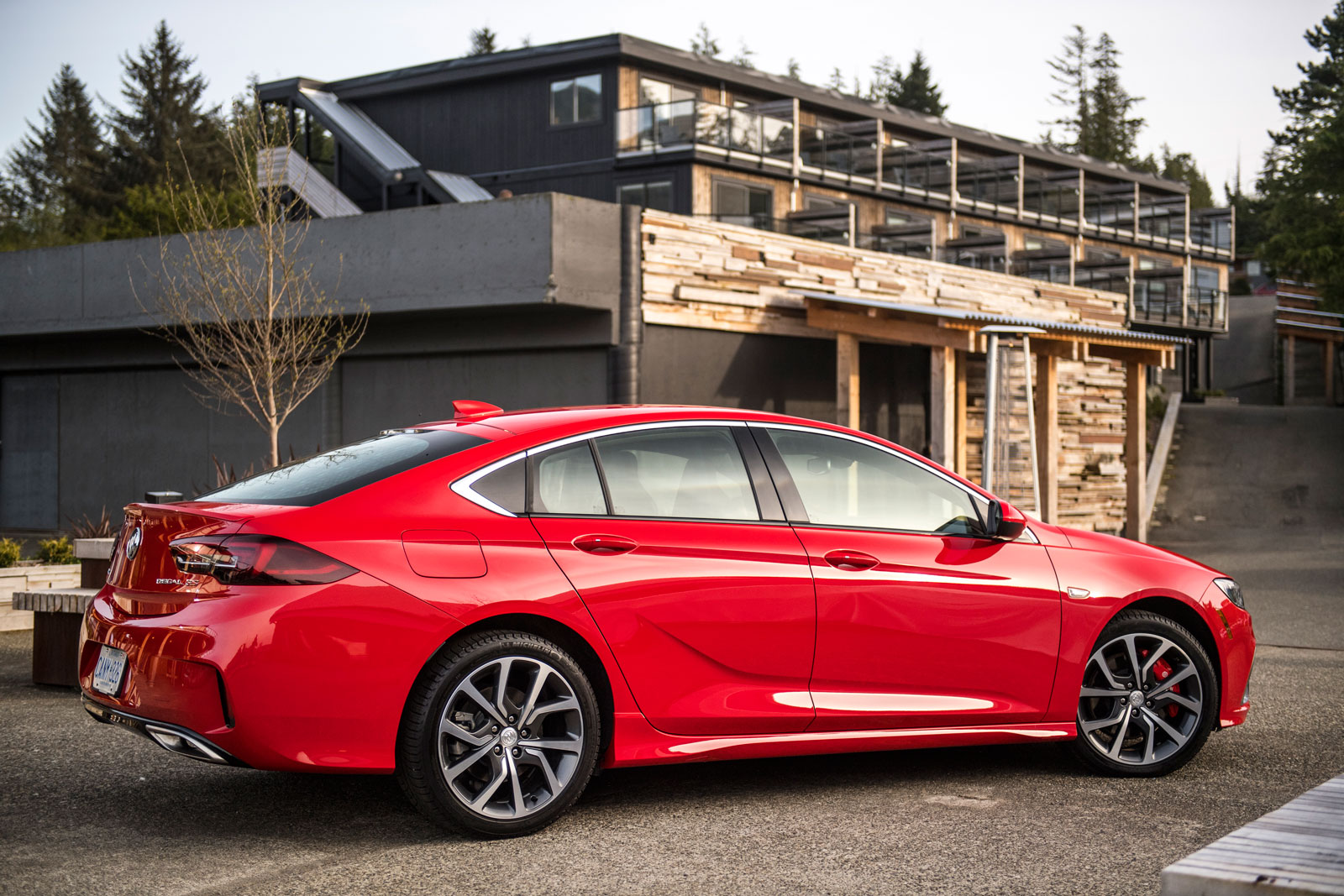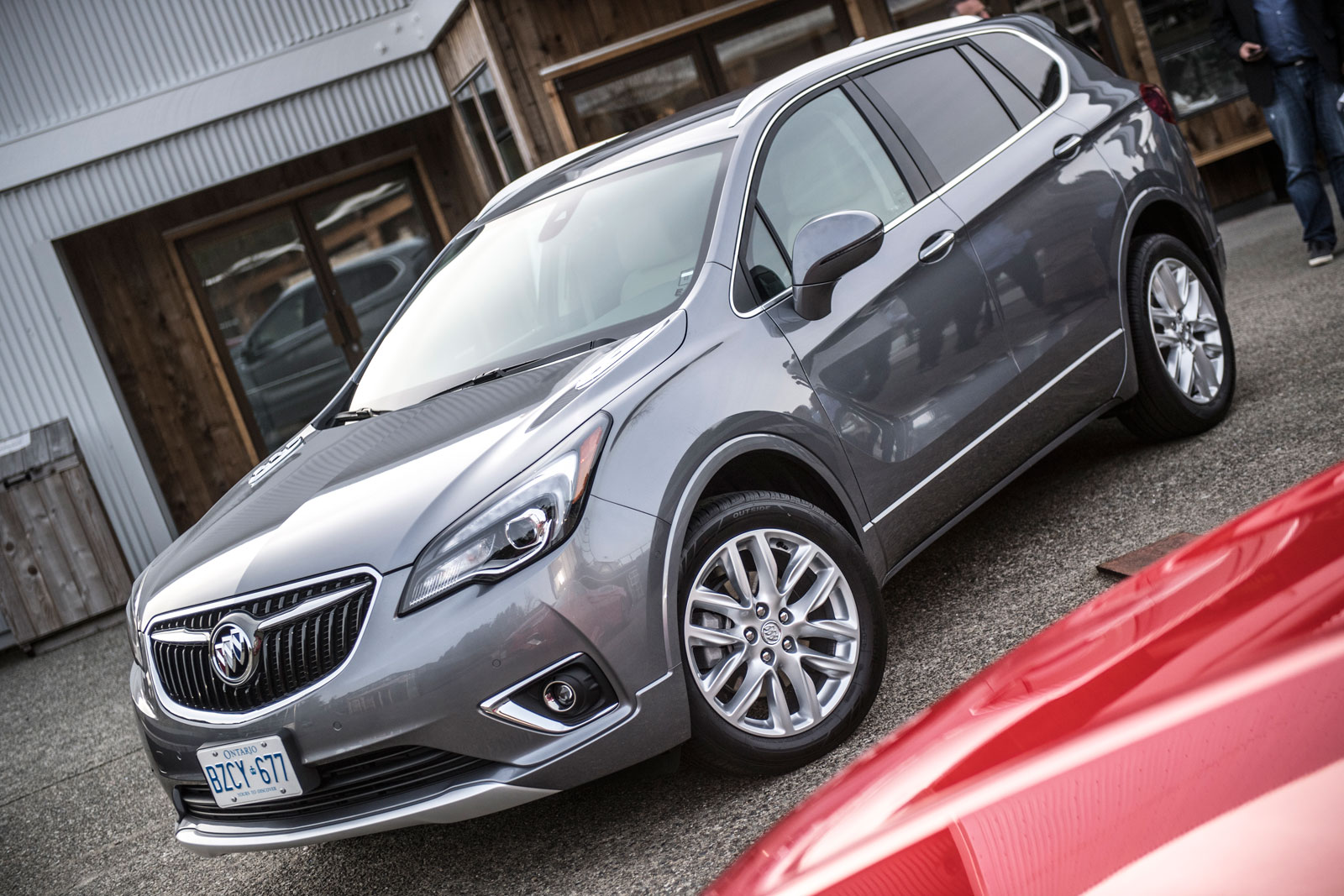 As far as interior amenities go, expect to find the usual luxury-grade features: available leather, head-up display, standard heated steering wheel (optional heated front seats), colour touchscreen entertainment system, Apple CarPlay and Android Auto, as well as two USB ports in the back, but only one up front (another odd omission).
The sportback/gran coupe body means the trunk of the 2018 Buick Regal GS can hold over 900 litres of gear in the back. That's a lot of space, and truthfully it is a large expanse (bigger than the Audi A5 if we're comparing sportbacks here). I love the idea of this body style and everything it has to offer: all four doors for easy access for rear passengers, along with a sizeable trunk, without sacrificing a sexy silhouette.
Oh, but you thought I wouldn't complain about the trunk either? Wrong. The Buick Regal is supposed to be a luxury vehicle, and most luxury vehicles I know feature a lovely little button that will lower the trunk hatch for me, especially when it's lifted as high as a hatchback usually is. Well, there's none to be found in the 2018 Buick Regal GS — just a handle to yank the hatch down (which I had to reach for on tip-toe).
The 2018 Buick Regal GS has an MSRP around the $43k mark, and that's before you add any extras (of which there aren't many, but there's always something that can be changed, right?). That's a lot of coin in my opinion. However, I see the appeal in the Buick Regal GS. It really does add that layer of sportiness that the 2.0L Regal was missing.
Small foibles make this car less likely to appeal to true driving enthusiasts, but for those in the market for a larger, comfortable sedan with plush seats, a great trunk, and a bit of oomph under the right foot, the 2018 Buick Regal GS will fit the bill perfectly.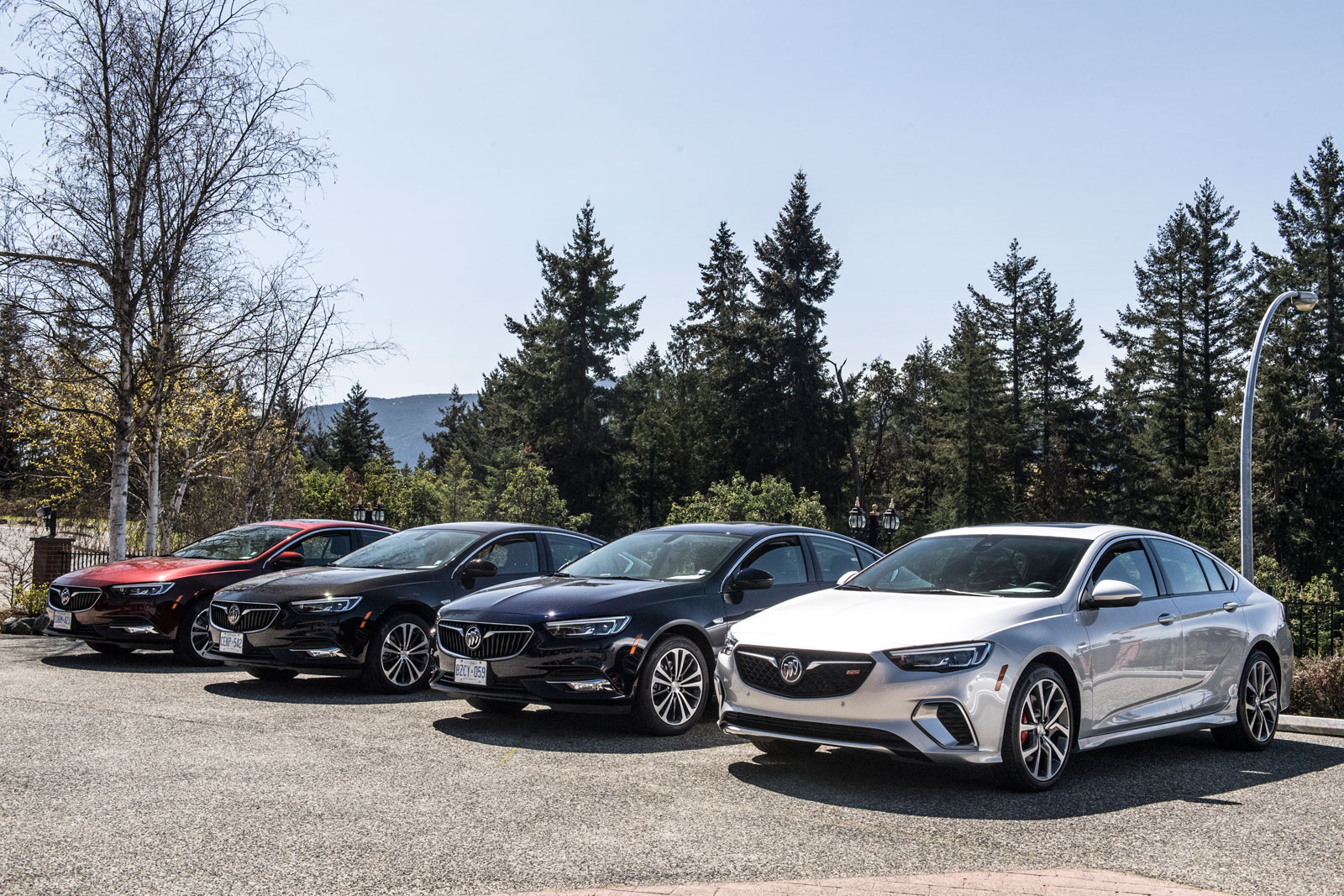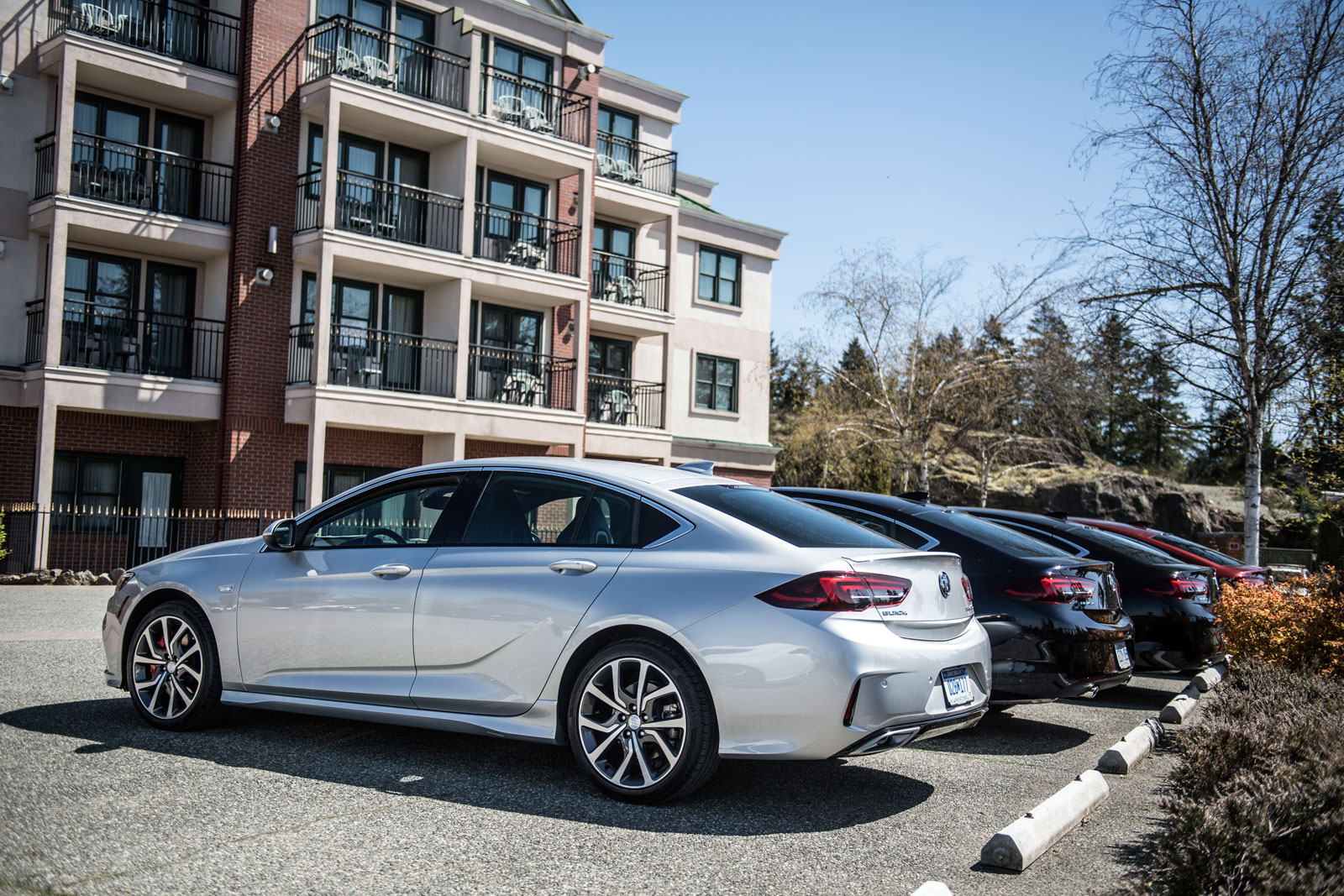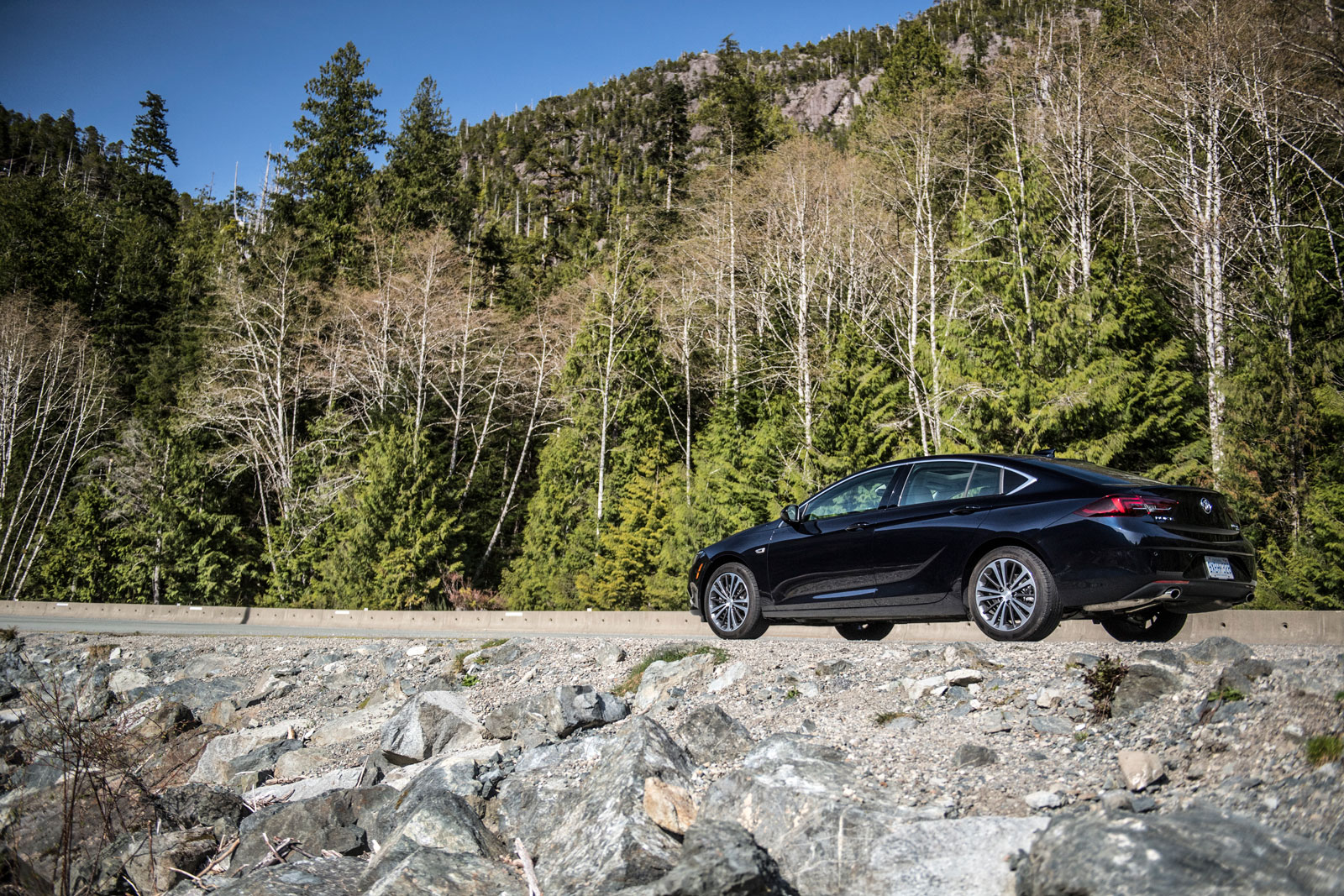 Comments
comments