Genesis is an all-new brand of luxury car which just entered the market a couple of years ago. As Acura is to Honda, Lexus is to Toyota and Infiniti is to Nissan, Genesis is Hyundai's luxury counterpart, throwing its hat into the ring and giving another option to those who may not find what they're looking for in the German, Domestic or Japanese offerings.
The new brand has taken the liberty of offering additional services to its customers such as Genesis at Home. What that means is potential buyers may ask a salesman to come directly to their home with a vehicle to conduct a test drive rather than go to a dealer. Should the customer wish to purchase, all the paperwork is completed at home. Genesis at Home also picks up the vehicle for service at the client's home and leaves a courtesy car in its place. Other ways Genesis differs is its all-inclusive pricing. While other brands tack on surcharge after surcharge, there is one price for Genesis which includes everything from transport fees to maintenance to satellite radio subscriptions and, of course, the Genesis at Home service.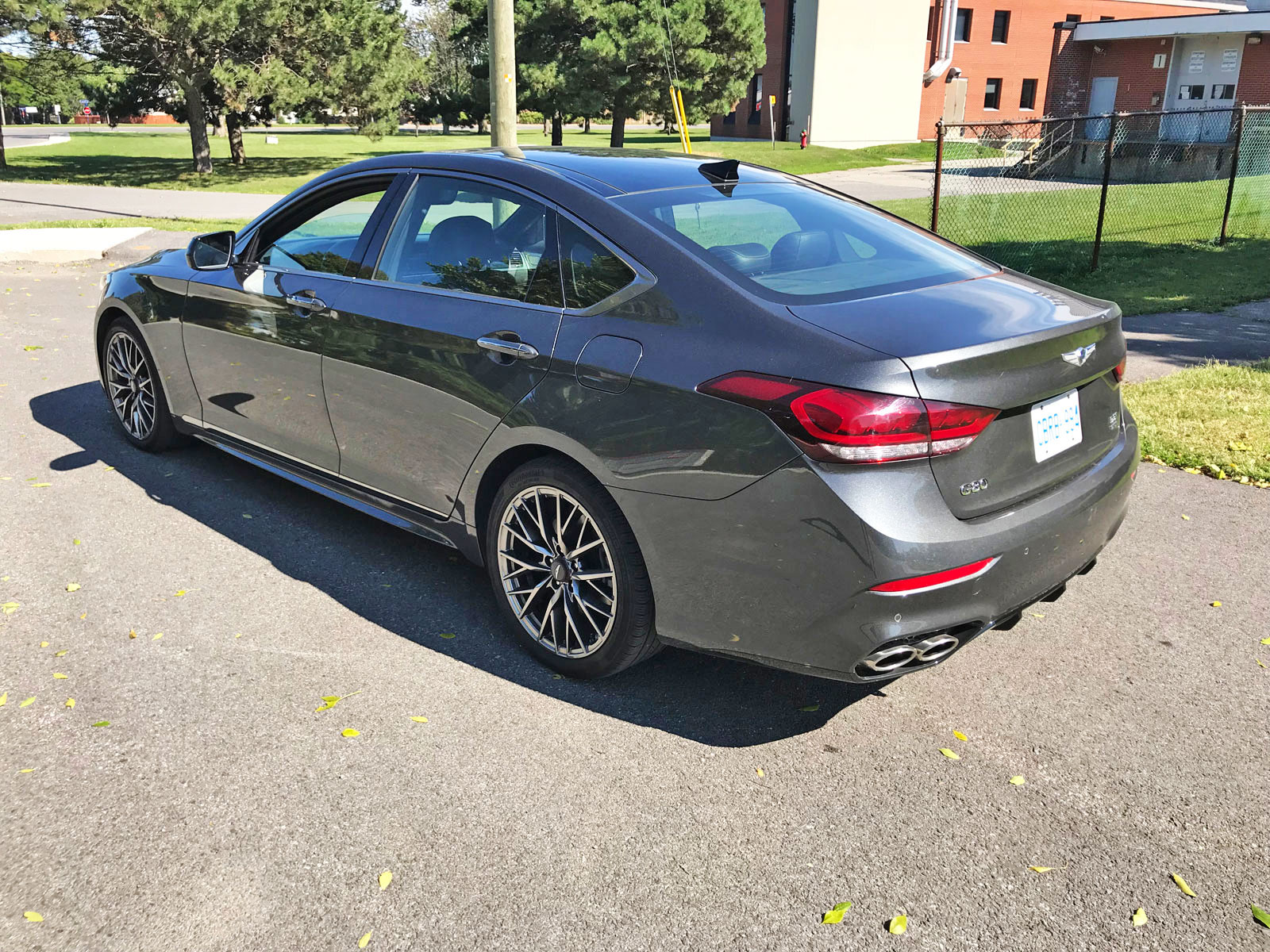 The G80 is a mid-size luxury sedan similar to vehicles such as the BMW 5 Series, Audi A6 or Mercedes E-Class. In its prior life it existed as the Hyundai Genesis but has been re-branded into the new luxury nameplate. Same for the larger full size G90 which used to be called the Hyundai Equus. The G80 retains the same body as it's predecessor so it's going to be somewhat familiar to many people. The look is modern and eloquent though I'd say a bit conservative and perhaps not far enough removed from Hyundai's styling. It'll take a model update in order for the G80 to really establish itself properly because the last thing a luxury car buy wants to be asked is if they are driving a Hyundai.
The interior of the G80 is on par with any of the competition in terms of build quality, materials and features. The test vehicle came with Sport Nappa leather seats with copper contrast stitching, genuine carbon fiber trim, a heated, leather wrapped steering wheel, the larger 9.2-inch touch-screen with a 720p high definition display and a 900-watt Lexicon audio system including surround sounds and 17 speakers. The layout is intuitive and easy to get used to. In fact, I'm going to give Genesis very high marks for retaining a gearshift with a handle to rest your hand on even though the system itself is electronic and could have been replaced by a few buttons to save space. Similarly, the knob on the center console is by far a superior way to control an infotainment system compared to a simple touchscreen or even worse: a laptop-style trackpad. The infotainment menus themselves are easy enough to use and of adequate design. Naturally, Apple CarPlay and Android Auto are standard. I think the only thing missing is a fancier cabin design. The layout works but is perhaps a little boring overall.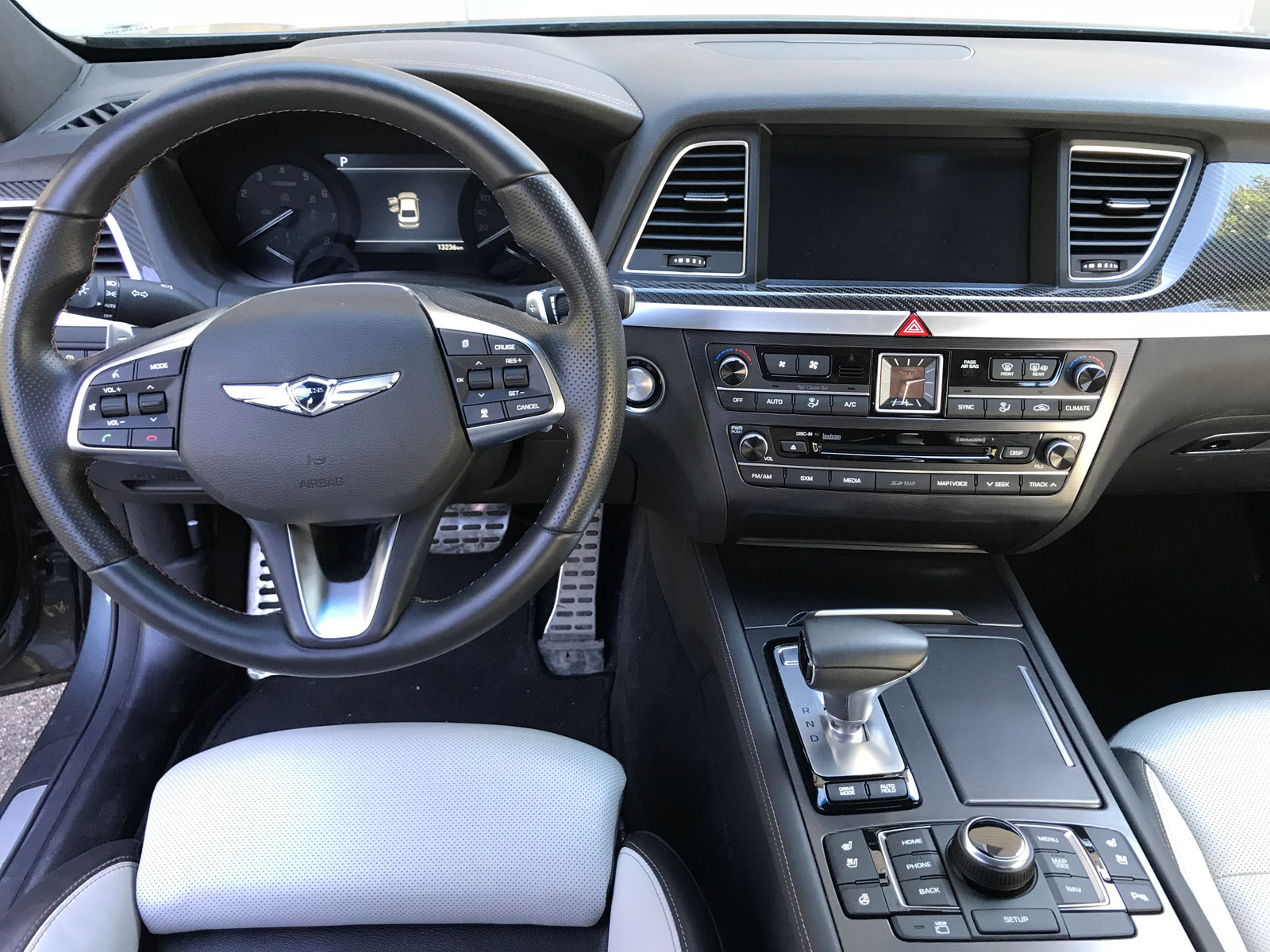 There are three engine options for the Genesis G80. The first is the 3.8-litre V6 with 311 horsepower and 293 lb-ft of torque. The motor is found in the Luxury and Technology trims which start at $55,000 and $58,000 respectively. Next is the 3.3-litre twin-turbocharged unit which makes 365 horsepower and 376 lb-ft of torque found in the Sport trim starting at $62,000. Finally, there is the 5.0-litre V8 with 420 horsepower and 383 lb-ft of torque found in the $65,000 Ultimate edition.
The tester was the Sport model with the 3.3T and sport-tuned suspension. I had no issues with the power delivery and the motor performed quite well. The only thing is that the vehicle is a tad on the heavy side, ringing in at 2120 kilograms. It limits the G80's sportiness somewhat and the appeal of those who want a true sports sedan. For daily driving, however, It's not that big of a deal. The G80 is quiet, smooth and comfortable for long highway drives or roaming the city.
The list of competitors is long and being the newcomer offers no advantages for Genesis. It's lack of a history will need to be offset by a more than viable product if it is to succeed. In other words, to start prying buyers from their favorite brands, Genesis needs to bring something special to the table. I liked the G80 because it checked all the boxes while being less expensive than most of the competition so it certainly has a decent shot at success.