Cracking the German hold on the luxury compact car segment has been the goal of many other manufacturers such as Acura, Cadillac, Lexus and Infiniti. It's a tough lift and one that is still ongoing. Newcomer Genesis throws its hat into the ring with the launch of the G70. Not only is the G70 new but the brand itself is all-new, launching in Canada in 2016 with the larger G80 and G90 models.
Let's start with the looks. It's a valiant effort and one that succeeds in my opinion. You can tell that it's a premium vehicle right away with the large grille, sleek lines and fancy trimmings. The G70 turned quite a few heads during the week that I had it however I'm sure a good portion of those heads were people who simply didn't recognize the car and wanted to know what it was or maybe it was the electric blue paint. I find the 3 Series is a rather dull-looking species so the G70 won't have any issues in this department.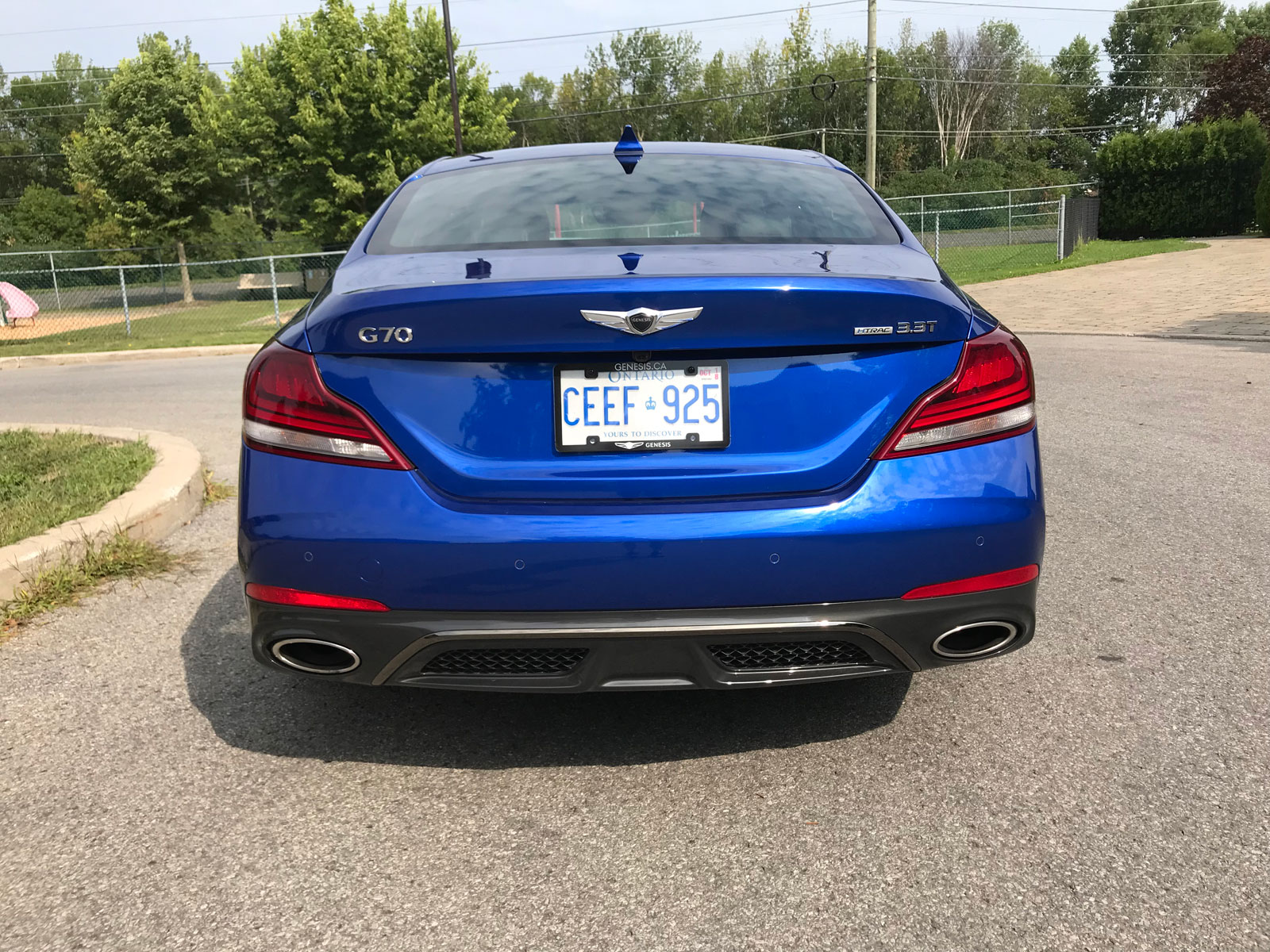 Sitting inside the cabin, you immediately notice the diamond-stitched-leather seats. They are beautifully crafted and comfortable as heck. I also really liked the layout and shape of the dash. The controls are well thought out and ergonomically sound. The shifter is electronic but instead of ditching the handle in favor of a simple button, the lever remains to rest your hand on which is absolutely perfect. The materials and finishing are on par with any of the German luxury brands.
But how does she drive? There are two engine options for the G70: either a 2.0-litre inline four-cylinder turbocharged engine making 252 horsepower and 260 lb-ft of torque or a 3.3-litre V-6 twin-turbocharged engine putting out 365 horsepower and 376 lb-ft of torque. The test vehicle had the later and it packed a punch. I can't help but feel that it's quicker than the BMW 340 models I've tested recently and it's not surprising because it beats it by a significant 35 horses and and 46 lb-ft of torque.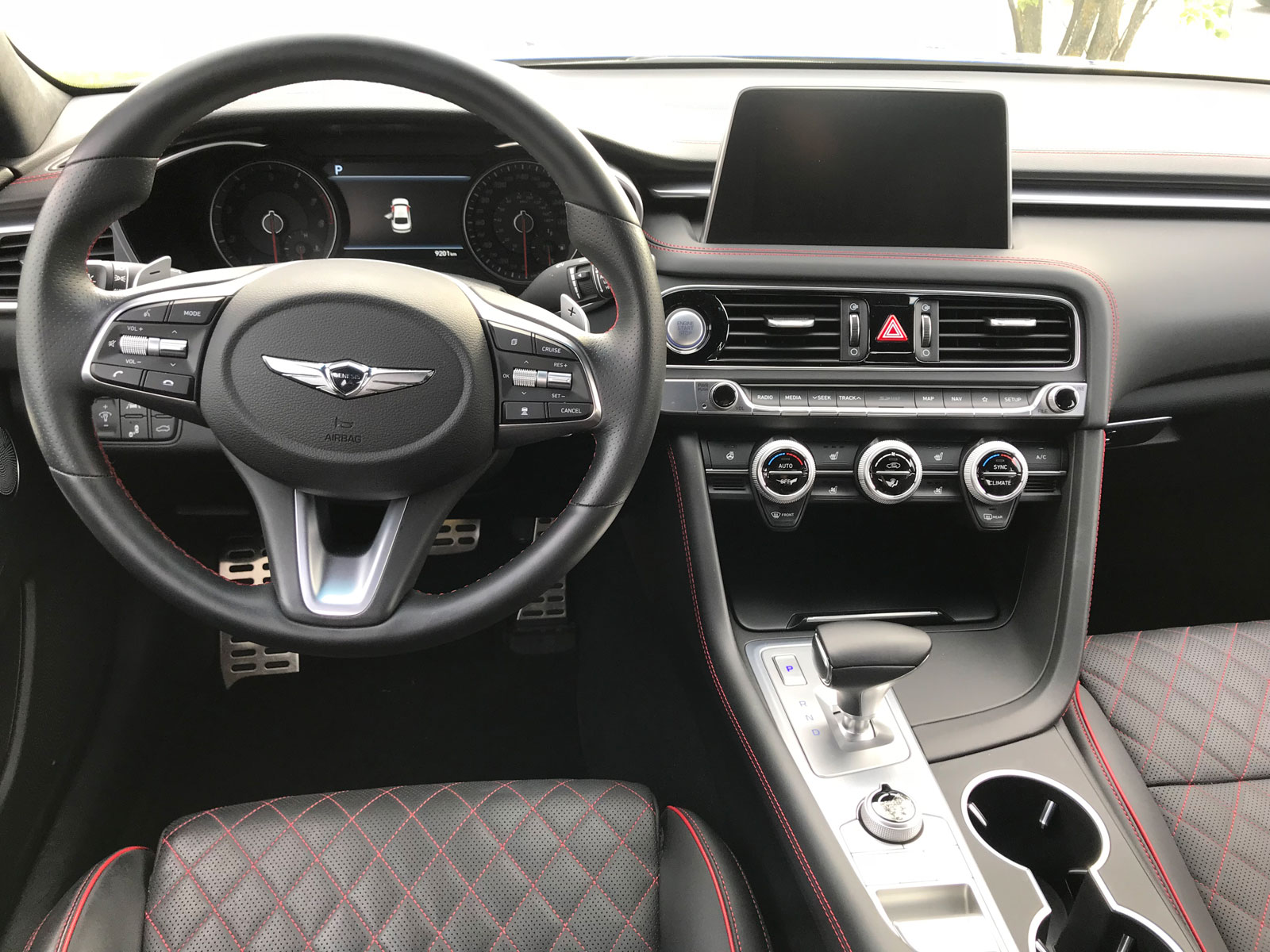 Throttle response is instantaneous and because maximum torque is available from a very low RPM, the vehicle can push you back into your seat quite effectively. Steering response is on par or better than the BMW with just the right amount of road feel and the brakes can halt the G70 in a jiffy if need be. The overall feeling I got from driving the G70 is that it's very much a driver's car, able to give you a nice quiet luxurious ride or a screaming run through the mountain twisties.
Unlike the recently announced 2019 BMW 3 series, the new G70 can be had with a manual transmission. You'll need to opt for the 2.0-litre engine to get it but the sport model with rear-wheel drive, limited-slip differential and upgraded brakes makes for a nice package. The problem is that Genesis expects only about 5% of G70 sales to be manuals and if demand doesn't remain steady it's possible they could ditch it.
In all-wheel drive 3.3T models there is even a drift mode which sends more torque to the rear than the front while incorporating some neat tech called "countersteer detection logic" to aid you in your follies. Unfortunately, I didn't get to test it out on a track as that's beyond the scope of this first drive review.
The G70 Advanced all-wheel drive starts at a reasonable $42,000 even and comes with a variety of standard features such as Blind-Sport Collision Detection Warning, Rear Cross-Traffic Collision Warning, Forward Collision Avoidance, Lane Keep assist, Lane Departure Warning, Adaptive cruise control, 18" wheels, heated perforated leather steering wheel, heated leatherette seats, wireless phone charging, an 8.0-inch touch-screen with Apple Car Play and Android Auto and a 7.0" TFT LCD gauge cluster display. A base 328i xDrive starts at $45,900 for comparison.
The G70 Sport RWD is actually a bit more expensive at $45,500 and adds an array of features including LED headlights, heads-up display, 19" wheels, quilted Nappa leather, black suede headliner, a Lexicon audio system and Brembo brakes (among other things). The 2.0T ELITE AWD and 2.0T Prestige AWD are $47,000 and $52,000 respectively and add the usual trimmings you'd find on a luxury vehicle. If you want the banging 3.3 twin turbo, the Dynamic starts at $52,000 and the Sport tops out at $57,500.
The pricing is competitive to that of the competition. The looks, performance and all-around feel is at par or even better than the competition. Naturally it would take a heck of a lot to put a dent in BMW, Audi or Mercedes sales but Genesis has its foot in the door with the G70.