Volvo's foray into new territory continues with the release of the all-new XC40 crossover. The XC40 is the smallest of Volvo's trio of SUVs which also include the XC60 and XC90.
There is some confusion over what the XC40 actually is. In its press release the company characterizes it as a compact crossover but I'm going to need to correct the record here. The XC40 is actually a sub-compact crossover but I suppose nobody likes the term "sub-compact" for anything so it's getting blurred here. Why do I say it's a sub-compact? For starters it's the same length as the Mercedes GLA sub-compact. Moving up the Mercedes-Benz ladder we find the GLC (compact), GLE (midsize) and GLS (fullsize). Same goes for BMW. The direct competitor to the XC40 is the BMW X1 (sub-compact). We then have the X3 (compact), X5 (midsize) and upcoming X7 (fullsize). I suppose in the grand scheme of things it doesn't matter what you call the XC40.
The XC40 is actually a very fancy-looking vehicle and Volvo's new design language has been perfectly adapted to the small package. It stands out next to any of the competitors' offerings with its two-tone palette, beautiful Thor's-hammer T-shaped LED daytime running lights and unique rear end featuring the brand's signature vertical taillights. It also looks larger than the average sub-compact utility which is definitely a plus.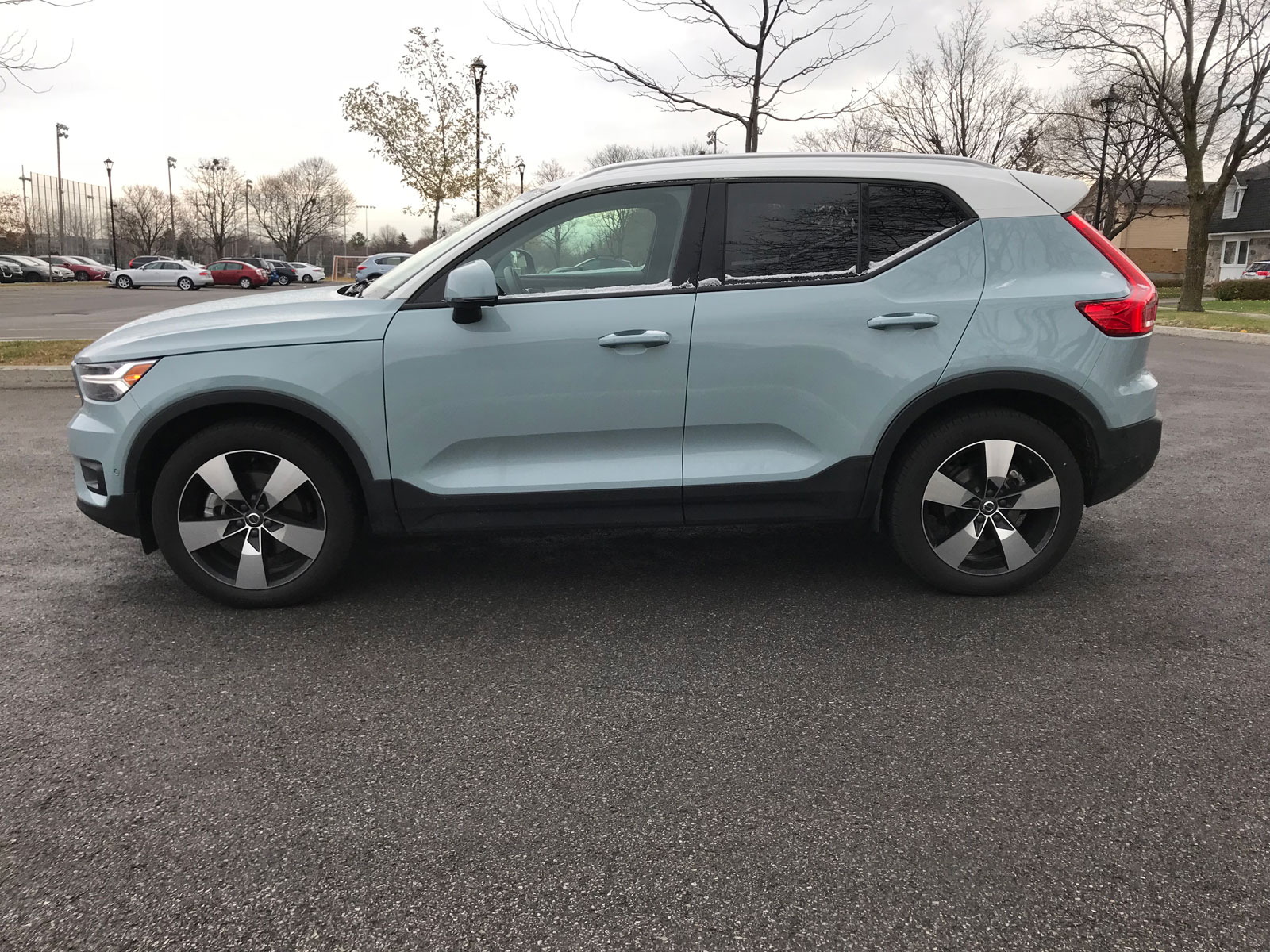 Under the hood we find Volvo's amazing T5 Drive-E powertrain featuring a 248 horsepower 2.0-litre turbocharged four-cylinder motor. This peppy machine produces more power than any of its competitors and offers a spirited drive which is highly enjoyable. All-wheel drive ensures that even during the harshest of snow storms, you won't have any trouble getting around. The torque rating of 258 pound-feet is available at a very low RPM meaning you don't need to rev it high to get power from the motor as is the case with many sub-compact crossovers. The XC40 can sprint from 0-100 km/h in just 6.5 seconds. Fuel economy is also very good. During my week I was able to do 9.2 L/100 km in mainly city driving. If you do a lot of highway the XC40 is capable of even better – in the range of 8.0 L/100km. The crispness of the acceleration is complimented by its sports car-like handling. It's a feat considering that you can also take it off road and it'll handle most uneven types of terrain with ease.
Volvo's interior is aesthetically very visually appealing, having opted for a minimalist cabin. The design centers around the center stack featuring a tablet-like infotainment system (more on this in a bit). Brushed aluminum inserts accentuate the cabin's modern cues and depending on the trim level you choose (Momemtum, R-Design or Inscription) you will find various levels of luxury materials. The La-Z-Boy-like leather/Nubuck textile captain's chairs in the R-Design are things of beauty and among the most comfortable seats on the market. The R-Design also features a number of other interior appointments such as an R-design leather steering wheel, leather shifter with contrast stitching, 19-inch wheels and R-Design badging.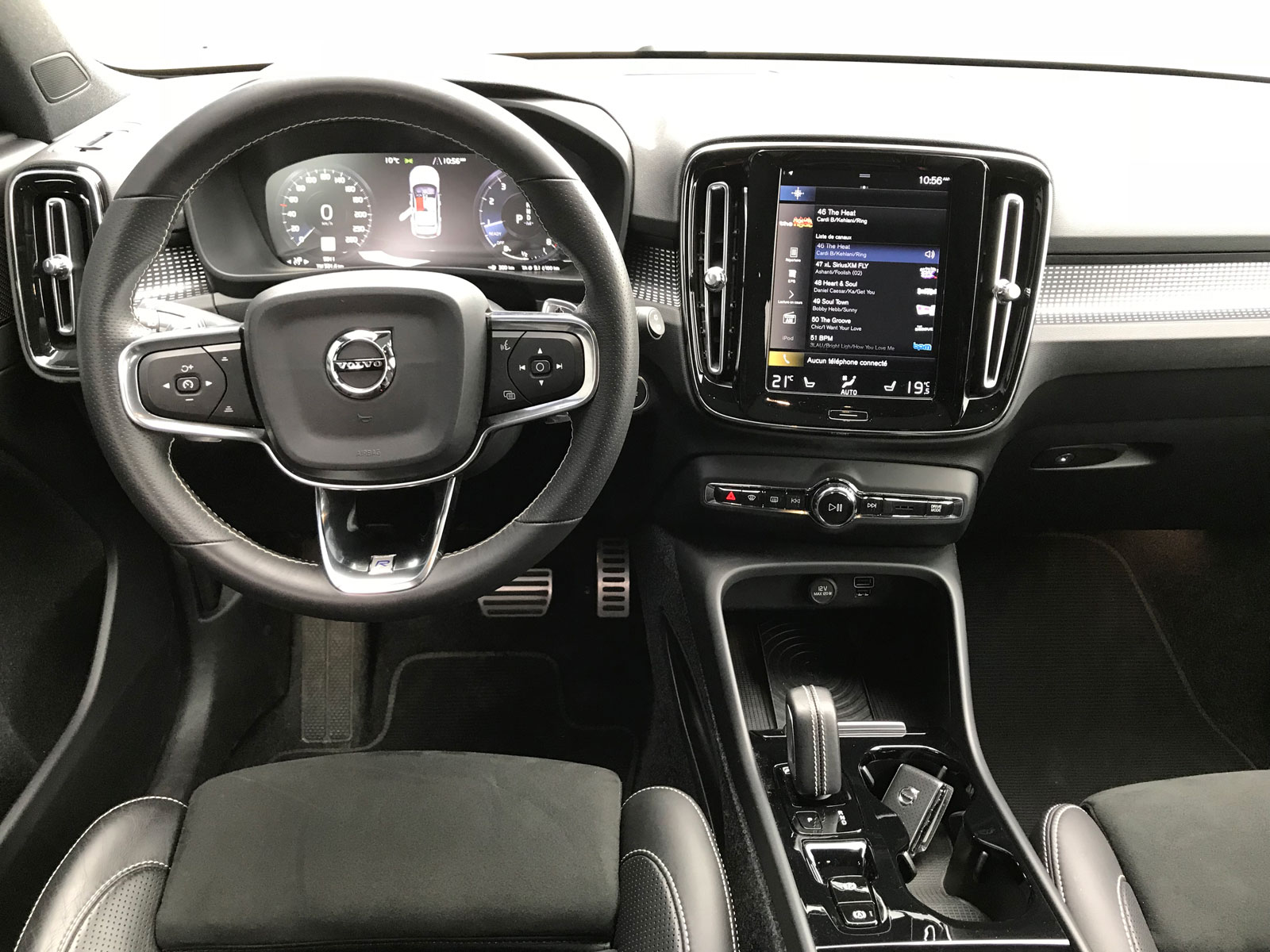 A minor annoyance is the gear selector. In order to put it in reverse or drive from the park position it requires two pushes. It's annoying but I ended up getting used to it. There is just no reason for it though and it should be changed.
Interior space is about average for this segment. There is more legroom than the GLA but not quite as much as the X1. The same thing goes for trunk space which is a bit tight but still better than a few of the competitors.
Volvo's infotainment system is likely to be a love-it-or-hate-it type of a relationship for the consumer. Following the minimalist design requires eliminating as many physical buttons as possible. Yes, it looks smooth and modern but the price you pay is usability. On cold mornings I noticed a delay in the touch-screen display's reactions. Selections often required several seconds to properly register my commands which is highly frustrating. Another issue is the time is takes to make adjustments to the climate controls. Any time you want to alter the fan speed you must take your eyes off the road, tap climate and then tap the desired fan speed. It's something that I adjust multiple times per trip and having to do it via touch screen is not the safest or most efficient method. I know Volvo would suggest setting the automatic climate and letting that do the work for me but no. I'm not an automatic climate person. When it's cold I want to blast the heat on maximum and when it warms up I'll turn it down to room temperature. I have a feeling most people do the same but if you want to have the vehicle control your climate for you then you may not have a problem with the system.
A fair suggestion would be to replace the two buttons for previous track and next track on either side of the volume knob with knobs for fan speed and temperature. It's so simple and so doable and would improve the usability of the system by an order of magnitude. Throw in a few more buttons for seat heat and we'd be talking.
The XC40 is still overall a very strong offering in the bustling luxury small crossover segment. It does what it's supposed to do very well and looks good while doing it. The base Momentum starts at $39,500 before transport. The R-Design will run you $44,550 and the upscale Inscription is $47,050.