If you're looking for a pickup and don't necessarily want or need a full-size truck, the Toyota Tacoma is one of the few options on the market. There are only four others, namely the Chevy Colorado, GMC Canyon, Nissan Frontier and Honda Ridgeline with a fifth – the Ford Ranger – on the way. The Colorado and Canyon was recently resurrected meaning until recently your only options were the Toyota, Nissan and Honda.
Why haven't these mid-sized pickups fared better? There are a number of factors including production costs, tariffs, production location but the biggest issue is that the price different isn't all that much between the mid and full-size pickups. If we look at 4×4 models, the Tacoma starts at $37,119 and the larger Tundra at $40,189. That's only about three grand difference so most of the time it just makes sense to get the bigger one. You'll get all the space, towing capacity and street credit you desire which can be very appealing to most buyers. In the event none of that is important to you then the Tacoma remains a good fallback option.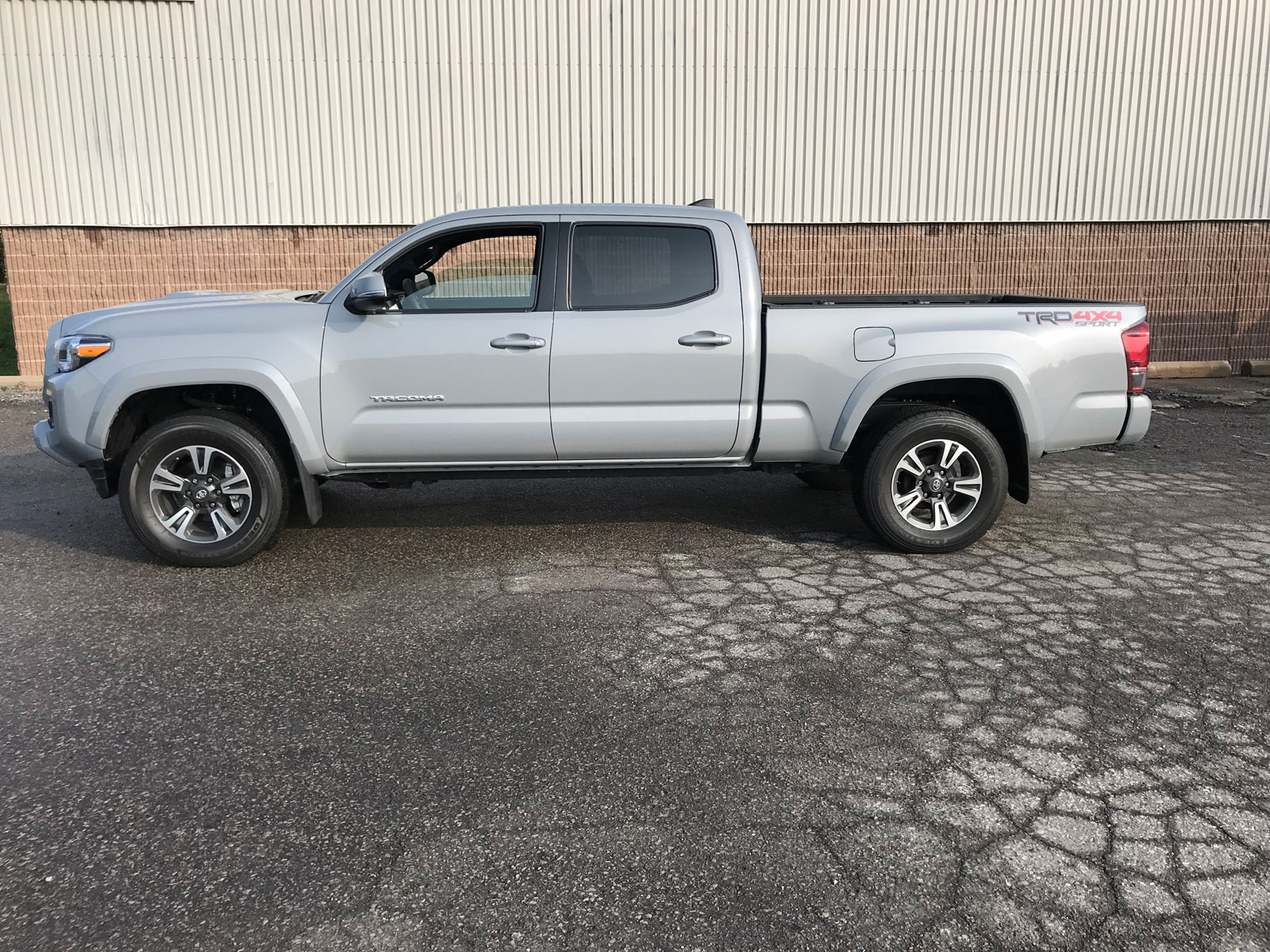 Redesigned in 2017, the new Tacoma looks decidedly more rugged. The new generation also brought a number of improvements, including the use of high-strength steel to help enhance rigidity and overall strength, a 3.5-litre 278-horsepower 6-cylinder engine with Toyota's D-4S fuel injection technology, updated suspension tuning, and a completely reworked passenger cabin.
The cabin is spacious, comfortable and ergonomically sound. Tacoma's infotainment system is standard Toyota fare and gets the job done without any difficulty. There is plenty of room to fit five adults so the whole crew can still accompany you to the worksite (or grocery store).
The test vehicle came with the optional TRD Sport Upgrade package for $3985. The package includes a massive array of features such as a sport tuned suspension , sport tuned shocks, 265/65R17 all season tires, dual-zone automatic climate control, navigation , a 7-inch display screen, a blind spot monitor system with rear cross traffic alert, leather seating surfaces, heated front seats, push button start, smart key system, Qi-compatible wireless smartphone charging with charge indicator light, integrate garage door opener power moonroof, color-keyed bumpers, color keyed mirrors, color keyed grille, hood scoop, fender flares, color keyed door handles, TRD decals and finally a theft deterrent system. That's a heck of a lot of stuff for the price.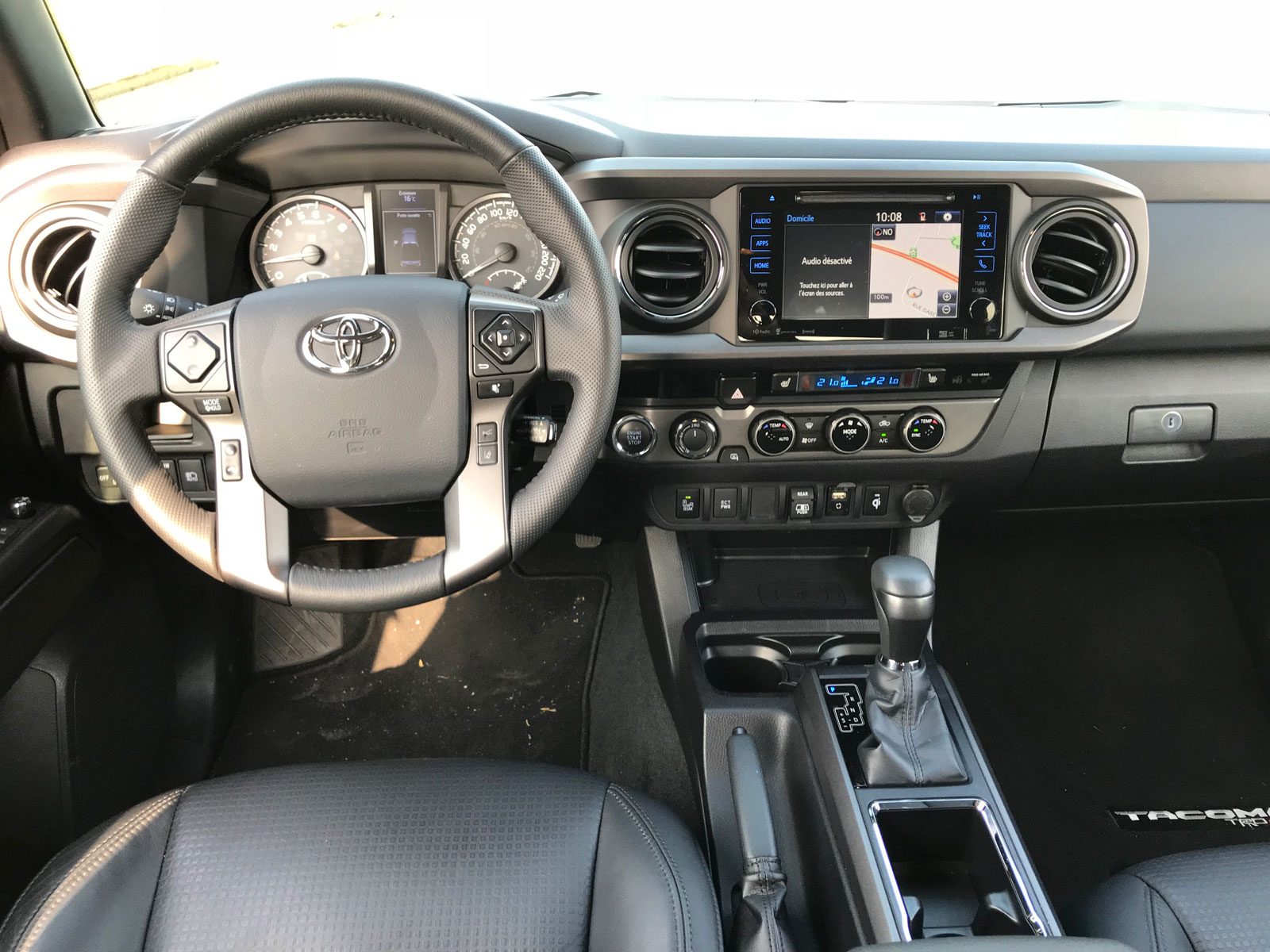 While the Tacoma's recent overhaul has done much to improve the overall package, you won't forget that you're driving a pickup truck. In other words, it's not as refined and smooth as some of the full-size pickups have gotten. Some of those feel like you're driving a large luxury SUV but the Tacoma is a no nonsense workhorse of a ride. The power is plentiful thanks to that 3.5-litre V6 and the transmission is reasonably smooth. You'll have no trouble hauling small to medium loads like ATVs or and dirt bikes. In my case I had to go pick up a dresser and it fit perfectly into the bed. The tie-downs along the side make it extremely easy to secure.
One thing I'd like to see is a small step to help get into the cab. It's a bit out of range for small children and even a bit awkward for adults to hop into. A step for the rear tailgate might be another nifty option.
The least expensive model is the 4X2 Access Cab 6A model starting at $31,489. It comes with a 2.7-litre, 4-cylinder engine. Access Cab means that instead of four full-size doors the truck has smaller suicide-type doors to access the rear. The test vehicle rang in at $43,650 before transport and dealer fees.
The Tacoma is a great and capable truck that will save you a few bucks compared to a full-size pickup. It's good-looking and will handle any off-road adventure with poise and ease. It's refined enough that it can also be used as a daily driver with all the modern tech you'd expect a vehicle to have in 2018.