Jeep made headlines in 2014 when it released this generation Cherokee because the styling was different than just about anything else out there. I remember feeling a bit perplexed at the direction Jeep took with the Cherokee but it gradually warmed on me after my strong initial reaction.
Fast-forward to 2019 and the Cherokee has undergone a mid-cycle refresh which has take some of the weirdness out of the front-end design and made it a bit more palatable. It now resembles a mini Jeep Grand Cherokee with new headlamp, grille and fog light designs. There is also a new lightweight liftgate with optional handsfree operation, a lighter aluminum hood, an increase in cargo space and lighter seats.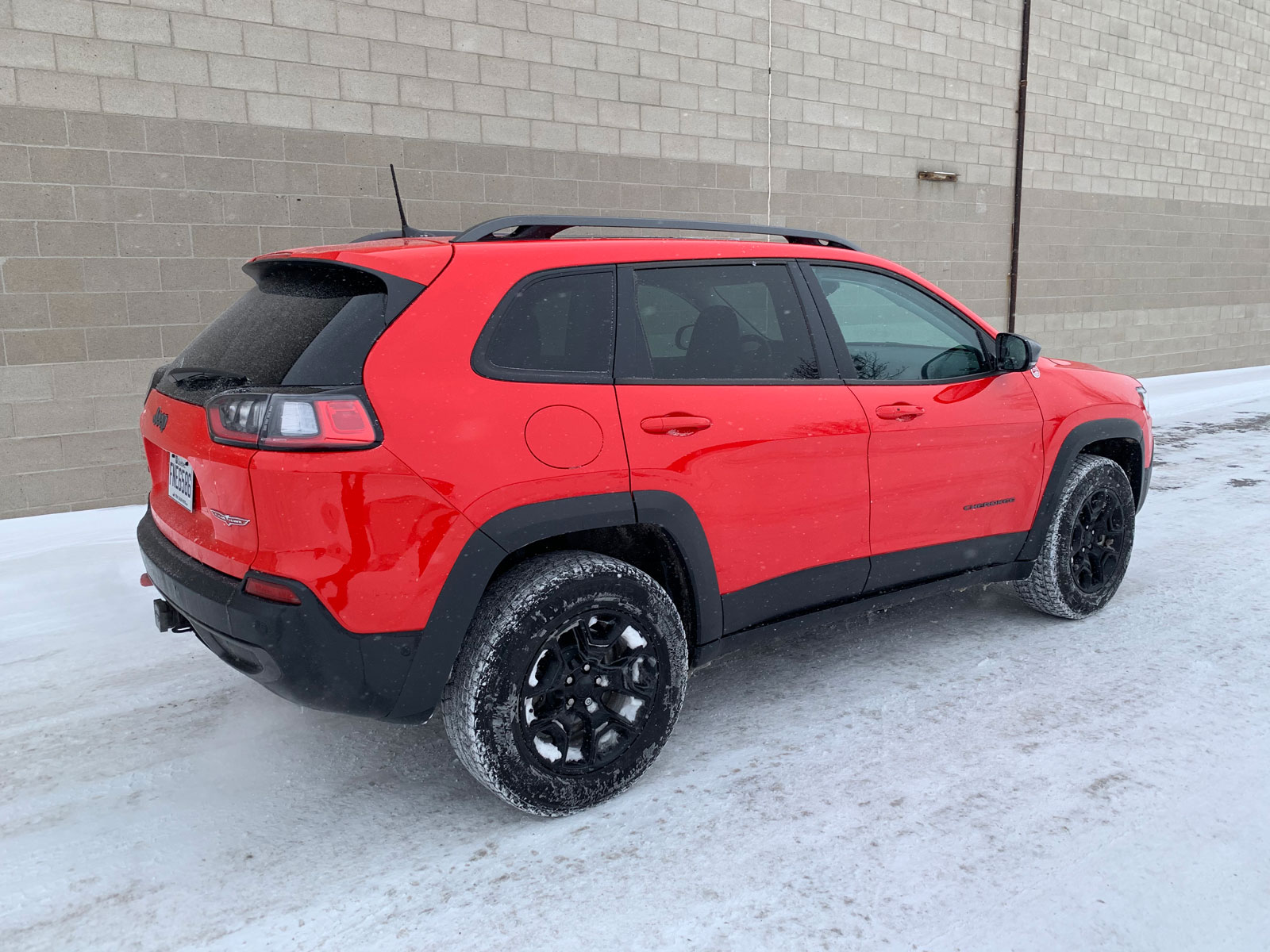 The most notable upgrade to the 2019 Cherokee is the addition of a new 2.0-litre turbocharged inline four-cylinder motor making 270 horsepower and a whopping 295 lb.-ft. of torque. This motor joins the two other options in the lineup: A 2.4-litre 4 cylinder making 180 horsepower and 170 lb.-ft. of torque as well as the Pentastar 3.2-litre V6 which makes 271 horsepower and 239 lb.-ft. of torque. All are mated to a reworked 9-speed transmission for smoother operation.
The test vehicle was the Cherokee Trailhawk edition with the new turbo four-banger under the hood. There are a number of other trims from which to chose including Sport, North, Altitude, Limited, High Altitude, Trailhawk Elite, and Overland. That's a total of eight (!) different versions of the Cherokee. Most other brands market three or four trims but eight seems a bit excessive and could stress out potential buyers.
All of that being said I was excited to get behind the wheel of the Trailhawk particularly because there was a large snow storm in the forecast when I picked it up. What better opportunity to test the prowess of the newly-revamped Jeep.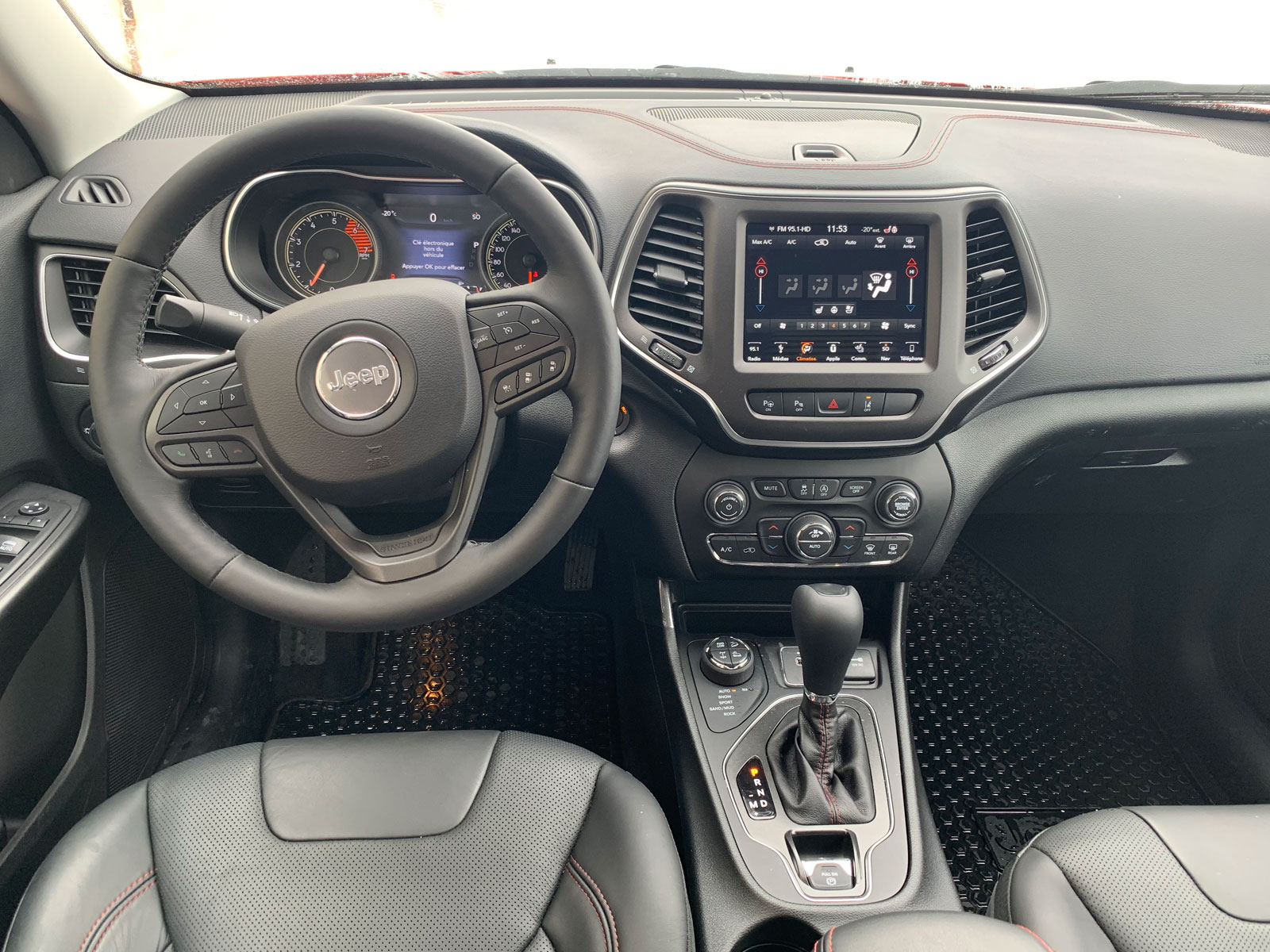 There are three different all-wheel-drive systems on this model. Active Drive I, Active Drive II and Active Drive Lock. Active Drive I is the basic one, Active Drive II gets a two-speed transfer case and Active Drive Lock can lock (obviously) the rear differential and is unique to the Trailhawk version.
The Jeep was a pleasure to daily drive. The 9-speed transmission didn't hesitate and wasn't jerky when putting the power down. Delivery was smooth and there when I desired it. It can hold its own in the curves, too, despite its off-road prowess. As for that snowstorm I mentioned? The Trailhawk with snow tires just ate through the white stuff like it was nothing.
The Cherokee Trailhawk's cabin is a comfortable place to sit in. It's well protected from exterior noise and has an excellent seating position. As you can see from the photos, there is an abundance of plastic covering most surfaces which diminishes the overall experience. The buttons are ok but not of the highest quality. The highlight is the usability and design. Everything is right where it should be for ease of use. There are large knobs for volume and fan speed which I cannot say enough good things about.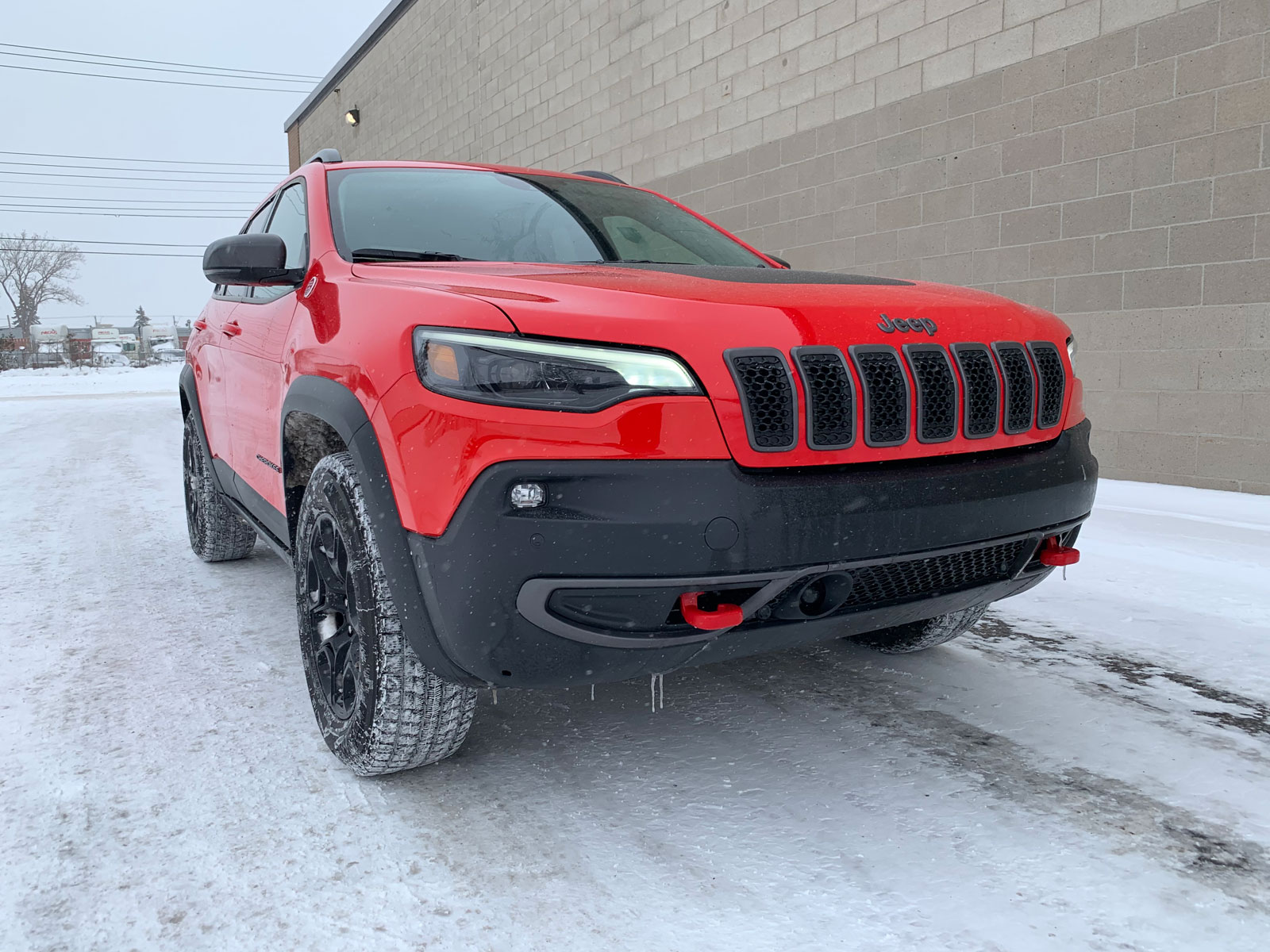 The Uconnect 4 infotainment system is similarly a joy to use. Its intuitive display takes no time to get used to and is among the best systems on the market. Apple CarPlay and Android Auto are available on all but the entry-level Sport trim. There are actually three different touchscreen sizes available on the Cherokee. The Sport gets a Uconnect 3 multimedia centre with a 5-inch touchscreen. As you move up the trim levels there are options for both 7-inch and 8.4-inch screens. Again, I have to say I find that number of options to be stressful for a buyer. Let's have just one screen option please.
You can get into a Cherokee Sport base model for $26,945 at the moment including some discounts. The base Trailhawk will run you $38,995 and the test model with the tech, lighting and safety packages along with a host of other bells and whistles ended up ringing in at $49,930 including transport. That's quite a hefty price in the compact SUV/crossover segment that is heavily populated with big names like the Honda CR-V, Toyota Rav-4, Hyundai Tucson, Nissan Rogue, Mazda CX-5, Ford Escape and Chevy Equinox. In fact, that's well into mid-size SUV price territory but Jeep's cult-like following gives it somewhat of an immunity to things like that and it should continue to do well.