The big SUV market is booming with more and more manufacturers jumping into the frey. Along with the new Telluride, the Hyundai Palisade comes to market to compete in the non-luxury brand full-size SUV segment.
Don't be fooled into thinking there is any lack of comfort these vehicles. Big SUVs tend to spoil their occupants with space, premium materials and all -around comfort and for that, the Telluride is no different.
The exterior is quite unique with square amber daytime running lights in the vertical headlamps. The grille is thing and wide with the word Telluride printed above it for anyone who'd be wondering what this vehicle was. The rear fascia has a similar design incorporating inverted "L" tail lamps with LED stripes (standard on EX and SX trims) that curve into the tailgate. I would say Kia nailed it here with a rugged, yet pretty design that isn't too boxy and screams toughness.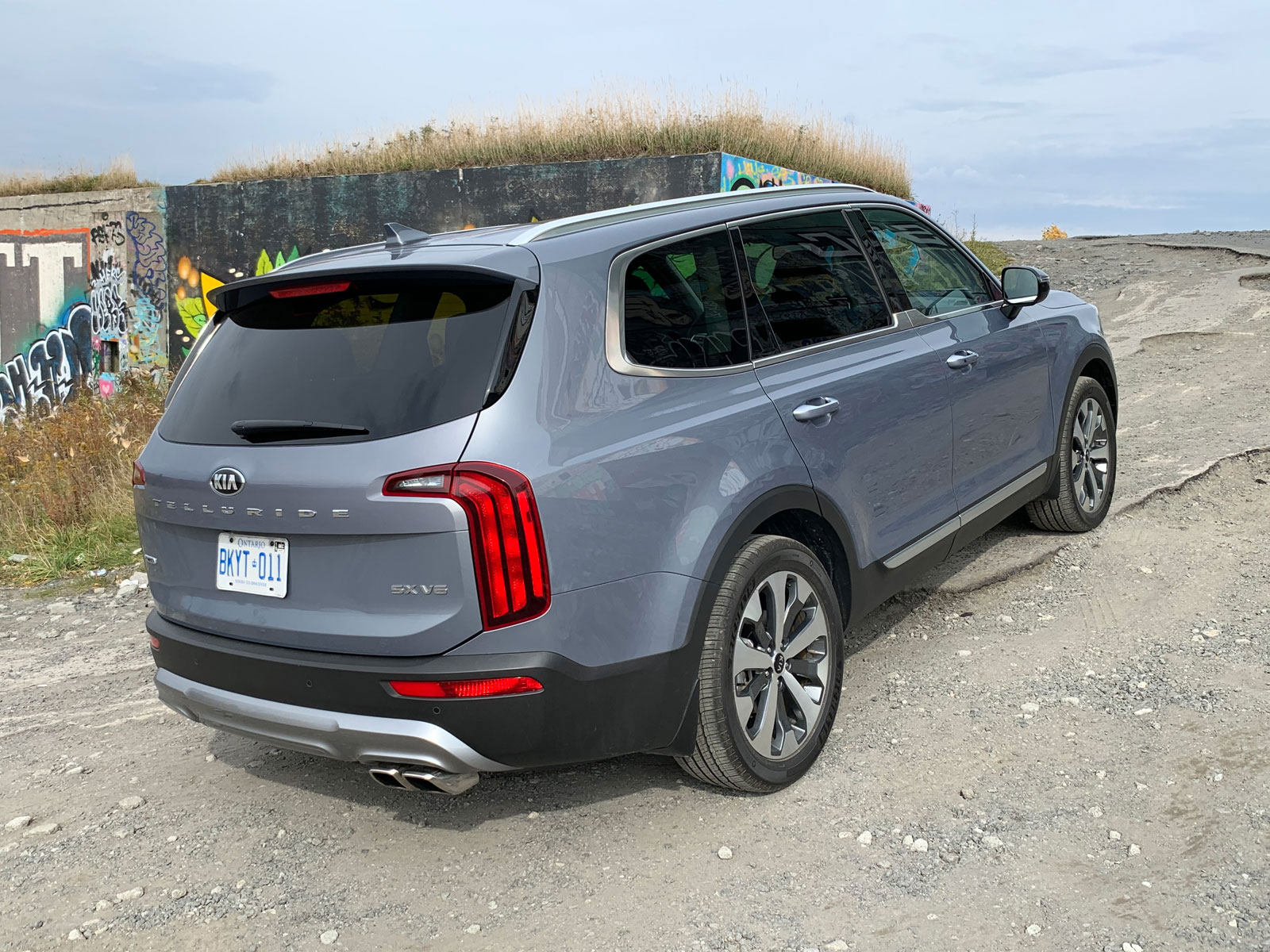 Moving on to the interior, Kia has provided high-quality leather seating in a three-row configuration that can seat up to eight people. This isn't even the Nappa leather which is available on higher end trims and it felt quite nice. The dash and doors have wood-grain trim that gives the interior that upscale feeling.
Ergonomically, everything is well laid out with a couple of rows of easy-to use buttons controlling climate and infotainment. Alternatively, you may also use the touch screen to control the Harmon/Kardon sound system. It's all very intuitive and to operate and pleasing to the eye.
Kia's infotainment system is easy to use and well laid out. The available 10.3" display gives clear and concise information without being too intrusive. Everything just works with an aura of simplicity.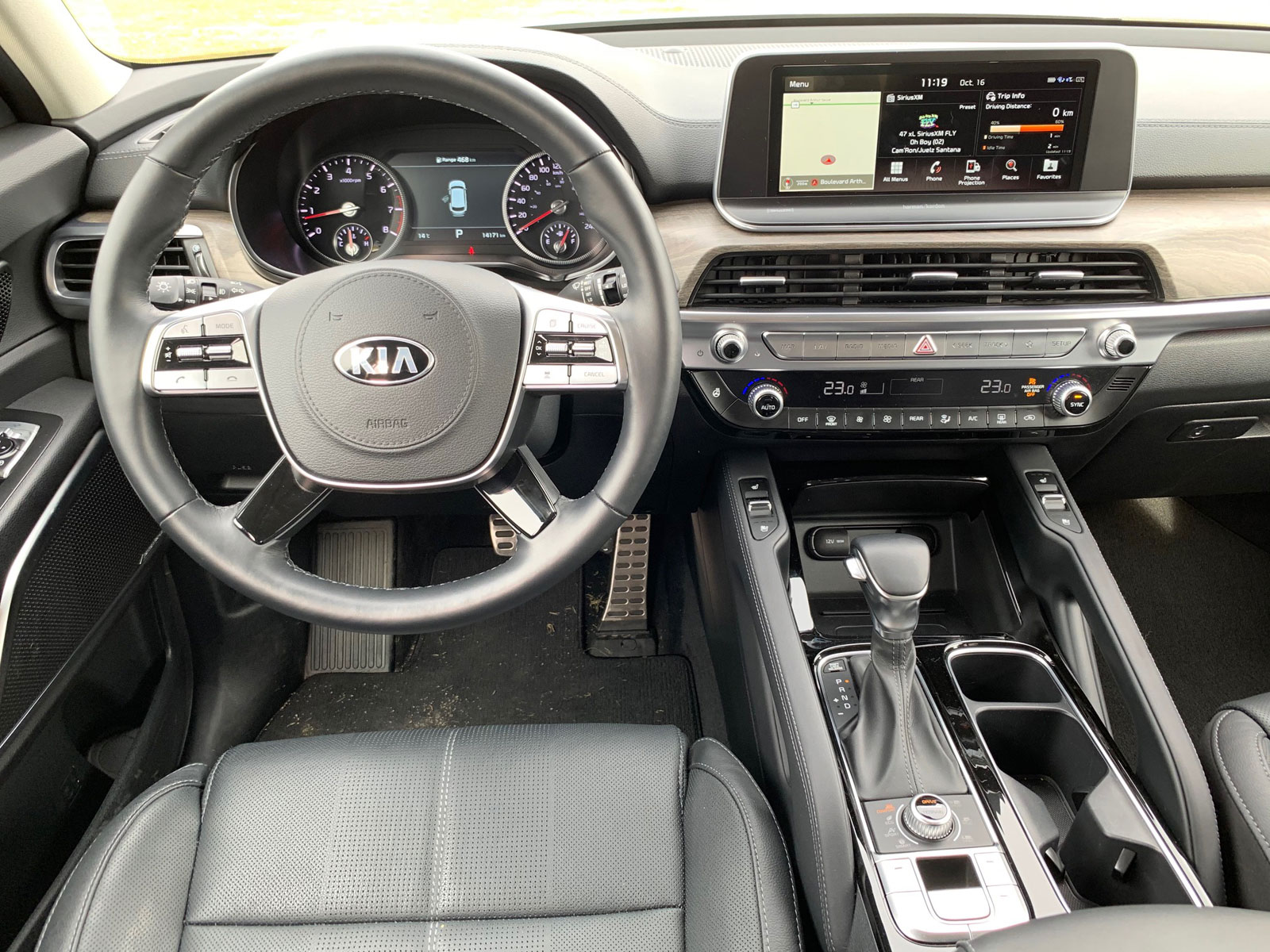 Seat operation is a breeze so there was no trouble accessing the third row. Even adults will find they have enough space to sit there, contrary to what we find is many mid-sized three-row SUVs.
Technology is in abundance and you'll find available wireless smartphone charging, up to six USB ports (two in each row), multi Bluetooth connectivity which allows more than one device to be paired at the same time, Apple CarPlay, Android Auto, as well as the usual suite of driver aid and safety systems.
Under the Telluride's hood is a 3.8L V6 GDI engine producing 291 horsepower at 6,000 rpm and 262 lb.-ft. of torque mated to an 8-speed transmission. Towing capacity is 5000 lbs and fuel efficiency was good with around 11 L/100km observed.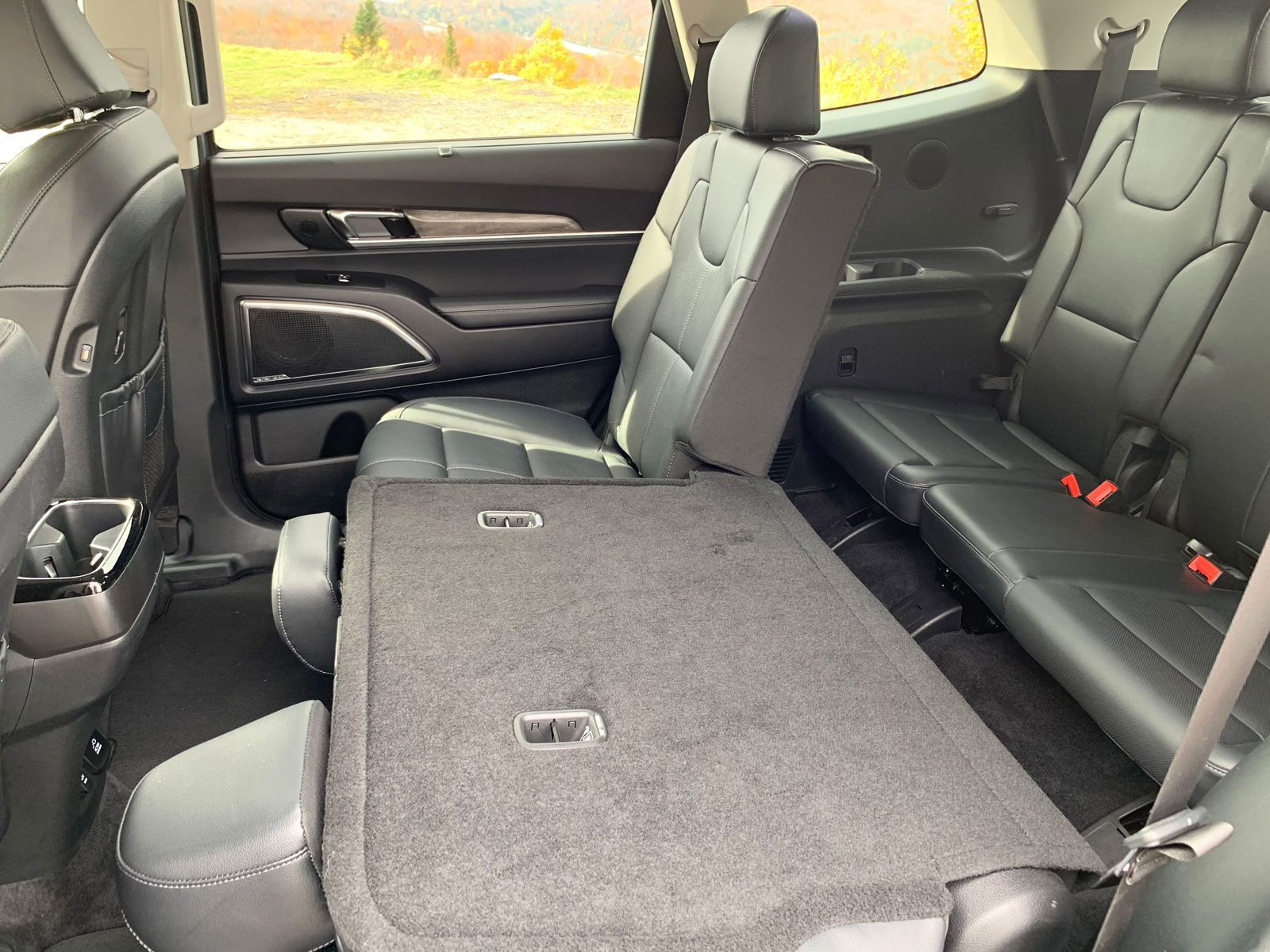 There was plenty of power to move the SUV to my heart's desire. Interestingly enough, the large SUV handled much more like a car than I expected. Cornering and braking were not at all hampered by its size. The highway ride was smooth and quiet.
I ended up taking a drive up to St-Adolphe-de-Howard, Quebec to check out a cool abandoned military base that rests at the top of a mountain. This was the perfect vehicle for my hour and a half commute as well as the steep incline to get to the summit. The poor condition of the entry road was no match for the Telluride and I was able to coast right up. The haunting structure made for some great photos and a stunning back drop. I suspect many Telluride owners will be using their vehicles to drive the family up to the local ski hill or cottage so this trip was befitting.
The Kia Telluride is a bargain and starts at just $47,005 for the base model EX. The test vehicle you see here as the SX version with a few options added on. The SX Limited will run you $55,005 and with Nappa leather $1000 more. It's one of the least expensive full-size SUVs on the market and will go head to head with others like the Ford Expedition, Nissan Armada and Chevy Tahoe.
The ease of use coupled with good looks, high-end materials and a great price make the Telluride an instant favorite in this segment. You don't need to shell out all your money to transport your large family in comfort and style. I expect to see the Telluride around for a long time.
If you liked my article, please consider liking the MontrealRacing.com Facebook page. I try to post a few stories like this per week. – DG