I think Volvo's Polestar line impresses me the most out of all the performance brands of the various manufacturers. It's not that it's the most prolific or most famous but rather the most understated. Not many people know what Polestar is but the ones who know it, respect it.
In addition to being a trim level for current Volvos, Polestar has become its own brand of car. The Polestar 2 will hit Canadian roads this year as a fully electric five-door fastback retailing for about $70,000 and directly competing with the Tesla Model 3.
The subject of this review is the 2020 Volvo S60 Polestar Engineered. It's the highest trim level available on the S60 and at the time of this writing isn't even fully listed on their website.
This S60 has 415 horsepower with 494 pound feet of torque and can go from 0-100km/h in just 4.4 seconds. The standard 2.0-litre four-cylinder engine has been bumped from 299 horses to 328 and an electric motor producing 87 horsepower has been mated to the rear wheels. It's part of Volvo's program to have every new vehicle introduced after 2019 be at least a plugin-hybrid.
Under the hood you'll find that the vehicle has a strut brace for extra rigidity along with Ohlins performance dampers. The cool thing is that they can be adjusted manually from the top of the turrets. This can be done in the rear as well but you need to remove the wheels in order to adjust them.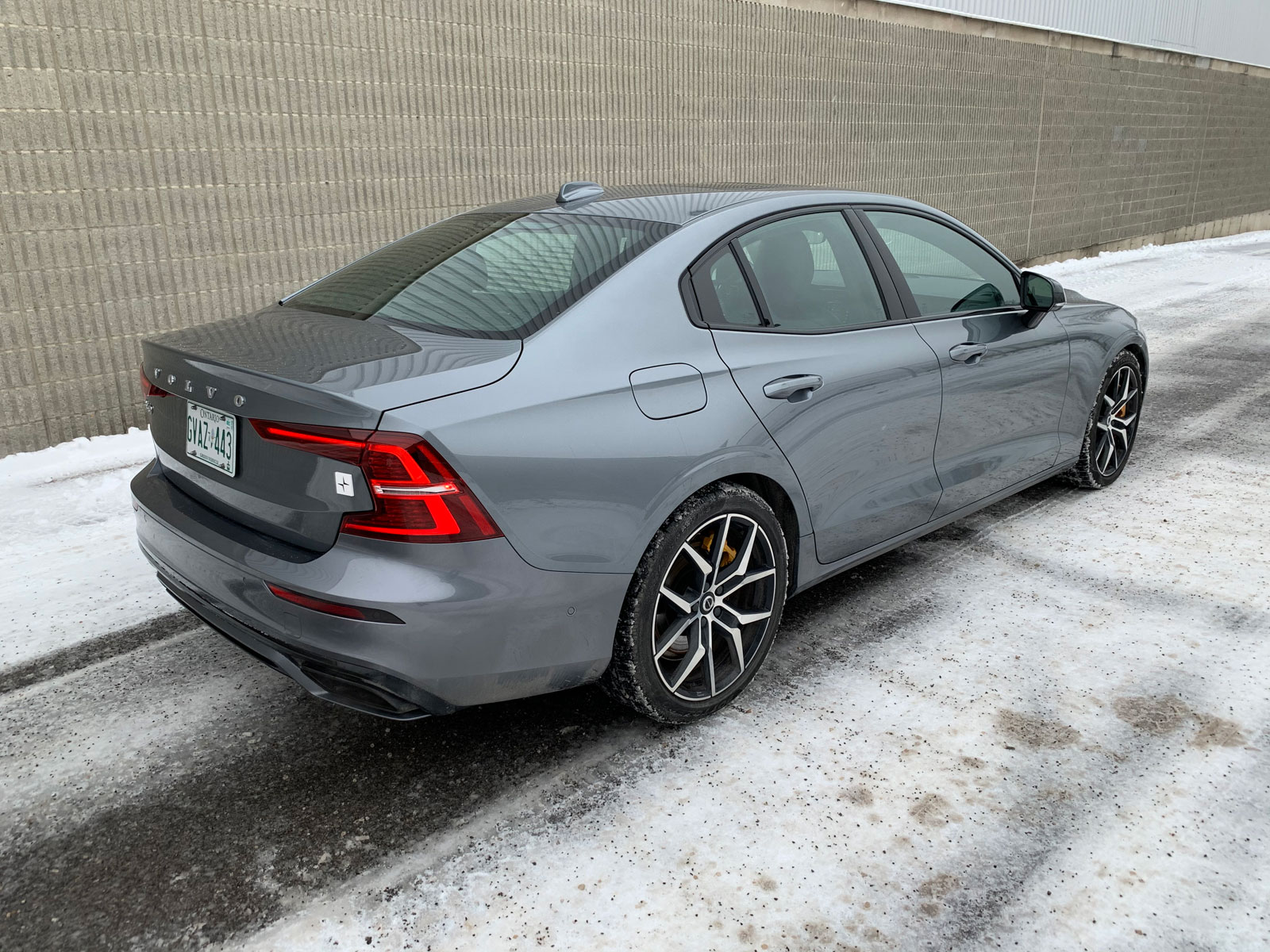 The S60 Polestar Engineered is indeed blisteringly fast when you hit the gas. It can turn corners like its on rails and stop on a dime. The cool thing about it is that it can also roll all electric for around 30 kilometers. That means you can be running around a race track against BMW M3s and then take the green car or carpool lane home. It's also handy for making short trips to drop the kids off at school or hockey or wherever they need to be.
Volvo has given the car unique 19-inch alloy wheels, a black front grille surround, black chrome exhaust tailpipes and gold brake calipers. The white Polestar logo also gives it away but is understated and classy.
The S60 may be the best-looking sedan on the market right now. The most recognizable feature is the T-shaped "Thor's hammer" LED daytime running lights. The body creates a smooth and classy silhouette accentuated by the Polestar wheels. The taillight design initially took some getting used to but the square bracket-shaped lamps round out the rear fascia with elegance and poise.
Moving on the interior we find a fantastically modern and contemporary ambiance. Before you even enter the vehicle, you'll notice just how inviting these leather sport seats look. They don't disappoint and sitting in them will give you levels of comfort approaching your living room sofa but also hold you in place quite firmly. The materials Volvo has chosen for the dash and panels give a very high end look for an all-around upscale cabin feel. All buttons, switches and levers are very firm to the touch and the infotainment screen is within reach without having to lean forward. All in all, this is a spectacular cabin that rivals or exceeds any of the other luxury brands.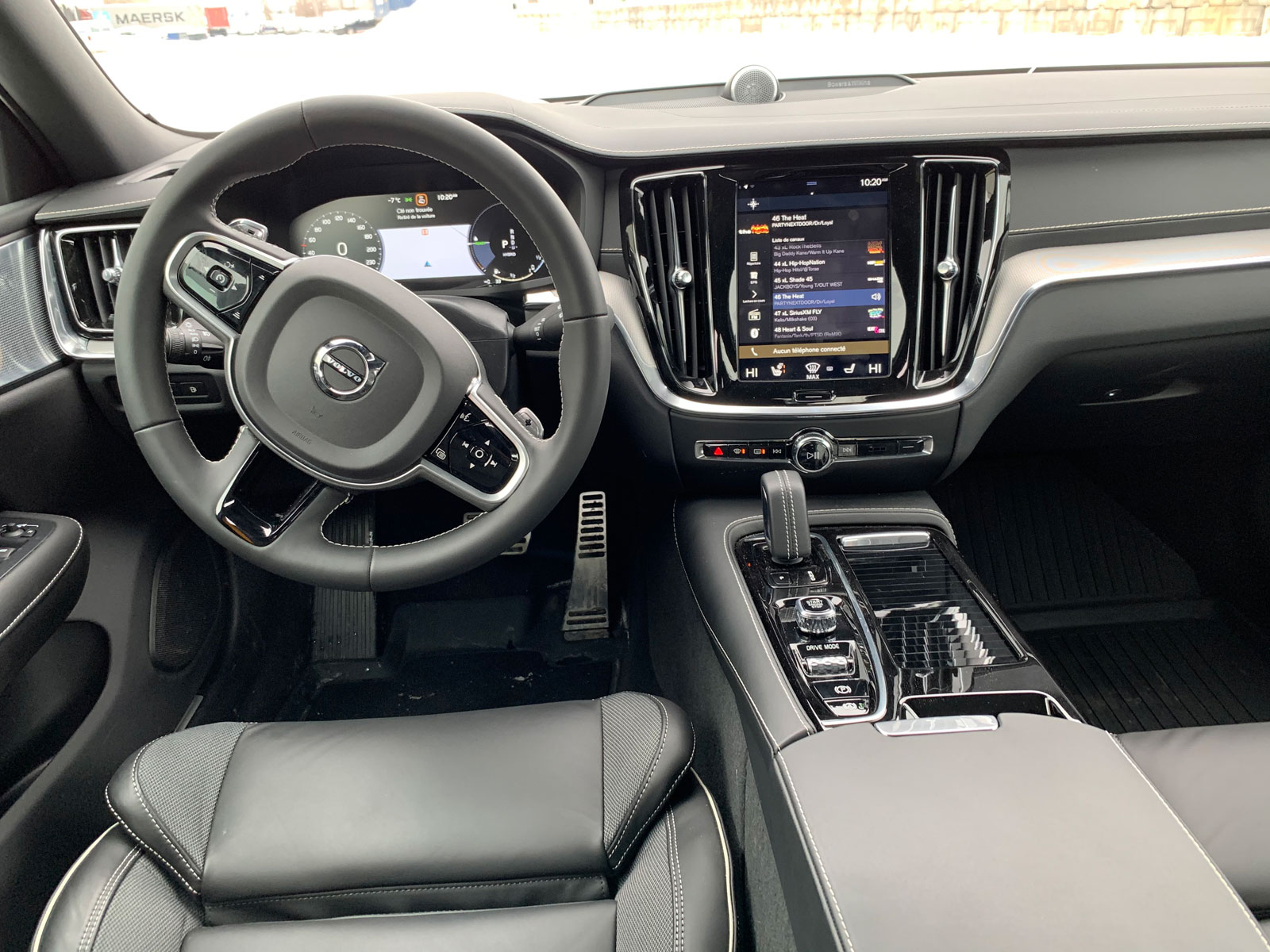 Instead of a push-button start, you need to turn a little knob in front of the shifter which is fine. There is also a small wheel that you must press and then click if you'd like to select a different driving mode. Volvo has chosen a minimalist approach to dashboard design, opting to have as many functions as possible controlled via the tablet-like touch screen interface. It's not Tesla-level minimalist (thank goodness) but problems can arise when too many functions are left to the screen. In winter or summer months when the climate control needs to be adjusted more frequently, the current design makes it very time consuming to do basic things like adjust fan speed.
The new infotainment system (called Sensus Connect) is modeled after a smartphone with a home button and menus which can be accessed by swiping left or right. Now that I'm used to it after having tested many Volvos, I find it quite functional and easy to use. I absolutely love how all the radio stations are listed with the current song playing on each station so I can see what it is before choosing.
I like what Volvo is doing here. The Polestar offers a nice alternative to the myriad of BMW, Audi or Meredes-Benz vehicles you see every day and is every bit as good. The vehicle is going to retail for about $80,800 in Canada but isn't available to build on the website as of this writing.