"Is that a Jeep pickup truck?" was the question I got a million times during a week with the new Jeep Gladiator. My reply was "yes, it is" with a large unsubtle grin. It's hard to not revel in the amount of attention that the Gladiator elicits from passers-by.
The vehicle was one of the few road tests that I've completed where every time I got into the driver's seat, I felt emotion from being in something special. The bright red paint contrasted against the yellow leaves from the fall season also created a picture-perfect canvas no matter where I took the Gladiator.
It's a large vehicle however not as large as a full-size pickup like the F-150. This is a mid-size pickup which is comparable to a Toyota Tacoma, Ford Ranger or Chevrolet Colorado. It has best-in-class towing capacity of 7,650 pounds along with 1,600 pounds of payload capacity. Jeep obviously wants there to be no inference that the Gladiator is just a show truck and they've done a good job at giving it the chops necessary to go toe-to-toe with the competition.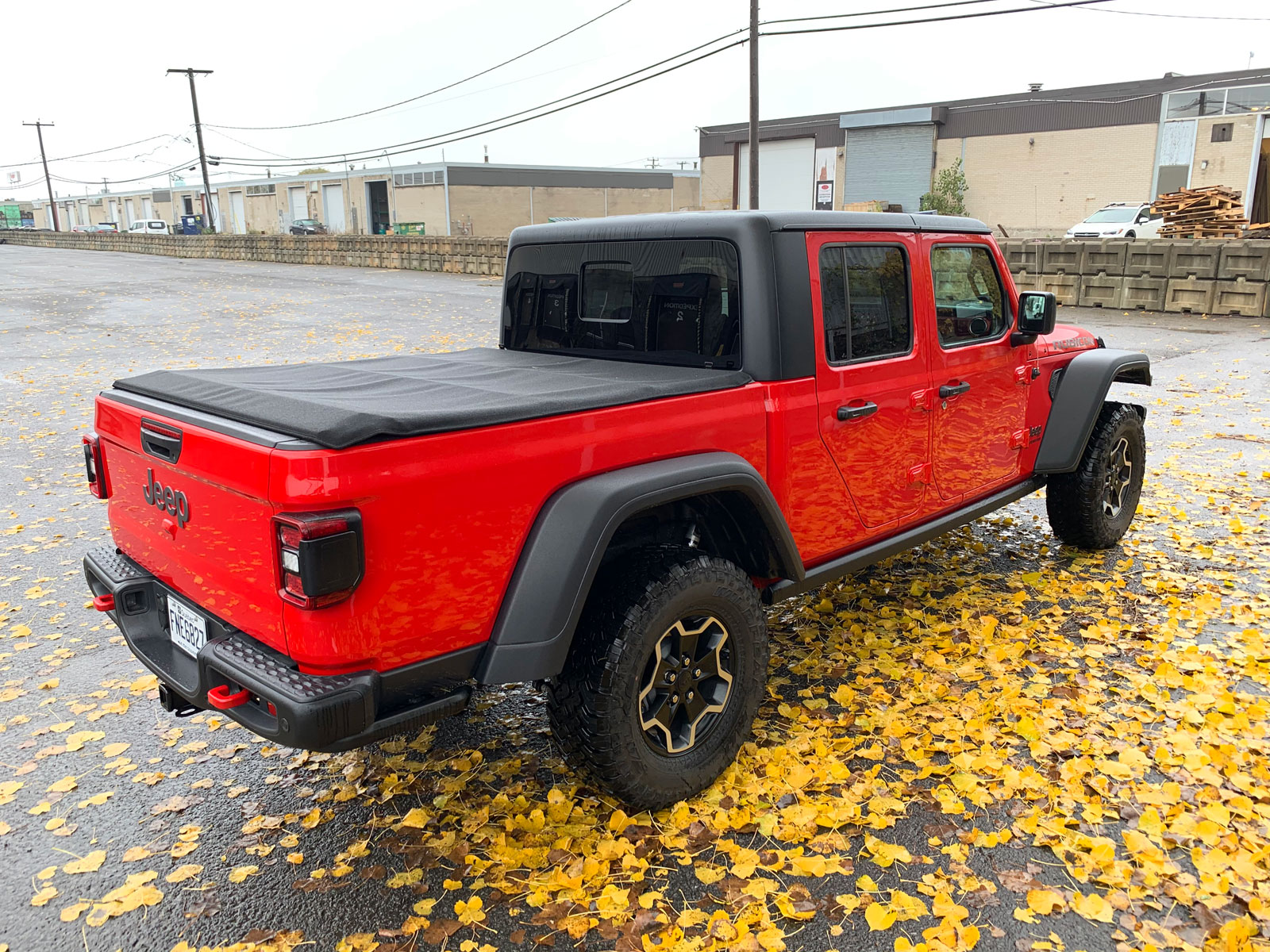 Under the hood is a 3.6-litre Pentastar V6 engine making 285 horsepower and 260 lb-ft of torque. A 3.0-liter EcoDiesel V-6 engine being offered in 2020. A manual transmission is standard with the option to upgrade to an eight-speed automatic.
A neat feature of the auto tranny is the Selec-Speed Control feature which manages vehicle speed in "4LO" while traversing off-road terrain without requiring throttle or brake input, allowing the driver to focus on steering. Selec-Speed Control is activated using a button on the dashboard and can be adjusted from 1-5 mph simply by using the AutoStick shift control.
There are two 4X4 systems available, depending on which model you chose. The Rubicon that you see here features a Rock-Trac 4×4 system with a "4LO" ratio of 4:1. A 4.10 front and rear axle ratio is standard as are Tru-Lok locking differentials.
The other is the Command-Trac 4×4 system, standard on Sport and Overland trims and features a two-speed transfer case with a 2.72:1 low-range gear ratio with a 3.73 rear axle ratio. Both systems have heavy-duty third-generation Dana 44 front and rear axles.
The Gladiator's off-road prowess was never in doubt but how does it fare as a daily driver? It was a bit tough for the kids to get in and out because of the extensive ground clearance. Space wise, the cabin had no issues transporting everyone. Three adults can fit in the rear no problem.
The leather seating was very comfortable and the interior look is quite pleasing to the eye. I'd like to see some dials for temperature control but that's about all I'd change. I will also note that the cord for the wiring going to the driver's door kept hitting my left food and I'm sure a better design could eliminate that.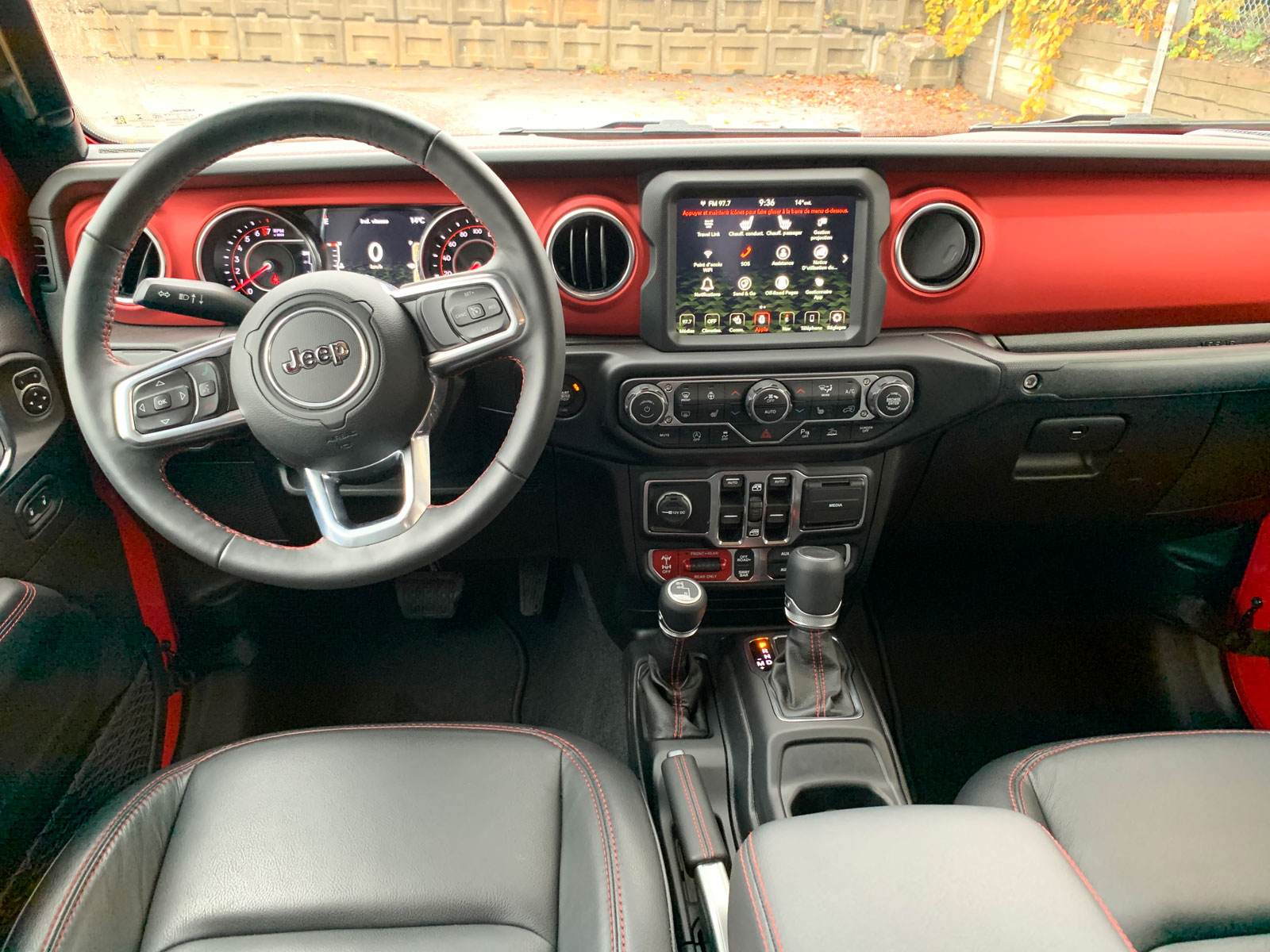 Some things are necessary, however, because of the fact that the doors can be taken off and even the windshield can be folded forward for a true open-air Jeep experience. Also of note is that the window buttons are in the center stack as opposed to on the doors. It's a Jeep thing.
Three Uconnect systems – Uconnect 5-inch, 7-inch and 8.4NAV are available. That's too many. I'd like to see one option only please. Uconnect 7.0 or 8.4NAV systems include the new Apple CarPlay and Android Auto. Uconnect is a very well laid-out system that can be a bit buggy at times. I didn't have any issues while using it with the Gladiator though.
Driving the Gladiator was very similar to driving a Wrangler. It's not the smoothest ride on the road but no Jeep owner cares about that because of the brand's off-road abilities. At any rate, the Wrangler has gotten much better over recent years to the point where it's almost a non-issue. Highway driving was acceptable thought I needed to be correcting myself quite often. It's not the luxury ride of an F-150 but not the end of the world either.
Naturally there will be a large market for Mopar to sell accessories for the Gladiator. The Mopar brand has more than 200 new or redesigned Jeep Performance Parts and accessories for owners to personalize the 2020 Jeep Gladiator. Those products will include accessories, such as tonneau covers and a spray-in bedliner, and performance content, such as lift kits, off-road lights, rock rails and wheels.
The Gladiator starts at $47,245 for the base Sport S. The Overland edition will run you $51,245 and the Rubicon $54,245 before any options, destination feed or taxes. It's quite a lot of money but again, Jeep fans will pay for the exclusivity.
If you liked my article, please consider liking the MontrealRacing.com Facebook page. I try to post a few stories like this per week. – DG