As far as half-ton pickups go, the Ram 1500 is about a big as you can get. The entire week I tested the vehicle was filled with comments from onlookers gasping at its immense size. It filled up my tiny driveway like never before all the while imputing a sense of gravitas to my psyche.
Not only is the Ram large but it's about as pretty as trucks come these days. The tester was the top of the line Limited model with every bell and whistle you can imagine. The Ram was completely redesigned in 2019 so it still looks like a brand-new offering though the older model RAM 1500 (now called the classic) is still on sale for some reason. The current fascia includes massive Ram-badged grilles along with a full LED adaptive front-lighting System, including twin bi-functional projector headlamps and LED fog lamps. This Ram is lighter, longer and wider the previous generation including an overall cab length increase of four inches. Interior storage capacity has been increased to 151.1 liters which is about double the next best competitor.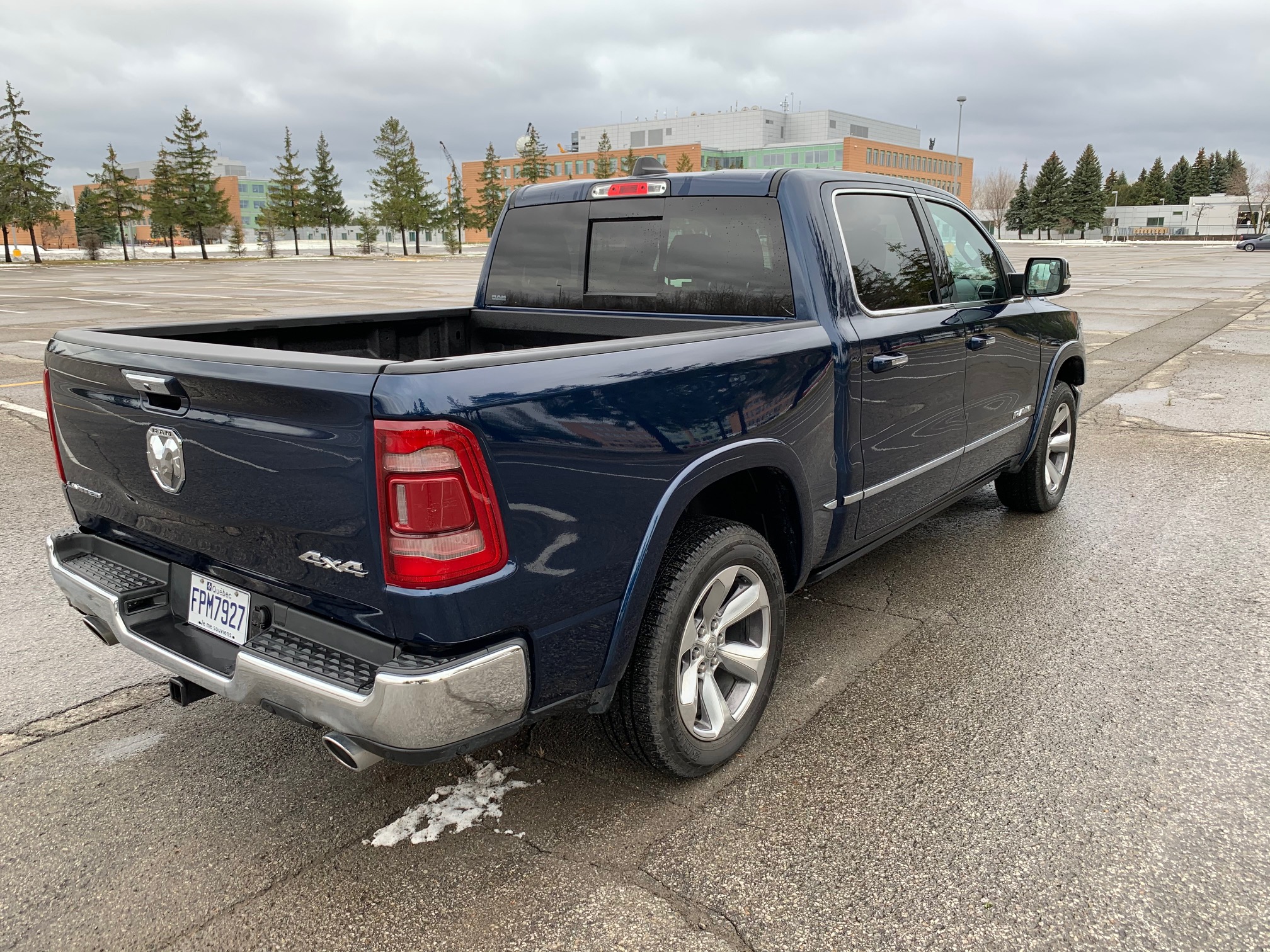 The Ram equally impresses on the inside with one of the most attractive cabins available. The large and spacious cockpit with its beautiful dashboard design is a sight to behold. Just look at the striped trim on both the dash on the top of the steering wheel. I was never a fan of electronic gear selectors but this knob that Ram has introduced was actually quite good. It also allows for more storage space in the center console. Across all trim levels, the Ram 1500 features push-button start and an electronic parking brake as well. The new shifter area also groups new feature buttons, including engine stop-start (from eTorque), hill-decent control, axle lock and transfer case controls, when equipped.
The highlight is the massive vertical 12-inch reconfigurable touchscreen on the higher end models. It's fully configurable and has a split-screen function while using Uconnect4. The one you see pictured here is the 8.4-inch and there is also a 5-inch with the older Uconnect3 interface. Uconnect is a very easy-to-use and intuitive system that's among the best on the market.
Under the hood there are a few options for powertrains but only two for the Limited trim. The first is the standard 5.7-litre HEMI V8 engine making 395 horsepower and 410 lb.-ft. of torque. For about a thousand bucks more you can get the e-torque system which uses hybrid technology to increase the performance and fuel efficiency. This is what my model came with and It's a smooth, broad power band that avoids the hesitation of turbocharged engines. It also sounds great with a deep throaty growl. I did do a lot of city driving and while the V8 was rated at 16.1L / 100 km I came in a bit below that with 17L / 100 km.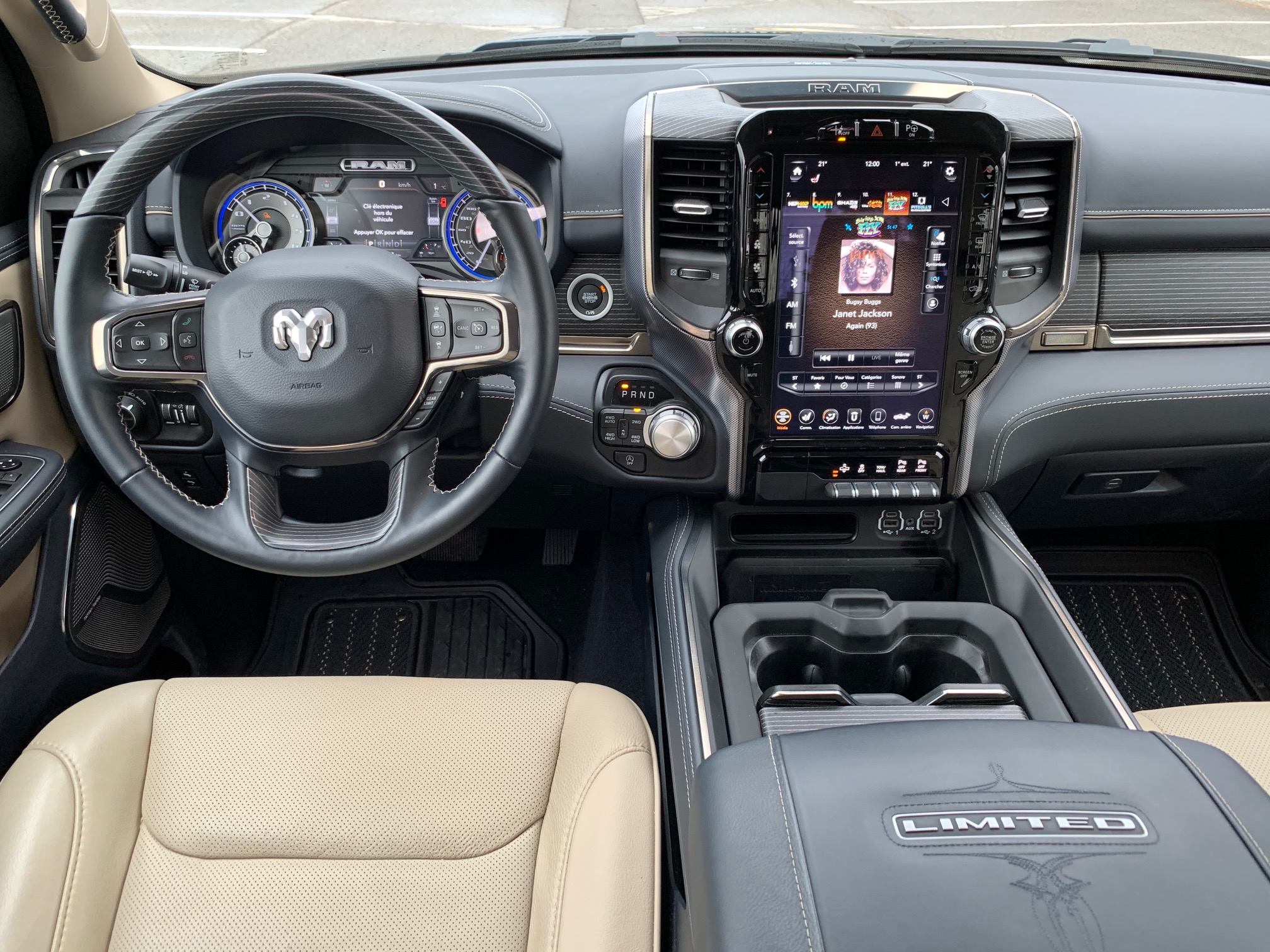 The other option for the Limited is the 3.0-litre turbocharged V6 diesel which makes 260 horsepower and 380 lb-ft of torque. The diesel engine was conceived for people who need to haul a bit more but don't necessarily want a Ram 2500 or 3500. Towing capacity is a whopping 12,560 lbs which is better than any of the competition. Other trims of the Ram 1500 can be had with the Pentastar V-6 rated at 305 horsepower and 269 lb.-ft. of torque.
You'll remember that when the 2014 F-150 came out, a big deal was made over it using high-strength aluminum in its construction. Ram wasn't willing to go that far and still uses 98 percent steel in its frame. They did, however, use aluminum for selective components such as the tailgate, engine mounts, front axle center section, front suspension crossmember, transmission crossmember and steering system gear. All of this being said, an F-150 SuperCrew weighs 4769 pounds compared to the Ram's 4798 pounds. In terms of towing capacity, the Ram 1500 can pull up to 12,750 and haul up to 2300 pounds a bit shy of the F-150's 13,000 and 3270 ratings.
All of this greatness doesn't come cheap though. The Ram Limited starts at $75,845. With a few options you'll be easily pushing $90,000 before tax which is a heck of a lot to spend on a pickup. There is definitely a market for it and if you fall into the demographic who can pay that amount, the Ram 1500 Limited is hard to beat.