When people ask me general questions like "which car should I buy" or "what is a good car to buy" with no other accompanying info, I usually just pick a car I know is good and suggest it to them. The Honda Civic is often one of the cars I say to go buy.
The Honda Civic is the best-selling car in Canada for a reason. Some 60,000 of them were sold in 2019 beating the next best-selling car – the Toyota Corolla by over 12,000. In fact, it's the 22nd year in a row that the Civic holds that title which is incredible. You don't get that kind of brand loyalty without making a decent product.
So what makes the Civic so good? A variety of factors but mainly it's got great value for the money, it looks decent and is high quality. Let's talk about those looks for a moment. The Civic is overall quite sporty-looking. This Sport Touring model has a fancy lip kit on the front, sides and rear. The rear is a bit loud and can get even louder if you get the Type R model with a massive wing.
The hatchback configuration means you can have all the functionality of four doors as well as a fifth door with the hatchback. The trunk rather cavernous and with the seats down you can fit a ton of things in there.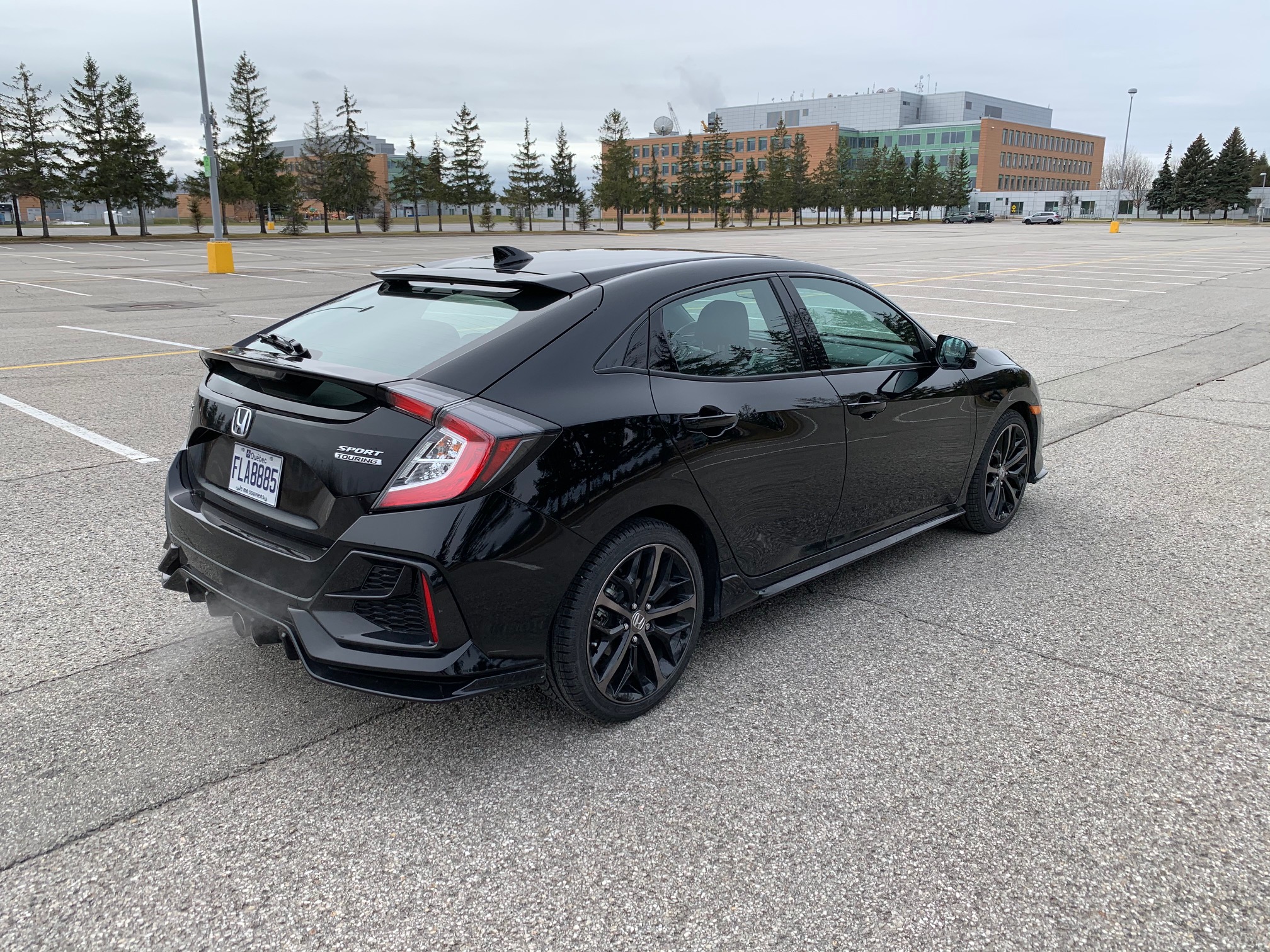 The interior of the Civic is well laid out and the materials are very high quality for a vehicle in this price range. There are proper knobs for climate and volume control which is critical for ease of operation. I like that there is a physical gear selector rather some electronic device which isn't as responsive.
The layout is ergonomic in that you won't have to search for anything. The steering wheel doesn't block you view of the gauge cluster. The cup holders are nice and deep. The wireless charging area is right within reach.
The touchscreen display audio interface uses an Android operating system and is compatible with Android Auto and Apple CarPlay. Nestled right on the dash rather than protruding up like many other cars, the screen positioning makes for a smoother look. That android system is better than previous systems but is still not quite at the level of ease-of-use as say Chrysler's Uconnect or Ford's Sync3. What's very cool is that it packs a huge punch with 542 watts, 12 speakers and a subwoofer. That should be enough to entice the audiophile in anyone.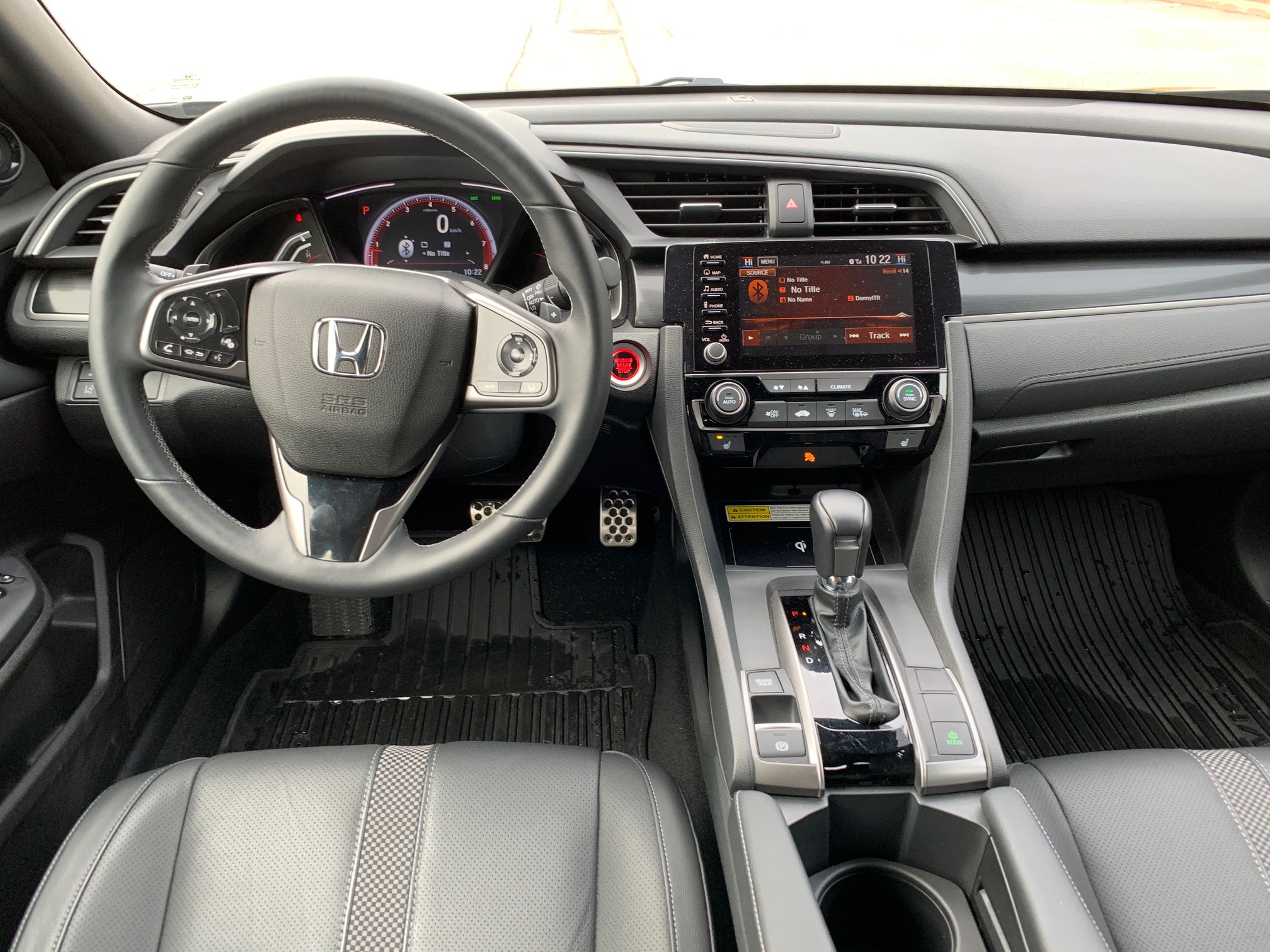 Under the hood we have a 1.5-litre turbocharged four-cylinder engine that makes 180 horsepower. Paired with the continuously-variable transmission, it doesn't make for a performance screamer by any means. Even in sport mode and "shifting" with the steering wheel-mounted paddles I didn't find that the car was able to make full use of the available power. That's because there are no set gears to shift with a CVT. If you want performance you'll need to upgrade to the SI or the Type R.
Handling and braking are adequate but not stellar. Again, the SI will provide monumental upgrades in this department but for every day use it'll do fine for most people.
Welcome safety features such as a Forward Collision Warning, Collision Mitigation Braking System and Lane Departure warning are all handy to have. I did love the feature that uses a camera to show you your blind spot on the right side of the car when you indicate. It's a handy tool that will help mitigate collisions.
The Honda Civic Sport Touring hatchback starts at a reasonable $33,900 before transport for 2021. You get quite a lot of features for the money and you also get that rock-solid Honda reputation that's kept the brand in the #1 position in the county for decades.