The Toyota Avalon has always intrigued me because it's somewhat of an oddball. It's larger than the mid-sized Toyota Camry making it a full-size vehicle yet it doesn't bear a luxury nametag to compete with many of the other full-size sedans on the market. In fact, there is only one other full-size non-luxury brand sedan which is the Nissan Maxima. Is the Avalon really in a class of just two? It appears so and that's just fine.
Full-size sedans tend to be geared towards CEOs with their chauffeurs shuttling them back and forth from the office. The Lexus LS, BMW 7 Series and Audi A8 are great examples. It stands to reason that these vehicles would be luxurious given their target demographic but what about the average Joe who just wants a big sedan? That's who the Avalon is for.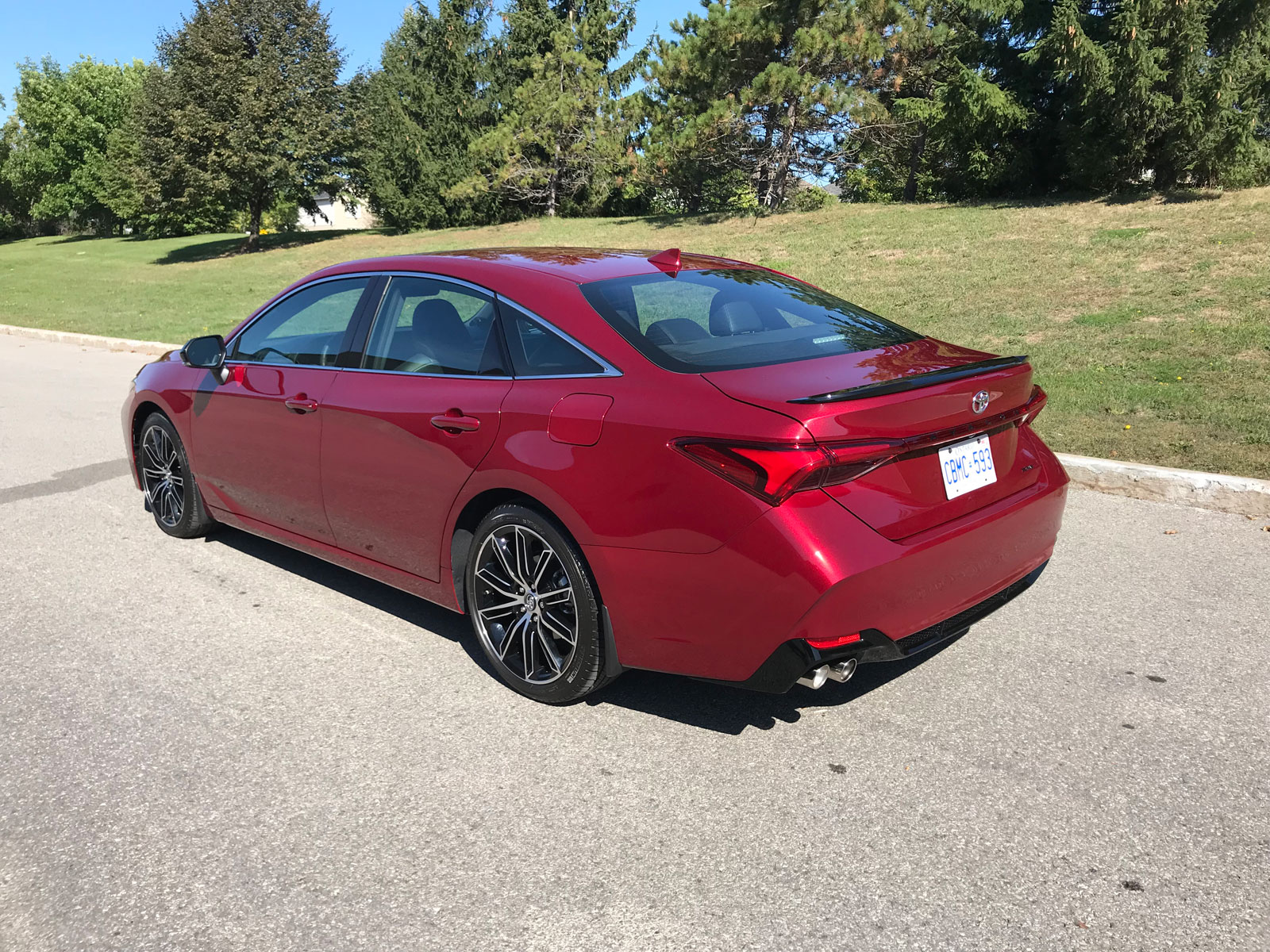 The Avalon may be perceived to many as just an oversized Camry but I didn't feel that comparison to be fair. Yes, it's built on the same platform and has many similarities but the new Avalon goes a bit beyond that.
Completely re-styled for 2019, the Avalon will probably not be as easily mistaken for its smaller sibling as some might think. In fact, I had quite a few double glances during my week with the vehicle as people noticed something different that they hadn't seen before. I had the same reaction the first time I saw it on the highway because I couldn't immediately identify it. It's very big for starters and has dare I say bold and beautiful lines. The front grille may irk some but it's the only controversial styling cue. The sleek headlights with a trio of LED beam housings plus the turn signal makes for a stunning feature. The 19-inch wheels of the XSE trim level are elegant and sporty looking. The rear end doesn't take too many risks but Toyota has made it unique and upscale with an integrate deck lid spoiler, quad tip exhaust and taillights which connect in the middle span the entire width of the vehicle. All in all, it's a very pretty package.
The interior is similarly nothing like I've seen before. The center stack display protrudes up toward the windshield and is slightly angled toward the driver for better viewing. The design of the 9-inch touch display panel is pleasing to the eye and functional. I'm giving high marks to Toyota for retaining a traditional gear shift lever to rest my hand on and one that is comfy to boot. I can deal with an electronic parking brake as is becoming the standard nowadays but please don't ever take away the shifter or physical climate control buttons. The Avalon's infotainment system is relatively easy to use though not as visually appealing or intuitive as some other brands. Space is in abundance here and you can fit five adults without any issue in the comfortable cabin. Four USB ports ensure the passengers have the ability to charge their phones while the wireless charging pad offers this flexibility to supported devices. Apple Car Play is present (but unfortunately not Android Auto) and thanks to the 14-speak JBL Audio system you can blast your favorite tunes like crazy.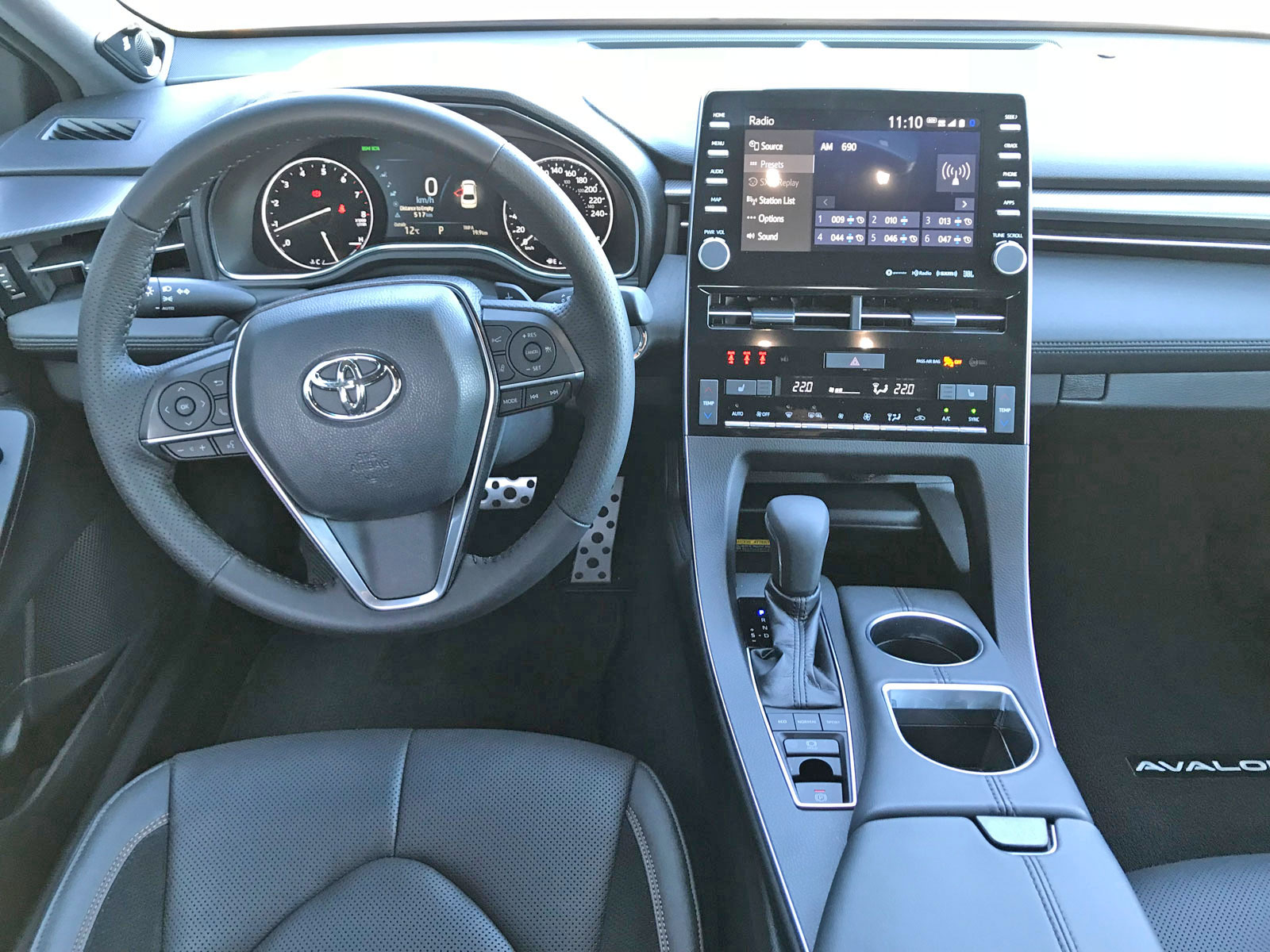 Powering the Avalon is a 3.5-litre V6 engine with 301 horsepower and 267 lb-ft of torque. It can move the sedan with ease and up to highway speed in no time. Delivery via the eight-speed, automatic, super electronically controlled transmission is as smooth as it gets with no hesitation and quick, nearly imperceivable gear changes. Paddle shifters allow the driver to take over some measure of control from the transmission.
It holds the road very well in the curves for a vehicle its size. Toyota felt the need to add an engine sound enhancement feature where the engine sound is augmented artificially via the speakers. It's not the only automaker to do this but I still feel like I'd rather hear the actual sound of the engine versus some artificial one.
I wasn't sure what to expect from the Avalon prior to trying it but each time I went to get into it I have to admit I felt a tiny bit excited. I loved the interior and the drive was just so comfortable that it made for an all-around fun experience. For Toyota to be able to excite me with a full-size non-luxury, non-performance sedan is a feat.
If a big, expensive, high-profile luxury-mobile isn't your cup of tea then the Avalon just might be. It offers most of the bells and whistles without the exorbitant price tag. You can pick up an Avalon XSE for just $42,790 before transport and fees. I love that it's basically an all-in-one package with no costly options. The Avalon Limited will run you about $5,000 more and adds a few other premium features such as premium leather heated and ventilated front seats, real wood trim, ambient lighting and automatic braking for rear cross traffic.