Volvo's resurgence from a near death experience about a decade ago is always a remarkable thing to write about. Thanks to Geely Automobile which bought the Sweedish automaker in 2009, the resources were there to jumpstart it back to within a few years.
One of the reasons for its success is the brand's new scalable product architecture (SPA). SPA allows it to use the same platform to be scaled to different sizes depending on the vehicle providing savings for both cost and weight while increasing strength.
The 2015 XC90 was the first vehicle brought to market using the new platform. Despite being an all-new design, the vehicle was instantly recognizable as a Volvo from any angle and arguably one of the best-looking SUVs on the road from the get-go. The "Thor's Hammer" T-shaped LED daytime running lights are now common to all new Volvos. The turn signal is a similar shape and is also LED as it should be. The rear has Volvo's signature vertical taillights (also LED) but a more modern take than the previous model. It's hard to find anyone who doesn't think this is a great-looking vehicle.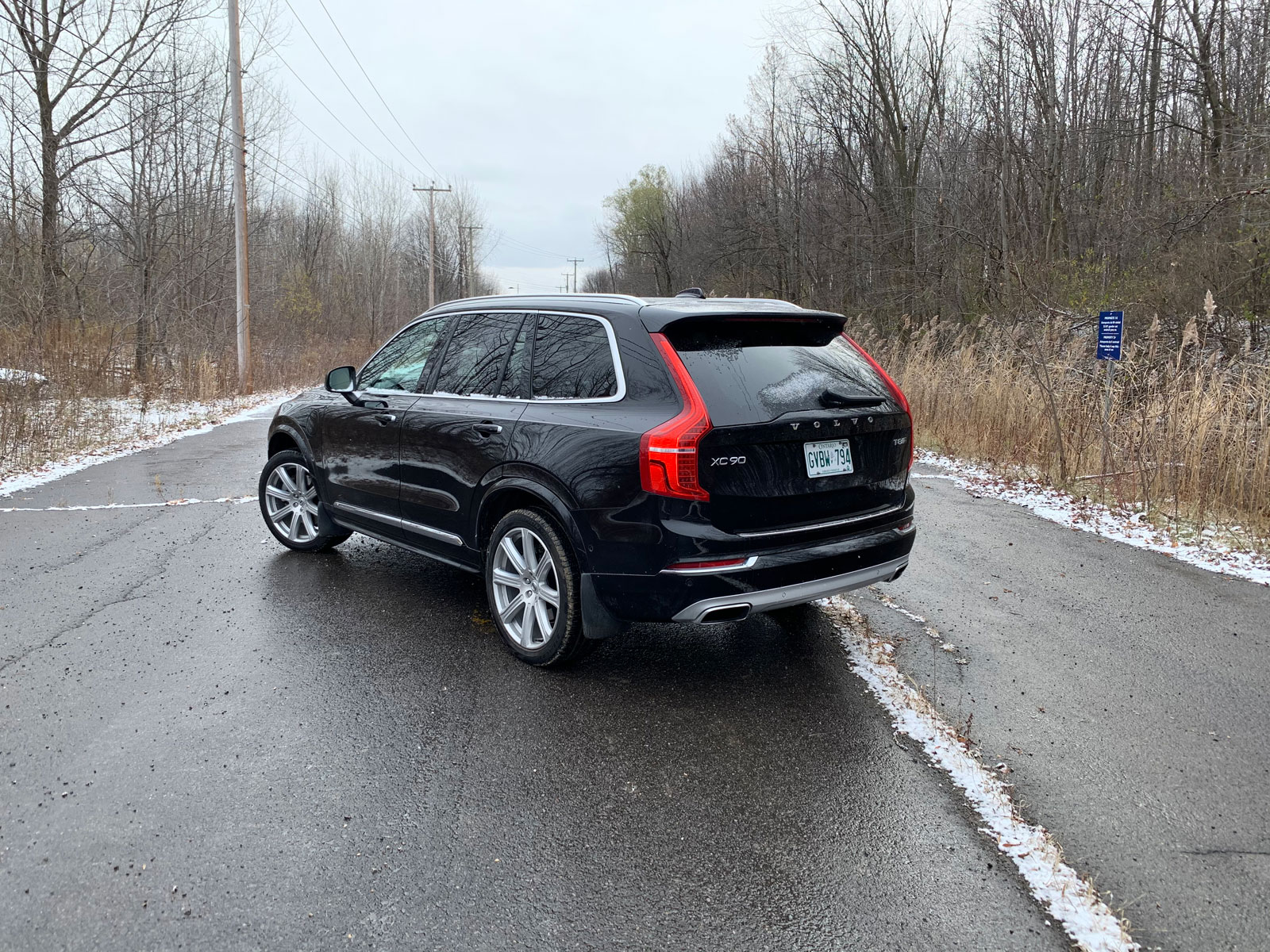 The investments in technology are probably most apparent in the incredible powertrain that Volvos have at their disposal. All variations begin with a 2.0-litre inline four-cylinder engine. Now, you may be thinking that is an incredibly small amount of displacement for an SUV but this is 2016 and those two liters can go a long way. The T5 model features turbocharging only and is rated at 240 horsepower with 256 lb-ft of torque. Moving up the ladder we find the T6 which is still turbocharged but is also supercharged at the same time (every time I write this fact I'm still impressed). Power output is 316 horsepower and 295 lb-ft of torque. The top of the line power plant tested here is called the T8 which is a plug-in hybrid making 400 horsepower and 472 lb-ft of torque. In this configuration, the driveshaft is removed to make way for the battery pack feeding the 80-horsepower electric motor driving the rear wheels.
I had an issue with the charging module that came with the press vehicle and I have a feeling it was likely my garage wall socket that was at fault. Needless to say, I couldn't benefit from the electric drive during my week with the vehicle. That being said, the 20 kilometers or so of electric-only range is paltry at best. That number needs to be up around 50-60 km. Even using just the gasoline motor, I still managed a decent fuel consumption in the 10 L/100km range.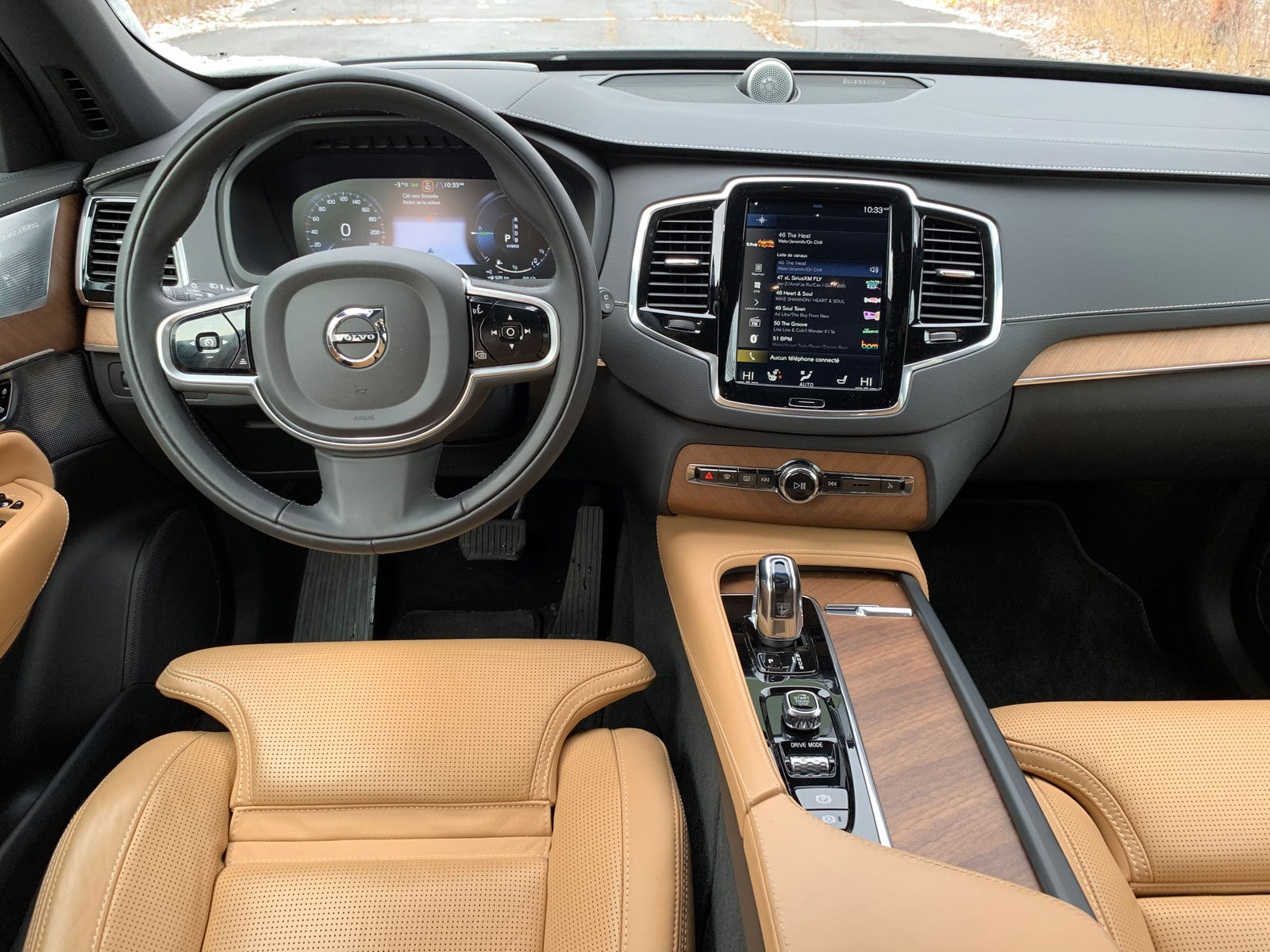 The XC90 T8 is quick to accelerate even without the aid of electrification because 313 horsepower is fossil fuel-powered. With everything charged up, the automaker says this SUV can sprint from 0-100km/h in just 5.6 seconds.
The interior comfort and layout were simply amazing. It felt as if I was driving a La Z Boy couch around town. Brushed aluminum accents and wood panels give it a very rich look and the placement of standard amenities such as armrests, cup holders, window controls and door handles are perfect. The minimalist design is very contemporary and pleasing to look at.
I will mention that the windows are slow as molasses to lower and it seems to be the case in all Volvos these days.
I did experience some frustration at the new tablet-based infotainment screen. In cold weather it takes a few seconds before responding. I also don't like how the climate controls are setup because it requires multiple taps to change the fan speed or temperature. These functions should absolutely be handled via knob or dial because it requires the driver to divert too much attention from the road in order to change them. The overall design of the interface is quite good and once you get the hang of things (it will be a while) then it feels intuitive. Still, a knob here and there would do wonders for basic operation.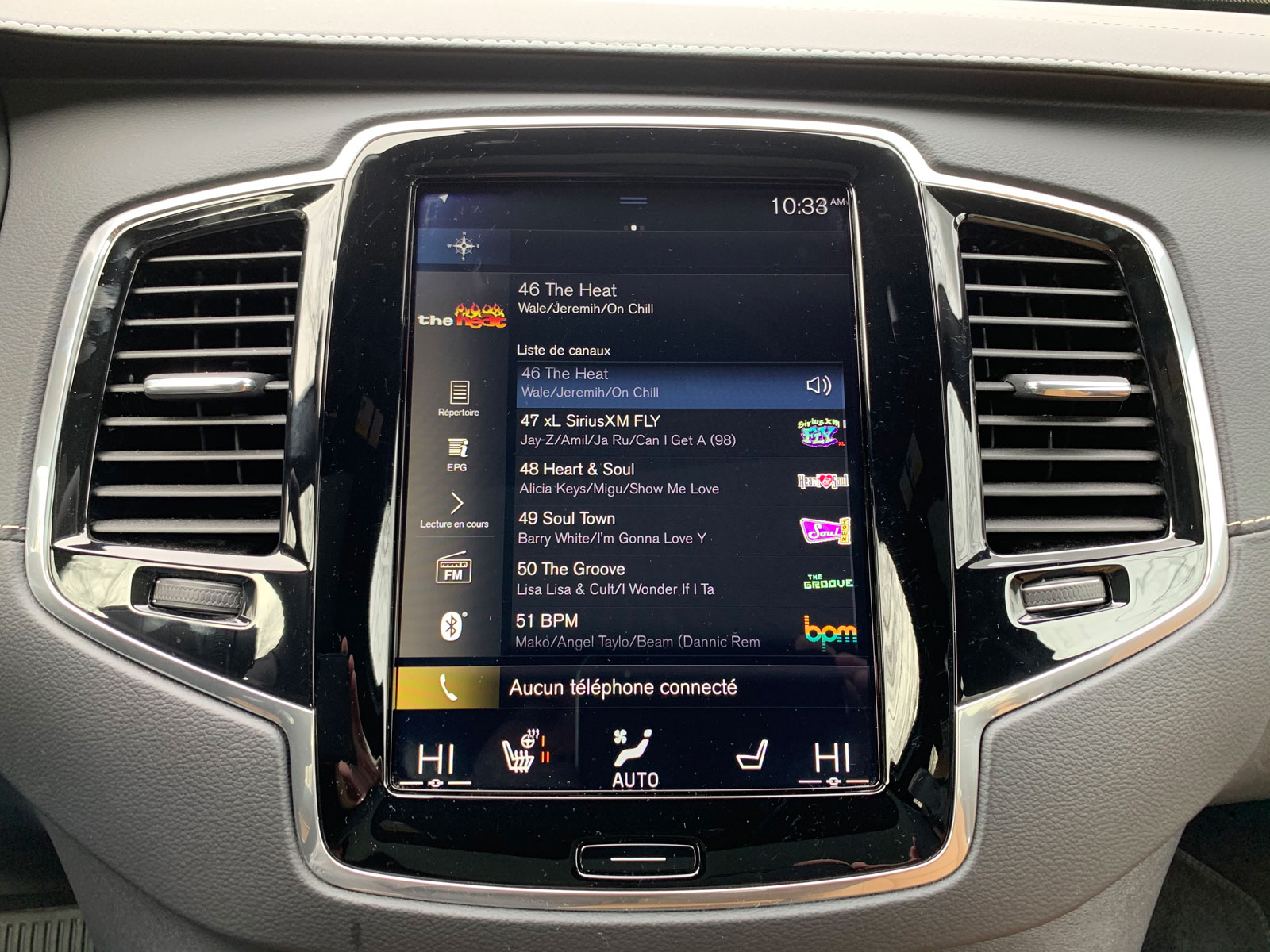 An optional rear seat entertainment system would also be welcome. Many manufacturers chose to forgo this because kids these days all bring their tablets into the car anyways but it's still a very nice option to have. Watching the same movie all at once tends to quiet things down significantly.
A base XC90 can be had for as little as $61,250 however this top-of-the-line T8 starts at $85,800 and can reach north of six figures when fully optioned out. That's quite a bit of coin for an electric powerplant which doesn't really deliver all that much range.
Volvo has certainly upped the ante in the coveted and crowded luxury SUV segment. If you're in the market for one, the XC90 is a must-test before making your final decision though the mid-level trims present the greatest value.