"It's a Jeep thang" is what many Jeep owners will tell you after having been asked why they chose to buy a Jeep. The iconic brand has a loyal – almost cult-like – following all over the world and is one of the most recognizable vehicles all over the globe.
I had the chance to try out the 2020 Jeep Wrangler Rubicon for a week earlier this summer so naturally I jumped at the opportunity.
Two years ago, the Wrangler received a redesign with updated square taillights and an altered front fascia including new LED lighting options. It's a beautiful truck and the Mojito Green color drew attention just about everywhere I went.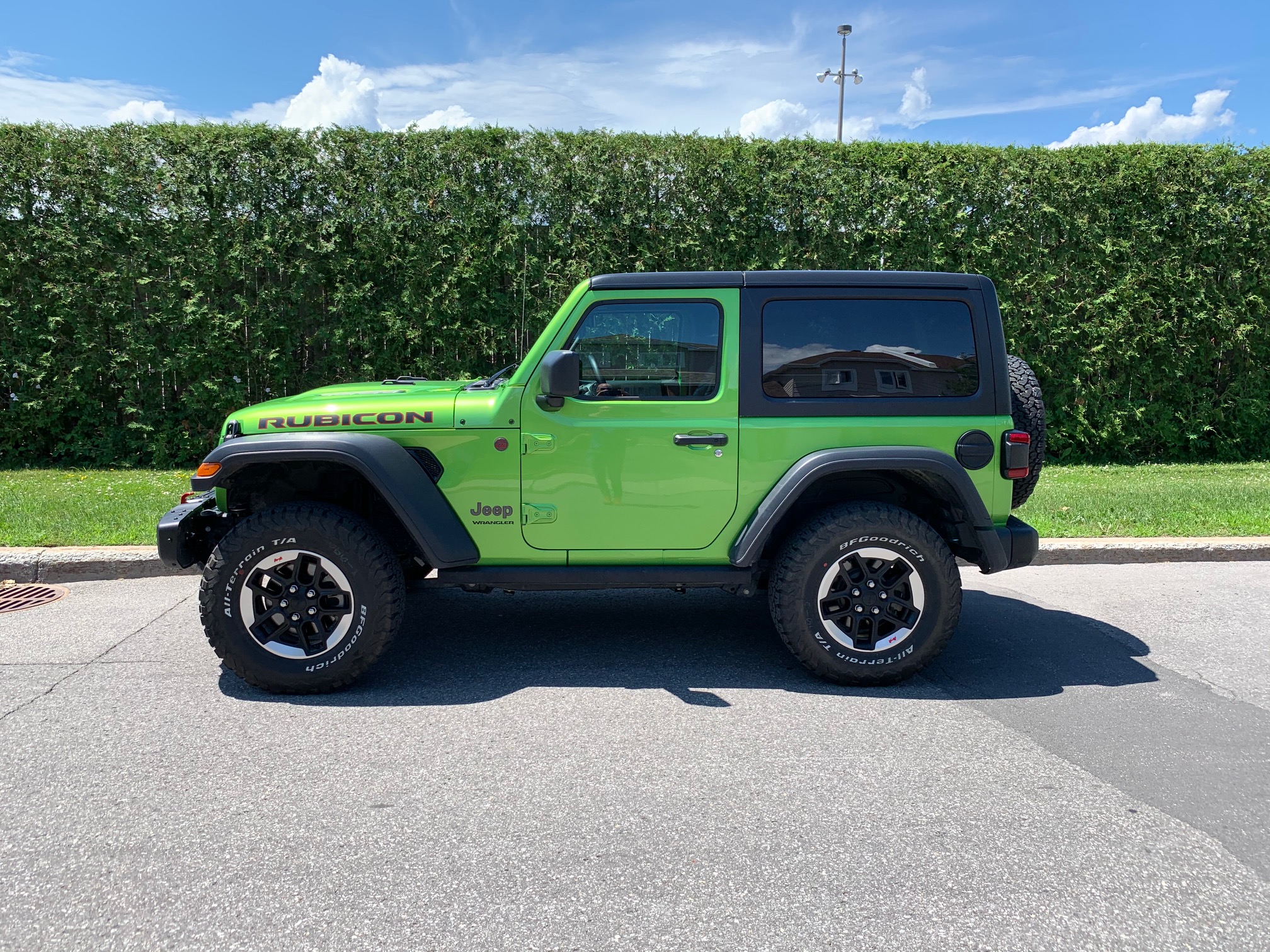 Not much has changed for 2020 other than a few modifications to the lineup in terms of which powertrain is available with a particular trim. In Canada we have two options: a 3.6-litre Pentastar V6 engine making 285 horsepower and 260 lb-ft of torque and a 2.0-litre 4-cylinder turbocharged engine with an output of 270 horsepower and 295 lb-ft of torque. A 3.0-litre ecodiesel diesel option is supposed to be coming later this year as well.
Both powertrains come with Jeep's new eTorque system or ESS which is a mild hybrid system. How does it work? By replacing the traditional alternator with a belt-driven motor generator unit and a 48V battery pack, the system can accomplish:
a seamless start/stop function;
a short-duration torque addition to the engine crankshaft in particular driving conditions
brake energy regeneration to increase efficiency and responsiveness.
Gone are the days of Jeeps being rough to drive. The latest model Jeep is smooth and easy to manipulate although it does take some getting used to if you're coming from a small car or crossover. You won't achieve Jeep Cherokee or Grand Cherokee levels of ride quality because the Wrangler remains, after all, a very highly capable off-road machine. It's Trail Rating means the vehicle can pass certain independent tests in area likes traction, clearance & maneuverability.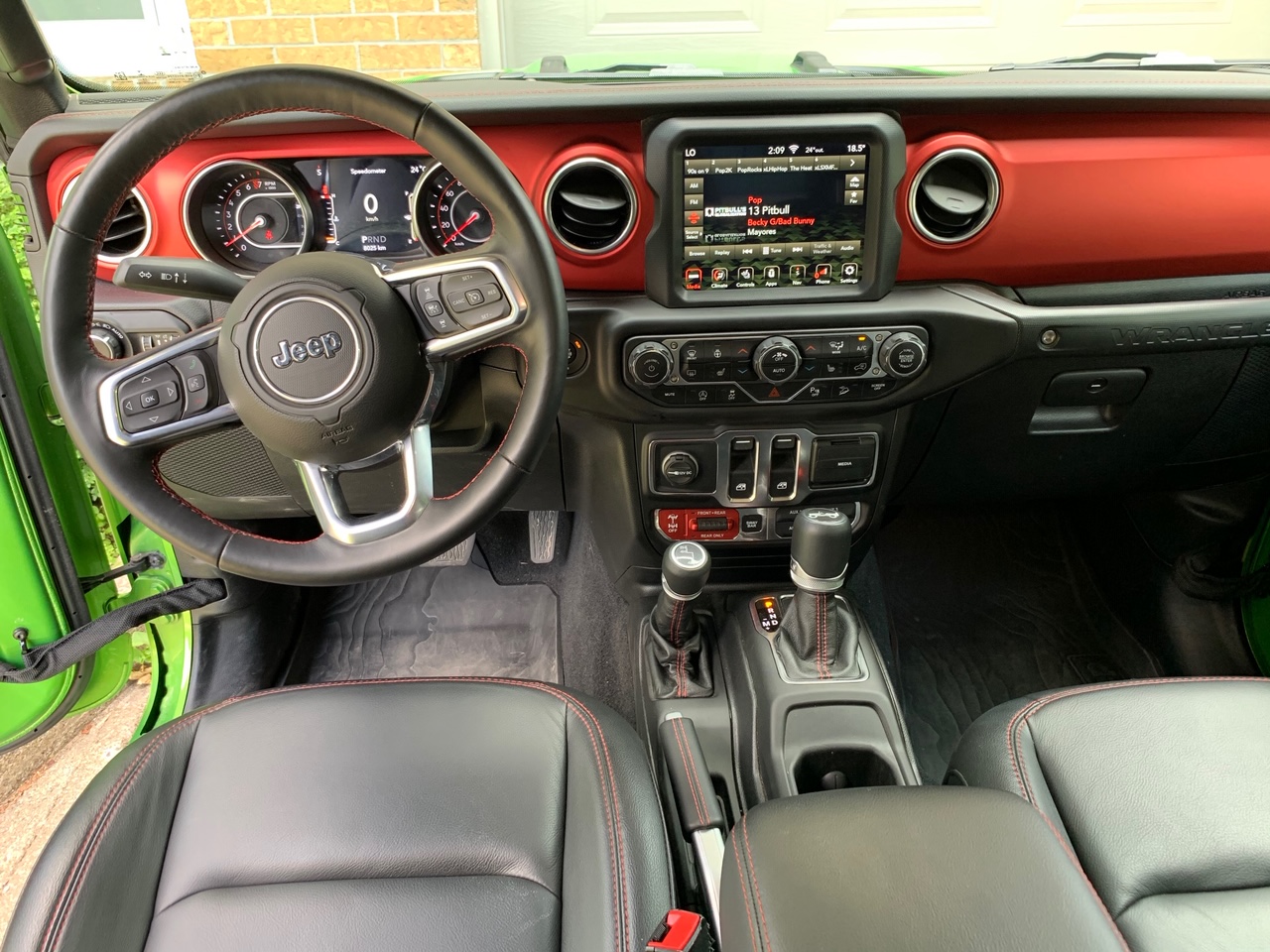 Thanks to dozens of different door, top and windshield combinations allow for endless configuration possibilities, the Wrangler is now easier than ever to turn into an open-air funhouse. It comes with the tools you need to remove the top and doors and you can even fold the windshield forward for the true wind-in-your-face experience. I didn't have the pleasure of trying this but it's a little more complicated than, say, retracting the roof on a convertible and just didn't have the time to experiment with it.
There is plenty of room for adults in the front but the rear will be a bit cramped and only seats two. The functional layout of the cabin is welcome although small things like the window buttons in the center console to allow for the "no doors" mode take some getting used to.
It's easy to get the sense how deep the Jeep fanbase goes when you drive one as you get waves from other Jeep owners. Unfortunately, as with most niche products, be prepared to pay for them. The starting price for a Wrangler Rubicon 2-door pictured here is $48,845. There are less expensive models available, however, such as a base Wrangler S which starts at $33,481. The least expensive 4-door Wrangler (called the Wrangler Unlimited) starts at $40,060.
I don't like just how many options there are available for the vehicle. The test vehicle came with eighteen different additions including leather seats, the Cold Weather Group, Trailer Tow Group, LED Lighting Group, Uconnect 4 NAV & Sound, Safety Tec Group, Steep Bumper Group, Mopar hardtop, Trail Rail Cargo Management System, Mopar floor mats, an 8-speed automatic transmission with hill descent control, remote proximity keyless entry, and 285/70R17 BFGoodrich offroad tires on black aluminum wheels. With transport, this Wrangler has a selling price of $65,525.
It was fun as heck to drive and has all the amenities necessary to compete with other SUVs on the road, but the Wrangler does require one to have a particular taste for this type of vehicle.