The Kia Stinger is certainly a unique automobile that will turn heads everywhere it goes. The Korean brand has created a classy, high-end machine that offers an alternative to similar vehicles from the big three German luxury brands.
You can tell right away from looking at it that it's something special. It's definitely not your everyday car and not at all like the rest of the Kia lineup. The hatchback sedan silhouette is similar to Audi's A7 and gives the Stinger an upscale look to it. Designed at Kia's European design studio in Frankfurt and engineered by a former VP of BMW's M brand, it's not wonder that it looks the part.
From its sleek front end to the wide flank and up to its powerful haunches, the Stinger exudes a muscular confidence. Key to its road presence are the rear-wheel-drive proportions; a long hood and short front overhang with an extended wheelbase. The rear valance houses four oval exhaust pipes. Kia's signature 'tiger-nose' grille sits proudly between available complex LED headlamps.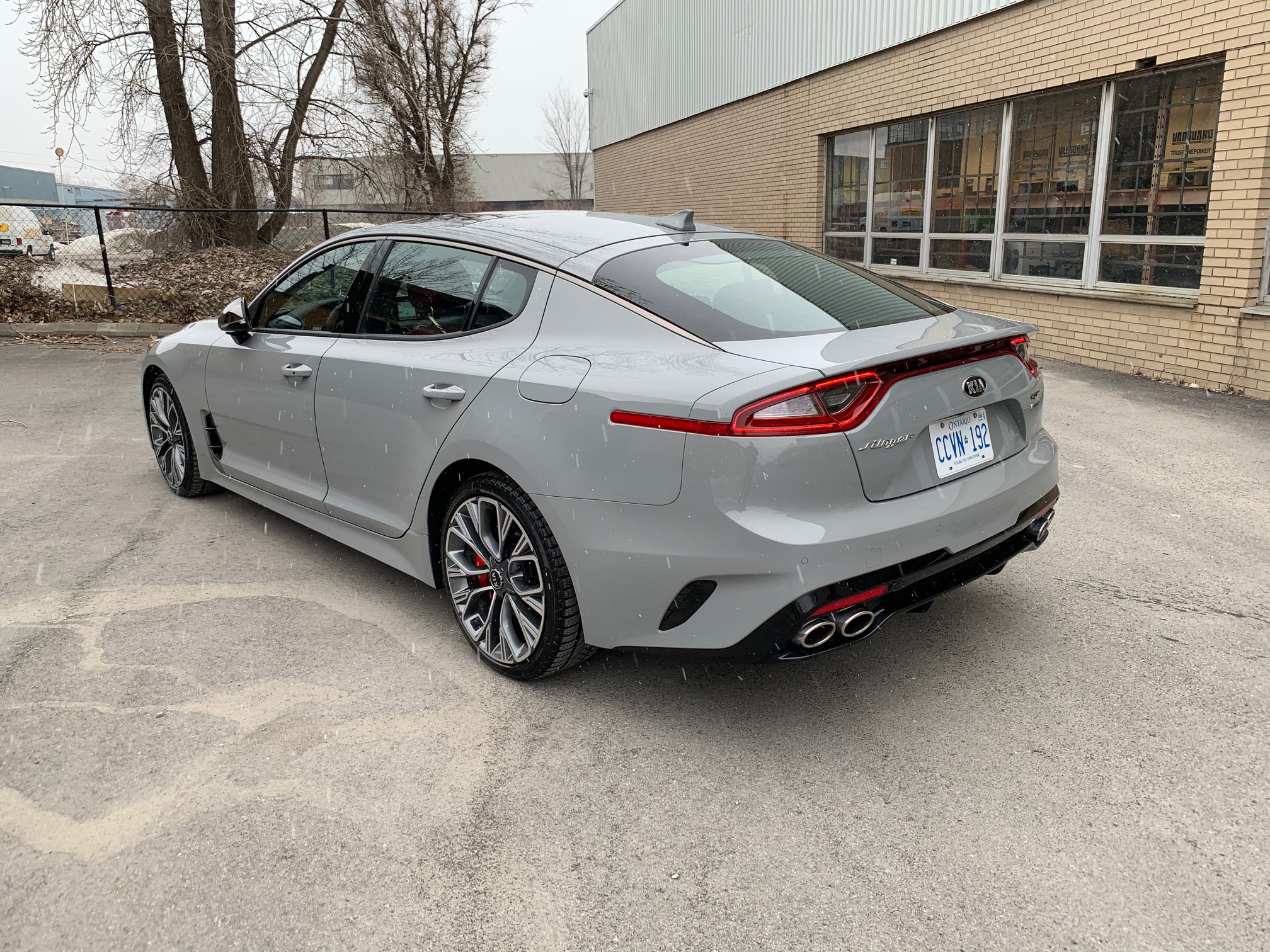 When you sit inside, the cabin wraps you in comfort and elegance. The red leather seating contrasted with the black dash panels in this test model were quite stunning. The seats envelop you and keep you firmly in place. The center console is split into two specific areas: the infotainment controls sit neatly below a large color touchscreen, while the climate and ventilation controls nestle beneath. All buttons are exactly where they should be and are of the quality I would expect from a luxury vehicle.
Front and center of the driver is a thick hand-stitched multi-function leather-wrapped flat-bottom steering wheel with paddle shifters. The large gauges are ringed in metal and accentuated with red needles. An available color TFT screen between the gauges relays performance data such as cornering G-forces, lap times and engine-oil temperature, along with ancillary information such as the trip computer, driver settings, navigation and diagnostics. Multi-color LED ambient lights illuminate the interior at night for an overall serene feel. The long wheelbase allows for generous front and rear leg room and the low seating position provides ample head room front and back.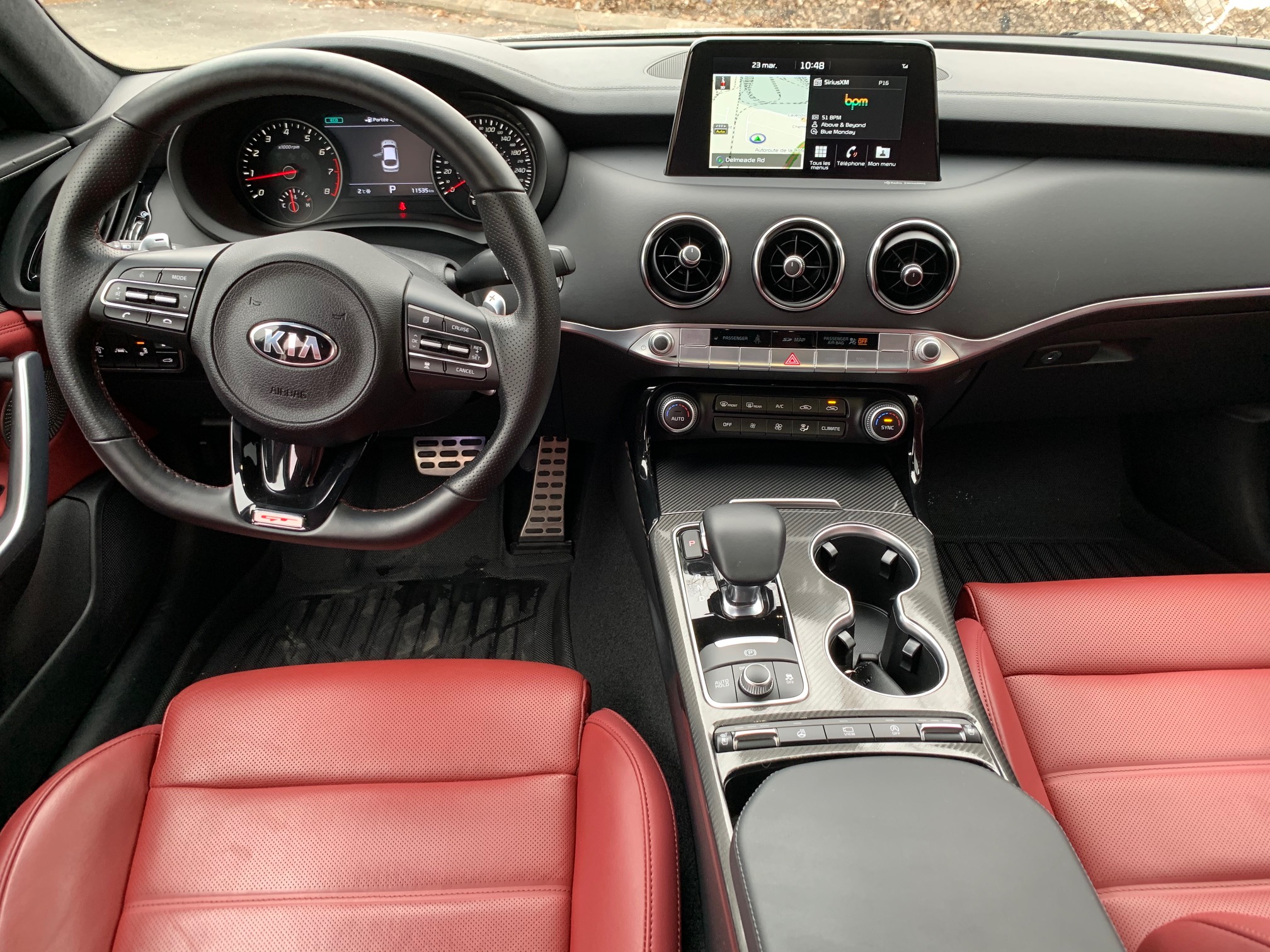 Under the hood we have a choice of two potent powertrains powering the Stinger. The 2.0-litre twin-scroll turbocharged four-cylinder Theta II engine produces 255 horsepower at 6,200 rpm with 260 lb.-ft. of torque. Kia says it can go from 0-100 km/h in just 5.9 seconds. If that's not enough then the available 3.3-liter twin-turbo V6 Lambda II engine, which produces 365 horsepower at 6,000 rpm and offers 376 lb.-ft. of torque should do the trick. It certainly did for me, propelling the Stinger to my heart's desire and more with crisp acceleration and ample torque with little turbo lag. It sounded great, too.
Prior to driving the Stinger, I asked myself if prospective German gran tourer buyers would be swayed by the Koran competition and I wasn't sure. After having driven it, I have to that absolutely there will be buyers looking to switch. Kia's product is essentially on par in every way and offers something else that the competition doesn't have: exclusivity. There are comparatively very few Stingers on the road compared to, say, the Audi A7. In addition to being less bland, the Stinger makes people turn their heads and ask "wow what kind of car is that?" In an era where it's sometimes hard to tell the entire lineup of a brand apart because the styling of every car is so similar, Kia has the golden ticket.
Kia has correctly priced the Stinger lower than the competition and that's necessary because people don't normally associate its nameplate on the same level as, say, BMW, Audi or Mercedes. For 2019 the starting price of the Stinger GT-Line was just $41,905. The pricing structure has changed a bit for 2020 and there are now two options: The GT at $46,905 and the GT Limited at $52,405.
I came away from my road test impressed as heck with the product that Kia has presented. Even if you're a die-hard luxury nameplate fan, give the Stinger a look because you might that aura of exclusivity enticing.